For over a century, the Michelin Red Guide has been a bible for lovers of good food, and with the publication of the Michelin Guide Bangkok, gourmets in Thailand's capital can now indulge their passion for top-notch cuisine at a variety of selected restaurants. The chefs at each of the recommended locations use their flair for presentation to guarantee that diners fall in love with each dish at first sight, and their skills of culinary preparation ensure that everyone falls in love again at first bite. So, fellow foodies, prepare to treat your eyes and taste buds to an unforgettable experience at Bangkok's top dining establishments.
To reach the stars, Citi credit card offer the best privileges which can be found here.
Here are 7 Michelin-starred restaurants with special deals exclusively for Citi credit card members.
1. Bo.lan
The Restaurant: Chef-owners Duangporn "Bo" Songvisava and Dylan Jones have built Bo.lan on the key principles of seasonality and sustainability. The comprehensive, seasonally rotating set menu allows diners to enjoy Thai food in all its main forms, namely soup, stir-fry, curry and relish, as well as desserts. They use only local ingredients and usually they state the origins on the menu.
2. Chim by Siam Wisdom
The Restaurant: A traditional Thai house is the ideal setting for Chim by Siam Wisdom. Chef Thaninthorn Chantrawan not only conjures up familiar Thai staples on daily basis, but also recreates some rare finds and presents them with a bit of a Western touch. Recommended items are the tom yum pla chon from an old recipe, where rice is also added to the thick and herby spicy broth, and ped ron lui suan, duck leg confit with herb salad.
3. Elements
The Restaurant: Located on the 25th floor of The Okura Prestige Bangkok, Elements offers superb city views as well as top-notch cuisine. In the open kitchen, French culinary techniques are applied to premium ingredients from around the world, and presented with a Japanese touch, in the form of miso, yuzu, matcha and nori. Head chef Antony Scholtmeyer offers a true France-meets-Japan experience.
4. J'AIME by Jean-Michel Lorain
The Restaurant: The proud recipient of Michelin stars in France since 1986, chef Jean-Michel Lorain now also works his culinary magic in Bangkok. His style of giving modern touches to French classics shine through in his elegantly plated dishes. Head chef Amerigo Sesti takes care of the menu, making sure that chef Lorain's philosophy is followed closely and that the best local ingredients are incorporated.
5. Savelberg
The restaurant: Dutch chef Henk Savelberg received the coveted Michelin stars at four different restaurants before moving his namesake restaurant to Bangkok. Savelberg's food is refined, combining premium ingredients and perfected skills with delicate flavors that are not solely Eurocentric. The chef incorporates local flavors in a dish like grilled North Sea turbot fillet, served with pumpkin, apricot, pistachio, yuzu and green curry foam.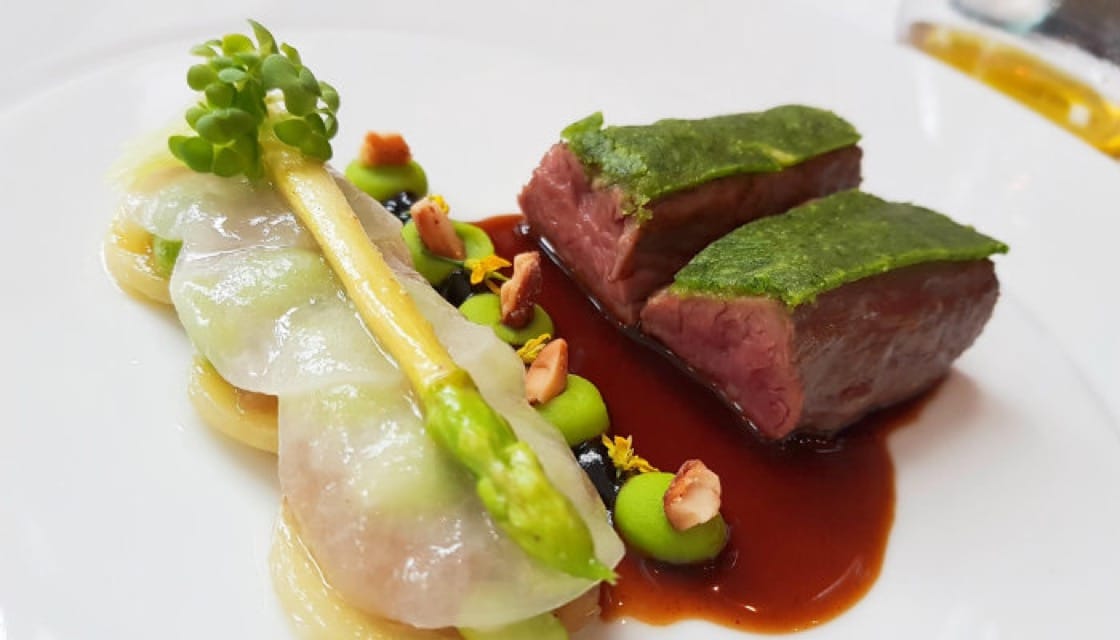 6. Sühring
The Restaurant: German twin chefs Thomas and Mathias Sühring reinterpret German cuisine in a unique and modern way, while still keeping the essence of traditional dishes. The set menu lets you explore Germany through a variety of small bites that combine eye-catching presentation with appetizing flavors. If you like heartier dishes, you can also opt for 7 day-aged Hungarian duck smoked in hay from the a la carte menu.
7. Upstairs at Mikkeller
The Restaurant: The experimental cuisine in this cozy chef's table-style restaurant is prepared by Dan Bark, whose resumé includes the sous-chef position at Chicago's now-defunct three-Michelin-starred Grace. Tucked in a peaceful alley in Ekkamai, Upstairs is nestled above the famous Mikkeller beer bar, making it a perfect place to pair craft beers with fine dining. The food follows the progressive American route, with diverse ingredients and modern techniques, resulting in sophisticated flavors.
Each of these restaurants has its own style and a unique approach toward food preparation and presentation. With the tempting offers available to Citi credit card members, it's time to taste the dish that will make you fall in love at first sight and at first bite, so book your table now. Bon appetit!

For more information on Citi credit cards, please visit: www.citibank.co.th This story is brought to you in partnership with Citi credit card #EveryDishWithCiti
LINE: