POV: You're on vacation. After a lie-in, you tuck into an omelette studded with fresh herbs, the eggs from chickens happily strutting a few hundred yards from your room, the herbs from the garden you can see from the restaurant. That milk in your coffee? It's from the hotel's cows. Your verdant salad? All from the hotel's garden. Roasted lamb for dinner? Raised on the owner's farm. For dessert, a platter of fruit from the property's orchards and, if you're lucky, a bowl of ice cream made in-house. The cuisine at these 13 hotel restaurants, from New Zealand to Vermont, is farm-to-table, with much of what's on your plate grown a stone's throw from your room.
Forestville, California

Forestville lies some ways off the most heavily beaten path of the Napa/Sonoma wine country, partway from Santa Rosa to the Russian River town of Guerneville. You're close enough to partake in all that you wish, but you're also comfortably ensconced in six idyllic acres, on an estate, owned by sibs Catherine and Joe Bartolomei, comprising of just 18 rooms, suites and cottages. The main house is an authentic 19th-century farmhouse, but the interiors are crisply, coolly contemporary. Comfort is key: expect feather-topped beds and fine linens, and bathrooms with jetted tubs and either steam showers or saunas.
Though intimate the Farmhouse is possessed of a social, convivial atmosphere. S'mores are served after nightfall around the communal firepit, and of course there's the MICHELIN-recommended restaurant of the same name, serving French-influenced cuisine along with an astonishing array of wines from Sonoma County and beyond. The menu shows a clear focus on seasonality, with a penchant for all things Californian. The Bartolomei's raise pigs, lambs, and turkeys and harvest honey for the hotel's spa. The restaurant sources its vegetables from local organic farms and from the Bartolomei's ranch.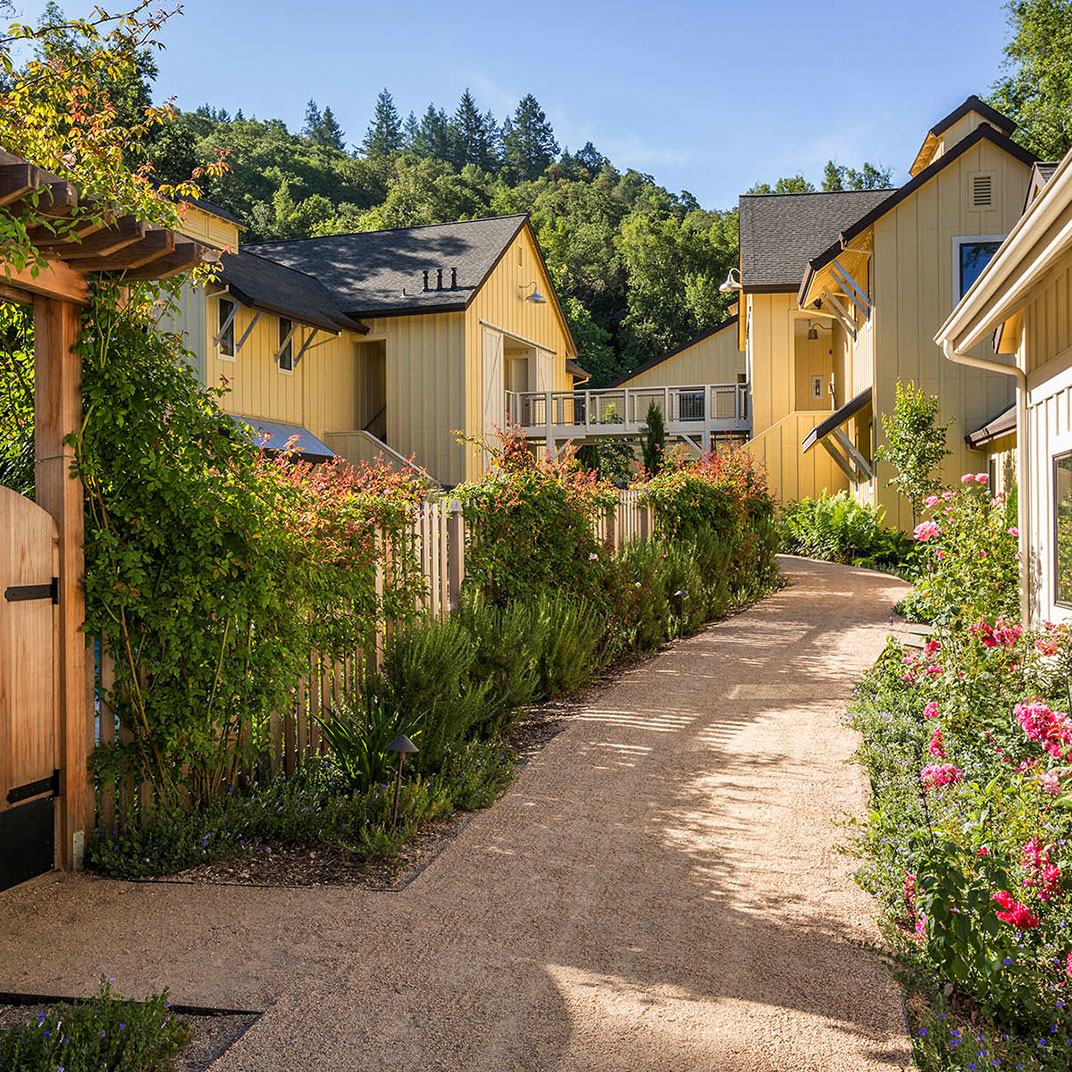 Farmhouse Inn
Woodstock, Vermont

Vermont
may have a reputation for low-frills, homespun charm, as does the word Woodstock, with its hippie-era associations. But this is an entirely different Woodstock, both literally and figuratively. The Woodstock Inn, in the Vermont town of the same name, was founded by Laurance Rockefeller — in 1969, ironically enough — and though it's recently undergone a thorough renovation, it's stayed true to its aristocratic spirit: this is one of the most elegantly luxurious hotels, not only in Vermont, but in the whole of the Northeast.
We won't dwell on the rooms, except to say they're not just meticulously designed but fantastically luxurious as well — all newly renovated but all absolutely classic in style. There's simply too much else to talk about; the Red Rooster, one of the region's most highly regarded restaurants, sources many of its ingredients from the hotel's own organic garden—Kelly Way Gardens. In the garden grow more than 200 varieties of vegetables, 50 varieties of herbs and edible flowers, 200 types of cut flowers, 75 varieties of berries and orchard trees, and a mushroom glen. Guests can visit the garden May-October.
The Woodstock Inn & Resort
Walland, Tennessee

Picture this: 4200 acres of wildflower-strewn land, 44 rooms of feather beds and English country antiques. Then add a regime of iced tea picnics, horseback riding, tennis, fishing, and fireside dining. The best rooms are in the Cottage Suites, separate from the Main House, with whirlpool tubs and fireplaces to boot. And of course you can get any spa treatment delivered to your door at any time. For those of you who do manage to drag yourselves out of doors, there's the pool (open in the summer), the trails, the ponds, and the tennis courts (Outdoor activities continue well through the mild Tennessee winters.) The point is to work up an appetite for the star attraction at Blackberry — the food.
No matter how hard you resist, every one gets on a three-meal eating plan, plus extras. You couldn't starve if you tried: from breakfast in bed to lunch (including, but not restricted to new potato salad, beef tenderloin, deep fried corn on the cob, and two kinds of pie) to the four course dinner. Vegetables come from the hotel's gardens, and other house-grown goods like sour cherries, sumac, and persimmons go to the in-house brewery.

Blackberry Farm
Oxfordshire, England

A stone path leads past the green grass, hedgerows, and delphiniums to a honey-colored fifteenth-century manor house. The damp air is sweet with the scent of hydrangea. In the lobby, chintz cushions soften the flagstone floors, fireplaces, and wood beamed ceilings. It couldn't be more English, except for the fact that Belmond Le Manoir aux Quat'Saisons is the brainchild of a Frenchman, chef Raymond Blanc of the
Two MICHELIN Star restaurant of the same name.

No matter what time of day, a bottle of Champagne awaits. And the baths are naughtily large, with candles ready for lighting. In one room, twin baths lie side by side underneath a canopy — and Le Manoir is the first house in the country to sport bathrooms that open onto bedrooms, ensuring that your pleasure is seamless. But just as Le Manoir is un-English in its surroundings, it is equally un-French in its food. Self-taught Blanc scorns the trappings usually affiliated with haute cuisine. The vast grounds outside include a garden with 250 varieties of organic fruit and vegetables, a mushroom garden with 20 edible species, fertilized by the hotel's recycled coffee grounds, and an orchard of apple and pear trees. The hotel and restaurants' commitment to sustainability earned the restaurant a MICHELIN Green Star, in addition to its two MICHELIN Stars.
Le Manoir aux Quat'Saisons, A Belmond Hotel, Oxfordshire
South Tyrol, Italy

Only here, at the foot of these craggy peaks, could you find an Italian hotel that looks for all the world like a Bavarian mountain lodge. Or at least a broadly Germanic one, as strictly speaking it's a lot closer to Innsbruck than it is to any part of Bavaria — or to Venice for that matter, as long as we're on the subject of geography.
It's been family-owned for the better part of the last century — and in spite of that, it's more cosmopolitan than quaint, as stylish and comfortable (and twice as characterful) as anything the ordinary luxury chains have cooked up. Rooms are somehow at once rustic and chic, the raw blond wood paneling mixing quite well with subtly artful Italian furnishings.
Its restaurant,
Three MICHELIN Star restaurant St. Hubertus
, also has a Green Star for its deep commitment to sustainability. Chef Norbert Niederkofler's motto is "cook the mountain", and although the hotel doesn't have its own garden, the restaurant is so deeply entwined with local farmers and fisherpeople and adheres so strictly to seasonal ingredients that its cuisine remains properly farm-to-table.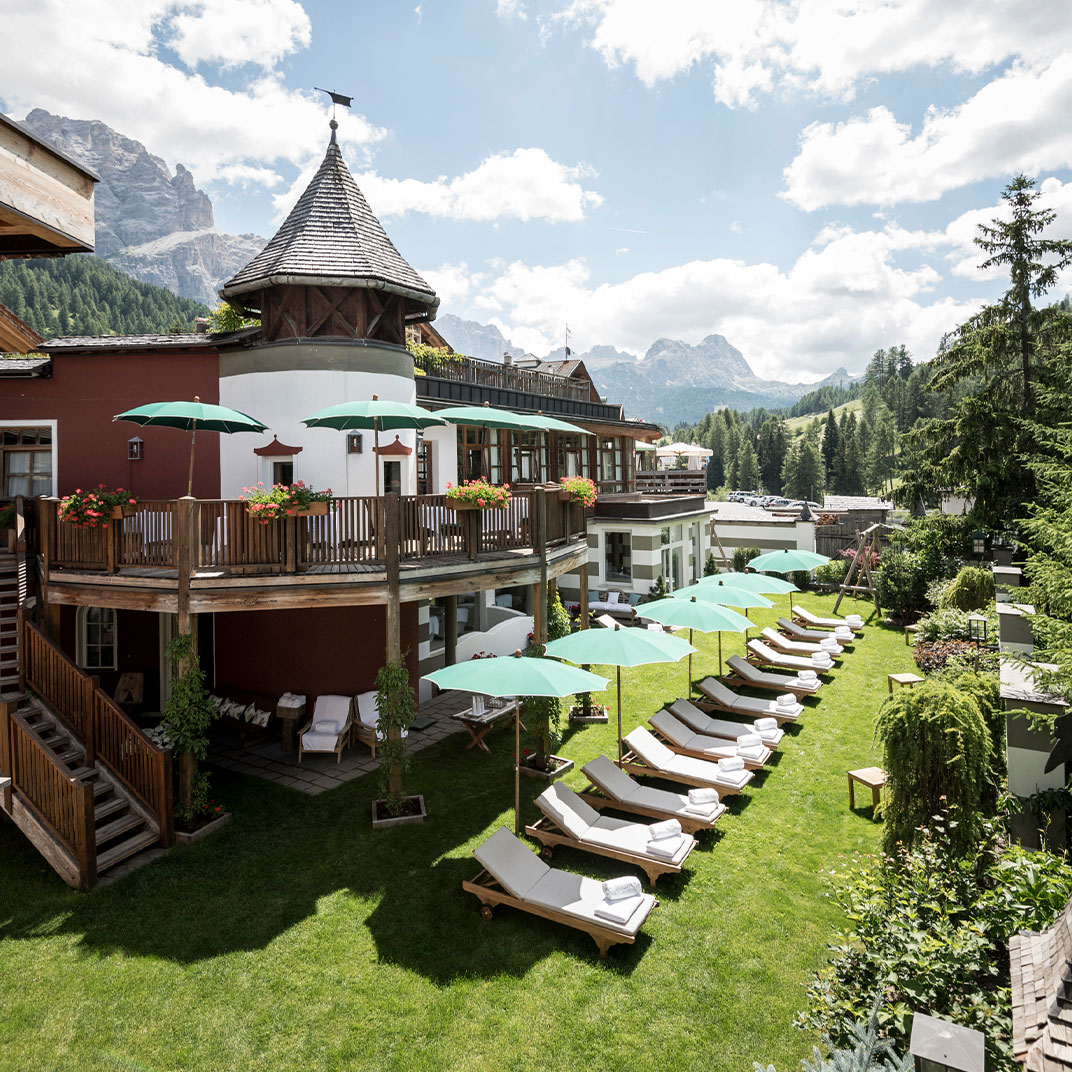 Rosa Alpina
---
---
Monsaraz, Portugal

São Lourenço do Barrocal is, first and foremost, a 200-year-old, 2,000-acre agricultural estate in Portugal's spectacular Alentejo countryside. Today, the estate is still an organic farm, producing wine, fruits, and other foodstuffs, but much of its infrastructure has been put to new use as a tranquil and quietly stylish luxury boutique hotel — barns, outbuildings, even an olive press have been transformed for use as hotel rooms, suites, cottages, and a spa, while the stables contain horses for guests' use.
Though most of the interior spaces are newly built, they blend contemporary furnishings and comforts with reminders of the estate's history in the form of maps, artworks, antiques, and original architectural details. The only reminders of the 21st century are modern conveniences like heated bathroom floors, Nespresso machines, Marshall bluetooth sound systems, and USB outlets.

The two restaurants, São Lourenço do Barrocal and Hortelão, are singularly focused on the local culinary tradition, sourcing all of their ingredients locally (like charcuterie and cheese from nearby farmers), many of them from the hotel's farm itself. The orchard is filled trees heavy with apples, pears, peaches, oranges, figs, and cherries; expansive fields are planted with all manner of vegetables and herbs.

São Lourenço do Barrocal
Jamaica

Pantrepant is the 800-acre organic farm 30km outside Montego Bay that supplies three Jamaican resorts with their fruit, vegetables, herbs, dairy, and meat. The orchard heaves with trees and bushes heavy with coconuts, mangos, Jamaican apples (rose apples), naseberries, pineapple, papaya, Jamaican/Ethiopian apple, oranges, and naseberry. Eggs come from the farm's chickens; butter and ice cream are made with milk from the property's cows. Among the many vegetables grow callaloo, broccoli, cauliflower, lettuces, and bok choy. Nearly everything you eat at GoldenEye, Strawberry Hill, and the Caves is from Pantrepant, and what's not is local.
GoldenEye was Ian Fleming's estate on the island's north coast, just down the road from Noël Coward's place, and the desk in the flagship Fleming Villa is where he sat down to write all fourteen of his James Bond novels. The original five villas are still intact on this gorgeous plot of coastal land, a bluff facing an empty cove a few miles to the east of Ocho Rios. That was always enough for a modestly festive sort of atmosphere, but eleven brand-new cottages and six new lagoon-facing suites have upped the sociability quotient considerably. The old GoldenEye was a semi-private escape for a smallish contingent of style-seekers and creative types — the new GoldenEye is as chill as ever, just a touch more accessible.

Though the original Georgian house on Strawberry Hill was destroyed in the hurricane of 1988, the new building maintains a traditional feel. The bungalows are built to meticulous nineteenth-century specifications. You sleep in mahogany four-poster beds shrouded in muslin, and gaze out at the stunning mountain landscape while swinging in your hammock. It epitomizes bygone colonial living at its finest, the perfect place to have a rum punch and wear white linen. The resort was a salon for the likes of Bob Marley and the Rolling Stones, so, continuing in the tradition, guests are encouraged to mingle, debate, and jam.
The Caves is a collection of twelve private cottages atop a cliff, overlooking the ocean, with plenty of jumping-off points to impress one's companion and other guests. For those with a beach fetish, consider this: the sea looks better from higher up, and at The Caves it becomes your own private pool. Below, in the cliffside, are natural volcanic caves and grottos which can be explored whilst swimming, or set up for private candlelight dinners.
GoldenEye
Chocholá, Mexico

Buried deep in the Yucatán jungle, tucked among Mayan ruins and sacred sites, is a more modern sort of temple, the kind built for relaxation. Guests stay in 40 airy casitas, which are designed to blend in with their jungle surroundings. Each has ample natural light, clean woodwork, and a harmonious blend of modern design with traditional Mayan architectural styles. It might feel impossible to tear yourself away from casitas' spectacular jungle views, indoor and outdoor showers, and private pool, but spend some time in the excellent spa, which is built around a natural cenote, a swimming hole with healing waters, sacred to the Maya. Come nightfall the sky is a deep, inky expanse positively heaving with stars—no light pollution here.
The food at the resort's three main restaurants is super organic, seasonal, and hyperlocal; the produce comes from the on-site Mayan gardens (ka'anche's) and a tiny apiary. If you've got a green thumb, you're welcome to help the team garden during your stay. Next to the gardens, don't miss Casita Maya, where female Mayan chefs from the neighboring villages will show you how traditional Yucateco dishes like cochinita pibil (the pigs from nearby farms), panuchos, and sopa de lima are made.

Chablé Yucatán
Phuket, Thailand

Surrounded by forty acres of tropical forest, above a private bay on Phuket's relatively undeveloped northwest coast, Trisara is blessed with a tranquil atmosphere and a delightful feeling of remoteness. Here, privacy and luxury are the central themes. Every pool villa is a self-contained oasis with its own infinity pool and its own spectacular view — many looking out over the panorama of the Andaman Sea. The accommodations are spacious, with oversized bedrooms, and the pool villas have sprawling teak sundecks and outdoor showers. And the look is contemporary, with clean-lined modern furniture and plasma-screen televisions.

There's an expansive spa complex, for more thorough relaxation, and and a Thai seafood restaurant with catch straight from the Andaman sea and One MICHELIN Star PRU. PRU stands for "plant, raise, understand", and it is this ethos that underpins every aspect of this sophisticated, intimate and romantic restaurant, a stone's throw from the sea. Its menu utilizes dishes from the hotel's own farm, Pru Jampa, where herbs, flowers, plants and vegetables grow, among them moringa, okra, mulberries, asparagus, winged beans, carrots, and sunchoke.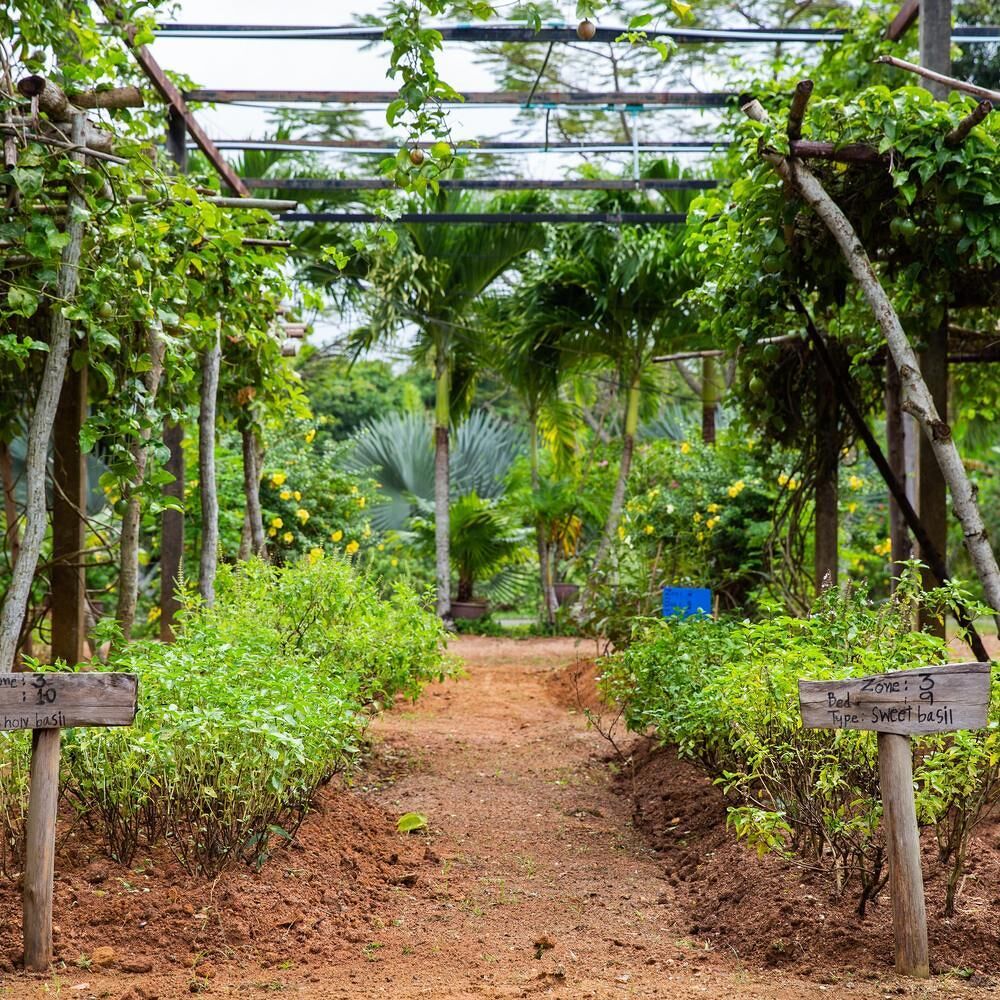 Trisara's own farm, Pru Jampa
Hawkes Bay, New Zealand
Where else but in New Zealand would you actively seek out a working sheep ranch for a bit of rural high luxury? This is lodge country, where plush interiors and rugged exteriors go hand in glove. And this particular sheep ranch, the Farm at Cape Kidnappers, lies not on some dull green hillside but on the headlands overlooking Hawke's Bay, on the North Island of New Zealand — a stunning setting in a country that's not short on stunning settings.
The lodge itself isn't hard on the eyes either — the building is a peculiarly modern sort of rustic, and the interiors are elegant, understated, clearly built at least as much for comfort as for good looks. They're all suites, and they all have sweeping panoramic views up and down the coast.

In keeping with the subgenre of NZ lodge hospitality, you can expect a very upscale dining experience. The sourcing is local, with produce literally from the backyard when possible—loads of vegetables, fruits, and herbs. The menu changes on a daily basis based on what's at its peak and available.

The Farm at Cape Kidnappers
Gargas, France

The setting of this luxury hotel estate is a Provençal village whose roots go back to the 11C. The estate lies in the middle of a 30ha vineyard with simple guestrooms are in keeping with the wonderful atmosphere of the place (old stonework, wood). The garden rises up in terraces opposite the Luberon. It's from this garden that MICHELIN-recommended
Les Vignes et son Jardin
and
Avelan
get many of their ingredients. Guests are welcome to stroll through the neatly-tended rows where aromatics like mint, basil, thyme, rosemary, parsley grow, along with tomatoes, artichokes, peppers, cucumbers, butternut squash and fruits like currants, raspberries, strawberries, kiwi. Much of the olive oil comes from the hotel's own olive groves, and some of the honey comes from its own apiary.
Coquillade - Provence Village
---
---
Hero image: Le Manoir aux Quat'Saisons, A Belmond Hotel, Oxfordshire, England