Please introduce yourself.
My name is Pim Techamuanvivit. I am the executive chef of Nahm at the COMO Metropolitan Bangkok.

Tell us about your restaurant's cuisine.
At Nahm, we serve Thai food. I call it "heritage Thai cuisine". It is the food and the flavours we grew up with but presented in a way that really showcases the quality of the ingredients. Ingredients first!

What about your training and professional background before Nahm?
My professional background has nothing to do with food at all! I am a cognitive scientist by training. I worked in Silicon Valley for awhile before I decided to change my career and started working in food.

Fresh ingredients lie at the heart of Chef Pim's cooking.
From where did you get your passion in cooking?
I think it began with my passion for eating. I've always loved and enjoy eating good food. I grew up around some of the most delicious food. When I was abroad in the US, I couldn't find the kind of Thai food I grew up with. That's when I started cooking.

How old were you when you realised you wanted to become a chef?
I didn't know if I really wanted to become a chef. I still really don't think of myself as one. I think I'm a cook first because I'm interested in food.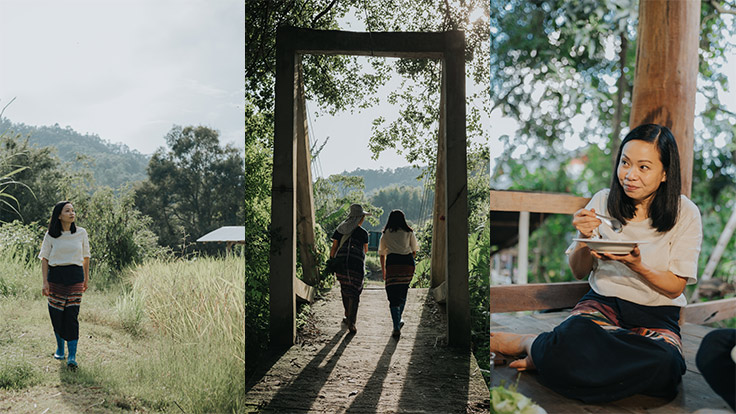 A relationship built on mutual respect and trust between chef and farmer.
Do you have any connection with Northern Thailand, particularly with Chiang Mai?
Actually, I do. My paternal grandmother was from Chiang Mai but she passed away when my dad was very little so I never actually met her.

What springs to mind when you hear the word 'Lanna'?
When I was growing up in Thailand, we used to come to Chiang Mai, Chiang Rai, and Mae Hong Son quite a lot so I'm very familiar with the flavours of the northern region and I really like it; It's very distinctive and quite different from other regions of Thailand. There is a mild acidity, not as much as in Isaan (northeastern) cuisine and not so much coconut milk used as in food of the central parts of Thailand. But it's a very interesting cuisine, especially the spices.

A local rice farmer shows chef Pim the fruit of her labour.
Can you talk about the dish that you will be cooking at the gala dinner?
I'm going to do something very simple. One component is rice, of course. This rice is very special in terms of the texture and flavour. I'm just going to cook rice. The second component is Larb Kua, which is a traditional Chiang Mai dish. The seasoning is something that's very Northern Thai-centric. When you think of Larb, you might think of Isaan Larb, which many people are more familiar with. That Larb has a lot of acidity from lime, but the dish that I'm going to cook for guests at the gala dinner will be Chiang Mai Larb. I make the spices myself.

What's so special about this rice?
I've tasted it and loved it and the fact that it's rice that's specific to this area makes it special because it's what locals have been growing and eating for generations. They keep their own stock for next year so they can grow more. I think it's something amazing that we should be supporting. This indigenous rice is going to disappear if we don't support them. Well, at least I want you to try it and you'll see how great it tastes.

Local rice grains grown by farmers in the north.
You were saying you believe that "ingredients come first" at Nahm. How important is the sourcing process or selection process of ingredients is for you?
Ingredients are definitely the foundation of everything that I do. I get my ingredients everywhere in Bangkok. Usually, the first trip I make is to markets. I go and see what's in season, I taste a lot of things and ask a lot of questions. If I find someone who has sugar, I'd ask the vendors where it's from, how it's made and I'd taste it. I basically just buy as many things as I possibly can and taste them, and if I find something that's really good, I try to incorporate it into the menu. For me, how things are produced is very important. We'd like to say we want to preserve the heritage of Thai cuisine at Nahm and the only way to do this is to preserve the heritage of these ingredients as well. There's a grandmother in Chumphon, for example, who makes our shrimp paste and it's amazing. If you don't support the business and make sure they're able to make a living, then it's not sustainable. The next generation is not going to be making the shrimp paste anymore and it's going to disappear.

Unique ingredients are found in abundance in Thailand's northern region.
Linked to what we said before, what does sustainability mean to you?
Sustainability means a great deal and there many sides to it. One is, of course, environmental sustainability. I was talking to locals about farmers' use of pesticides - how pesticides in the rice fields would collect in the water, then the little field crabs would eat all of the chemicals and the farmers will eat those crabs. Then, there's a lot of health issues, especially with pregnant women and babies. Thankfully now, they will not do that anymore. I mean, for us, it's important that we support people who are growing things organically for the next generation, and there's another side of sustainability, which is economic sustainability. When, as I said, if you're a rice farmer growing this amazing rice, we should be buying it. We should be making sure they can make a good living by supporting them so that their children can continue this work and we'll continue to have this amazing rice to eat.

From ingredients to the final plating, how do you manage to integrate food waste prevention? How do you manage to avoid wasting some parts of the ingredients you're using?
It's just about being smart and about how you use all the parts. For the Guineafowl we use in Larb, for example, if you cook the whole bird together, the breast area is going to be mushy by the time the legs are done, because this Guineafowl is quite tiny, and the legs are quite muscly. What we do is, when we get the whole bird, we separate the leg and thighs. Then, we cook it almost like a confit, in pork fat, in lard, with the same spice we use to season the Larb. Then, we just cook that very slowly so the meat becomes really tender and pick up a lot of flavours from the spices. Meanwhile, you can just sear the breast and roast the breast briefly so you don't overcook the breast part. That way, you use the whole bird.

Rice to be served at the MICHELIN Star Revelation Thailand 2020 gala dinner.
What's your favourite Northern Thai dish?
So many. Larb is definitely one of my favourite dishes, that's why I'm going to make it. I love Khao Soi, and I love young jackfruit salad. Last time I went to Nan Province, another rice farmer made this relish from little roasted field frogs which were pounded into this really, really spicy relish and it was just amazing.

Have you noticed some trends happening in Thailand, especially in Bangkok, regarding the dining scene?
For me, it's really encouraging to see this resurgence of old Thai cuisine. There are so many restaurants that are focusing on food that uses ingredients that used to be hard to find. Som Sa citrus is everywhere now. It's great to see because, when more people cook Thai food and more people go out to support Thai fine dining, you get to see these old ingredients that are coming back. Farmers can sell them and that's a great thing.

Chef Pim handpicks fresh ingredients for her kitchen.
What's the most satisfying part of what you do?
Finding people who are making these amazing ingredients that I can use to cook delicious food. That's my favourite part.

What does the Michelin Guide represent to you?
I used to be on the consumer's side of the Michelin when I was still working in technology and travelling in Europe a lot. I used to use the Michelin Guide to find restaurants to visit. So, it's great that I'm in it now.

What's the key to your success? What advice do you have for young aspiring chefs/cooks?
I guess my advice is just to stay curious. Keep eating, learning, and keep cooking.

Rice grains nearly ready for harvest.
One MICHELIN Star: High quality cooking, worth a stop!
GF, Como Metropolitan, 27 Sathon Tai Road, Thung Mahamek, Sathon, Bangkok