One of the ancient provinces of Thailand, Sakon Nakhon boasts over 1,000 years of history marked by remnants of legends and civilisation that remains ingrained across the city. Equally notable to the province's historical background are the delicious dishes and recipes that have been passed down from generation to generation. Located in the Northeastern region of Thailand, Sakon Nakhon is accessible by plane, car and coach.
Though not internationally known for steak, Thailand does have famous beef that many locals are familiar with. Thai Pon Yang Kham beef is sold across Thailand, but its origin comes from Sakon Nakhon. The name of the dish originated from the name of a small village - Pon Yang Kham - where the beef is produced. Pon Yang Kham beef is known for its beautiful marbling and well-rounded flavours cultivated through a unique feeding technique. Unlike domestic cows, Pon Yang Kham beef is raised with chemical-free, natural feedstock; such as, grass and hay, combined with special grains to improve the meat's natural fragrance and sweetness. To further promote the cows' appetite, a clean environment is also sustained - from bathing and brushing the cows to ensuring that the floors are regularly cleaned. The result is a shortened feeding period, which is reduced from one year to approximately eight or nine months. Visitors can delight in the taste of Pon Yang Kham just 14 kilometres away from Amphoe Mueang via the Sakon Nakhon-Na Kae route. Upon approaching the village, one will be greeted by a line of Pon Yang Kham beef shops running along both sides of the road. Here, tourists can enjoy various local and international menus cooked with premium-care beef.

The villages of Sakon Nakhon are also known for their indigo fabric dyeing. Indigo shrubs can often be found in the sparse forest in the Northeastern region of Thailand. Those interested in learning about indigo dyeing should not miss the chance to visit Ban Don Koi, where one can both see and try dyeing fabric with indigo. Ban Don Koi Indigo Fabric Dyeing Community is recognised as one of the best indigo fabric dyers in Sakon Nakhon. At Ban Don Koi, one can also shop for authentic indigo-dyed fabric for a chic, Thai-style look, though the fabric on display (including those in the process of dyeing and weaving) has all been booked in advance. Visitors interested in purchasing the fabric may select the pattern and make a reservation to have the fabric sent via mail though those who live nearby may also opt to pick up the finished product themselves. Aside from Ban Don Koi, Thanon Pha Kram (translated as Indigo Fabric Road) in front of Phrathat Choeng Chum also offers indigo fabric along with ready-to-wear indigo dresses, working uniforms, scarves, trousers, as well as bags and small souvenirs; such as, indigo-dyed key chains for visitors.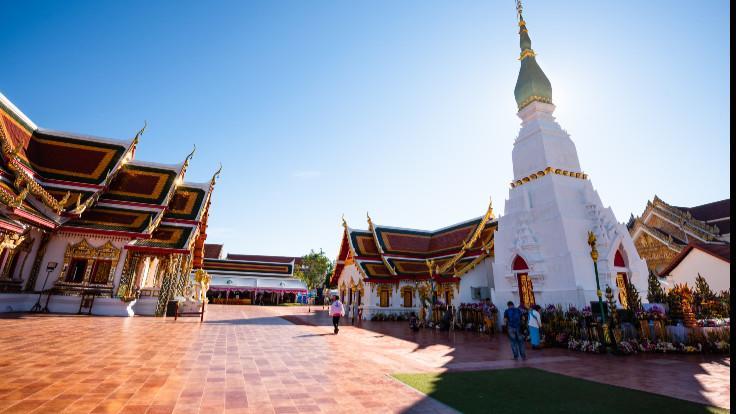 Phrathat Choeng Chum
After feasting the eyes and emptying one's pockets on indigo fabric, fill the empty stomach with a rare local dish at Ban Ka Loeng with Kaeng Wai (spicy rattan soup). A rare but delicious dish, Kaeng Wai is a staple - a national - dish to the people of Ka Loeng. Ka Loeng villagers were originally from Lao PDR. and lived by the Mekong River area before eventually settling down in Thailand, particularly around the area of Sakon Nakhon. The lives of the Ka Loeng community around the Phu Phan Mountains are deeply integrated with nature with wild meat and plants playing a major part in their culinary culture. Kaeng Wai, as the name suggests, features the key ingredient of Wai Pa, or wild rattan. Not only is the dish served during a family meal, but also during religious events and special occasions.

Upon first glance, Kaeng Wai may resemble Kaeng No Mai or Spicy Bamboo Shoot Curry. However, the main ingredient used here is young rattan shoot, peeled and boiled with pork ribs and curry spice. Those who wish to remove the bitter taste of the rattan shoot may soak the peeled shoots in water prior to boiling though the bitter taste is believed to have medicinal properties. Fresh chillis are then ground and mixed with Khao Buea (pounded soaked rice used to add viscosity to the soup) and salt. Another dish to try when visiting Sakon Nakhon is a Phu Tai dish called Sua Kai. The Phu Tai ethnic group first migrated from Sip Song Chu Tai, a region that is now in modern-day Vietnam. The word Sua in Phu Tai refers to a hot savoury soup, and thus describes a light, spicy soup with shredded chicken (Kai) and aromatic herbs; such as, galangal, ginger, grilled and pounded chillis and shallots. Unlike other spicy broths which contain lime, Sua Kai does not use any sour tasting ingredients, and instead, uses fish sauce and Pla Ra (fermented fish) to add depth and flavour.

Aside from dishes inspired by local ethnic tribes; such as, Kaeng Wai or Sua, Sakon Nakhon is also known for its Thai-Vietnamese snacks, particularly Khao Kriap Pak Mo. Not far from Wat Phrathat Choeng Chum, visitors can enjoy freshly cooked Khao Kriap Pak Mo, as well as Khao Kriap Krop (Vietnamese pizza). Khao Kriap Pak Mo is made by mixing rice flour and sticky rice flour together before pouring the mixture onto cheesecloth stretched over a hot steaming pot. The flour is sprinkled with sesame seeds and left to cook to form a thin flour. Cooked minced pork with sliced Mu Yo (Vietnamese-style sausage) are then added and wrapped to form bite-sized pieces. Khao Kriap Pak Mo is eaten with a topping of fried shallots and a sour and sweet dip.

Sakon Nakhon is a land of faith. One landmark that reflects the locals' religious faith is Wat Tham Pha Dae situated on the side of the Phu Phan Mountains. The temple features ornate statues carved from rock depicting the Buddha's life. The route leading up to the temple also boasts a stunning viewpoint where one can take in Sakon Nakhon from a bird's-eye view. Ascending the route, visitors will arrive at Wat Phrathat Choeng Chum Worawihan, a major and sacred religious monument of Sakon Nakhon province, where one can worship the four Buddha's footprints. Visitors may also pay homage to Phra Ong Saen, a Buddha image believed to bring good luck and prosperity. People often go to pay homage to Phra Ong Saen every Buddhist holy evening, and the perfect time to visit Sakon Nakhon is during the annual religious event of Phrathat Choeng Chum, which happens between the ninth day of the waxing moon and the full moon day.

Wat Tham Pha Dae
Rich in culinary and religious history, Sakon Nakhon has much to offer than meets the eye. Whether you are in for a culinary adventure, artisanal textile dyeing techniques, or a spiritual getaway, this Northeastern province will not disappoint you.

Must-visit
1. Learn indigo fabric dyeing at Home Kram Wari by the Ban Non Ruea Samakkhi Farmers' Wives Community.
2. Taste Pon Yang Kham beef at Farm Hug, Kho Khun Khun Thong.
3. Visit 100-year-old architecture and St. Michael's Cathedral at the Tha Rae community.
4. Visit Nong Han Chaloem Phrakiat Lotus Park and the White Naga sculpture.
5. Pay homage at Phrathat Choeng Chum and shop for indigo fabric products
at Pha Kram Road nearby.
6. Pay homage to Phrathat Narai Choeng Weng.
7. Visit Wat Tham Pha Daen on the mountains and take in the view of Sakon Nakhon from the mountaintop.

For more information, contact the Tourism Authority of Thailand (TAT), visit www.tatcontactcenter.com/en/Main, or call the TAT contact centre at 1672.

This post is brought to you in partnership with Tourism Authority of Thailand