Surin, 'tin kotchasan', or home of the elephants, is situated in the Lower Northeastern region of Thailand. It is a large province with a diversified heritage of the Khmer, Tai, Kui, Chinese and Yuan (namely Vietnamese). Existing in harmony, each ethnic group has its own unique culture and traditions that have been passed down through many generations. Aside from its rich cultural heritage, the province of elephants is also home to many national treasures; such as, Khmer ruins (stone castles) and ancient historical sites.

Though Surin comprises many ethnic groups in its land, the fundamental cultures that formed Surin's roots and traditions can be traced back to three major ethnicities: Thai-Khmer, Thai-Kui, and Thai-Lao. The influences can also be found in the local cuisine, amongst which is a Surin specialty that cannot be found elsewhere - Sanlo Chek. The dish is derived from Khmer language and can be directly translated as Banana Curry, with Sanlo meaning curry, and Chek meaning banana. Back in the past, the means of transportation were limited, and the source of food came from local agriculture and plantations or one's own garden. As such, Sanlo Chek was a staple menu for funeral guests, as banana trees can be found in almost every household.

Sanlo Chek
Sanlo Chek is also considered a dish that is symbolic of cutting the ties between the deceased and their living family members. Popularly enjoyed with rice, Sanlo Chek is made by pounding dried chilli with galangal, lemongrass, onion, garlic and salt together to create Phrik Kaeng (curry paste). The key ingredient, raw banana, is then cut and peeled into pieces before soaking in lemon juice or saline to prevent the cut fruit from browning. For the curry, heat coconut cream until the oil layer is separated, then add Phrik Kaeng and stir-fry until fragrant. Coconut milk is then added and left to steep before adding the banana. Season with sugar and Pla Ra (fermented fish), kaffir lime leaves, lemon basil leaves and climbing wattle before serving. The result is a rich and flavourful curry with a beautiful aroma to match the taste.

Salot Rao
Salot Rao or Kaeng Phueak (Taro Curry or Spicy Soup) is another dish with a Khmer influence. It is a popular postharvest menu, with local recipes including taro with field crab, which are found during the postharvest season, as well as catfish or frogs. This menu can be cooked with or without coconut milk though the key ingredient that cannot be missing is tamarind paste to offer the soup its characteristic sourness flavour. A trick to cooking this dish is the spiciness and aroma from Bai I-om or Phak Kha Yaeng (rice paddy herb), as well as plenty of herbs to add more flavour and aroma to the dish. Affluent Khmer or Kui locals often enjoy the dish with a lighter taste, so that it can be enjoyed on its own. This is a must-try dish, as it is very rare to find Salot Rao in other provinces other than Surin.

Surin Elephant Village at Ban Ta Klang
Bananas are synonymous with elephants to the Thai people, and it would not be a real visit to Surin if one did not get to see elephants. Visit the Surin Elephant Village at Ban Ta Klang, a Kui community, to discover the long history between humans and elephants. The Kui people once raised elephants for the Siamese royal army for battles, and today, the Surin Elephant Village is one of, if not, the largest elephant village in the world. Ban Ta Klang is thus like a cultural community that demonstrates the symbiosis between humans and elephants with unique allusions to elephants, from elephant training to performances and Buat Nak Chang, a religious procession which involves elephants. The Surin Elephant Village still maintains the traditional art of elephant raising from their Kui ancestors. The elephant performances here portray the elephants' endearing charms and their intellect with shows featuring elephants dancing, painting, playing darts, football, and much more. Here, visitors can see the performances daily at 10:30 Hrs. and 14:30 Hrs.

Aside from curry and soup, Surin also has grilled menus to savour - Ang Kaep Bop, or Barbecued Stuffed Frog - is one example. This delicacy features frog stuffed with spices; such as, pounded chilli, garlic, onion, galangal, fingerroot, kaffir lime leaf, and holy basil to add flavour and tame the odour of the frog. If Ang Kaep Bop is perhaps too adventurous, An Som Jruk or Khao Tom Bai Maphrao with pork is recommended. In Khmer, Jruk means pork. It is a savoury snack that looks similar to Khao Tom Mat (coconut rice), but with the flavours of a Chinese Zongzi (locally known to Thais as Bajang). An Som Jruk is made of sticky rice, peanut and pork though some may add little pieces of lard, and then wrap with young coconut leaf before boiling. This snack is enjoyed during special occasions; such as, Khai Phansa (Buddhist Lent Day), an ordination, or even at weddings.

A meal would hardly be complete without a sweet ending. For dessert, try Khanom Krot, a tasty local sweet from Surin. It is similar to Khanom Khai Hong or Khai Tao (fried circular sweet dough) from the Central Region. Khanom Krot comes with two different fillings, soybean and coconut. The dough is made by mixing a handful of sticky rice flour and rice flour with one teaspoon of baking soda and water before kneading into a dough. The sweet fillings are made by simmering palm sugar with water and shredded coconut (or mashed soybean). Khanom Krot is eaten fried, and visitors should not miss the chance to try this golden brown, crispy dough filled with sweet, creamy delights.

The gold-embroidered silk of Ban Tha Sawang
Aside from food, the Khmer influence in Surin can be seen in its stone castles and Khmer ruins. For instance, Prasat Sikhoraphum at Amphoe Sikhoraphum is a sandstone and brick structure with intricate statues and a structural programme that is similar to the entrance to the Baphuon and Angkor Wat. Those who are more into textiles, however, will not be disappointed with Ban Chan Soma at Ban Tha Sawang. Since the olden days, Surin has been renowned as the best silk weaving province, and Ban Chan Soma's reputation inspired the locals to promote mulberry plantation, silkworm farms and silk weaving - chiefly the intricate gold-embroidered silk. However, the gold-embroidered silk of Ban Tha Sawang shot to fame when it was selected by the Royal Thai Government for the jackets and shawls for leaders at the APEC Summit Meeting in Thailand in late 2003, where it became known as the APEC Silk Weaving Village. Today, visitors may visit Talat Tong Chom, literally translated to Must-visit Market, to shop for silk products to preserve Thai silk as a cultural product while bringing more income to the locals in return.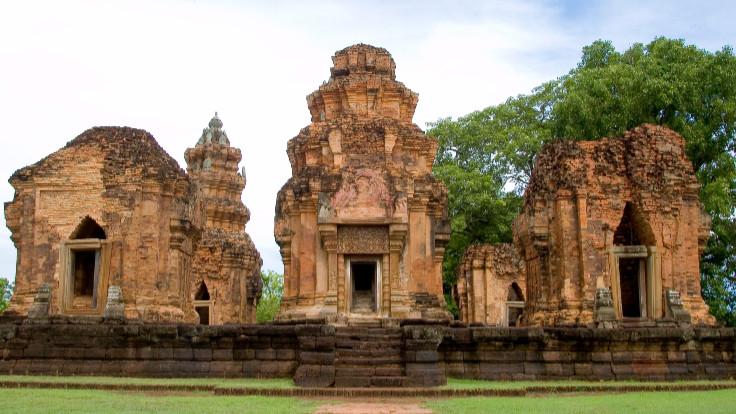 Prasat Sikhoraphum
A market is a reflection of the locals' lifestyle, and Talat Nam Ratha Mongkhon Surin is a destination not to be missed. It is located next to the Lam Huai Pier, in front of the Rajamangala University of Technology Isan Surin Campus, and is only 3 kilometres away from Amphoe Mueang. Situated on the bank of Huai Saneng, it is also an ecotourism route. Talat Nam Ratchet Mongkhon Surin opens daily between 06:00 - 18:00 Hrs.

Surin is a beautiful province with many attractions and culture that promise to intrigue. Just as the name suggests, the province is known for its long history with elephants. Besides these graceful creatures, Surin is also famous for its black jasmine rice, or 'Khao Hom Mali Nin Surin', which originated from the locally famous Thung Kula Ronghai. As for those who are interested in textiles, Surin is also famed for its intricate gold-embroidered silk, which places the province into the top 10 silk weaving cities in Thailand. Surin is a big city that is tranquil, clean and charming with its environment and people. It is accessible by car, train, and plane (visitors would have to take a flight to Buri Ram Airport and take the bus to Surin).

Must-visit
1. Attend the Phanom Sawai Mountain Festival.
2. Visit Talat Nam Ratchet Mongkhon Surin (floating market) to shop and appreciate the local lifestyle.
3. Pay homage to Luangpu Dun.
4. Visit Ban Tha Sawang and the Chan Soma gold-embroidered silk weaving community.
5. Visit Prasat Sikhoraphum, Amphoe Sikhoraphum.
6. Try Kalamae Sikhoraphum at Ran Kalamae Tra Prasat Diao.
7. Visit the Surin Elephant Village at Ban Ta Klang.

For more information, contact the Tourism Authority of Thailand (TAT), visit www.tatcontactcenter.com/en/Main, or call the TAT Contact Centre at 1672.

This post is brought to you in partnership with Tourism Authority of Thailand