Back in the days, Ratchaburi was one of the more refined towns of the Dvaravati, or the Suvarnabhumi Region. Though the current of time has brought about changes, the valuable archaeological sites, antiquities and stories still remain, making it a province that is rich with an intriguing history, traditions, artisanal craftsmanship and culinary culture. Ratchaburi is also a lush sanctuary located next to the Tanaosri Mountain range (also known as the Tenasserim Mountain range) with a diverse population of 8 different ethnicities living together in harmony. These include the Central Thai locals, Tai Yuan (Thai-Vietnamese), Tai Karen, Lao Ti, Chinese, Mon, Lao Song and Lao-Khmer. Today, Ratchaburi has turned into an inspiring art town along with being a culinary heaven with many scrumptious dishes.

Savoury Treats With the Chinese-Mon
Upon arriving at Photharam district, the first menu that is a signature here is Tao Hu Dam, or black tofu - a dish which originated from the Teochew Chinese culture. Tao Hu Dam is made from fresh soybean mixed with special ingredients that give the tofu its original black hue and aromatic fragrance: five-spice powder, sugar, sea salt, cinnamon and star anise. The secret to making delicious black tofu lies in boiling the tofu on mid-heat over 3 - 4 days without using any preservatives, which will allow the tofu to fully soak up the ingredients for a rich flavour. It is essential to use quality tofu made with 100% soybean with no flour added from a trusted, regular supplier.

Tao Hu Dam
Authentic black tofu will have a distinct balance between salty and sweet like Palo, or Chinese-style stew with sweet herbal gravy. Black tofu can be enjoyed as it is or used to cook other dishes; such as, Yam Tao Hu Dam (black tofu spicy salad), black tofu with holy basil, black tofu jungle curry, black tofu Palo, as well as stir-fried black tofu with bean sprouts. When ordering, customers may ask for a separate bag of black soup for making their own Palo dish at home. The distinct Chinese root of the dish can be traced back to Chinese migrants who moved to Ratchaburi, as recorded in the Archive of King Rama V the Great's Photharam Visit in 1888, which noted that the Photharam Market was home to hundreds of Thai-Chinese households.

Aside from black tofu, Photharam is also known for its Nuea Tom Ban Sing, another famous Chinese menu, which originated from Ban Sing subdistrict, with the recipe created by a Chinese man named Ko Liang 20 years ago. Tired of labouring at a rice mill, his passion in cooking led to the creation of this special recipe, where he then combined Tom Yam (sour and spicy soup) with blanched meat to create this famous bowl of Ban Sing, Photharam. Just as the name suggests, the key in making delicious Nuea Tom Ban Sing (Ban Sing blanched meat) is the use of quality meat; namely, tenderloin and beef entrails, which are then cleaned, boiled, and blanched again before serving. For the soup base, the Tom Yam soup features fresh herbs of sliced galangal, lemongrass, chilli, fresh lemon juice, chopped holy basil, and dill sprinkled on top. The result is a Tom Yam Nai Sai, or clear Tom Yam soup with savoury meat and entrails. It looks like Tom Yam Nam Sai or clear sour and spicy soup.

Nuea Tom Ban Sing
Not only in Photharam, but a large Chinese community and influence can also be found in the Damnoen Saduak area, where they have settled since the reign of King Rama IV. Originally, the migrants comprised Chinese labourers who came to work on the canal's construction, and one of the staple dishes within the Chinese community was boiled rice. However, in a hot climate like that of Thailand, a light meal of boiled rice served with hot soup was soon adapted into what is known as Khao Haeng. The dish is prepared by making the topping of Chinese-style soy sauce chicken or Kai Tom Sio. In some cases, stewed chicken or duck blood curd is also added as the topping. The soy sauce chicken and blood curd are then used to top hot steamed rice and sprinkled with chopped pickled cabbage, fried garlic and cilantro. In some areas, Khao Tom Haeng is also enjoyed with fried shrimp or fried tofu and seasoned with vinegar, sugar, fish sauce and dried chilli powder to the diner's preference. The original and authentic Khao Tom Haeng can be found at the Lak Ha Floating Market next to Khlong Damnoen Saduak, where the dish's original recipe has been carried on as a way of preserving the Thai-Chinese community's culinary heritage.

Khao Haeng
As for the market itself, Lak Ha Floating Market is located at the junction between two provinces: Ban Phaeo district, Samut Sakhon province and Damnoen Saduak district of Ratchaburi; hence, its given name is the "Bi-territory Floating Market". It is at the end of Amphoe Damnoen Saduak of Ratchaburi. This riverside community is speculated to be at least 150 years old, as indicated by historical evidence and the construction of Wat Prasat Sith (also known as Wat Lak Ha). Constructed to serve as a memorial by Somdet Chaophraya Borom Maha Sri Suriwongse (Chuang Bunnag who also oversaw the canal's construction), Lak Ha Floating Market was very popular in the past and remained active until the development of roads replaced the need for water transportation. The same pattern could be seen with other floating markets, which disappeared by the mid-20th century due to the development of modern land infrastructure. However, through the efforts of the Tourism Authority of Thailand (TAT), along with the cooperation of the villagers and related parties, the clocks have been turned and many floating markets have been revived once again. For those stopping by the market, don't forget to cherish the antiquities, savour local flavours and unwind by the canal.

Aside from Chinese settlers, Mon is another ethnic group that has been part of the Mekong River from the past to the present. It is not surprising that their culinary legacy still remains today. Recommended is Kaeng Som Matat. Made with Matat (elephant apple) or Mon apple, a local Southeast Asian fruit, which goes by different names in various areas. The fruit is normally picked between the end of the rainy season and the beginning of winter (September onwards). Matat is a very sour fruit that can be used in both food and desserts, and is the key ingredient in several Mon dishes. Kaeng Som Matat or Matad curry soup can still be found in areas; such as, Nakhon Chum Mon, Ratchaburi. Kaeng Som Matat is a healthy menu, which contains many fibrous ingredients; such as, pumpkin, baby melon, pea eggplants and lemon basil. The fruit itself, when cooked, becomes jellylike and is believed to be good for the stomach and intestines.

Another ethnic group with a fascinating culture and traditions in Ratchaburi is Tai Yuan, or the Thai-Vietnamese group. Since the Dvaravati Era, the Tai Yuan have lived at the Southern end of the Chao Phraya River, which served as an essential trading route back in the day. Archaeologists have discovered many historical artefacts from the original site. The artefacts are now displayed at the Jipathapun Ban Khu Bua Museum, which was established in order to pay homage to the Thai-Vietnamese ancestors in Ratchaburi. Visitors can discover and learn about antiquities including ancient utensils, accessories and weapons made of metal, stone and glass from the Dvaravati Era, as well as learn about 'Pha Chok Tai Yuan Chiang Saen' weaving methods and the costumes of different ethnic groups. Today, the Museum has become part of a tourist attraction titled "Mueang Boran Khu Bua, Talat Nut Tai Yuan, Wat Khlong Suwanna Khiri". Every Friday to Sunday between 9 a.m. - 7 p.m., there is Kad Withi Chum Chon Khu Bua (Khu Bua Community Market), a replica of the ancient market with a Tai Yuan theme. Here, visitors can shop and enjoy local food, buy traditional utensils and products, as well as watch local shows and music performances by the village's children and local bands from 5 p.m. onwards.

Jipathapun Ban Khu Bua Museum
In 2018, a brand new attraction named Na Satta Thai Cultural Park (formerly called Siam Cultural Park Wax Museum) opened and is located on a spacious 42 rai (approx. 14 acres) of land. The space has been designed as a learning centre for enjoying and fostering Thai heritage, as well as promoting Buddhist values and preserving Thai culture. Aside from the wax museum with important and historical figure replicas, Wihan Sukhothai is another section, which tells the story of how Buddhism came to Thailand through modern audiovisual mapping techniques. After Wihan Sukhothai, head to the 4 regions Thai houses displaying the traditional Thai lifestyle, herbs and essential plants along with creative learning workshops. An innovative learning centre, Na Satta Thai Cultural Park is a place where everyone in the family will be able to spend quality time together.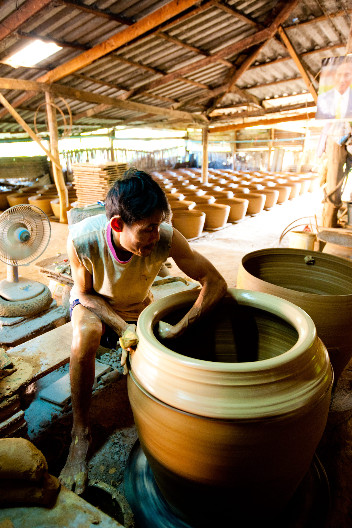 Ratchaburi is known for its pottery, in particular, the Ratchaburi earthen jars which feature spectacular dragon patterns. Head to Reung Kong Ong, or Pottery Legend, an innovative cultural attraction, which portrays the locals and how earthen jars have been intricately bound to their daily life back in the day. With the aim to foster the arts and culture of Ratchaburi's dragon patterned earthenware, the learning centre was established with 3D animation with multimedia facilities to tell the story of the earthenware from past to present, from the making process, and how the shapes have evolved over the years. The centre also offers demonstrations on how this earthenware and the patterns are created. This also includes an exhibition with a guided tour on pottery tools and kilns - a thermally insulated chamber for turning clay into pottery. After filling oneself with knowledge, head to the souvenir shop, the restaurants or join the workshops for fun activities which can be enjoyed throughout the day.

Situated 110 kilometres west of Bangkok, getting to Ratchaburi is a mere 2-hour drive away. A trip to Ratchaburi is one that promises savoury dishes and intriguing cultural activities. Whether you are into delicious food, cultural activities or shopping for homewares, this short trip out of Bangkok will certainly be one which is filled with flavours and fun.

Must-visit
1. Na Satta Thai Cultural Park.
2. Learn about earthenware at Ruang Kong Ong.
3. Khao Ngu Stone Park.
4. Mueang Boran Khu Bua, Talat Nut Tai Yuan, Wat Khlong Suwanna Khiri.
5. Lak Ha Floating Market's 150-year-old community.


This post is brought to you in partnership with Tourism Authority of Thailand