For Thais, the evening meal can mean many things. It could be a time to refuel before heading home or a chance to reconnect with friends and family after a long day. Some may want to dine as the sun sets, while others may find themselves wanting a late-night bite before heading to bed.

A favourite choice for these evening or late-night meals is porridge, a staple that originated in China but has been with Thai people for a long time. Now, MICHELIN Guide will introduce you to Koa Chun Huad, a porridge shop serving bowls of tastiness since 1966.

How good is it? So good that it was awarded a Bib Gourmand in honour of the delicious legacy that has been passed down from father to daughter and now to niece.

Care for some hot porridge before heading home? (© Anuwat Senivansa Na Ayudhya/ MICHELIN Guide Thailand)
Over half a decade of history
The shop's origin dates back to around the 1960s-1970s. The original owner – Koa Chun Huad – was a kitchen helper at Chinatown's Liang Seng. He got married at 20 and settled down on Somdet Phra Chao Tak Sin Road in 1966. After quitting his job, he bought a shophouse and started his own porridge shop. His natural talent, combined with expertise from his time in the kitchen, created dishes that pleased everyone.
When Koa passed away in 1992, his daughters inherited the shop. Many of the original kitchen staff and servers still work there.
Today,
Koa Chun Huad
is run by this second generation of sisters. Ponpen Nopparattanawong and Pensri Nopparattanawong are preserving the dishes and flavours that Thonburi residents have cherished for decades. Some may move away, but they will still return, filling this favoured eatery from sunset to late night.
Kor Chun Huad opens from 5 pm to 2 am.(© Anuwat Senivansa Na Ayudhya/ MICHELIN Guide Thailand)
Like many restaurants, operating a porridge shop can be daunting. There are various ingredients to prepare. Special requests from diners pose constant challenges. Dishes must always taste delectable and consistent. Time must also be well-managed to meet the overwhelming number of orders that keep coming in.

Koa Chun Huad's first distinction is the consistency in quality and tastiness. Nothing has changed since Koa's time in charge. Second, it offers rare dishes you simply can't find at other places. The classic atmosphere that brings back childhood memories is another highlight. These make Koa Chun Huad unceasingly lively from when it opens at 5 pm until it closes at 2 am.

Which dish is your first pick? (© Anuwat Senivansa Na Ayudhya/ MICHELIN Guide Thailand)
What to order?
Flipping through the menu, you will find a dizzying list of dishes that go well with porridge, or steamed rice if you prefer. But let us remind you that we are at a porridge shop, aren't we? Locals say this spot has retained its authentic flavours since the first day Grandpa Koa opened up over 50 years ago.
Koa Chun Huad
's delight starts from the rice. Quality jasmine rice is mixed with a perfect balance of sticky rice. Then, it's put into clean water and boiled on high heat with no salt added. The properly boiled porridge is ladled out only when there's an order.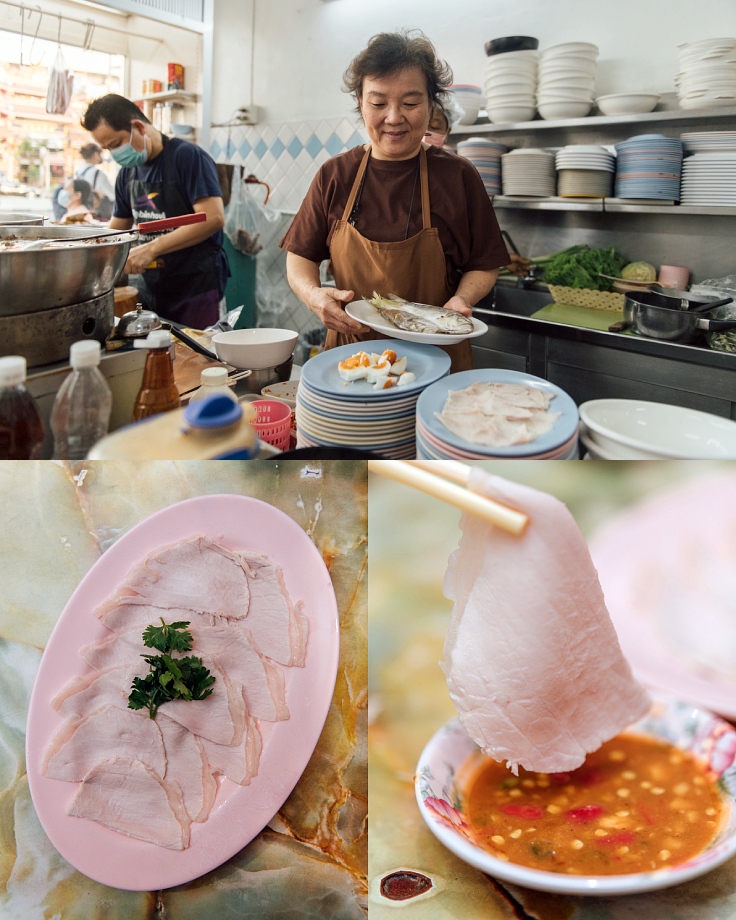 Boiled pork slices are perfectly complemented by a soybean sauce. (© Anuwat Senivansa Na Ayudhya/ MICHELIN Guide Thailand)
The must-try dish that our MICHELIN Inspectors rave about is the boiled pork slices. Pork loin with the right amount of fat is boiled on low heat for an extended period before being sliced into thin pieces. The accompanying soybean sauce makes the taste perfect.

But you'll need a few more plates to satiate your hunger. Soy-sauce duck stir-fry may look simple, but it is too appetising to resist. Duck is stir-fried with soy sauce that penetrates every part of every piece. You can nibble the meat alone to fully taste the intensity or eat it with porridge.

Care for some soy-sauce duck stir-fry and deep-fried fish with chilli sauce? (© Anuwat Senivansa Na Ayudhya/ MICHELIN Guide Thailand)
Koa Chun Huad also offers a rare version of Chinese vegetable stew by serving it as a mixed vegetable stir-fry. But this establishment's Teochew technique fries the vegetables dry, with vermicelli. It becomes a taste from heaven when paired with warm porridge, especially for a late night grub.




Bib Gourmand • Inspectors' favourites for good value
Soi Somdet Phrachao Taksin 34 (Kobo), Bukkhalo, Thon Buri, Bangkok