Even in Taipei's bustling Nanjichang Night Market, one can easily locate A Nan Sesame Oil Chicken by the throngs of customers crowding around it. On regular days, eager diners start to cluster around the standing stall at 4pm every afternoon. All the seats are taken by the time the stall lights up at 6.30pm. The three hours until 9.30pm are the busiest for Chef Lin Guo Nan and his family.


"It feels like a battlefield whenever the stall gets busy. We always have to rush around, even accidentally bumping into each other and get scalded from time to time." said Lin Yu-an, Lin's eldest daughter, who helps out at the popular eatery. However, with the growing number of customers, the family of five is still short-handed and has had to engage more help.


The essence of A Nan Sesame Oil Chicken, lies in the soup base which takes more than ten hours to simmer.
One dedicated staff takes charge of the soup-base, which is the key to a robust bowl of sesame oil chicken. Unlike other stalls that use only water, wine and a small amount of pork bone, Lin gives his own twist to the dish by adding deboned chicken meat as well as chicken and pork bones when brewing the soup. The generous proportion of bones takes up a third of the entire pot, infusing the stock with a deep and rich aroma.

After serving the last customers at midnight, Lin starts the preparation for the following day. All the ingredients have to be slow-cooked overnight and continue to boil during the opening hours. After an estimated 12 to 16 hours of slow cooking, the ingredients release their flavours fully into the soup.


All throughout the day, the staff tediously maintain the quality of the soup by checking if it is overcooked or whether the flavour is intense enough. Based on experience, Lin then adjusts the flavour accordingly the intensity of the heat and the amount of extra ingredients to add, creating that consistent flavour which keeps customers coming back for more.

Lin was a delivery driver until he decided to open A Nan Sesame Oil Chicken 14 years ago. To him, the most difficult part was mastering knife skills.
Born in the Wanhua District of Taipei, Lin was a delivery driver for an electronics company until 14 years ago, at the age of 40, when he decided to start a small business hoping to earn a higher income. Motivated by his own fond memories of his mother's sesame oil chicken, Lin decided to refine the recipe and share this hearty dish with the public. It was difficult when he first started as he had never held a knife before. He worked on the recipe day and night, hoping to develop the perfect rendition of his mother's dish.

Meticulous even to the minute details, Lin chops chicken, removes all their feathers and cleans the parts carefully with water before adding them into the broth to ensure cleanliness and freshness. To eliminate the hassle for diners, Lin even debones the chicken before serving. His signature chicken legs are usually sold out by 7pm or 8pm.
Other than chicken legs, his dishes which feature premium pork shoulder, kidneys and hearts are equally popular. Diners come from all over the city to visit his stall, just to have a simple bowl of rice vermicelli.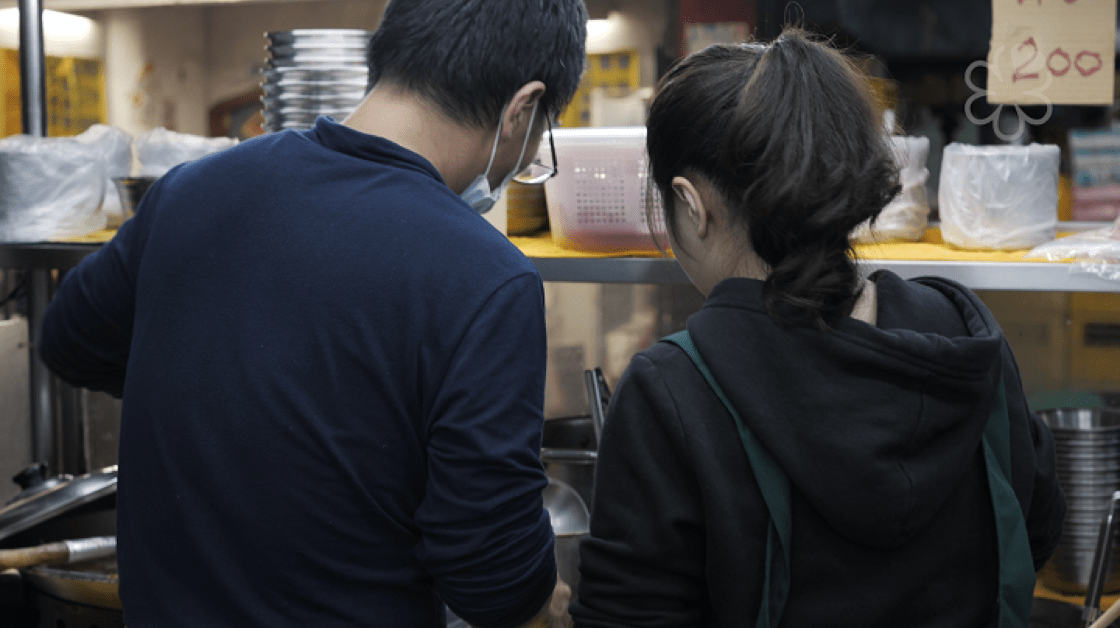 Starting from last year, Lin Yu-an (right) decided to help at the stall, to reduce the workload of her parents
After being recognised with the Bib Gourmand in the MICHELIN GUIDE Taipei 2018, Lin noticed an increasing number of regional guests from places such as Hong Kong, Singapore and Japan. This placed immense pressure on his family. Lin confesses that while he used to enjoy his free time and take breaks whenever he wanted, the stall now has fixed Monday as its official rest day as he does not want to disappoint guests that come all the way from overseas to try his food. Even when he is under the weather, he would personally prepare and cook the dishes, delivering an authentic dining experience to all his guests.

Eldest daughter Lin Yu-an admits that she disliked the business when she was young, as she was asked to help out at the stall after school until 10pm or 11pm every night. However, it pained her to see her aging parents work for 12 hours a day, so she began working at the stall last year. "It always gives me heartache, whenever I see my parents work so hard."

Lin says he is overjoyed to have his daughter around even though she constantly nags about his health, making remarks about his unhealthy lifestyle and long working hours. "You just get used to it, let it go in one ear and out the other," he laughs.

Pork kidney and heart are also a must to order for many guests.
Last September, the family was invited to Macau to participate in the MICHELIN GUIDE Hong Kong Macau Street Food Festival. It was an eye-opener for eldest daughter Lin, as she got to observe the massive central kitchen and modern culinary equipment. "There are machines specially designed for stir-frying and soup cooking. If not for the Bib Gourmand, I would never get a chance to see them." She intends to introduce these machines to A Nan someday, to reduce the burden on her parents. She pointed out that with these machines, her mother will no longer need to stir the soup continuously for long hours, or fry 30 to 40 kg of chicken meat at one time.

From delivery driver to popular food stall owner that is recognised overseas, Lin said he didn't expect his career switch would have him such great success. "God helped me," he emphasised repeatedly.
This story is written by Hsieh Ming-Ling and translated by Tang Jie. To read the original article, click here.