Raised on the flavours of his mother and grandmother's homespun dishes, Thitid Tassanakajohn has always had Thai cooking running in his blood. But his parents dissuaded him from pursuing a culinary career in favour of a more stable, lucrative profession. So he graduated in Economics from Thailand's esteemed Chulalongkorn University and became an investment banker.
He never forgot his first love of cooking though and struck a deal with his family — if he could complete his Masters of Business Administration, he would have their blessings to study at the Culinary Institute of America in New York. He earned his MBA in Hospitality from Johnson & Wales University in 18 months and enrolled in the CIA.
During his time in New York, Tassanakajohn cut his teeth at several Michelin-starred restaurants, including
Eleven Madison Park
,
The Modern
and
Jean Georges
, and became a Certified Sommelier (CS) from the respected
Court of Master Sommelier
.
Chef Ton, as he is affectionately known in Thailand, returned to Bangkok after his New York stint and opened fine-dining restaurant
Le Du
in 2013.
His concept for Le Du was born from a development project he had worked on while studying at the culinary institute and his experience working at the three-Michelin-starred Eleven Madison Park.
The interior of Le Du in Bangkok (Pic: Le Du)
Though French-sounding, the restaurant was named after the Thai word for "seasons", which reflects the chef's focus on traditional flavours and local, seasonal ingredients, woven together with contemporary flair. Using his experience from Eleven Madison Park, he creatively re-interprets Thai cuisine, with a rotating seasonal menu. In summer, highlights include his signature khao chae, as well as khao khluk kapi, a dish of organic rice cooked with salty aromatic shrimp paste and pork jam, then served with plump river prawns. In the rainy months,
foraged wild ant larvae
find their way into the menu atop a delicate southern Thai curry.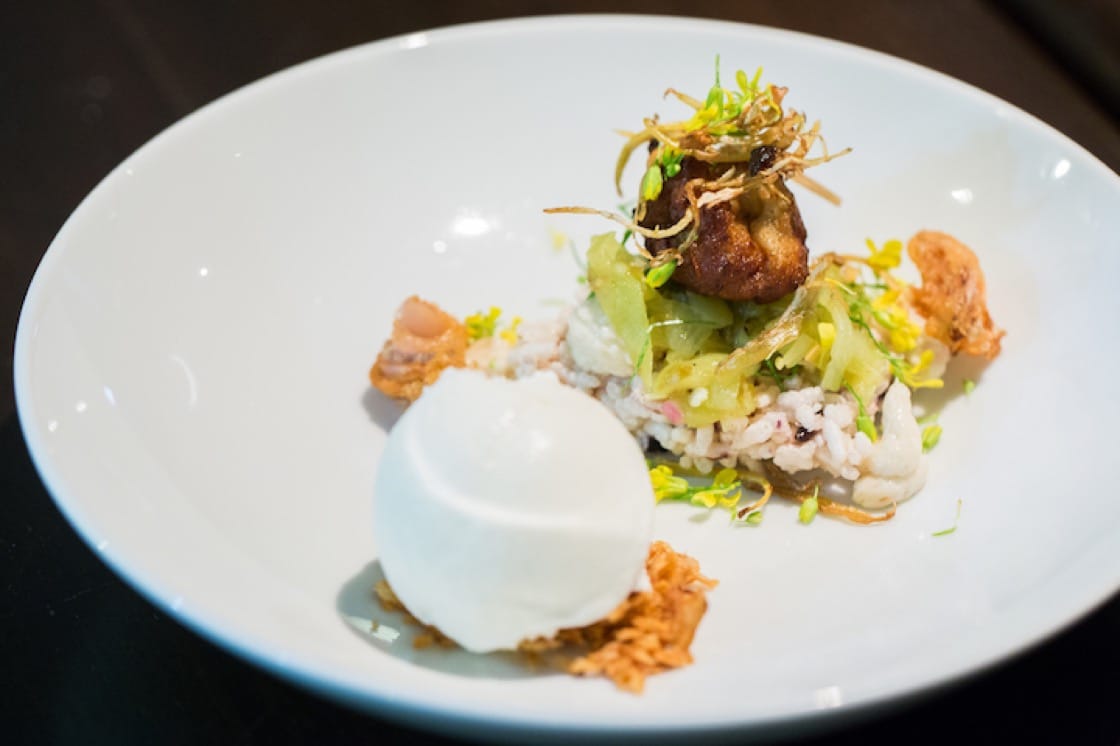 Le Du's summertime signature of khao chae (Pic: Le Du)
Two years later, he opened a second restaurant,
Baan
, showcasing more traditional Thai cuisine. When the
MICHELIN Guide Bangkok was launched
in 2018,
Baan
went on to win a Bib Gourmand award while Le Du was included in the red guide as a Michelin-plated restaurant.
Since then, he has made it his mission to elevate Thai cuisine on the world stage, turning his disappointment at not getting a star for Le Du into motivation for his team to work harder. "When our Thai street food hawker Jay Fai won a Michelin star in the first MICHELIN Guide Bangkok 2018, I think it showed that Michelin accepts and appreciates the cultures and cuisines of Asia more than ever. People are starting to talk about Thai food globally and hopefully modern Thai cuisine will get a boost on the world stage."
In December 2018, the chef spread his wings overseas, bringing Baan's classic Thai cuisine to Taiwan in partnership with Richie Lin, head chef of one-Michelin-starred MUME in Taipei.
The homespun Thai dishes of Baan, now in Bangkok and Taipei (Pic: Baan)
Tassanakajohn's Michelin star dreams came true when
Le Du
was awarded its first Michelin star in the
MICHELIN Guide Bangkok, Phuket and Phang-Nga 2019
. We chat with him to find out what the feeling was like.
What was your first encounter with the MICHELIN Guide?
It was when I was about 19 years old. I was studying economics at that time and was thinking of changing careers. I first read about the guide in a book by Gordon Ramsay and I dreamt of getting a Michelin star, even before I knew how much work was ahead of me.
What was it like when Le Du received a Michelin star for the first time?
To be honest, while I was very happy to receive the Bib Gourmand for Baan in the first MICHELIN Guide Bangkok 2018, I was so disappointed that Le Du only got a Michelin Plate that year. But it made us work even harder. When Le Du got the star in the 2019 edition, the whole team was very happy and excited because we had worked so hard for it.
How did you celebrate?
We drank lots of beer and whisky together that night at Le Du (laughs).
How has the MICHELIN Guide impacted your career?
Getting a Michelin star is something to aim for, so you work with purpose.
What advice do you have for young chefs aiming for Michelin stars?
Work a lot and very hard with all the chefs you look up to. No culinary school alone will make a chef. You have to really put in the work at real restaurants with high standards. Then, do what you are passionate about and the star will follow you.