When Kyle and Katina Connaughton of three-MICHELIN-starred SingleThread returned to the US after a three-year stay in Hokkaido in 2016, they didn't bring any Japanese souvenirs back with them – they brought an entire philosophy.
"'Exquisite' barely begins to describe a meal at this Healdsburg jewel," the MICHELIN inspectors wrote of the restaurant and inn in the heart of Sonoma County, California, where Kyle and his kitchen team have built a menu around the hyper-local and hyper-seasonal produce supplied by their own farm.
Katina manages the sprawling five-acre land, located just 11km further afield from SingleThread. It comprises row upon row of vegetable beds and olive trees, an heirloom fruit orchard, a cattle paddock and a greenhouse containing more than 30 varietals of tomatoes.

A distinctly Japanese ethos is the common thread that binds the entire enterprise: from the warm hospitality in anticipation of every diner's needs, to the chef's 11-course kaiseki-style menu designed to highlight Northern California's seasonality.
In Japan, Kyle had worked under Michel Bras at the acclaimed Toya Japan, while Katina held a residency at the Hokkaido agricultural centre studying sustainable farming techniques. Their seamless marriage of Japanese hospitality and Californian terroir earned them two MICHELIN stars just a year after SingleThread opened in late-2016, followed by an elevation to three stars in 2019.
When he was in Singapore last month to promote the launch of the Miele Generation 7000 series, Kyle Connaughton shared with us how he translates the spirit of Japanese omotenashi into a uniquely Californian dining experience at SingleThread.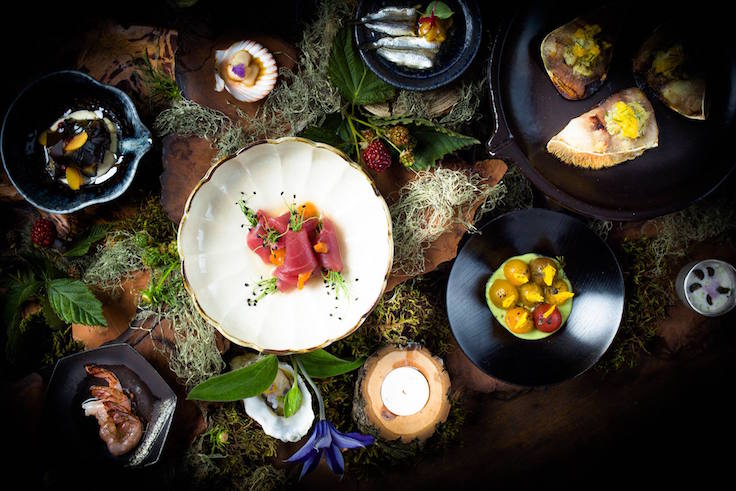 Sonoma County's terroir is captured in Kyle Connaughton's delicate dishes (Pic: SingleThread Facebook)
Our time in Japan has greatly influenced the way we run SingleThread, but it's definitely not Japanese. I've lived in Japan intermittently; the longest was for a three-year stretch stretch, when my wife started her farming career in Japan. We lived in a very rural agricultural area where I was cooking and she began farming, and we were really inspired by the seasons, the nature there and the hospitality of Japan and its flavours and cuisine. We wanted to bring a lot of those ideas and feelings to California but not in a way that felt Japanese — because we're not Japanese. We wanted these ideas to feel really at home, and in place, in California.

The philosophy of hospitality in Japan is called omotenashi. The hospitality in America is great and people here are generally very friendly, but omotenashi is a very particular Japanese style of service and care that regards diners not as customers, but as guests. It is about going all out to take care of them. We really wanted to have a restaurant that is hospitality-driven. We wanted guests to feel less like they were in a restaurant and more like they were coming to a dinner party in our home – here's a chef and a farmer and their family, and they are here to take care of you. Of course, the cuisine and the wines are very important, but the guest experience and their happiness is the most important thing to us.

The SingleThread property in the quaint town of Healdsburg in Northern California (Pic: SingleThread, Garrett Rowland)
We use a lot of Japanese cooking techniques and flavours in our kitchen. In terms of philosophy, we prefer the light, fresh and healthy options. We don't use very much dairy, carbohydrates or processed foods in cooking, It's all about the farm and the vegetables. Even when we serve meat, the meats are secondary to the vegetables. We use ancient cooking methods such as old-fashioned Japanese donabes (claypots) in our cooking, but we also use modern techniques like sous vide and the Miele Combi Steam Oven. For us it's about using the best tool to achieve the result that you want.

Our kaiseki-influenced cuisine is based on being aware of what's happening in nature. We're dealing with nature every day on the farm. We have a very close connection with nature and the passing of the seasons. Every season is very different and with each one you do things differently: you sleep differently, you eat differently. Working outdoors and being so close to nature, we know what's in season, what's available. We have a real sense of the season, and our place within that as humans and farmers.
A chef, a farmer and their family (Pic: SingleThread, Eric Wolfinger)
The farming philosophy drives everything that we do. Everyone who comes to SingleThread to work has to work at the farm on their first week. It doesn't matter what job they're going to do, they'll first work at the farm to appreciate and understand the hard work that goes into farming. You rely on nature for all of these things. Everything we farm comes to the restaurant and we use them all — we serve them to guests, we pickle and ferment things, we make family meals, or we cook for local shelters. The food waste goes to the compost, which goes back to the farm. We save our fish bones all year, we freeze them and use them to feed the tomato plants. It's a whole ecosystem. We're not saying that everyone should follow what we do, we're simply saying that this is what we do. Everyone should find their own way to act more sustainably, especially when it comes to food.

Getting three MICHELIN stars was incredible. It's a phone call you don't know if you'll ever get in your life. It was a great recognition for the hard work of the team. We often think about the future but we have to stay grounded and very present in the moment every day to make every guest feel good and leave with a great memory. At two and a half years old, we're still a really young restaurant. The time has gone by really very fast and we've got to make sure we're still growing and maturing. Next year will be about strengthening our systems and communications, and the work on the farm. It will be about going from being a new restaurant to being a restaurant that has more maturity.