This month, the newly revamped Funan Mall in North Bridge Road has been the talk of the town among foodies. After a $560 million makeover that took three years, the mall boasts many new food concepts, including NOKA, which runs an urban farm on the seventh-floor rooftop, and popular ramen chain Afuri's first foray into Singapore. It is best-known for its yuzu ramen, which attracts long queues at its numerous outlets in Tokyo. Diners can also take a walk down memory lane with Capitol Milk Bar, which is inspired by Magnolia Snack Bar — the top hangout spot in the 1960s for milkshakes and burgers — and Mott 32, a Chinese restaurant with a chic retro theme.

Chef Rishi Naleendra Opens Cloudstreet on 8 July
Four months after the closure of one-MICHELIN-starred Cheek By Jowl, chef Rishi Naleendra opens his fine-dining restaurant Cloudstreet in 84 Amoy Street today. The restaurant is a collaboration with Australian restaurateur Gareth Burnett. Diners can expect a progressive multicultural approach to the cuisine of Naleendra, which draws influences from Europe and Naleedra's birth country, Sri Lanka. Dishes include Coffin Bay oyster with wilted spinach, finger lime pulp, drenched in coconut milk and betel leaf oil, and cold pea sorbet with Kaluga caviar. The food is paired with a wine list featuring around 350 natural and classic wines by independent winemakers from around the world.
(Pic: NOKA)
The best of the MICHELIN Experience in your inbox
Stay on the top of the best restaurants, offers, lifestyle, and events recommended in our guide cities.
Subscribe
Urban Farm-to-table Restaurant NOKA
The newly reopened Funan Mall may be a hive of activity but Spa Esprit Group's latest dining concept NOKA on the seventh-floor rooftop is a serene haven set in the greenery of an urban farm set up in partnership with Edible Garden City. Head chef Seki Takuma harvests farm-fresh pink oyster mushrooms, Okinawan spinach, sweet potato, purslane, marigold and a slew of other tropical crops for his modern Japanese cuisine. He applies traditional Japanese cooking techniques to locally grown herbs in signature dishes like the black cod saikyo-yaki with ikura, pulut hitam furikake and EGC Mexican tarragon as well as snow-aged Niigata wagyu sirloin A4 that is charcoal-grilled and served with Okinawan spinach and yuzu ponzu.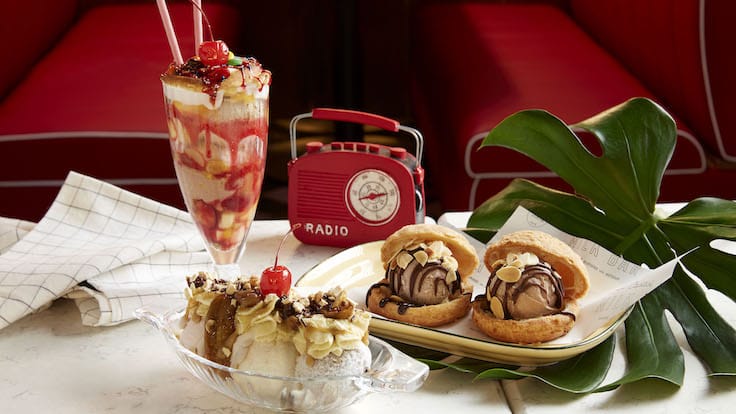 (Pic and banner pic: Capitol Milk Bar)
Sixties Throwback At Capitol Milk Bar
Hailing from the swinging '60s, Magnolia Snack Bar is a name that is sure to evoke a sense of nostalgia for those who were students and young courting couples back in the day. The newly opened Capitol Milk Bar at the Arcade @ The Capitol Kempinski pays homage to the Magnolia Snack Bar outside the old Capitol Theatre with its retro décor and playful menu of hotdogs, burgers and milkshakes. Red booth seats, mosaic flooring and neon lights set the mood for classic diner offerings like The Classic "New Yorker" hot dog with a side of curly fries and a towering milk shake. Round up the blast to the past with a banana split — Capitol Milk Bar's grown-up version is served with profiteroles and caramelised banana raisin, banana vanilla espuma, freeze dried banana and boozy banana rum glaze.
(Pic: Marina Bay Sands)
Hong Kong Restaurant Mott 32 To Open In Marina Bay Sands By This Year
Posh contemporary Chinese restaurant Mott 32, which is from Hong Kong, will be opening its fifth overseas outlet in Marina Bay Sands. The restaurant is slated to open by the end of this year. The restaurant takes over the former premises of Italian restaurant Nostra Cucina. The menu at Mott 32, which pays tribute to New York's first Chinese convenience store on 32 Mott Street, features Cantonese, Sichuan and Beijing cuisines. Signature dishes include the Apple Wood Roasted Peking Duck, Barbecue Pluma Iberico Pork Glazed With Yellow Mountain Honey, Iberico Pork With Soft Quail Egg And Black Truffle Siu Mai, as well as the Crispy Triple Cooked Wagyu Beef Short Ribs. The 149-seat restaurant will feature an East-meets-West interior which fuses industrial New York-style design and classic Chinese decor. Mott 32 is run by Hong Kong restaurant group, Maximal Concepts.
(Pic: Whitegrass)
Whitegrass returns with a French-Japanese direction
After a six-month hiatus, Whitegrass Restaurant has reopened with a new head chef, Takuya Yamashita, and a new French-Japanese concept that reflects his culinary training. Yamashita was the head chef at one-MICHELIN-starred
Ciel et Sol
in Tokyo and honed his craft at one-MICHELIN-starred Etude and
Les Enfants Rouges bistro
, both in Paris. The dishes seamlessly marry French and Japanese influences, with ingredients that are mostly sourced across Japan. Highlights of the summer menu include the Hokkaido Crab, which is presented as a dome-shaped "island" that is stuffed with shredded crab and cream corn, representing well-known produce from northern Japan. Other dishes include somen served with ayu paste and cucumber sauce, stuffed wings with Tokachi mushrooms, rice and pistachio (above), and Hirame fish enrobed in sansho butter and served with mussels in a saffron broth. For desserts, a savoury seaweed ice cream is paired with molasses and sencha cake and foam.
(Pic: Afuri)
Make A Beeline For Afuri Ramen's Famed Yuzu Ramen
Popular ramen chain Afuri, which started in Tokyo 16 years ago, has opened its debut Singapore outlet in the revamped Funan mall. The chain, which is brought in by Japan Foods Holdings, is well-known for its signature yuzu-scented ramen served with char-grilled pork. Diners can choose from three variations of the yuzu ramen (above) that are seasoned differently — with shio, shoyu or ratan (spicy). There is also tsukemen, a dipping ramen dish that is served with a yuzu or spicy dipping soup. Other dishes include rice bowls, gyoza and fried chicken.
(Pic: MICHELIN Guide Digital)
New Brunch Menu At Baristart Coffee
Hokkaido import Baristart Coffee has a brand-new Japanese Brunch Menu, meticulously created by in-house pastry chef Emi Sasaki. The brunch mainstay of French toast comes with a variety of accoutrements including Eggs Benedict, Prosciutto And Tomato Balsamic, Caramel Banana and Mixed Berries, but the classic Maple And Butter French Toast is the purest way to enjoy the flavour of the café's specially imported fresh Hokkaido milk. The baguettes are thoroughly soaked in Hokkaido BIEI Jersey Milk before being toasted to perfection and served with pure maple syrup and Hokkaido BIEI soft cream on the side. Savoury options include the premium A5 Wagyu Yakiniku Don with a perfectly cooked soft-boiled egg and tender slices of prime beef served atop a bed of fluffy Japanese rice.