Where:
Fu Ming Cooked Food
Block 85 Redhill Lane, 01-49
Redhill Food Centre

The proprietor of Fu Ming Cooked Food in bustling Redhill Food Centre didn't start out hawking fried radish cake, or chai tow kway — he first entered the hawker trade in the 1960s making chwee kway. But the little individual cups of steamed rice cakes proved so finicky to make that Goh Chye Oo, 58, switched to making chai tow kway in his late teenage years.

In Singapore, chai tow kway is known as carrot cake even though it isn't actually made with carrot. Instead, white radish or daikon is grated and mixed with rice flour and steamed to make a soft, starchy cake that is then chopped up and fried with egg and salty preserved radish.

Today, commercial carrot cake can be bought in pre-chopped, uniform cubes at supermarkets and supplied in plastic packets by factories to food stalls, but Goh is one of the few traditional hawkers who still make their carrot cake from scratch. "I tried getting it from the factory before but my customers could tell the difference straightaway and they were not happy," he says. "The kway we make ourselves is soft and 'QQ' the kway from factories is harder. The flour they use is different. We use good quality flour."
Goh and his wife, Lim Chin Hong, 60, open their stall at Redhill Food Centre at 5pm every evening on weekdays. Pulling up the shutters, they set to work immediately, firing up the large flat cast iron wok and chopping up the big blocks of carrot cake made the night before. The first customers arrive almost immediately and the couple take turns to fry plate after plate of smoky, unctuous chai tow kway.

By 8pm or 9pm, when the dinner crowd has subsided, Goh gets to work preparing the kway for the next day. He shreds fresh white radish with an old-school wood-backed grater and mixes it with a rice flour slurry for steaming. The batter has to be seasoned, mixed and hit by hand over 100 times to achieve a bouncy, consistent texture. "I use my experience and eyes to get the seasoning right," he says. "It's not so easy to make and the hours are long. Young people who see how hard it is to make chai tow kway don't want to do it anymore."
Goh Chye Oo makes the kway for his fried carrot cake from scratch (Pic: MICHELIN Guide Digital)
The round cake tins are then stacked and steamed for about four hours. Goh says: "In total, it takes about seven to eight hours to do, sometimes I work until the sky starts to brighten." Yet, he says it's not as difficult now as it used to be. "We used to mill the rice flour ourselves. We have to soak the rice overnight and mill it finely, but now we can get good quality rice flour so it's not so difficult anymore."

On the stall's brightly lit signboard, the name "Fu Ming Cooked Food" is flanked by two vintage cartoons of Mickey Mouse, yellowed with age. "We put up the signboard around 1975, I can't remember why I chose it but there was space on the signboard so I just put two Mickey Mouse on it," Goh says, chuckling. "People started associating my stall with it and called my dish Mickey Mouse chai tow kway, even kids recognised it and asked their parents for Mickey Mouse chai tow kway whenever they came to the market."
Fu Ming Cooked Food was included in the latest selection of restaurants and street food establishments recognised with a Bib Gourmand in the MICHELIN Guide Singapore 2019 which was just released on 10 September.

Goh and his wife, Lim Chin Hong, in front of Fu Ming's iconic Mickey Mouse signboard (Pic: MICHELIN Guide Digital)
What To Order:

The plates of chai tow kway here come in three sizes priced at $3, $4 and $5 and portions lean towards the smaller side. Fu Ming makes fried carrot cake in both black and white versions that are equally good, so you can order a plate of half and half. The white version features roughly chopped carrot cake fried quickly with egg so it develops nice crusty edges while sweet dark soya sauce is added to the black version for a sweet-savoury contrast. Ask for a spicy version and Goh's homemade belachan (fermented shrimp paste) chilli sauce is stir-fried into the mix, or have a dollop of the chilli on the side to fully appreciate its pungent fragrance.
RELATED: MICHELIN Guide Singapore 2019 Bib Gourmand Selection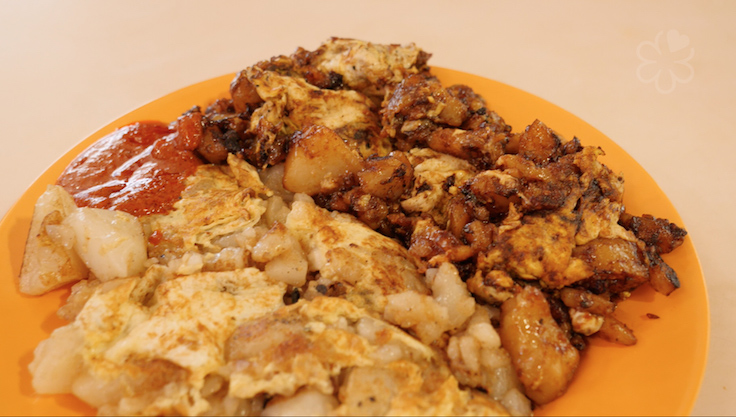 A $5 plate of half and half chai tow kway at Fu Ming (Pic: MICHELIN Guide Digital)