Hot off the press, the 2022 Bib Gourmand Selection for Singapore has just been announced. It highlights 22 restaurants, 5 street food establishments, and 40 hawker centre stalls, bringing the total to 67 selected venues. Of these, 9 are new entries — 5 restaurants, 1 street food establishment, and 3 hawker centre stalls.

Having relocated to its new home along Tras Street in 2021, Cumi Bali is known as a friendly restaurant that locals flock to for a taste of authentic Indonesian cooking. Fool has established itself as a lively wine bar with an extensive wine list, with snacks and small bites that create an equally memorable impression. Expect a queue at One Prawn & Co at MacPherson Road — a sign that this shop with red awning serves good hae mee (prawn noodles). Formerly known as Man Man, Unagi Tei, famous for its grilled eel, ships its live eels straight from Japan. Lastly, receiving a promotion from its MICHELIN-listed status, Un-Yang-Kor-Dai, which means 'anything goes', is actually exceptionally specific about the Thai food it serves.

This 2022, there are three new hawker stalls and one new street food establishment that have made it to the Bib Gourmand selection. Here's what you should order from them, according to the MICHELIN Guide inspectors.

The whole grilled squid at Cumi Bali (Photo Credit: Cumi Bali)
CUMI BALI
50 Tras Street, 078989, Singapore

What The Inspectors Say: Relocated to Tras Street in 2021, this friendly restaurant serves authentic Indonesian cooking in a room enhanced by artefacts and bamboo-style furnishings. The signature whole grilled squid called Cumi Bali — succulent and springy in texture — gives the restaurant its name. It is particularly delicious in their prized homemade sauce made with a myriad of natural spices. Nasi Kunyit is a rice dish jazzed up by 11 spices such as turmeric, cinnamon, and pandan leaves.

Chicken Liver Eclair (Photo Credit: Fool)
FOOL
21 Boon Tat Street, 069620, Singapore

What The Inspectors Say: This lively wine bar concept is another brainchild of the chef-owner behind MICHELIN-Starred Cloudstreet and Bib Gourmand recommended Kotuwa. The décor is on trend with a retro 1970s look. The wine list is extensive and well-choreographed, with a slight bias towards older vintages. Pair your wine with snacks and small plates hallmarked by precise execution, beguiling presentations, and pronounced flavours. In particular, the chicken liver éclair with date and Madeira is not to be missed.

One Prawn & Co's signature Prawn Noodles (Photo Credit: One Prawn & Co)
ONE PRAWN & CO
#01-01, 458 MacPherson Road, 368176, Singapore

What The Inspectors Say: The constant queue under the red awning is a sign that this shop serves good hae mee. The signature prawn noodles come in a set: a bowl of noodles alongside rich prawn soup in a claypot. There are four noodles to choose from, but the classic order is yellow noodles with thin bee hoon. The soup is loaded with flavours, especially from the tomalley of countless prawn heads. Also try their ngoh hiang — the crispy prawn cracker is too good to miss.

At Unagi Tei, live eels are shipped directly from Japan. (Photo: Unagi Tei)
UNAGI TEI
#01-01, 1 Keong Saik Road, 089109, Singapore

What The Inspectors Say: Formerly Man Man, this hugely popular joint famous for grilled eel was rechristened Unagi Tei in 2021. Its name aside, the kitchen team and the live eels shipped straight from Japan have not changed one bit. In addition to the signature eel chargrilled to perfection and enrobed in secret sauce, the new menu sees the inclusion of grilled nodoguro sea perch. Grilled eel liver is also worth a try. No bookings are taken so it's worth arriving early.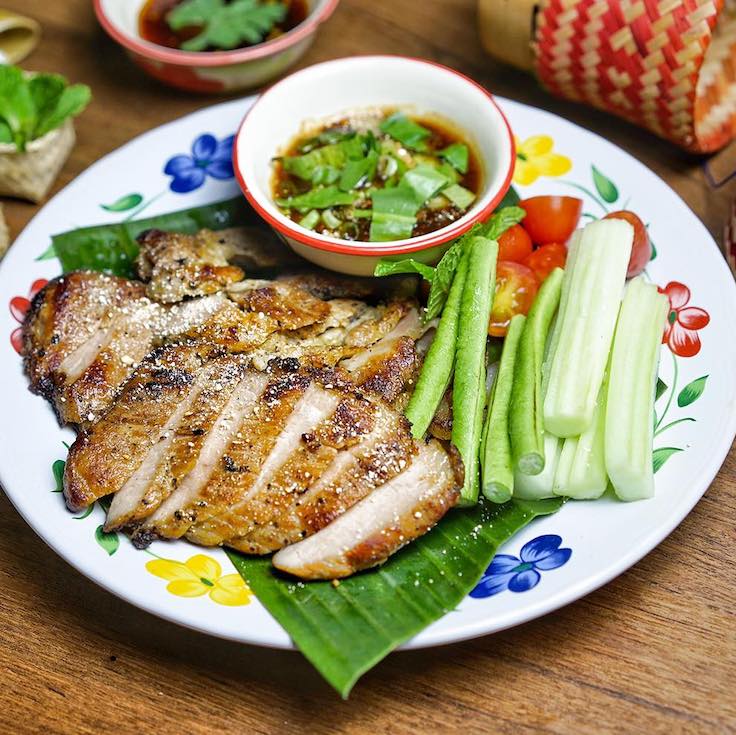 Promoted to a Bib Gourmand, Un-Yang-Kor-Dai specialises in Isan cuisine. (Photo: Un-Yang-Kor-Dai)
UN-YANG-KOR-DAI
#01-02, 57 South Bridge Road, 058688, Singapore

What The Inspectors Say: Though its name means "anything goes", this restaurant is exceptionally specific about the food it serves — Isan cuisine hailing from north-eastern Thailand and famous for its infernal heat. The PenLaos signature chicken is marinated with white peppercorns and coriander for three days before being grilled to perfection. Leng Zaab comprises pork ribs in a spicy sour broth that is simply addictive. Ask for the house-made Isan tamarind dip to dunk the pork in.