Satay is a traditional yet prevalent dish in the region of South-east Asia, incorporating elements from several different countries and widely lauded for its convenience and taste. A good satay comprises of two main components — the seasoning of the meat on skewers and the texture and taste of the sauce.

Satay is usually accompanied by ketupat, a traditional Indonesian rice cake prepared by cooking rice in a diamond-shaped packet woven from palm leaves, and thin slices of raw cucumbers and onions that are a refreshing contrast to the smoky flavours of the meat.

Here are five MICHELIN-recommended establishments in Singapore to get your satay fix.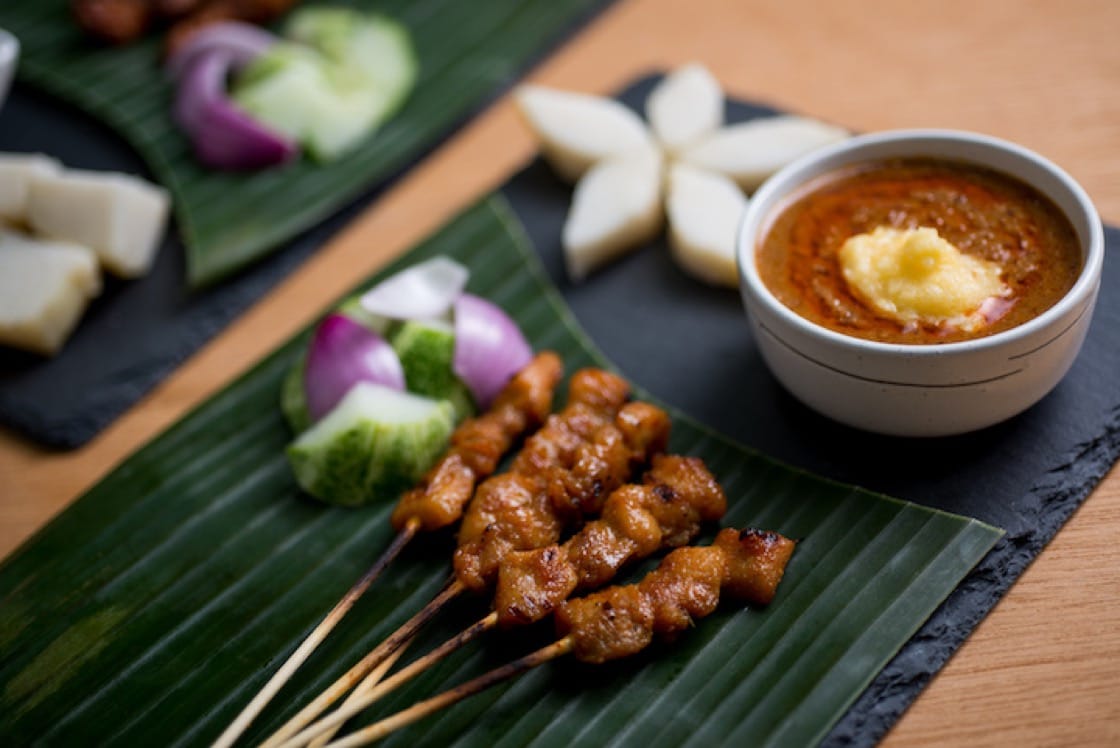 168 CMY Satay (Pic: MICHELIN Guide Digital)
168 CMY Satay
168 CMY Satay has been included in the MICHELIN Guide Singapore since its debut in 2016 and was part of the MICHELIN Guide Street Food Festival in 2018 in Singapore serving up its signature skewers. 168 CMY Satay is known for its cook-to-order satay and serves three types of meat — chicken, mutton and pork. In a unique take on the usual accompaniment, pineapple pulp is used in the sauce, adding another dimension of bright sweetness. The meat-to-fat ratio of the satay at this stall is slightly higher, so it is not too fatty and you can really taste the flavour of the meat without greasiness from the fat.
Pondok Makan Indonesia
Having recently acquired a MICHELIN Plate recognition and participated in the MICHELIN Guide Street Food Festival in 2019 in Singapore, Pondok Makan Indonesia sells a plethora of authentic Indonesian delights. It is not only popular for its mutton satay, traditional delights such as the gado gado, which is a combination of several vegetables, eggs, potatoes and other ingredients served with a peanut dressing, and tauhu goreng, which refers to fried tofu garnished with beansprouts and other vegetables, are also best sellers within the shop.
Chomp Chomp Satay (Pic: MICHELIN Guide Digital)
Chomp Chomp Satay
Located in the heartlands of Serangoon, Chomp Chomp Food Centre is a popular supper haunt for Singaporeans where most stalls open in the evening till late. Drawing lines late into the night is Chomp Chomp Satay which obtained a MICHELIN Plate in 2018. The chicken satay, marinated with a honey brown sauce, goes well with the peanut sauce infused with pineapple and is perfect for satisfying those late-night satay cravings.

National Kitchen By Violet Oon
Here's where to go to eat satay in style. Situated on the second floor of the National Gallery is National Kitchen By Violet Oon, one of the greatest ambassadors of Singapore cuisine. The handsome, panelled 1920s-style dining room is an ideal backdrop to the cooking which, through its spicing, contrasting textures and enticing aromas, showcases Singapore's unique culinary heritage. For starters, order the satay which features large chunks of grilled chicken marinated in spices with a Peranakan influence, served with a spicy peanut sauce topped with a dollop of grated pineapple. The satay comes with a side of steamed rice cake, fresh cucumbers and red onion.

The Clifford Pier
The food at The Clifford Pier in The Fullerton Bay Hotel honours the hawkers who once lined the pier with its Heritage Signature dishes such as Hainanese chicken rice and laksa. Naturally, satay is on the menu as well, served in a portion of eight chicken or beef skewers with the requisite peanut sauce, cucumbers and onions.