Along the back alley in Cheongdam-dong, a red sign facing a small garden may catch your eye. This is where you'll find Muni (無二), where diners enjoy seasonal Japanese kaiseki dishes with sake. Its name means the one and only, or no two alike, and it is a new 1-Star restaurant in the MICHELIN Guide Seoul 2021 edition. Korean Chef Kim Dong-wook shares with us his passion for Japanese cuisine and sake, and Muni's culinary philosophy.

How did you become passionate about cooking?
Around 1997, when I was a high school student, a Japanese comic book called Shōta no Sushi (将太の寿司) became very popular in Korea. Due to the success of this comic book series, the chefs of many Japanese restaurants in Seoul, including Chef Ahn Hyo-joo of Shilla Hotel, became the talk of town and received increased media attention. As I enjoyed reading these comic books, I was intrigued by the world of Japanese cuisine and naturally fell in love with it.


Who is your role model?
To learn Japanese cuisine properly, I wanted to go to Japan and experience the culture. So, I decided to do my studies in Japan and thereafter got a job. I learned a lot by working in kaiseki restaurant Kikunoi under the guidance of the owner-chef Yoshihiro Murata. In fact, Yoshihiro-san is my teacher, rather than my role model. I respect and follow him in every aspect including his attitude toward food ingredients and cooking. I still uphold my teacher's philosophy of keeping the tradition but constantly innovating, and through this lesson, I am creating my own direction.


Seasonal rice course at Muni ⓒsouthsea_morning
What is the culinary philosophy that Muni represents?
Following kaiseki fundamentals, the seasonality, seasonal ingredients, and dashi are the most important. Among them, the most emphasis is placed on seasonality. You should be able to present the taste of the four seasons and the characteristics of the region on the plate in front of your guests.

I am trying to get important ingredients that show seasonality directly from the farm. Spring bamboo shoots and bracken leaves are sent directly by farmers, so that they can be used fresh at the best time. Since the gap between harvest and cooking is shortened, the freshness and taste are much better. When a chef communicates with the producers over a long period, they understand each other more deeply – about the size and condition of the crop – and the chef can get better ingredients.

When I first started cooking, I thought a fancy menu was cooler, with diverse ingredients in various shapes and colors. I also thought such dishes would need more effort. Now, I pursue the depth of simplicity, due to the influence of Japanese cuisine. If you use fewer ingredients, you have to work harder to craft a good taste. This is what I really want to do. We are pursuing the depth in simplicity here in Muni.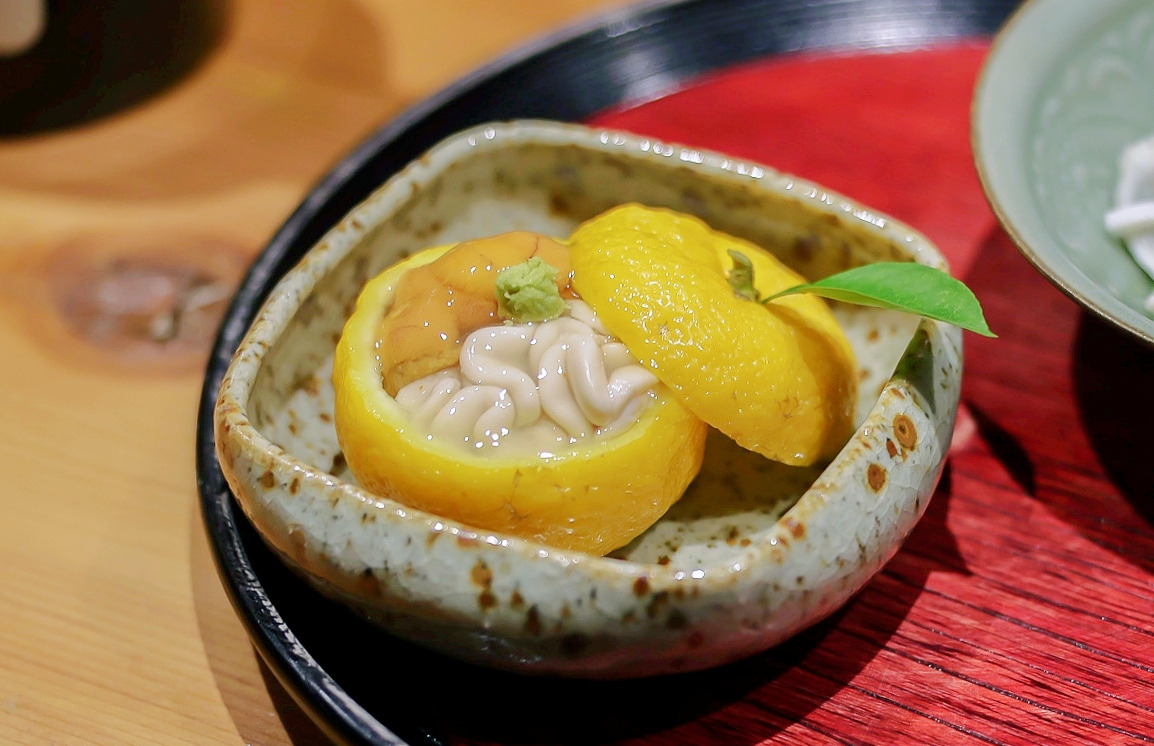 Yuzu Pot with Shirako ⓒYuchan Jung
What is your favorite ingredient and how do you use it?
It's hard to choose one because the ingredients vary from season to season, but I personally like Korean natural pine mushrooms the most. Every fall, I visit Yangyang in Gangwon-do to get pine mushrooms. The Japanese pine mushrooms are widely known to be excellent, but those in Yangyang are not lesser than Japanese ones, with a subtle and beautiful scent. Although high quality Chinese pine mushrooms are recently being distributed in Korea, the scent and taste of Yangyang's natural pine mushrooms are incomparable.

Autumn pine mushrooms go well with every course from appetizers to main dishes. It expresses the season of autumn when the year's wait pays off. It's expensive, but as a chef, when I look at such excellent ingredients, I can't help but be greedy!


How did you become a sake sommelier?
When you go to a foreign country, you will naturally encounter the local drink that people enjoy. Perhaps if I learned to cook in France, I might have become more interested in wine. When I was studying in Japan, I had many opportunities to try sake and naturally became interested in it. By learning more, I found out about Kikizakeshi, a role that translates as a sake sommelier. As a student learning Japanese cuisine, I thought about the harmony between food and beverages, and I wanted to learn more deeply.


Tell us more about sake and food pairing.
There are four main types of sake, and the dishes that go well with each one are different. First is Kunshu, which has more aromas and a light taste, and goes well with white raw fish or salt-grilled ones. Secondly, Shoshu with a simple scent and plain taste makes a nice combination with tofu and vegetable dishes. Foods that go well with the strong scent and rich flavor of Jukushu are braised or marinated meat, such as grilled eel in soy sauce or soy sauce braised pork. Lastly, Junshu, which has a gentle scent and a complex flavor, complements fried fish and sukiyaki.


The seasonal clear soup course at Muni is called wanmono ⓒsouthsea_morning
Please recommend Muni's signature dish and its sake pairing.
Because the menu changes every month, there is no fixed signature dish. I put my utmost effort into all the dishes, but among them, I would like to highlight the clear soup course called wanmono (椀物). The current main ingredient is pufferfish.

This simple, clean dish with pufferfish in a clear soup goes well with mild and dry sake. The sake's refreshing scent moistens the mouth while the dry and clean aftertaste harmonizes well with the dish. On the contrary, sake with a strong flavor with a fermentation scent will overwhelm a delicate wanmono. The pairing I chose has the food and drink in harmony.


What was your first encounter with the MICHELIN Guide?
It's a guide that you will hear about if you are interested in food. I don't remember exactly, but I was aware of its existence when I was a teenager. And when I studied in Tokyo under Chef Yoshihiri Murata, MICHELIN Guide began evaluating restaurants there, which was how I got to know of the influence and meaning of the guide more closely. Kikunoi received 3 Stars, Kikunoi Roan 2 Stars and Akasaka Kikunoi in Tokyo also 2 Stars.


Prawn dish of Muni ⓒsouthsea_morning
What was it like when your restaurant received a MICHELIN star for the first time?
Actually, I still can't believe it. I didn't expect this at all. Having the experience of working in various MICHELIN star restaurants in Japan, I know the level the chefs operate at and what their mindsets are. I'm not sure if I deserve this MICHELIN Star yet.

Beyond the honor and reward of receiving a MICHELIN Star, there is a far greater responsibility. It can be a difficult assignment to protect the star. When I found out that Muni was receiving its first MICHELIN Star, I was stunned by this unexpected recognition. I don't have a religion in particular, but I remember offering a prayer in gratitude. My colleagues, who have led this restaurant together for two years since its opening, were all very happy with the good news, but on the other hand, we also vowed to be restrained in our excitement.


Chefs preparing dinner menus at Muni ⓒsouthsea_morning
What is Muni's next goal?
No matter how difficult the current situation is, it will end, and life will resume as it was before Covid-19. However, there will be inevitable changes before and after this unprecedented situation. For example, can there be a way to enjoy gourmet dishes of a fine dining level without visiting a restaurant or even in an unmanned environment? In the long run, I'm thinking about how I can introduce our menu to diners other than serving directly at the restaurant.

I hope that customers who visit Muni are able to feel warmth and joy through our dishes and sake in a comfortable atmosphere. Rather than planning for the distant future, we are constantly trying to make a good space here and now in our daily lives.

This article was originally written in Korean by Julia Lee and edited in English by June Lee.