Kwon Woo Joong comes from a family of talented chefs. In the 1960s, when the now-ubiquitous English term "owner chef" was yet unheard of in Korea, his maternal grandfather was the owner chef of a highly successful restaurant that specialized in North Korean cuisine. In addition to classic North Korean fare like naengmyeon(buckwheat noodles in chilled meat-based broth), mandu(dumplings), bindaeatteok(mung bean pancakes) and jokbal(braised pig trotters), he also offered simple rice and soup meals like yukgaejang(spicy beef soup) and soondubu(soft tofu stew). The central Seoul restaurant was so busy that his grandfather went through 160kgs of rice daily to feed his hungry customers. At the crack of dawn every morning, he would hit the markets to procure the ingredients for the day.
After his grandfather passed away, the restaurant closed down, but his mother carried on her late-father's culinary legacy by recreating the flavors of his dishes at home. "My mother is a truly amazing cook. That is why I never cook Korean when I am home," he laughs.
His journey as a chef began young under the tutelage of his mother; by age ten, he had pretty much mastered the basics in kimchi making and pickling. He went on to expand his knowledge in cookery by majoring in culinary science at Kyung Hee University, but his first and only true love is Korean cuisine. Leading his trusted and passionate team of ten at Kwon Sook Soo—recently awarded two Michelin stars in the inaugural edition of Michelin Guide Seoul—Kwon is dedicated to bringing the authentic flavors of Korea using rare and precious seasonal ingredients with a contemporary twist.
In the following interview, he talks about what it means to him to receive the Michelin stars, the changes he has witnessed in the local restaurant scene in recent years and an exciting new project currently in the works.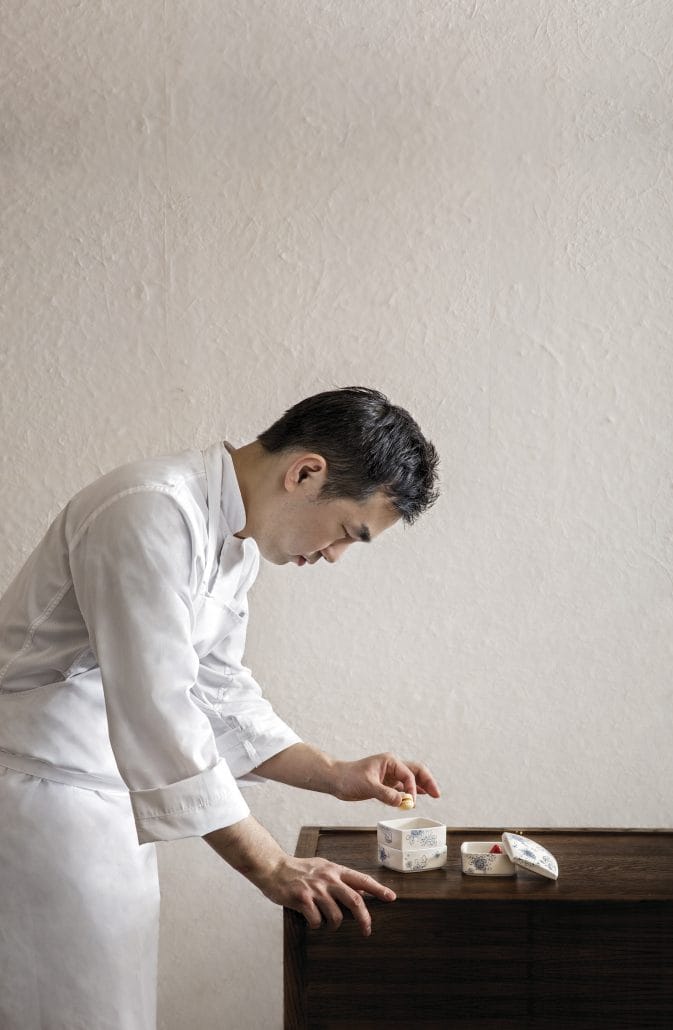 Photo Credit: Bar & Dining
Kwon Sook Soo received two stars in the Michelin Guide Seoul 2017. How do you feel?
Happy. I am so incredibly happy, but I am also feeling the pressure. Of the five establishments that received three stars and two stars, I am the only independent owner chef, and that makes me feel completely humbled. One of my first thoughts was, 'I had better not give a bad name to all my fellow owner chefs out there.'
My team and I know we still have a ways to go. There are unique challenges we face every day. For example, we make all of our traditional sauces from scratch. We do all the groceries ourselves. The amount of time and work my staff puts into the kitchen every day is staggering. Our customers probably won't understand that just by eating the food we serve. Few people get our passion to learn every day and our dedication to what we do, day in and day out. With the Michelin stars, I feel like we are being rewarded for everything we've been doing since day one. It is a confirmation that somebody out there appreciates what we do. The day Michelin announced the starred restaurants for Seoul, my staff watched the launch ceremony from the kitchen and they all cried. I had to fight back the tears too when I heard my name being called out.
What has changed since the Michelin stars?
The number of customers has stayed pretty much the same. What has changed is we have started to pay even more attention to the quality of our ingredients. Naturally, our food costs have gone up. It is inevitable, really – people's expectations are much higher now.
We recently introduced our winter menu. One of the new editions is quail meatballs with wild mushrooms; we use five different kinds of mushrooms for this dish: Agaricus Blazei Murrill mushrooms, brick cap mushrooms, Collybia mushrooms, red coral mushrooms and Neungi mushrooms. Another new addition is a dumpling dish; it's a twist on our Steamed Egg with Chinese Mitten Crab and Steamed Abalone but it's even better.
All of the ingredients that go into these dishes is expensive and difficult to source. Right now, an 800g pheasant costs around 25,000 won–approximately 21 U.S. dollars–which means the price has gone up again. But, quality is everything to us, so we compromise.
How do you source your ingredients?
I get my ingredients from select producers whom I have developed a close relationship with in the last five years or so. The range of seasonal ingredients available in Seoul is quite limited. As a chef, I find it regrettable that procuring ingredients in Korea is still far more expensive compared to overseas. We need companies committed to sourcing and distributing quality food ingredients to chefs and restaurants. For independent restaurants like us, that job is currently up to the chefs. Other three star and two star restaurants have the infrastructure and a team solely dedicated to sourcing ingredients. In my case, I've pretty much done it on my own since day one. I opened this restaurant when I felt I had enough contacts and hence ingredients to cook with. But, things are changing little by little – compared to even just a few years ago, chefs these days have it easy.
Photo Credit: Bar & Dining
What are some of your favorite local ingredients?
There are too many. One of my favorites is a wild soybean that grows at the foot of Myeongjisan Mountain. I use it to make my soybean soup which I serve as part of our traditional bansang (a typical Korean spread of rice, soup and banchan). These soybeans are special – tiny but intensely nutty. I always make sure to order a year's worth to use through the seasons. In the summer, for example, I use them to make our kong-guk (chilled soybean soup).
Seafood is always a joy to work with. Right now, I use sweetfish for our signature pot rice. Belted beard grunt, a wild ocean fish, is another favorite. We don't use it in the restaurant because they are difficult to source and tricky to handle, but I used to grill them whole in my previous restaurant.
Personally, I am not so keen on meat, but we use Jirisan Mountain Berkshire pork and Korean beef which we dry age for 40 days until it develops an incredible depth of flavor and that beautiful funk reminiscent of blue cheese.
I've heard your mother is a fabulous cook. What are some of your favorite dishes she makes?
Cheonggukjang (fermented soybean soup). Her jokbal and mandu are just the best. She elevates kimchi to a whole new level. Another dish I love is a simple salad she makes with a native variety of cilantro which she dresses with a dash of fish sauce, perilla seed oil and green plum extract. There is something about the flavor of this dish I find so pleasing and delicious; perhaps it's the genetic affinity I feel on a subconscious level to this ingredient that comes from the same land as I do blended with the perfect balance of flavor executed by my mother's culinary sensibility honed through years of cooking for her family.
You travel often. What do you bring back with you?
I try to get out at least once every two months. I travel mostly to be inspired. The question I always have on my mind is, 'How can I reinterpret Korean food in a way that is more refined and sophisticated?' When I eat Japanese food, I think about how each dish is prepared in a way that elevates the essence of the key ingredient.
For a chef, foreign cuisine can be a great source of inspiration to make my own style of cuisine better. For example, when I tasted Bresse chicken in France for the first time, the first thing that came to mind was, 'Maybe I can find premium chicken like this back home.' And, I did! I found a breed of chicken native to Jejudo Island called Gueomdak. I sourced it and used it in my kitchen for six months. It is expensive, though. If a regular chicken costs around 3,500 to 4,000 won (around 3 to 3.5 U.S. dollars) per 800 grams, Gueomdak costs 15,000 won. Pheasant is even more expensive. But, again, we use it because quality is everything.
What have you eaten overseas lately that was memorable?
I was recently in Hong Kong for an event. I am literally salivating at the thought of everything I ate while I was there, but I would say Hong Kong-style egg noodles. It was one of the few things we could find late at night after 16 hours of mise en place and service. My colleagues and I would fill our bellies with bowls of egg noodle soup after a long day. Good times, great food.
Photo Credit: Bar & Dining
The serving vessels, the individual serving tables and even the artwork adorning the walls go hand in hand with the style of food you serve here. Was it all your idea?
As I grew older and spent more time with my father, I found a new-found appreciation for the beauty of Korean culture. My father is an artist so I grew up surrounded by traditional art and craftwork. The artwork you see behind you, for example, is a traditional enamel painting which I borrowed from my parents because I can't afford to buy one (laughs). It's beautiful. The thing is, I had always been dissatisfied with the lack of Korean establishments that showed off this kind of style and beauty unique to Korea. So, I opened one of my own.
I designed the painted pattern you see on the ceramic liquor cup in front of you. Same goes for the individual serving tables. I personally designed all the vessels we use at the restaurants and had then custom made. I just wanted to show everyone that Korean cuisine can be beautiful and refined, too, but in a way that reflects 21st century sensibilities.
Do you think the general perception of Korean food is changing within Korea?
Very much so. People used to complain that they were served too little food on a plate or that food was too expensive for a Korean restaurant. The concept of Korean fine dining didn't sit well with local diners. However, much has changed in the last three to four years. First of all, the number of establishments that serve really good Korean haute cuisine has grown. So has the number of customers who eat there.
The inaugural edition of the Michelin Guide Tokyo launched in 2007. Had it launched five years prior in 2002, Japan still would have been ready. The same hypothesis wouldn't apply to Korea; five years ago, it wouldn't have been ready. This time, I think it was.
Tell us about your beverage menu.
Manager and sommelier Han Wook Tae is in full control of our beverage menu. We are a restaurant specializing in Korean cuisine, so we have a good selection of traditional liquor but also a solid wine list as well. To be honest, pairing local liquor with food can be tricky because a significant number of them are either too sweet or have an overly yeasty flavor. This is something that the liquor producers have to work on in the next few years. I've seen some really good products out on the market, but the industry will change only if consumers trigger the change with the choices they make.
Some say that traditional liquor is too b to pair with a full meal; that is true to a certain extent because if a certain flavor in the drink is accented above other flavors, it can be perceived as being ber even the drink's alcohol content is the same as wine. Generally, though, foreign diners prefer to pair their meal with just traditional liquor while local diners prefer a mixed pairing of traditional liquor and wine.
Photo Credit: Bar & Dining
Any new projects you have up your sleeve you want to share with us?
A Korean-style bistro is currently in the works. I've been planning it for a while now. Construction will begin soon in a location not too far from here. The bistro will be a place where people can discover food from all corners of Korea. I want it to be a space where friends can meet up at the end of the day for a casual drink or two, munching on food that is both familiar and exciting, for a price that is affordable – I am thinking 50,000 won inclusive of drinks. Speaking of which, I am also working to put together a good selection of drinks. Service may not be as refined or as attentive as Kwon Sook Soo, but it will be a fun dining space with a vibe unlike any other. Less stress for the chefs, too! It's going to be a fun project.