The MICHELIN Guide Seoul 2021 was officially released on November 19. Featuring a total of 178 restaurants, the 2021 selection showcases 2 three Star, 7 two Star, 23 one Star, 60 Bib Gourmand and 86 MICHELIN Plate establishments. One restaurant has been awarded its first Star and three restaurants have been promoted from Plate to one Star.

"Today we're celebrating the MICHELIN Guide Seoul's fifth anniversary. We're also celebrating the courage and resilience of chefs that have given their best every day, even during this tough crisis. Their commitment has impressed us on every level. Our inspectors were thrilled to see the talent and generosity of chefs and entire teams on display again once restaurants were able to reopen." says Gwendal Poullennec, International Director of the MICHELIN Guides.
"We are excited to announce that our selection has been enhanced by newly discovered restaurants. Despite this unprecedented global crisis, riddled with economic pressure, temporary layoffs and shutdowns, many restaurants continued to play their part in keeping Seoul's culinary scene alive and offering amazing experiences to foodies."

The 2021 edition of the MICHELIN Guide Seoul started to be prepared in 2019, before the beginning of the Covid-19 crisis. Despite the public health situation, the 2021 selection has been enriched by new finds as well as recently promoted establishments. The total number of selected restaurants remains the same as in 2020, but more stars have been awarded among them.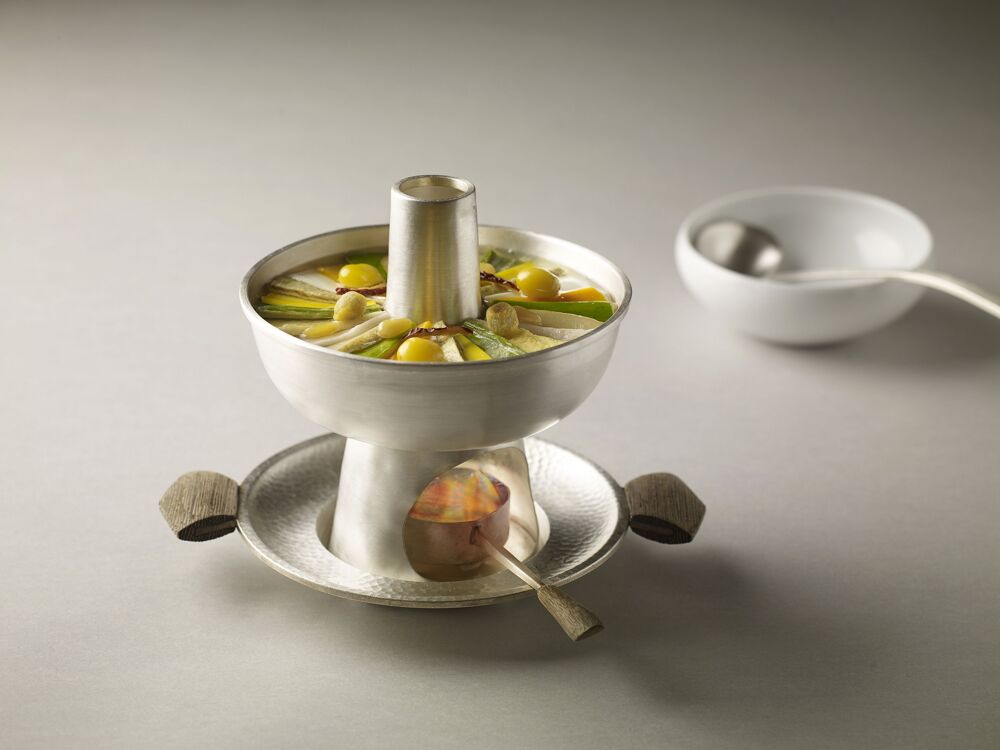 La Yeon is one of two three-star restaurants in Seoul that retains its star distinction this year.
Three restaurants promoted to one Star and one wins its first Star
In this year's edition, GAON maintains its three MICHELIN Stars. In a peaceful, elegant dining space, Chef Kim Byong-jin offers a unique interpretation of traditional Korean tastes, made with authentic ingredients, intuitively embedded in the establishment's distinctive cuisine. Restaurant La Yeon also keeps its three MICHELIN Stars, thanks to its enhanced sense of detail, from the fine tableware to the attentive service. This contemporary cuisine, led by Chef Kim Seong-il, is brought to another level by noteworthy wine pairings.
One restaurant, 7th Door, is distinguished this year with its first MICHELIN Star. Hosting Chef Kim Dae-chun's deep and ambitious cooking, the restaurant offers modern Korean preparations as a gastronomic gateway to "the seven tastes of food": the first five being the five basic tastes; the sixth, the taste of fermentation and aging; and the seventh, the chef's culinary sensibility.

L'Amant secret's Chef Son Jong-won honed his culinary chops in the United States and his modern interpretations are based on local ingredients blended with Western cooking techniques.
Three establishments are promoted from Plate to one Star
Located on the 26th floor of L'Escape Hotel, L'Amant Secret is an intimate space inspired by Parisian sensibilities. Chef Son Jong-won, who honed his culinary chops in the United States, strives for a style which he refers to as "Korean-style Western cuisine", resulting in creations that are both original and familiar, respectful of the symbiosis between the producer and the ingredients as well as the kitchen and the diner. Located in a back alley of glitzy Cheongdam-dong, Muni, helmed by Chef Kim Dong-wook, who studied in Japan, provides foodies with Japanese cuisine anchored in tradition and created by a skillful, passionate chef (also a certified sake sommelier). At Mitou, diners encounter warm, engaging Chefs Kim Bo-mi and Kwon Young-woon, devoted to providing their customers with an authentic omakase menu, which changes based on the seasons and the freshness of ingredients.

Michelin representatives, VIPs and awarded chefs raise a toast during the live broadcast of the MICHELIN Guide Seoul 2021 MICHELIN Star Revelation Ceremony on November 19
Two restaurants awarded a MICHELIN Green Star
This year, the MICHELIN Guide has introduced a brand new distinction, the MICHELIN Green Star. The MICHELIN Green Star highlights the efforts of those operating at the forefront of their field with sustainable gastronomy practices, and plays a role in bringing their vision to everyone. Two Seoulite establishments have been awarded this Green Star for the first time.
Hwanggeum Kongbat's menu is composed of incredibly fresh, local ingredients: beans and beef from Sobaeksan Mountain, pork from Jeju Island, fish caught off Ikki Island in Tongyeong, etc. The kitchen team works directly with producers and prepares tofu and kimchi on a daily basis, sending the leftover pureed soybean to farms as fodder.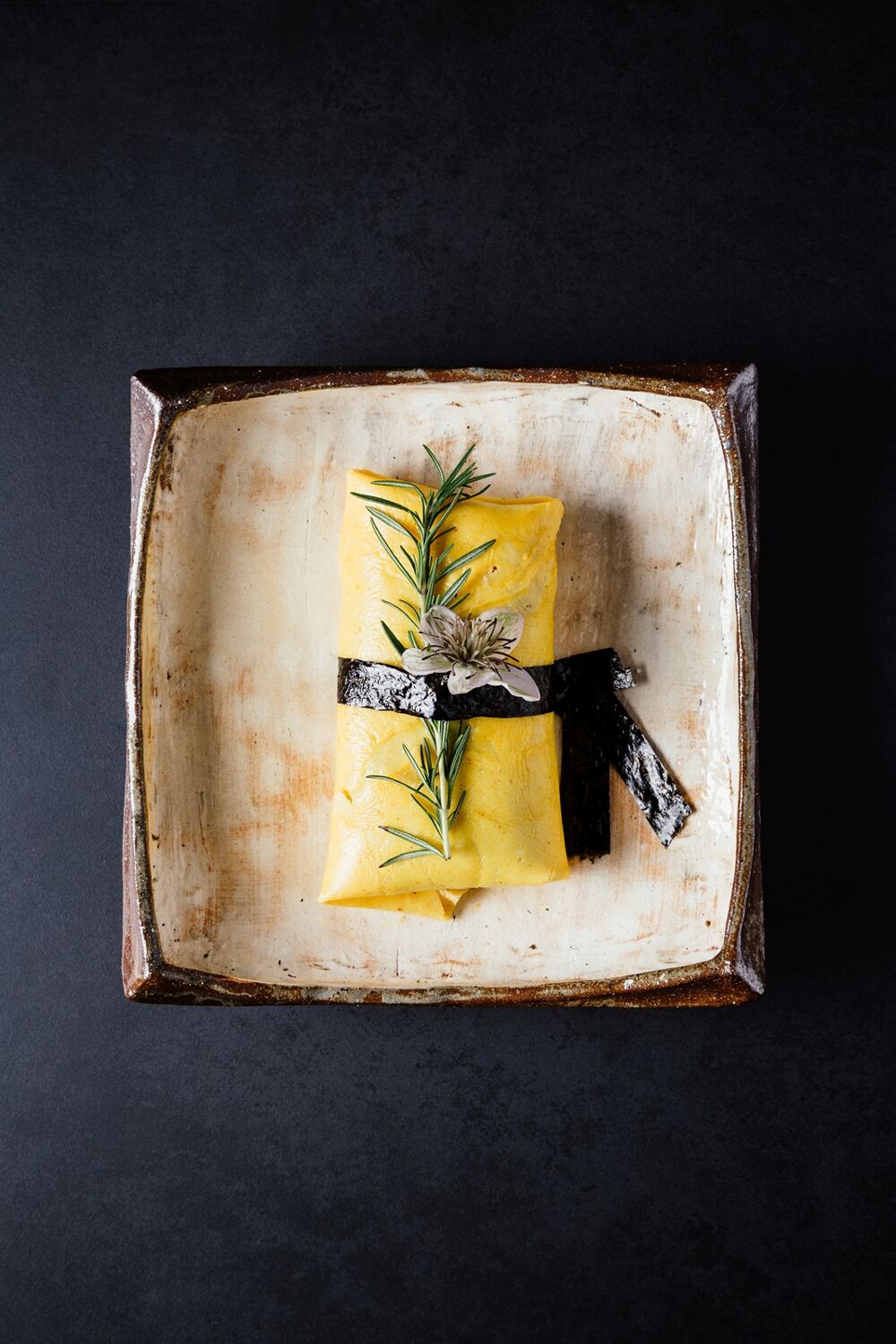 A Flower Blossom on the Rice (pictured) procures 95% of its ingredients via direct transactions with farms that have been awarded organic, eco-friendly, animal welfare, non-pesticide, organic processing, and biodynamic certifications. Moreover, through its own agricultural entity, the venue is striving to popularize eco-friendly ingredients, like organic rice from Bongha Village in North Gyeongsang Province and traditional soybean paste and soy sauce made from soybeans grown in Geochang, South Gyeongsang Province.
In the 2021 edition, the Bib Gourmand selection features 60 restaurants (including 4 new ones) for their very good value-for-money offerings.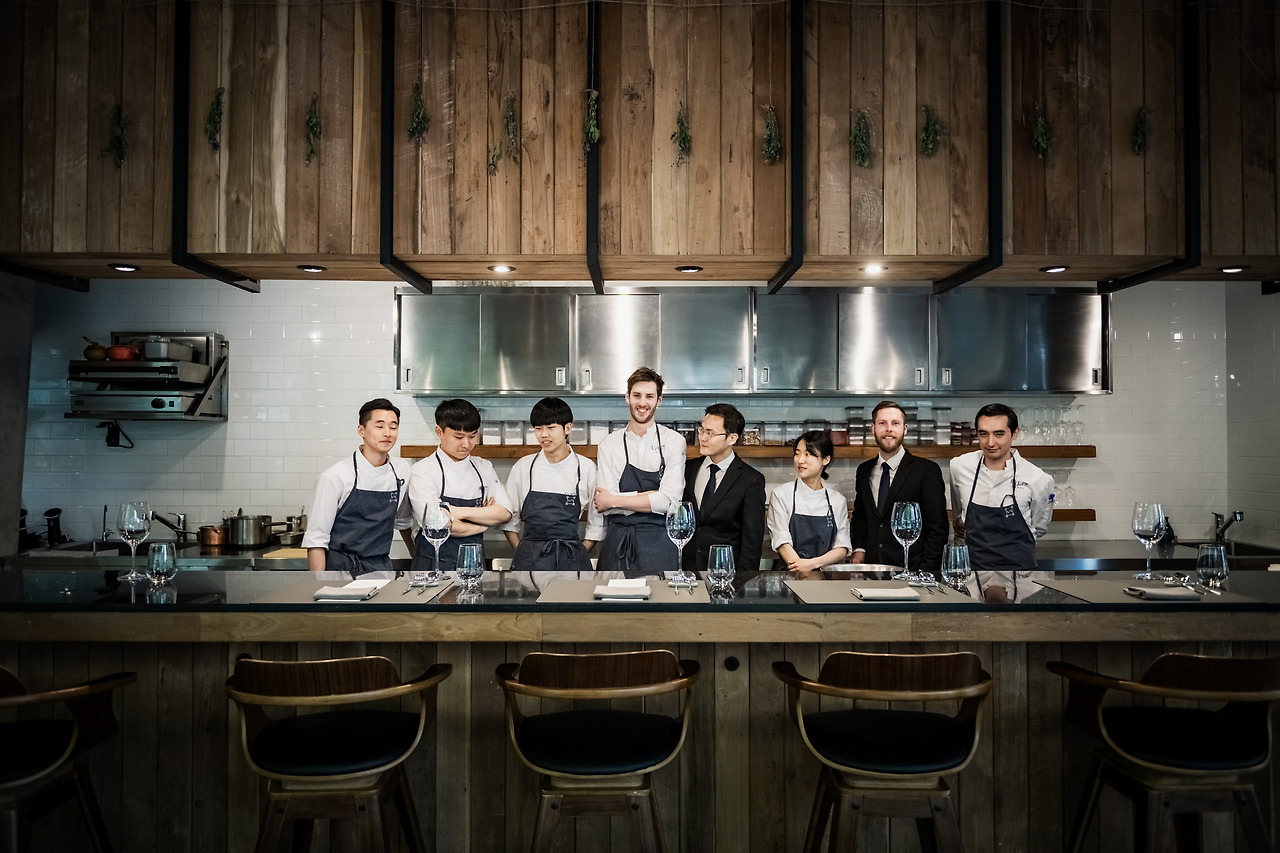 Australian chef Joseph Lidgerwood (pictured centre) of EVETT receives the 2021 MICHELIN Young Chef Award
2021 MICHELIN Young Chef Award:
Born in Tasmania in 1988, Chef Joseph Lidgerwood has been running the kitchen at EVETT since 2018. The restaurant got its first star in MICHELIN Guide Seoul 2020 for its inventive offering. This young, dynamic chef has already worked in London and Hong Kong, but was instantly captivated by the vast variety of ingredients he found in South Korea. Lidgerwood's promise is to "make the familiar unfamiliar" and to provide culinary discoveries even to local gourmets.


Cho Hee Sook of Hansikgonggan, known as the "Godmother of Korean cuisine" receives the 2021 MICHELIN Mentor Chef Award
2021 MICHELIN Mentor Chef Award:
The passionate and experienced Chef Cho Hee-sook, known as "the Godmother of Korean cuisine", has worked in prestigious establishments, such as the Grand InterContinental Seoul, Hotel Shilla , and headed up the kitchen at the South Korean embassy in the United States. In her restaurant, Hansikgonggan, she interprets traditional flavors with a contemporary twist for the modern diner. Committed to passing on her knowledge to the younger generation of chefs, she also teaches in colleges and universities.
The 2021 selection of the MICHELIN Guide Seoul at a glance:
2 three Star restaurant
7 two Star restaurants
23 one Star restaurants (1 new, 4 promoted)
60 Bib Gourmand restaurants (4 new)
86 Plate restaurants (17 new)