Seol (Lunar New Year) is almost upon us and Koreans are getting ready to officially usher in the Year of the Rooster. This year, Seol falls on January 28, and millions will travel to their hometowns near and far to take part in what is one of the country's most important holidays on the yearly calendar.
Koreans may no longer wear hanbok–the traditional attire–when visiting family and relatives, and old-school folk games may have been permanently replaced with TVs and smartphones, but certain customs continue to be observed to this day. On the morning of Seol, children perform a deep formal bow of respect before the older members of the family upon which they receive gift money and words of wisdom to live by for the year. Families will sit down and tuck into an elaborate holiday spread prepared by grandmothers, mothers, aunts and cousins – a labor of love that often entails days of hovering over kitchen counters and hot stoves.
For the modern Korean family, however, the long Lunar New Year weekend is simply a welcome break from the daily grind, catching up on the much-needed R&R minus all the fuss. But even so, obligatory bowls of tteokguk (rice cake soup) and holiday food–maybe even store-bought–will grace the holiday table. It goes without saying that obscene amounts of tteokguk, mandu, jeon, japchae, galbijjim, bindaetteok and namul will have been consumed by the end of the long weekend.
Here's the thing though: these "holiday foods" are now eaten all year round and not just on special occasions, either. If you happen to be looking for something a bit more special to share with your loved ones this year, you have come to the right place. Over the next couple of days, we bring you a series of festive recipes from celebrated local chefs, guaranteed to wow this holiday season. Try them out in your kitchen even if you don't celebrate Seol!
We start with Joseon Japchae by Chef Park Kyung Joo at the one-Michelin-starred Hamo in Seoul which specializes in authentic Jinju-style cuisine. The origin of japchae (jap – mixed/variety, chae – finely sliced) can be traced back to the 17th century and the original version was a noodle-free dish, somewhat similar to the version below. The noodle japchae that most people know and love today only started to appear at the turn of the 20th century.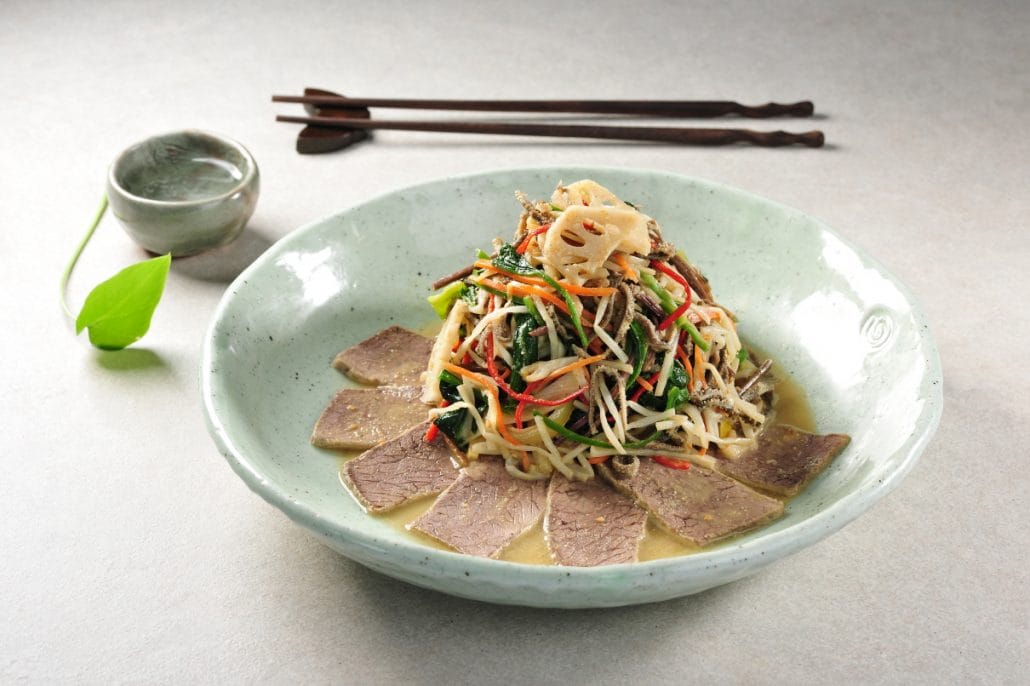 Joseon Japchae


Ingredients (for 2 portions)
Tip: Cut/trim the vegetables into the roughly same length and thickness)


50g of dried bracken (gosari) soaked in water overnight until plump
1 cup of bean sprouts (ends trimmed and the yellow tops removed)
1 fresh Korean red chili pepper (julienne)
1/2 onion (julienne)
6 scallions (cut into the same length as the other vegetables)
1/2 carrot (julienne)
2-3 bamboo shoots (julienne)
Spinach (use the tender baby leaves)
1/2 lotus root (thinly sliced into rounds and halved)
100g of brisket (boiled, cooled and thinly sliced – save the broth)
Optional: 80g of cheonyeop (3rd stomach of a cow, julienne)
Guk-ganjang/joseon-ganjang (soup soy sauce)
Beef broth (from boiling the brisket)


[Mustard Sauce]
1 T yellow mustard powder
2 T warm water
1.5 T vinegar
1/2 T sugar
1/2 T soy sauce
1/2 – 1 T crushed pine nuts
Salt to taste
Mix all the ingredients together to make a thin vinaigrette. Feel free to adjust the amount of each ingredient to your taste.
Method


Blanch gosari in lightly salted water for 3-5 minutes.
Blanch bean sprouts in a pot with the lid open until slightly wilted.
Blanch sliced lotus roots in lightly salted water for 3 minutes. They should still retain their crunchy texture.
Blanch julienne bamboo shoots.
Blanch spinach.
Soak brisket in cold water for an hour to draw out the blood. The meat should turn almost pale. Fill a pot with enough cold water to cover the meat completely. Parboil to remove the meat of impurities. Discard water. Fill the pot again with clean cold water and boil the meat with half a spring onion for about an hour until cooked through. Remove the meat from water (but save the boiling liquid), let it cool and chill in the fridge. Once chilled completely, slice thinly across the grain.
Wash the sheets of cheonyeop thoroughly, using a tablespoon of wheat flour and 1 tablespoon of salt as "soap." Rub vigorously as you would wash a dishtowel and rinse thoroughly. In a pot of water, add 2 tablespoons of soju and 1 tablespoon of Korean soybean paste to get rid of any unpleasant odor. Once cooked, remove it from the water and let it cool. Julienne.
Individually stir fry boiled gosari, blanched sprouts, onions, carrots, cheonyeop, blanched bamboo shoots, scallions and spinach in 1-2 tablespoons of brisket broth (in place of oil) and 1/2 teaspoon of soy sauce until the vegetables are seasoned through and the raw vegetables start to wilt.
Set each cooked vegetable (and cheonyeop) aside but do not mix the vegetables. Let all the components cool down.
Once cooled, mix all the stir fried ingredients together with the prepared mustard sauce.
On a plate, arrange the sliced brisket in a semi-circle and the mixed vegetables at the center. Serve.