Not having a single dinner booking for the night may strike panic in some chefs, but for Hideaki Sato of two-MICHELIN-starred Ta Vie in Hong Kong's Central district, the downtime is an opportunity for growth.
Mid-way through our interview in October, police officers start erecting road blocks just outside of the restaurant. A staff member interrupts our conversation to ask what they should do for the evening. "We don't have any bookings tonight. Let's wrap things up early," Sato replies coolly.

The ongoing protests in Hong Kong have kept diners away from the area more than once in the last seven months, but the Japanese chef is taking things in his stride.
"The worsening of the protest situation in Hong Kong isn't the end of the world. The most important thing is to make something good out of it," he says. For him, this means taking advantage of the newfound spare time to deepen his understanding of Chinese cuisine.
For Hideaki Sato, fewer diners means more time for kitchen experiments. (Pic: Hideaki Sato Facebook)
A Fundamental Shake-Up
Sato kicked off his culinary experiments half a year ago. By learning to prepare traditional fare such as roast meat, Peking duck and Cantonese steamed sponge cake, he was also trying to figure out a way to make his four-year-old restaurant stand out in Hong Kong's famously demanding restaurant scene.
"We needed to change, and I'm not talking about just renovating the interior or updating the uniforms," he said.
What he sought was a "fundamental shake-up" of his restaurant and his culinary style, which uses French cooking techniques to emphasise the natural tastes of Japanese ingredients.
"I would often ask myself why diners choose to eat at Ta Vie. Why would a French person eat French-Japanese food in Hong Kong? And how does the restaurant attract Japanese diners?" he said.
After a long period of questioning, he came to the conclusion that visitors to Hong Kong would most want to try Chinese food. This spurred him to have a deeper understanding of Chinese cooking.
Another spark of inspiration struck during a six-hands dinner collaboration he did with Yoji Tokuyoshi (chef of one-MICHELIN-starred Ristorante Tokuyoshi in Milan) and Taku Sekine (chef of Dersou, a Michelin Plate restaurant in Paris).
"They speak very fluent French and Italian. I feel they are fully integrated into the culture of the cities they now live in and I totally admire that. I've been in Hong Kong for eight years. It's time for me to be more engaged with life in this city," Sato explains.
Each time he experiments with a dish, Sato makes detailed notes for future reference. (Pic: Mandy Li)
Getting To Know Chinese Cuisine
His Chinese food discovery journey began with siu mei, or Cantonese roast meats, followed by Peking duck.
"What I want to achieve most is to perfect both the meat and skin of the duck," said the chef, who worked in acclaimed Japanese chef Seiji Yamamoto's Ryugin and Tenku Ryugin restaurants in Tokyo and Hong Kong for more than six years.
According to Sato, chefs trained in Western cuisine are more skilled at perfecting the texture of meats, while Chinese cuisine chefs excel when it comes to achieving the right texture of the edible skins. Many chefs want to succeed in both, but most only have the know-how to work on one aspect.
As a native Japanese who spent first 10 years of his career cooking French food, Sato was fascinated by the comparisons. Of all the classic Chinese dishes, he found himself most intrigued by the skills needed to perfect a Peking duck. His maiden attempt was based on a Japanese Peking duck recipe but he later approached chef Cheng Kam Fu from one-MICHELIN-starred restaurant Celebrity Cuisine for tips. Cheng was more than happy to help and he asked a siu mei cook to demonstrate the cooking procedure to Sato, Sato recalls. He has also travelled to Beijing so he could sample Peking duck at its birthplace.
Channelling the tireless spirit from days helming Ryugin, Sato shares that he was already working on his 13th iteration of the recipe at the time of this interview.
"Instead of having someone teach me, my favourite way of learning is to try it myself, by making one mistake after another until I unlock the secret," Sato said. He also sampled different versions of Peking duck of restaurants recommended by his friends, such as the ones at Xin Rong Ji (one MICHELIN star), Yan Toh Heen (two MICHELIN stars) and Mott 32.
"Only then would you know where the standard lies. I think I'm not far from being good at it," the chef said with a laugh.
The 50th Try
Besides siu mei and Peking duck, ma lai gou (Cantonese steamed sponge cake) has also captured Sato's interest.
"I find this cake somewhat magical. Each time you eat dim sum, you will still have room for it, no matter how full you are and even though the cake is made with flour, sugar and oil — all the ingredients that will fill your stomach," he explained.
Like his relentless experiments with Peking duck, his attempts at making steamed sponge cake took a lot of trial and error. He estimates producing at least 50 batches to date.
"After my 20th attempt, I told Mak Kwai Pui (founder of one-MICHELIN-starred Tim Ho Wan) that I was still some way off. Mak responded: 'You tried 20 times? I've been making this for 20 years!'" Sato recalls, laughing. Those words gave him the motivation to persevere in preparing this comfort food that is deceptively simple in appearance.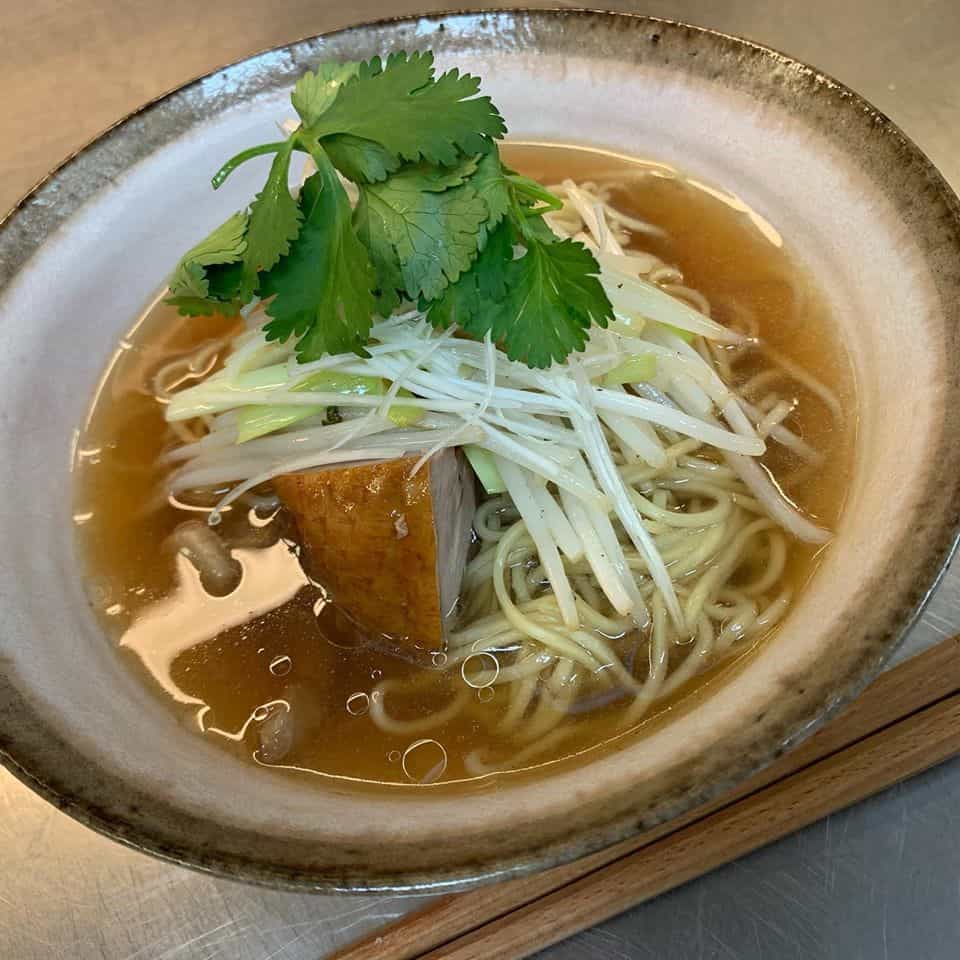 Duck ramen is another dish in the works. This was Sato's 10th attempt, which was also the first version diners got to taste. (Pic: Hideaki Sato Facebook)
Seeking Perfection
Besides the classic Chinese dishes, the chef has been busy tinkering with a version of duck ramen using the meat of Peking duck. After 10 rounds of experimentation, he was finally satisfied enough to let his customers try it.

But he does not set himself a deadline for featuring the Chinese elements on the menu.
"I've become seriously invested in something that requires lengthy study. I don't mind spending a long time to master a technique and I won't force myself to complete this process because I have to come up with a new menu in three months," Sato said firmly. "I want to take my time to build a solid foundation."
---
This story is written by Mandy Li and translated by Vincent Leung. Click here to read the original article.