It is 5:30pm in two MICHELIN star restaurant
Tairroir
in Taipei. Chef Kai Ho is having a pre-dinner briefing session with his service staff and two special participants, or more specifically, the chefs from two other MICHELIN star restaurants overseas. They are Hideaki Sato from two star
Ta Vie
in Hong Kong and Julien Royer from three star
Odette
in Singapore, both ready for a six-hands dinner held in that particular evening.
The news had already gotten around the dining circle in Taipei much earlier that these highly regarded chefs from Taiwan, Hong Kong and Singapore were joining forces. And boy, did they deliver a seamless menu that left guests in awe.
"Four-hands", "six-hands" dinners have become commonplace in the fine dining scene, where high-profile chefs team up to prepare a special dinner. Sometimes it works, sometimes it doesn't. What dictates the success of these crossover events? We begin our analysis from this wonderful feast.
(From left) Kai Ho, Julien Royer and Hideaki Sato in the pre-dinner briefing session, in preparation for the night's six-hands dinner. (Photo by Liz Kao)
Preparation Takes Time
"I like to have ample preparation time," said Royer. He is both a mentor and a friend to Ho, who was his sous chef when they worked at Michelin one-star restaurant
JAAN
in Singapore. They formed a close bond that lasts till these days. Royer has been nothing but supportive to Ho. As early as 2016, when Ho just opened his own restaurant Tairroir, he already went there for a guest chef appearance.
And the decision to hold a six-hands dinner was made at that point. The missing piece of the puzzle was Sato. Ho thought that he and the Japanese-born chef both make French food and had background in Asian cooking. With the addition of Royer, the three would be able to create a French dinner that encompasses various viewpoints. Sato happily took up the invitation.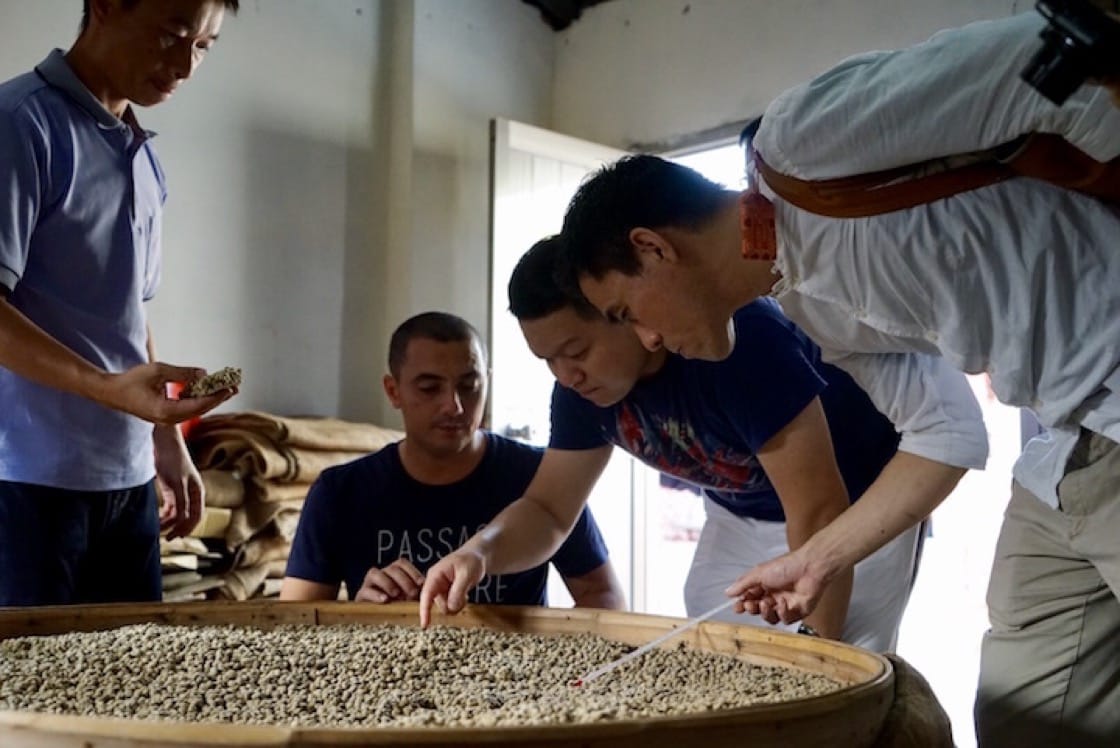 The three chefs observing the production process of Sinhong soy sauce at the workshop in Yunlin County. (Photo by Liz Kao)
No time was wasted during the process. A crossover dinner usually takes at least three months to prepare, but the initial discussions about this particular event took place nine months in advance. Ho even invited Sato and Royer to Taiwan to explore the ingredients in the Yunlin County two months before the dinner was held. Yunlin is Taiwan's agricultural heartland. Ho brought the two visiting chefs to the farms and soy sauce workshop there for a better understanding of Taiwanese products, and some inspirations for the upcoming feast.

The Importance of Execution

In the end, Sato chose Yunlin-produced Sasso chicken, Koshihikari rice and white asparagus for a dish unique to this dinner. He cooked the chicken breast and thigh in a convection oven, using five temperature levels to heat the meat gradually before finishing it on a charcoal grill. Besides that, he uses the chicken oil and jus to cook the rice, and combine the chicken jus and Shaoxing wine for an aromatic sauce.

As the dish was being served, Sato personally shaved slices of white truffle to the chicken rice contained in a clay pot. The fragrance came bursting upon a small stir of the rice. The chicken thigh was smooth and tender, and the breast was moist, cooked just perfectly.
The Shaoxing chicken sauce rounded out everything alongside the white truffle chicken rice. The essence of the chicken adhered to every grain of rice. It's a dish that made everyone wish for extra servings.

Royer's speciality at Odette is pigeon in three ways. As requested by Ho, he reinterpreted the dish with duck from Pingtung. The three components are roasted duck breast with a glaze of quality Sinhong soy sauce, dried persimmon and himematsutake, duck confit with hazelnut and mushroom ketchup, and duck consummé with mixed herbs. The rose red-hued duck breast has the spot-on doneness, its flavour deepened by the soy glaze. The duck confit comes with crispy skin and soft flesh, giving an impression of fried chicken. The mild consummé provided a clean ending to the course. Royer showcased how great a dish with a fully-formed concept could be.
Using the duck from Pingtung, Royer reinvented his signature dish. (Photo by Liz Kao)
Whether it's chicken or duck, Ho prepped his partners extensively beforehand. He showed us records of his conversations with the guest chefs, followed by photos of the dishes in the testing process indicating how the poultry appeared after cooked and cut. It shows the level of meticulousness Ho went to for this meal.

The Significance of Crossover Dinner

Due to their reputation, invitations like this flood into the mailboxes of Sato and Royer regularly. Being a guest chef means opportunities to travel abroad and work on what they like. What's the reason to say no? Of course, things are more complicated than that.

"I got invitations almost every week to attend food festivals, private dinners and banquets," Royer said. "The challenge for me is to maintain the high quality and consistency of my restaurant."

He usually accepts three to four guest chef events every year. And there are three prerequisites for him to move forward: good impression of the inviter, the team remaining at his restaurant being able to run at a high standard, enough time reserved by the inviter for him to prepare.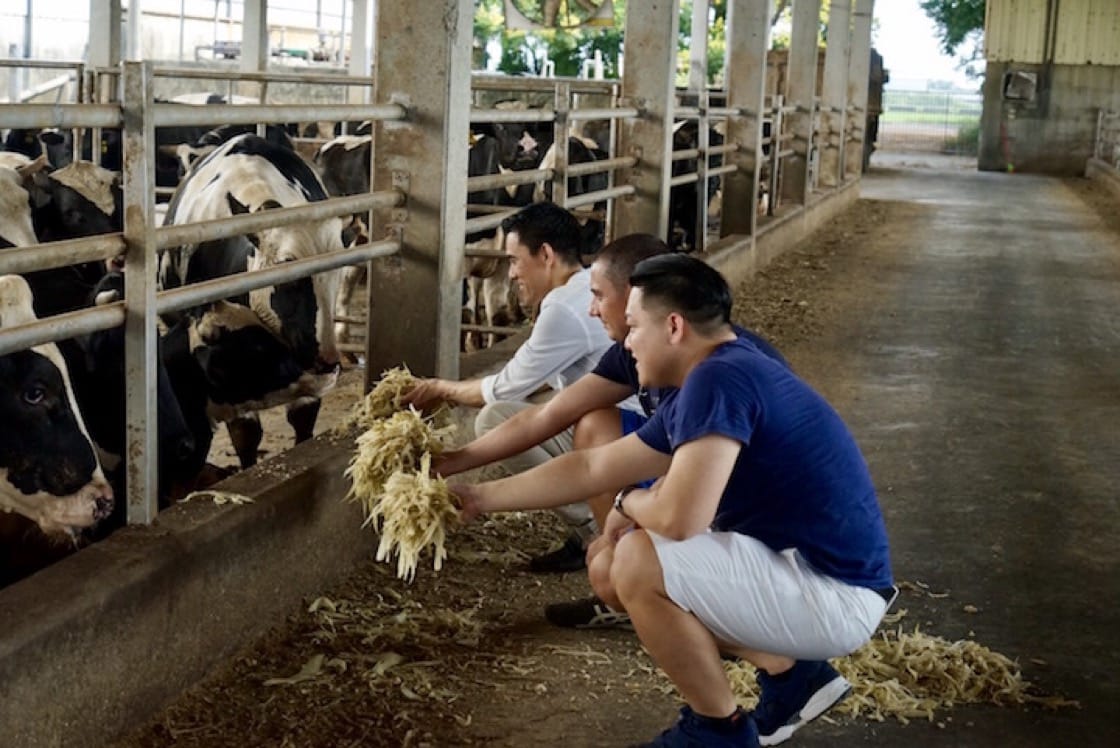 The chefs at Yun Chang Ranch. (Photo by Liz Kao)
Sato has the same considerations in mind, and he takes things one step further: whenever he's away, his restaurant doesn't open.

"I love travelling, and I love cooking as well. My restaurant is called Ta Vie. It means journey in Japanese. But I need to think about business. At the same time, I don't want to put too much pressure on my staff, having them overwork because of service," Sato said.

The two visiting chefs pointed out simultaneously that making guest appearances overseas is a good opportunity to learn, not just in regards of cooking, but also the organisation of a team in other kitchens. It can be a positive break from the daily routine for the younger members in the unit to see what's out there.

"The first time I went abroad for collaboration was with Seiji Yamamoto (Chef of Michelin three-star restaurant RyuGin in Tokyo) to Jakarta. At the point, I didn't want to work in Asia anymore, because it was just after the great earthquake in Japan in 2011. But that event was very successful. It showed me the dynamism of Jakarta. It boosted my morale and changed my mind to stay in Asia. I hope I could also bring the young chefs in my kitchen such valuable and important experiences," Sato said thoughtfully.

While we were on this subject, Royer also told us he brought an extra member to Taiwan. "He has never been so far away from Singapore," he noted.

Picking the Crew

So how these two chefs choose who to bring from the whole kitchen? Sato mainly focuses on three elements: strength, fairness, and menu execution. First and foremost, he has to ensure every event he participates in is carried out smoothly, so he needs to choose the more skilled members to help him achieve that. On the other hand, as a way of talent development, he also gives chances to some of the juniors in his team.

Fairness is another large concern to Sato. He always picks different chefs on his trips. Each time he only chooses two assistants. Once the menu is decided, his assistants have to learn to execute all the dishes in that menu. He would also ask them to imagine all the details, from prep work to cook time to table setting, to minimise the risk of having things go wrong. All these prove to be priceless in the training of budding chefs.
Royer introducing his dishes to the guests. (Photo by Liz Kao)
On the same token, Royer seeks to treat his team equally. Everyone who has worked at Odette for a full year is eligible to be on a work trip with him. In a way, Royer prioritises the strength and consistency of the people who stay behind. While he was at Tairroir, the former Prime Minister of the United Kingdom David Cameron visited Odette.

"I need to have a full grasp of the restaurant's situation, confirming who would be coming in advance. I trust my team a lot. They are excellent. A few of them have been working with me for over five years," Royer told us.

Doesn't he worry that the diners would think negatively of the restaurant if they didn't see the chef? Royer noted he hadn't encountered any patron complaining about the absence of the head chef. With or without him, the restaurant should turn out dishes of the same quality.

"In this industry, the head chef isn't everything. Even if you have the best chef in the world, you can't achieve anything without a team with chemistry."
To Ho, this crossover event let him introduce Taiwanese-made ingredients to chefs based in Hong Kong and Singapore. (Photo by Liz Kao)
The Chef Who Strives to Get to the Top

A collaboration dinner carries a very different meaning to Ho.

"I'm not famous enough to be invited to work overseas. The collaboration dinners I prepare don't make much profit; neither does it make a lot of sense commercially. To me, I wanted to showcase Taiwan to Julien and Chef Sato, introducing them to Taiwanese ingredients. It's also a healthy change of pace to my team, taking them away from the usual rhythm of work."

The name Tairroir comes from a combination of "terroir" and "Taiwan", and Ho's intention can't be more obvious. He wants to present Taiwan's most captivating terroir through his restaurant. He is equipped with a foundation of Chinese and Taiwanese cooking. After polishing his technique at Guy Savoy and JAAN in Singapore, he style begins to mature, using French culinary approaches to interpret flavours from his birthplace.

Ho likes to draw inspirations from the diet of average Taiwanese families. For example, the milk fish course in this event gets its concept from pan-fried milk fish belly, a popular breakfast dish in Tainan. Ho pan-fries the fish, paying special attention to preserve its oil. It's accompanied with longan vinegar, fermented bean curd sauce and fig. The spot-on cooking grants the fish a crispy skin and luscious, fatty interior. This contrast demonstrates the fish's best features. The longan vinegar raises the savoury element of the fish, while the bean curd adds a salty funk to the mix.

It's been only a year and a half since Tairroir opened it door. The visit of Royer and Sato made many more diners in the world notice the joint, and gave Ho's team a great chance to work alongside some eminent chefs in the field. Collaboration dinner is unquestionably the hottest trend in the fine dining world. Whether you call it a marketing trope or an occasion for learning, there are only benefits to us gastronomes.
---
This article was written by Liz Kao and translated by Vincent Leung. Click here to read the original version of this story.