There is a Chinese saying that when a dish looks good, smells good, and tastes good, then it is good. Masters of Cantonese cuisine — often considered to be at the forefront of China's eight great regional cuisines — however, will add another golden rule: a good dish should only be made from the best ingredients available.
Produce must be selected at their seasonal peak. Fresh, often live, seafood is an absolute must. Fresh meats and poultry are preferred. Equally cherished are dried seafood like abalone and sea cucumber, which are rehydrated and simmered into exquisite dishes.
Having selected the best ingredients, Cantonese chefs can then make use of a broad range of cooking techniques, from stir-frying, pan-frying, and deep-frying to steaming, braising, and roasting, to prepare them. But their ultimate goal is to apply those techniques in the best way to highlight the original flavours of the primary ingredients. Mastery of huo hou (heat control) is essential. The combination of adept control over the intensity of the heat and the precise timing of its application ensures that the perfect textures are achieved while the right flavours are preserved or released.
From comfort foods to banquet dishes, and Chinese-style siu mei (barbecue cooking) to the subtle treatment of live seafood in the following five classic dishes showcase the breadth of Cantonese cuisine. In the hands of master chefs, they have been elevated to a fine art form.
Sweet and Sour Pork
Where to try it: Ming Court, One MICHELIN Star, MICHELIN Guide Hong Kong Macau 2020
This classic dish of deep-fried pork with pineapple and green and red bell pepper, stir-fried together in a tangy, sweet sauce, ranks among the most well-known and best-loved Chinese dishes. For many Chinese people, especially those from Guangdong province, sweet and sour pork is a comfort food that reminds them of their childhood. For everyone else, it is a palate pleaser that delivers a healthy dose of all five tastes: sweet, sour, salty, bitter, and umami.
But the ubiquity of this popular dish in restaurants throughout Hong Kong belies its complexity. Many connoisseurs view sweet and sour pork as one of the benchmarks by which to judge a Cantonese chef's technical skills and fidelity to authenticity.

"It looks easy to cook, but it requires skills and experience indeed," says Li Yuet Faat, executive chef of Chinese cuisine for one-MICHELIN-star Ming Court and Cordis, Hong Kong. "How to master the temperature and timing is the key element, and one should be mindful of the ratio for the sweet and sour sauce."
At Ming Court, Li insists on making the sweet and sour sauce from hawthorn and sour plums, rather than the more commonly used sugar and vinegar. He prefers using fresh pork shoulder, over other cuts like pork belly or spare ribs, for its more tender and juicy quality. And for the batter, he believes a mixture of beaten eggs and cornstarch produces a longer-lasting crispy texture.
The final product is an ideal sweet and sour pork dish that features a light sauce of finely balanced flavours as well as fried pork that is crispy and flavourful.
Jinhua Yushu Chicken at Yat Tung Heen (Photo: Yat Tung Heen)
Jinhua Yushu Chicken (Steamed Free-Range Chicken with Yunnan Ham, Black Mushrooms, and Vegetable)
Where to try it: Yat Tung Heen, One MICHELIN Star, MICHELIN Guide Hong Kong Macau 2020
It is not a banquet without chicken, according to a popular Chinese saying. At one-MICHELIN-star Cantonese restaurant Yat Tung Heen, the inclusion of chicken on the menu is not just obligatory, it comes all dressed up for a resplendent festive celebration.
A classic Cantonese banquet dish, Jinhua Yushu chicken features ingredients painstakingly arranged to resemble an auspicious mythical creature. "Jinhua Yushu chicken is an artisanal dish, and the craftsmanship behind it has been handed down in Hong Kong for more than half a century," says chef Tam Tung of Yat Tung Heen. "It is popular among the public because of its attractiveness, its light flavour, and its tender texture. But because it requires so much time and skill to make, it is almost becoming a lost tradition."
According to Tam, proper preparation of the chicken is a true testament to a chef's knife skills. The chicken must first be deboned and its fat completely removed in order to keep flavours light. In traditional preparations of the dish, the deboned chicken is cut into pieces and then marinated with sugar, soy sauce, sesame oil and other condiments. Jinhua ham is soaked in sugar syrup to reduce and counter its original saltiness, then thinly sliced and arranged on the dish in an alternating sequence with the chicken. The dish is steamed and then drizzled with chicken gravy sauce.
"Our approach at Yat Tung Heen is similar to the traditional method, but we pay a lot of attention to the quality of the ingredients and to the flavours in the dish," says Tam. He insists on using fresh Qing Yuan chicken, a free-range poultry prized for its meat that is tastier, more juicy and has a better texture. He also adds hua gu, the highest grade of dried shiitake mushrooms imported from Japan, to the dish. The hua gu, together with the Jinhua ham, helps to layer more savoury and umami notes in the dish to heighten the complexity of its flavours and aromas.
Spring Moon's Pan-Fried Bird Nest with Crabmeat and Egg White (Photo: Spring Moon)
Pipa Tofu (Pan-Fried Bird Nest with Crabmeat and Egg White)
Where to try it: Spring Moon, One MICHELIN Star, MICHELIN Guide Hong Kong Macau 2020
Named for its resemblance to the pear-shaped, classical Chinese musical instrument, Pipa Tofu is a popular Cantonese dish prized for its delicate flavour and texture.
Though it may seem simple at first glance, a well-prepared pipa tofu dish is an indicator of a chef's knowledge and skills, from his ability to select fine ingredients and suitable seasonings, to his mastery of techniques for steaming and frying.
The dish may be presented as an exquisitely prepared banquet dish or as a home-style comfort food. "The most important thing is the chef's control over the intensity of the heat and the length of time it is applied. This is what ensures the pipa tofu remains tender in texture and smooth in consistency," says Spring Moon's executive chef, Lam Yuk Ming. "Chefs must also carefully calibrate the amount of tapioca starch added to strike a fine balance between achieving tender, smooth tofu while preserving its subtle flavour."
Traditionally, minced scallops, minced shrimp, crabmeat, diced shiitake mushrooms or minced pork or ham are added into pipa tofu to enhance its flavour. They are blended with the tofu into a paste-like consistency, molded onto a Chinese soup spoon to acquire the pipa shape, then either deep-fried, pan-fried, or steamed, before they are finally drizzled over with a savoury sauce.
To prepare Lam's upscale interpretation of the classic dish at Spring Moon, the chef first seasons the tofu with a custom blend of bird's nest, crabmeat, minced roast goose, shrimp paste, dried scallops, dong gu shiitake mushrooms, dried flounder fish powder, and egg white. The minced roast goose, in particular, infuses the pipa tofu with plenty of umami and a rich aroma. The tofu is then steamed and later deep-fried to create a contrast between its crispy exterior and pillowy soft interior. As a finishing touch, Lam serves the tofu atop delicate lace tuiles made from spinach-coloured rice starch batter.
Yan Toh Heen's Golden Scallops with Minced Shrimp, Fresh Pear, and Yunnan Ham (Photo: Yan Toh Heen)
Golden Scallops with Minced Shrimp, Fresh Pear, and Yunnan Ham
Where to try it: Yan Toh Heen, One MICHELIN Star, MICHELIN Guide Hong Kong Macau 2020
"Fresh seafood is definitely a hallmark of authentic Cantonese cuisine," says Lau Yiu Fai, executive chef of MICHELIN-star Yan Toh Heen. Due to the proximity of Guangdong province to the South China Sea, Cantonese chefs have long taken advantage of the region's abundant supply of fresh seafood, often displaying live seafood tanks at the front of their restaurants to entice customers in.
To properly showcase the naturally sweet qualities of fresh seafood, Cantonese chefs typically steam and season their catch with a light touch of soy sauce and fresh ginger and spring onion. When fried, a light coating of batter acts as a protective barrier that essentially steams the seafood inside while preserving the flavours and aromas within.
Yan Toh Heen's signature dish of Golden Scallops With Minced Shrimp, Fresh Pear, and Yunnan Ham is the perfect case-in-point. Lau chooses to use bite-sized, individual scallops whose succulence provide a pleasing contrast to the bouncy texture of the minced shrimp paste and the crispy fried batter. The addition of a slice of fresh pear enhances the fragrance of the dish, as well as the natural sweetness and umami notes inherent in the fresh scallops. A sliver of Yunnan ham adds a savoury tinge, while spiced salt and a squeeze of lemon juice served on the side help to heighten the flavours in the main ingredients.
The dish is a Yan Toh Heen original creation from the restaurant's early years, and it has remained a classic, signature dish for over three and a half decades, according to Lau.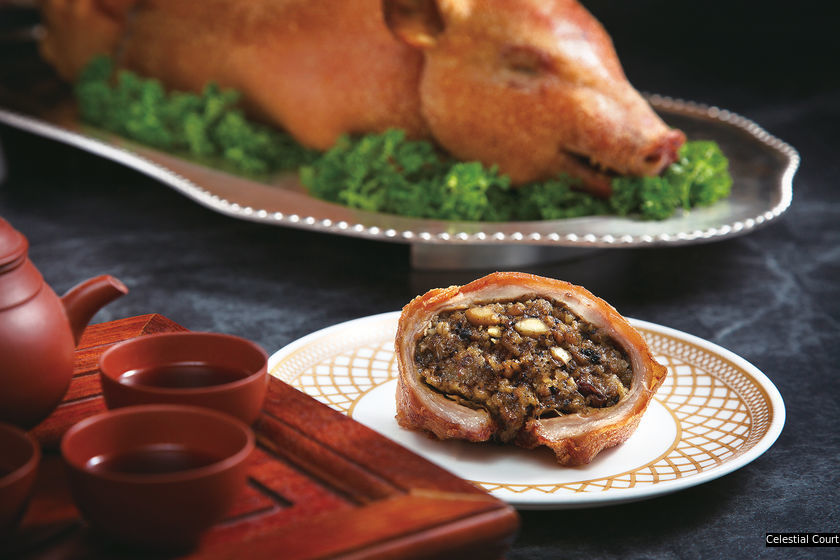 Apart from having it as a barbecued dish, patrons can also enjoy Celestial Court's signature roasted suckling pig with the restaurant's another popular dish: Roasted Whole Suckling Pig Stuffed With Pearl Barley, Black Truffle, Glutinous Rice And Yunnan Ham
Roasted Suckling Pig
Where to try it: Celestial Court, MICHELIN Plate, MICHELIN Guide Hong Kong Macau 2020
The tradition of barbecuing meats over an open flame is by no means unique to any one culture.
In Guangzhou and Hong Kong, Cantonese-style charcuterie are covered in special, often sweet, marinades and then spit-roasted over open flames or hung in charcoal ovens. The siu mei (roast meats) can be ubiquitously found hanging in street-facing windows of small barbecue shops across the region. In the experienced hands of Cantonese barbecue masters, the barbecued pork char siu becomes tender and meaty with a smoky char on the surface; the roasted pork belly siu yuk presents perfect proportions of crackling skin, luscious fat, and juicy meat; while roasted goose combines light, crispy skin with succulent, flavourful meat.
In fine dining restaurants such as Celestial Court, roasted suckling pig is an opportunity for their chefs to showcase their mastery of roasting techniques. The wafer-thin skin is delicately brittle and splinters on each bite with an audible crisp. The meat, by contrast, is melt-in-the-mouth tender.
To achieve these qualities, the restaurant prefers to use suckling pigs from Vietnam, which have a smaller body shape, thinner skin, and less developed muscle fibres. Typically no more than six to eight weeks in age, the suckling pigs are rich in collagen, which melts into the meat during the roasting process, giving it a silky smooth texture.
The piglet is rubbed with a marinade of salt, five-spice powder and other spices, and its skin surface is punctured over during the roasting process. A two-prong spit keeps the piglet spread open in order to maximise its surface exposure for more crispy skin. During the roasting process, the piglet has to be constantly turned and rotated.
Each restaurant has its own tricks for making the pork skin even more crispy. Some repeatedly puncture or scrape the skin during the roasting process, purposefully scoring the skin to smooth out bumps and to drain oil from any blisters that might form. They brush the skin from time to time with oil to loosen the skin from the meat. Others use vinegar and lemon juice as their acidity is said to aid the crisping process.

Enjoy it on its own or enveloped in thin pancakes or steamed bao buns, either plain or dipped in hoisin sauce or sugar.
---
Due to the ongoing measures to contain the Covid-19 outbreak, the operation hours of the restaurants may change from time to time. Please check with the restaurants on their operational status before your visit.
This post is brought to you in partnership with Chope