It's something of a surprise to see the Swiss architects Herzog & de Meuron named in a boutique-hotel project. Outside of Switzerland, the firm is better known for large-scale projects like stadiums and museums. But Basel's Volkshaus, while it's not a football stadium, has been central to this city's public life for centuries, and to adapt it for use as a hotel was no small task. Once a castle, later a brewery, still later a concert hall and office complex, it's a site with a history that demands preservation.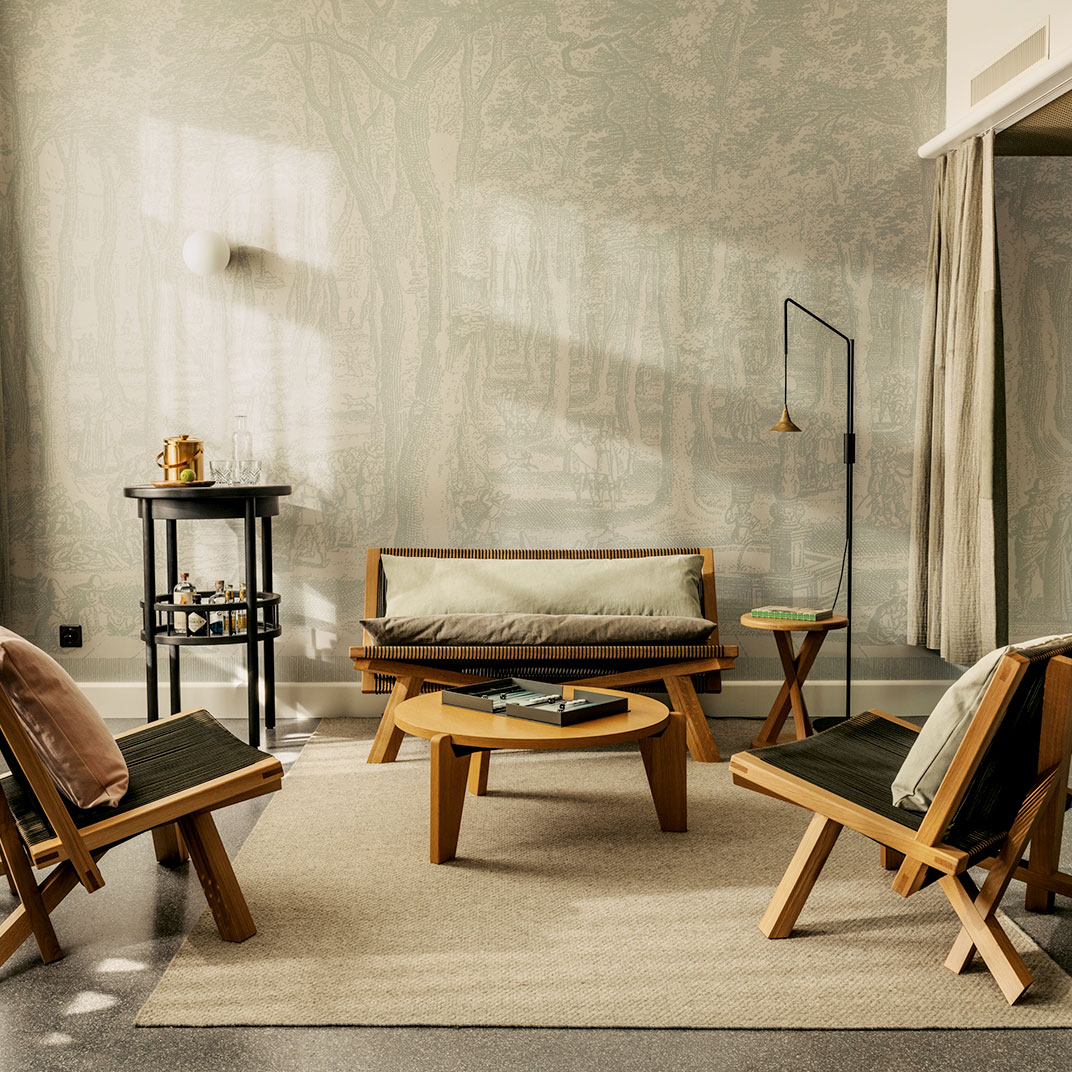 ---
Barely ten years ago the original Experimental Cocktail Club took Paris by storm, and what began as a liquor-fueled labor of love soon snowballed into bars, restaurants, even hotels — a full-spectrum hospitality brand. Now the Experimental Group's urban hotels — two in Paris and one in London — are joined by the Experimental Chalet, in the Swiss Alpine village of Verbier.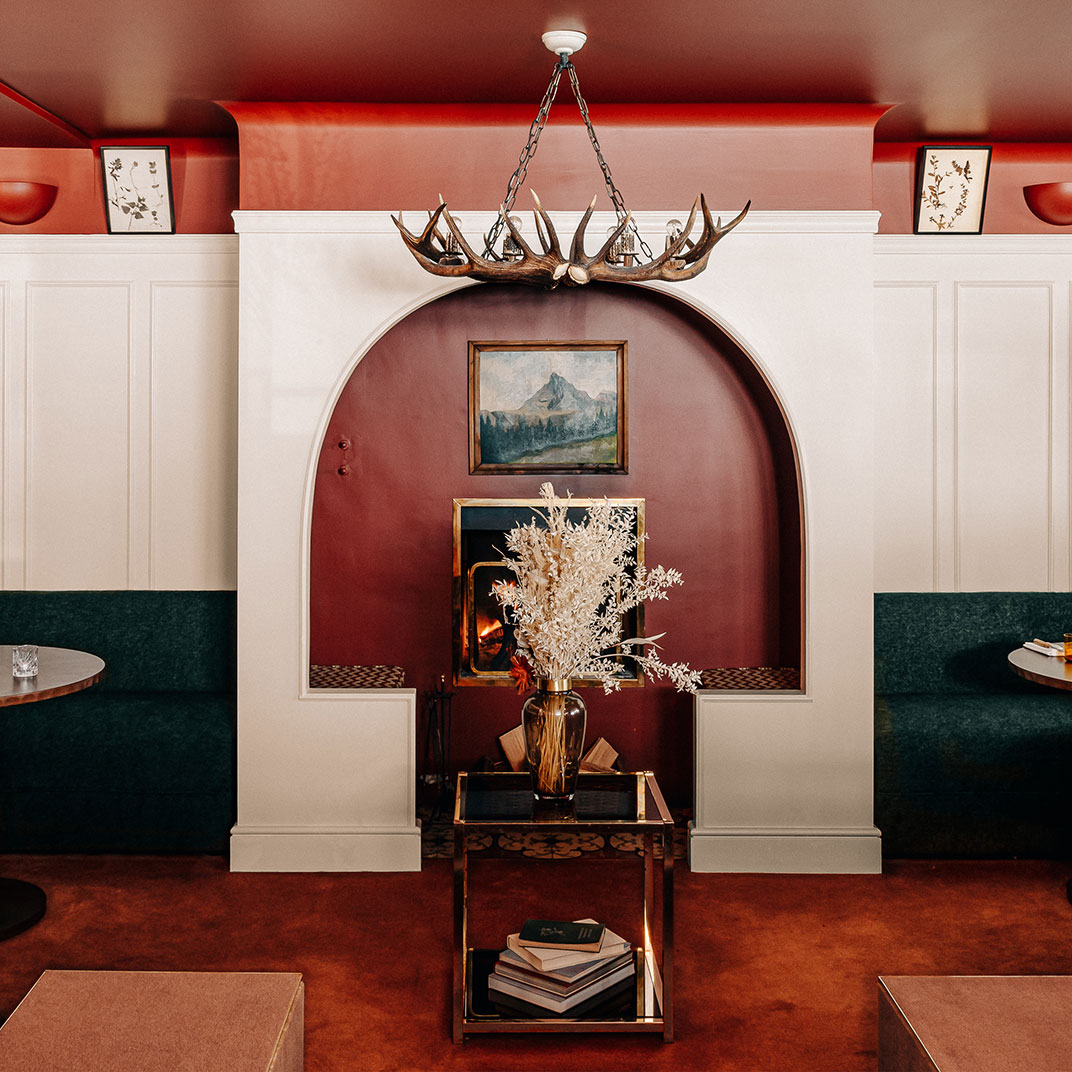 ---
The Capra, Saas-Fee, Switzerland
Even by the lofty standards of Swiss alpinism, the village of Saas-Fee is something else. "Pearl of the Alps" might seem a confusing nickname until you plop yourself in the heart of this gabled, car-free hamlet, from whose perspective the surrounding snow-capped four-thousanders distinctly take on the aspect of an oyster's lip. Ski resorts around here have embraced intimacy in size and scope — rather than compete with the grandeur of the mountains, they take pride in a humble familiarity with the land. Snow globes rather than glow snobs, if you will. Into this elegant tableau we welcome a relative newcomer: The Capra Saas-Fee.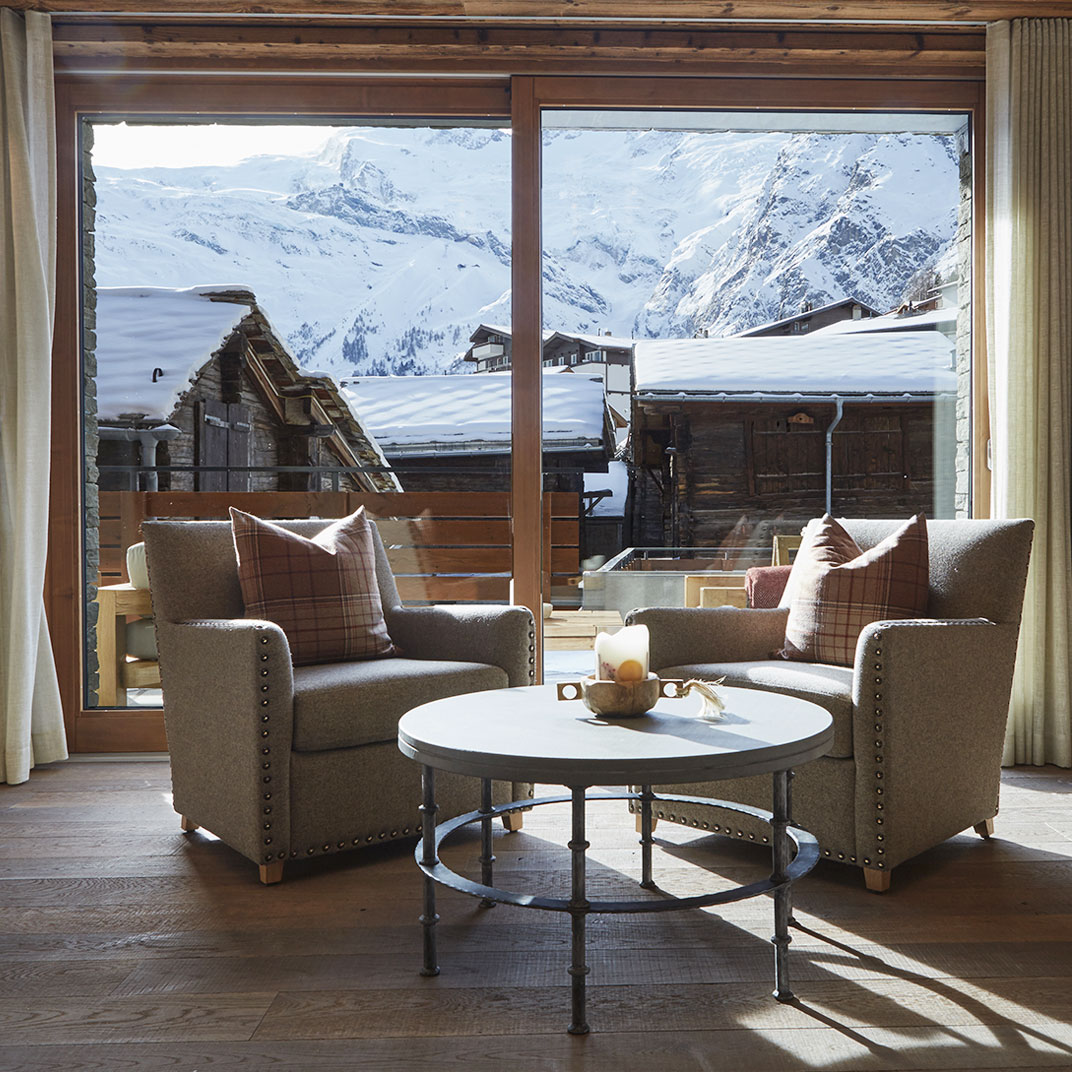 ---
You wouldn't know it by looking at the storybook-style mountain scenery, the adorably tiny ski cottages, or the steam trains chugging through the valley, but Andermatt was one Swiss ski resort in need of a facelift. The problem wasn't aesthetic as much as historical: Andermatt is as pretty as any Alpine village, but it was also occupied by the military for a hundred years, complete with firing range and barracks to house 1,000 soldiers. Change isn't easy. But sometimes an outsider — in this case, the Egyptian-born developer Samih Sawiris — is the right person to take on the challenge. The result is the sophisticated and ecologically friendly Chedi Andermatt resort, the first European hotel from the Chedi group, a luxury brand that's well-established in Asia.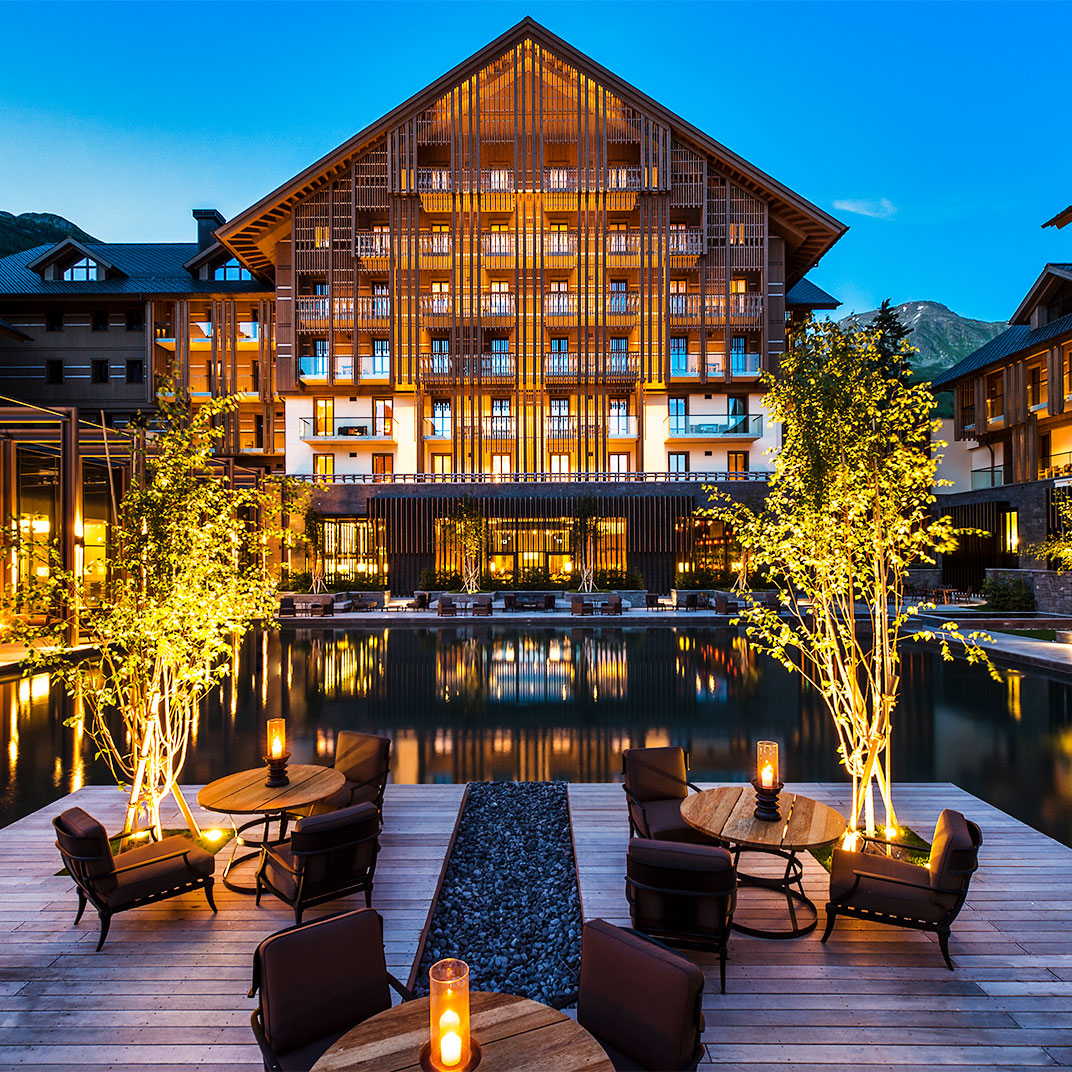 ---
Therme Vals, the thermal baths designed by architect Peter Zumthor, have long been regarded as a masterpiece, the sort of place where architecture and design junkies make pilgrimages to commune with the quartzite temple that houses the geothermic waters. And now, in Hotel 7132, this village has a hotel that's worthy of sharing space with the famous spa.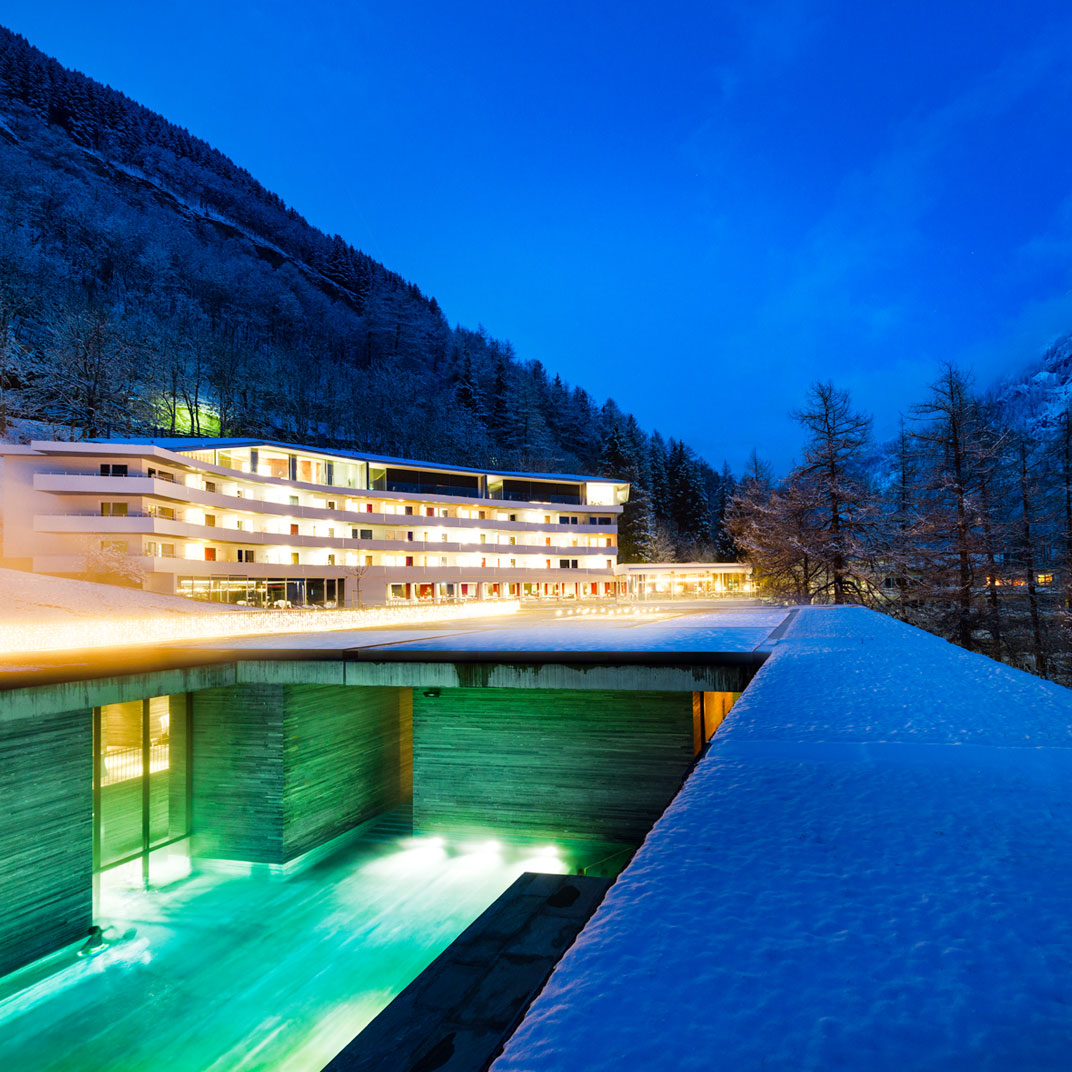 ---
Switzerland holds fast to its traditions — lucky for us, among those traditions is a rich, deep vein of pure modernism. Basel's Nomad Hotel makes its home in a classic 1950s apartment block, the first ever constructed in the city, whose distinctive concrete facade has been preserved, as well as a contemporary addition, purpose-built for the hotel project. And the interiors take off from there, using the raw concrete as a backdrop for a look that's surprisingly warm, with vibrant pops of color and clean-lined, modernist-inspired furniture by local designer This Weber.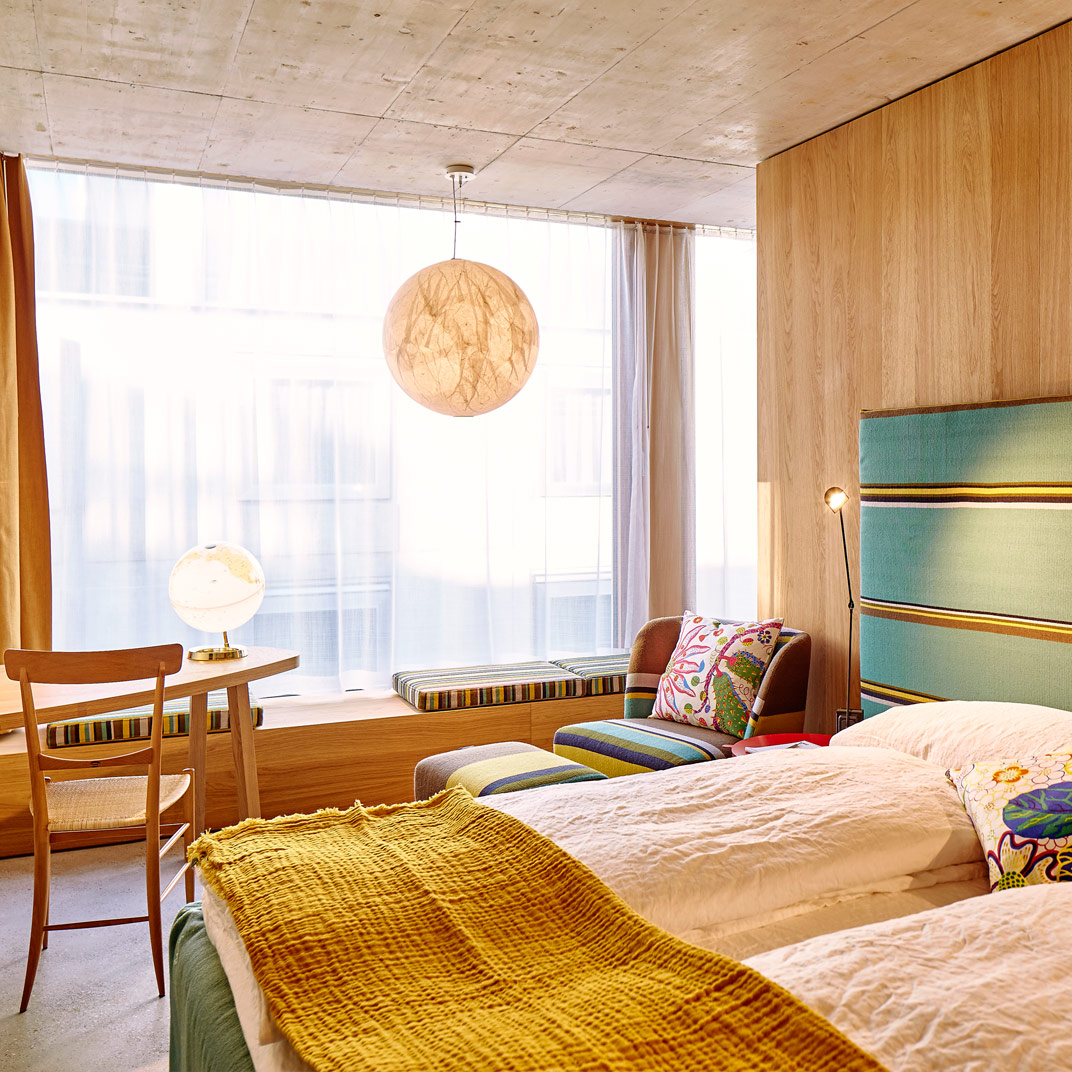 ---
The century-old Dolder Grand was impressive enough as it was, but it entered a new league following a massive renovation by the British architect Norman Foster. This isn't just a new interior for an old hotel, but a complete re-design, with a bold contemporary addition wrapping around the original turreted hilltop château.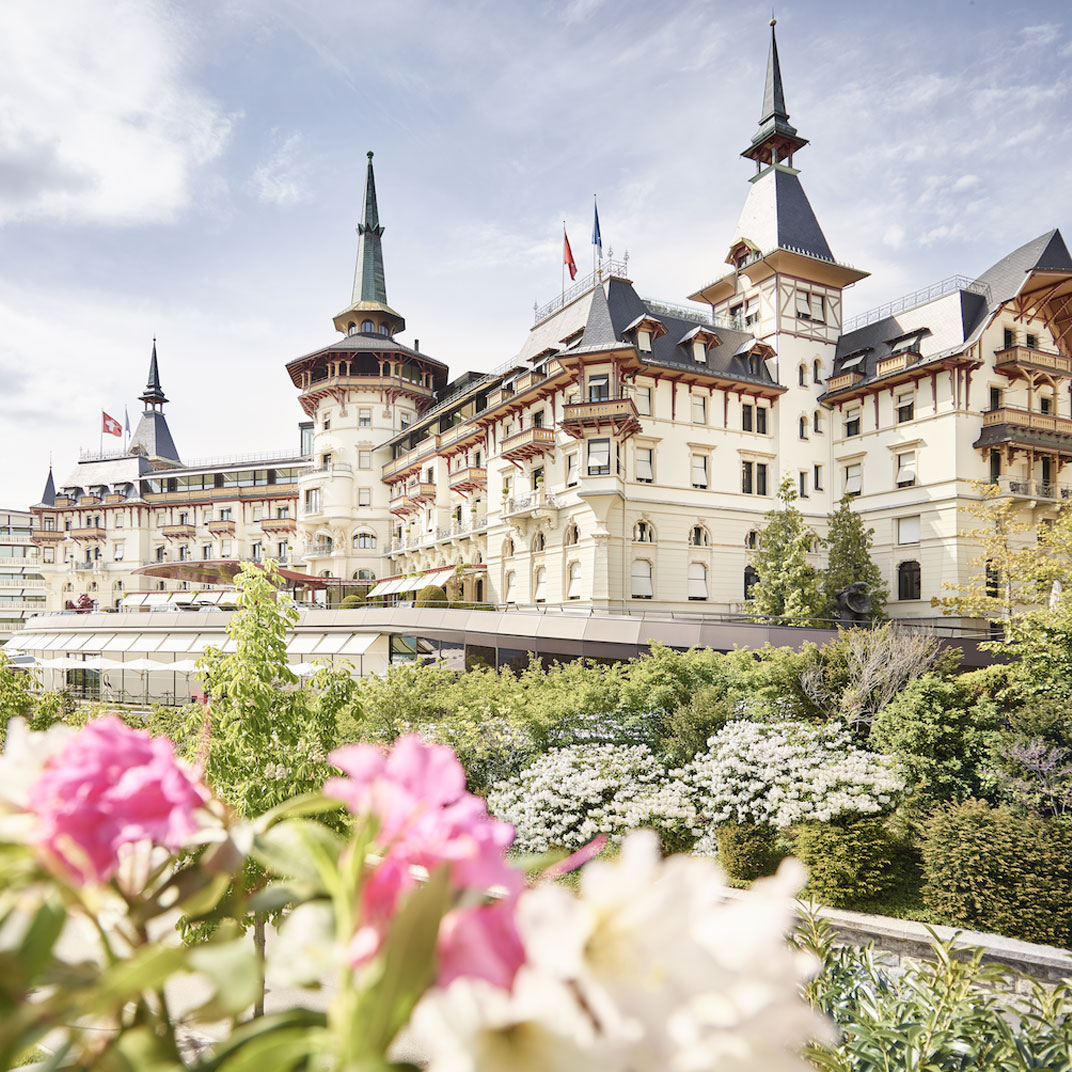 ---
Perfect for those with no taste for the tropics, or anyone who appreciates an inventive and inspiring hotel, Hôtel Palafitte is a South Pacific-style overwater bungalow hotel, located not in the Maldives but on the waters of Switzerland's Lake Neuchâtel, at the foot of the Jura mountains, with a stunning view of the Alps across the lake. Completed just in time for the Swiss Expo.02, this is an utterly futuristic execution of a timeless concept. After all, farmers lived in houses on stilts above the waters of this very lake some five thousand years ago — but never quite like this.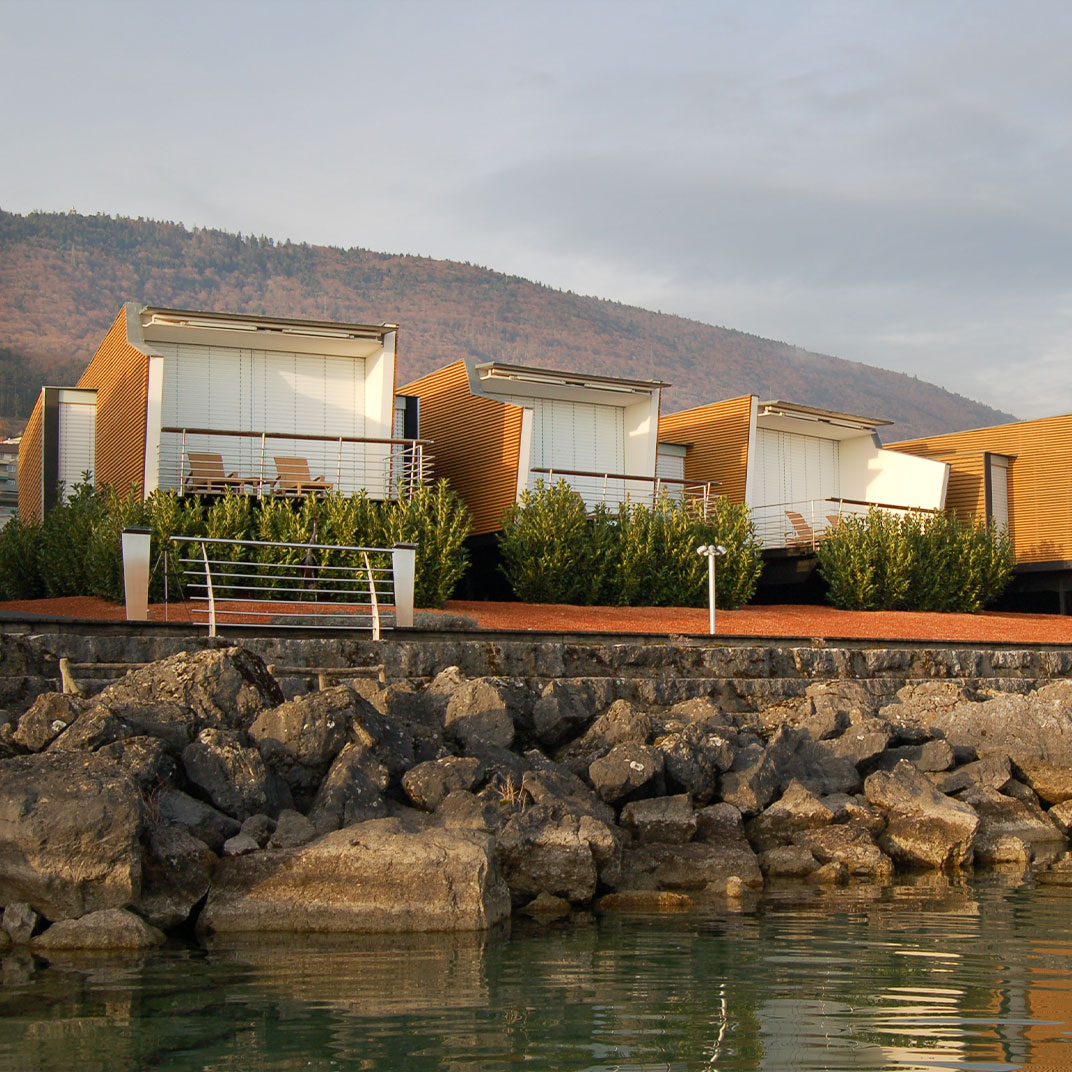 ---
Whitepod, Les Giettes, Switzerland
For a Swiss Alps experience that's a step up from evenings cozied up in a traditional wood chalet, consider Whitepod. In this boutique "glampsite" most guests spend the night in energy-efficient, low-impact geodesic pods, all set on a serene stretch of land with 25 km of private hiking trails. A stay at Whitepod isn't exactly roughing it. All pods have electricity, are heated, hold a fully fitted bathroom, and come with a range of upscale (and sometimes quirky) features like saunas, Japanese furo baths, iPad Pros equipped with Netflix, and even indoor hammocks. While the pods are located a 15-minute walk from the reception building, breakfast can also be served in bed.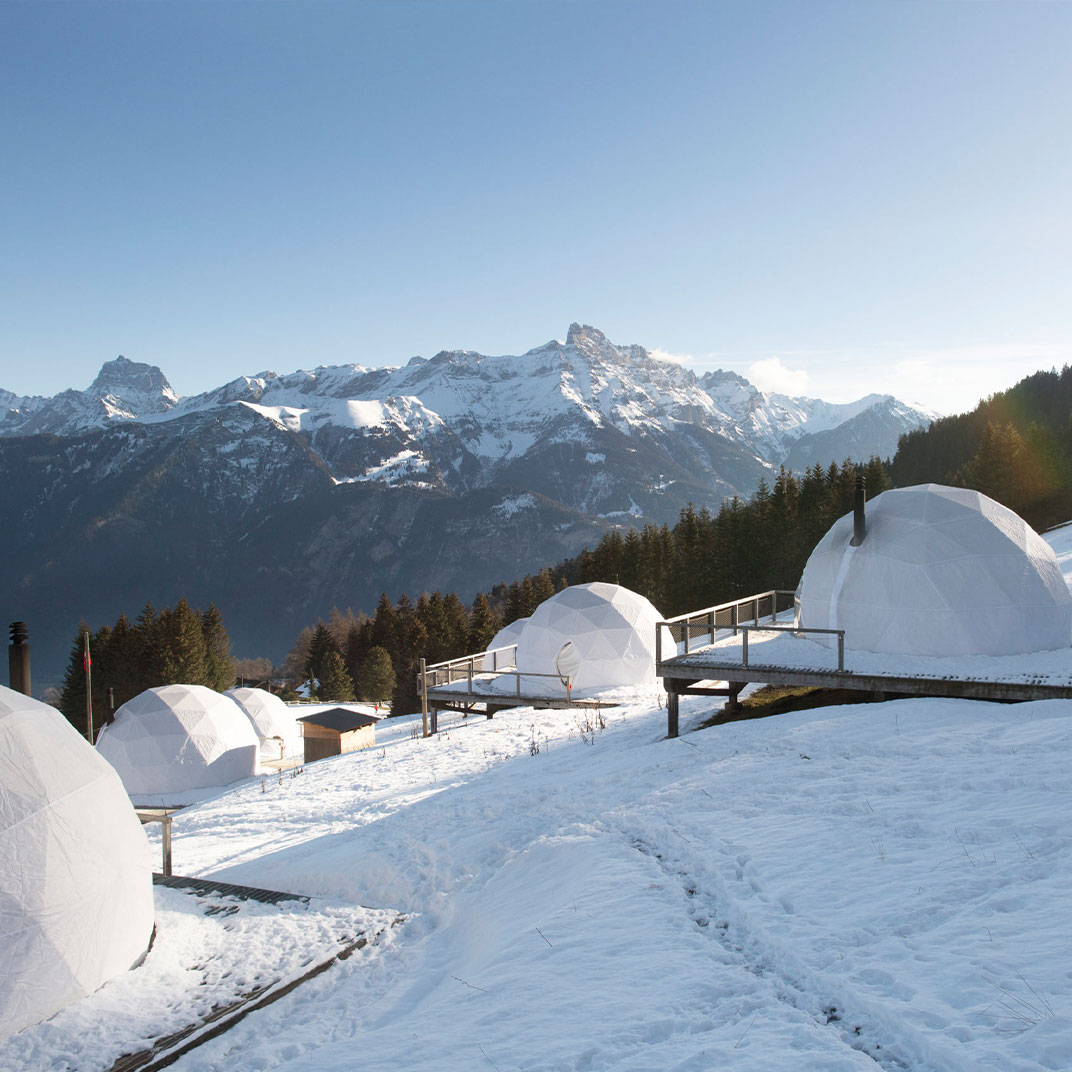 ---
A clockwork-themed design hotel could go so very, very wrong, but in the hands of the Bjarke Ingles Group, the Hôtel des Horlogers transcends its inspiration. The setting, in the stunning Vallée de Joux, certainly helps, and the architecture, though inspired by watchmaking, avoids literal depictions. The rooms are handsome and light-filled, the views far-ranging, and the whole operation is as green as you expect a 21st-century luxury boutique hotel to be. The hotel's two restaurants are headed by the award-winning chef Emmanuel Renaut, and the Alpeor spa uses products sourced from the local region.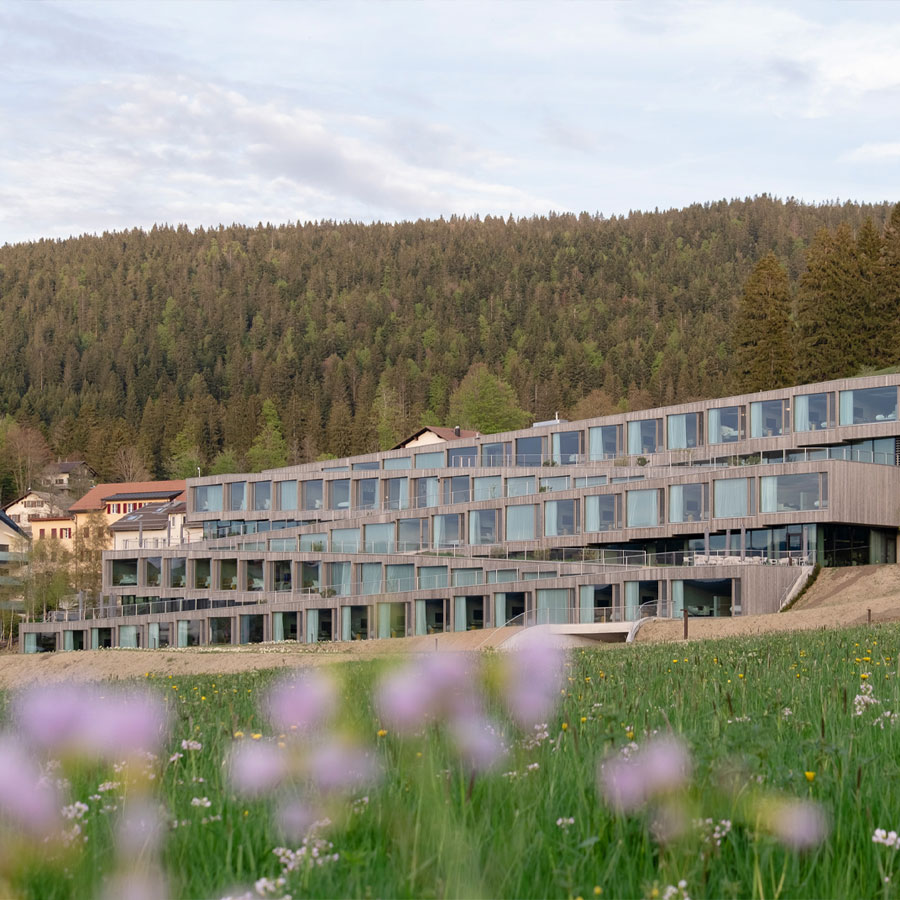 ---