Peranakan is a well-loved cuisine in Singapore, with many restaurants offering classic staples such as ayam buah keluak (chicken stew with Indonesian black nut), babi pongteh (braised pork with fermented soya bean) and ngoh hiang (five spice meat rolls).
However, Peranakan, or Nyonya, cuisine, is not exclusive to Singapore. This rich Straits Chinese food culture was born when Chinese immigrants to the Straits Settlements began marrying local women. What resulted is a delicious combination of Chinese wok cooking styles and Hokkien spices with Malay and Indonesian ingredients.
Besides Singapore, Penang, Malacca and Phuket became important hubs for the Peranakan community in the region. With each city's different geographical location, varying styles of Nyonya cuisine emerged. From the coconut milk heavy dishes in the south of Thailand to the tangy Thai-influenced fare of the north, here are some of the dishes to add to your eating bucket list in the Land of Smiles.
Lemak Laksa. Photo courtesy of Clarity Publishing.
Ayam Buah Keluak

Don't fear the black, coal-like lumps in this dish — even if they contain hydrogen cyanide that can be lethal to consume in large amounts. These Kepayang tree seeds that are native to the mangrove swamps of Malaysia and Indonesia are painstakingly prepared by first being boiled and then buried in ash, banana leaves and soil for more than a month to ferment, which cleans away the cyanide. Smothered in tamarind and rempah, or Malay spice, paste and simmered for hours with chicken, the end result is a hardy dish that sings with spice, tang, and a flavour that keluak aficionados like to compare to truffle.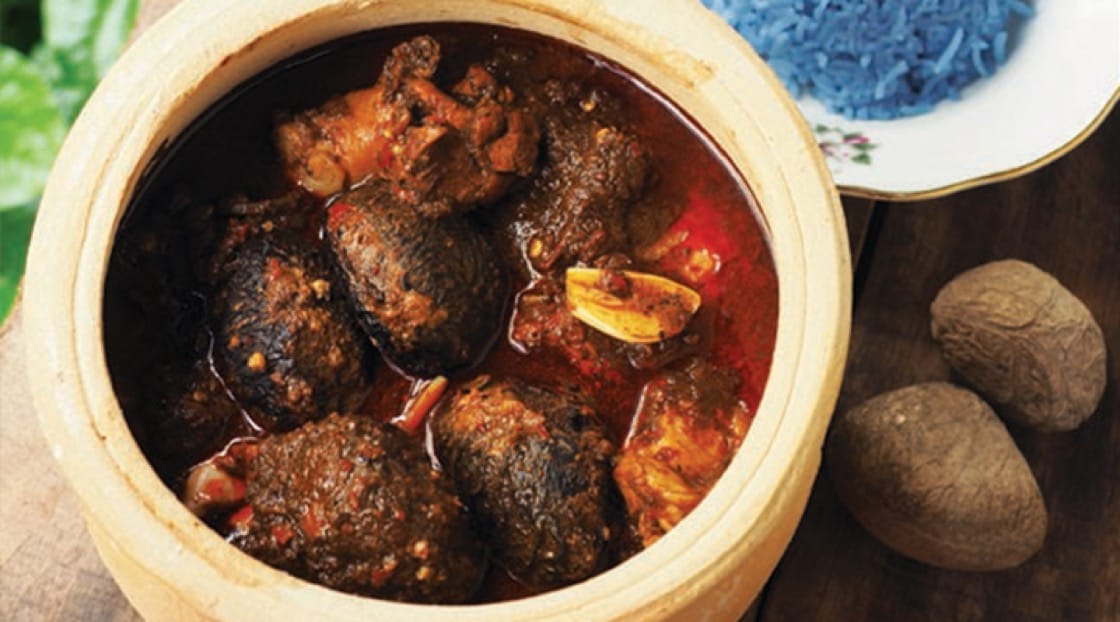 Ayam Buah Keluak. Photo courtesy of Clarity Publishing.
Sambal Udang Petai

Stinky petai beans add a nice crunch to prawns smothered in sambal, or stir-fried chili paste, in this dish that is a balancing act of bitter, spicy, sweet, and sour flavours. What it lacks in prettiness, the pungent dish makes up for in serious taste with a sauce that features generous amounts of ginger, lime and lemongrass.
Sambal Udang Petai. Photo courtesy of Underground Food City Penang.
Laksa

Laksa is everything you want from a dish: spicy, sweet and sinfully creamy. The fiery noodle soup that involves heaps of seafood or meat, spices, lemongrass, rice noodles, and egg wedges in a bath of coconut milk is the perfect example of a balancing act. The Peranakan staple comes in many forms throughout the region, varying in tanginess, sweetness and creaminess, but all consistently satiating.
Assam Laksa. Photo courtesy of Clarity Publishing.
Ngoh Hiang Lor Bak

Every meal should start with these crispy meat rolls that are iconically Peranakan. The juicy bed of minced pork, prawns, onion, and chestnut that lay on blankets of dried bean curd skin are seasoned with ngoh hiang, or five-spice powder, that gives the rolls a serious punch.
Ngoh Hiang Lor Bak. Photo courtesy of Clarity Publishing.
Nyonya Cendol

No one can resist green slivers of pandan jelly over crushed ice with fresh coconut milk on a hot day. Not even the Peranakans, who made the classic Southeast Asian dessert their own by adding red beans or durian to the sweet concoction. Hints of saltiness stand in contrast to other versions of the dessert, like Thailand's lod chong, which keeps it simple with just pandan jelly, syrup and coconut cream.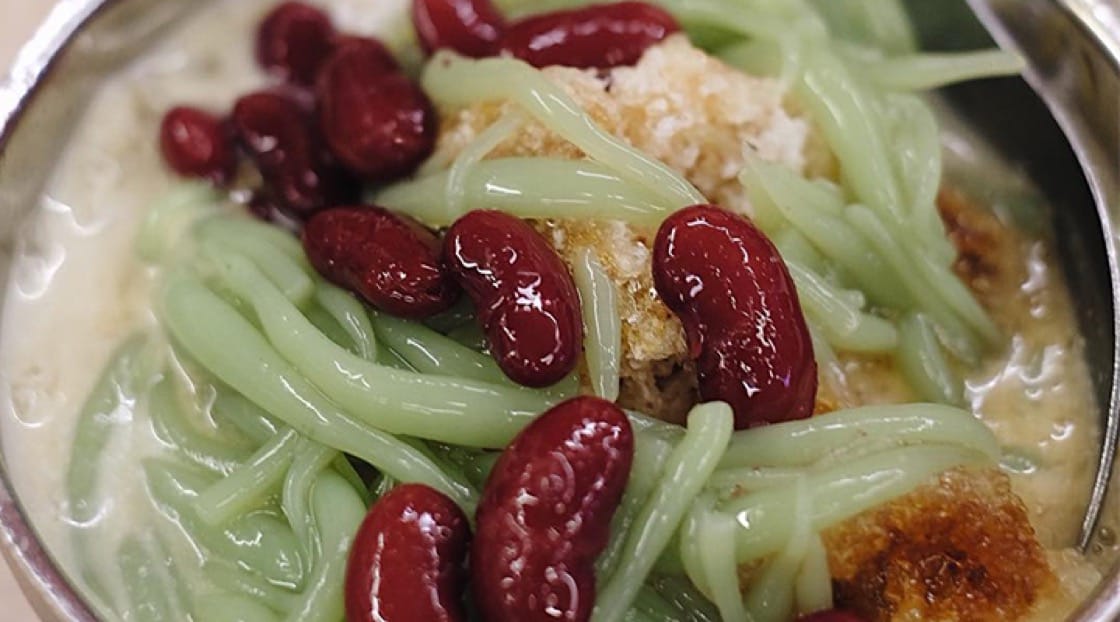 Nyonya Cendol. Photo courtesy of Paulus Tjia.
Babi Pongteh

Melt-in-your-mouth braised pork belly. Need we say more? Okay, fine. If you aren't sold on the idea of succulent fatty meat over rice on its own (and yes, we are judging you) then imagine the chunks of meat softened with taucheo, or preserved fermented soybean paste, and gula melaka, a type of sugar, and served with stewed potatoes and mushrooms over rice. Rumour has it that the dish tastes even better as leftovers, once the flavours of the thick, fragrant sauce get a little more familiar with each other.
Now that we've whet your appetite, why not treat your palates to a Peranakan meal? Here's the closest you can get to enjoying Peranakan food in Thailand
Here's what our Inspectors said about Blue Elephant (Plate)
The sister to Bangkok's flagship recreates the look with a colonial-style mansion, lush gardens and a century old Banyan tree outside the entrance. Interiors come with wicker furnishings, wood panelling and louver shutters. The menu is a roll-call of Thai classics, but also features rare Peranakan dishes, developed in conjunction with the Peranakan Association and Rajabhat University. Cookery classes with trips to the local market run every day.

Here's what our Inspectors said about The Charm (Bib Gourmand)
Growing up in his family's food business, young owner Buriphat has been passionate about southern Thai-Peranakan food since childhood, with dreams of elevating beloved recipes to new heights. Opening in 2018, The Charm succeeds with carefully selected ingredients skilfully cooked using traditional methods to extract and preserve original flavours. Try the Penang-style fish curry or the intense yet sophisticated shrimp paste with poached shrimp meat.
---