Given his extensive international fame, chef Massimo Bottura – who reached the pinnacle of his gastronomic success in 2012 with his third Michelin star – needs no introduction. His cuisine shines a spotlight on the culinary traditions of Emilia, interpreting these in a precise and non-nostalgic way. In his dishes we find influences from the chef's own travels and from the diverse cultural heritage of his team, as well as a strong nod to art, as demonstrated by the important works embellishing this restaurant on Via Stella in Modena.
Cuisine from the region and further afield…
"Change must come from the things that we do every day. In this way, our actions will influence our guests and in so doing raise awareness among entire communities, resulting in the transformation of our entire food system into one that is healthier and more sustainable", says Massimo Bottura.
Time plays a central role in Bottura's restaurant, where there's a focus on looking to the past to see what can be learned and passed on to future generations. In days gone by, when the time came to kill the family pig to stave off hunger, a true Emilian made sure that everything was used – every single part of the animal with absolutely no waste. A pig was like gold! Just as a piece of dry bread was equally valuable.
The chef sums up his philosophy as follows: "Our culture provides us with the right answers if we know how to ask the right questions. Culture generates knowledge, knowledge brings awareness and awareness creates a sense of responsibility. Responsibility to yourself, to others, and to everything that surrounds you and the consequences for our planet. Only in this way can we create change, starting with an awareness of our daily actions". It is this commitment that Massimo focuses on every single day.
The restaurant's own vegetable garden provides him with edible flowers, vegetables and salad crops, as well as aromatic herbs that are used to add flavour to delicious dishes such as Bue Grasso beef served with mixed herbs and vegetables, creamed potatoes and a red wine jus. In addition, roses from the garden are fermented and then added to a special vinegar which is used to flavour baked ricotta.
"We like to get our hands dirty every day and are inspired by the natural, seasonal produce provided by our land", Bottura tells us. "There is nothing more sustainable than that". But that is only part of the story…


A different approach to sustainability
The philosophy at the Osteria Francescana goes way beyond culinary creativity – this three-star restaurant's primary aim is to limit food waste as much as possible. It has now taken this message into society at large with the development of the Food for Soul social and cultural project, established along with the chef's wife Lara Gilmore, and which resulted in the opening of the Refettorio Ambrosiano in 2015, in conjunction with the Milan Expo.

The idea behind this non-profit organisation was the creation of 12 venues (in Milan, Modena, Bologna, Naples, Paris, London, Geneva, New York, San Francisco, Merida, Sydney and Lima) that offered support for the most vulnerable in society. Each "refettorio" aims to help the local community by combatting food waste and social isolation while at the same time creating beautiful spaces. Guests are welcomed in abandoned buildings which have been given a new lease of life thanks to the work of designers, architects and artists. The meals served are prepared using excess food – which otherwise would have been food waste – which is transformed by chefs into nourishing and healthy dishes that are then served to the most vulnerable members of the community.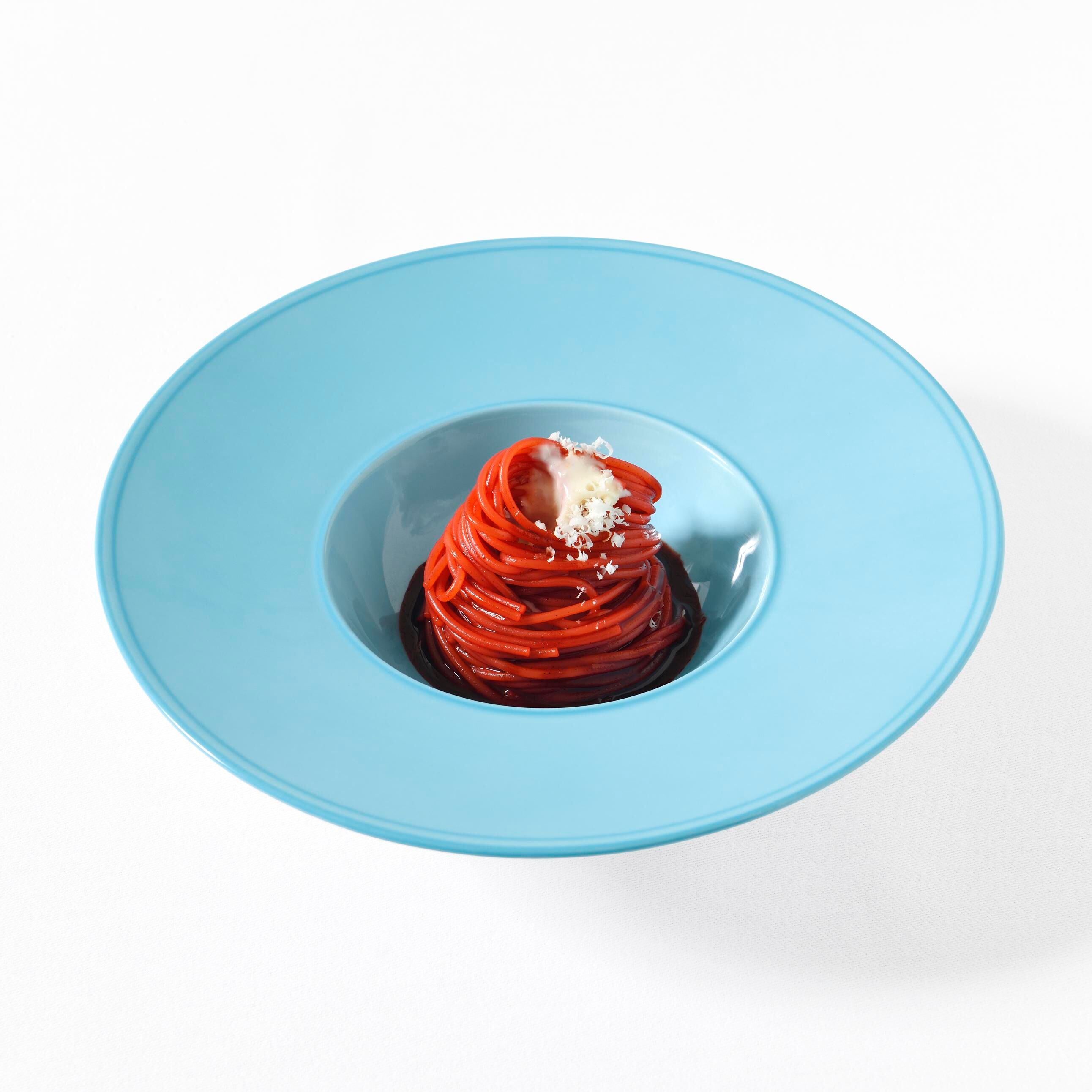 Paolo Terzi - Osteria Francescana
Cacio e Pere credit Davide Piferi de Simoni
"Bread is gold": the quintessential no-waste recipe
Originating from Liguria, pesto is one of Italy's most famous and best-loved recipes. Although the pesto served at the Refettorio Ambrosiano is slightly different from traditional pesto (it's a very simple recipe), it is still full of flavour and is easy to prepare at home. It also comes with added significance as it represents the work that is being carried out in each of the "refettori" around the world. One day, the team from the Osteria Francescana working at the Refettorio Ambrosiano decided to prepare a pasta with pesto dish in order to use up some basil that was slightly past its best. However, there weren't enough basil leaves for the recipe, so the chefs turned to herbs such as mint, parsley, thyme, and other delicately flavoured plants. They then realised that they were also missing pine nuts. Massimo suddenly had a brilliant idea: "How about using breadcrumbs? There's no better way to re-use a precious ingredient such as bread than to transform it into breadcrumbs". Add to that a magical dash of extra-virgin olive oil and a generous sprinkling of Parmigiano Reggiano and you have the perfect no-waste recipe. This speciality has since been made on numerous occasions for staff meals at the Osteria Francescana – occasions that the owner-chef considers to be true family meals.
Coffee – the perfect ending to any meal
Coffee has a special place at the table, especially after a hearty meal when a sip of coffee provides a lasting and intensely aromatic finale for the palate, as well as providing a boost for the brain and the metabolism thanks to the presence of polyphenols. The sensation is accentuated when this important ingredient is used to flavour a delicious dessert such as Bottura's zuppa inglese – one of the region's favourite desserts.
Made from hot and cold chocolate cream and custard, layered with sponge fingers and with an added dash of Alkermes liqueur, as well as illy's legendary 100% Arabica coffee, zuppa inglese is an Italian-style trifle. Given the distinctive character of this dessert, it's essential to use a top-quality, sustainable coffee that works with the dessert rather than overpowering it.

Coffee – a drink celebrated in Italy in the Neapolitan song "la tazza è cafè" – can be enjoyed at any time of day, especially if you follow the precise instructions of Italian actor Eduardo De Filippo in his famous monologues: first, rinse your mouth with a glass of water, place a teaspoon on the edge of the hot cup to avoid burning yourself, then savour the bitterness of the coffee, sipping it slowly and with your utmost attention.

And enjoy!


Climate Change - Drought of the Po River credit Davide Piferi de Simoni
This post is brought to you in partnership with illycaffé