Whether you're 6 or 60, it's never too late to learn something new. Wolfgang Puck should know. At 66 years young, the Austrian-born American chef and restaurateur ventured boldly into the online space this January by starting the
Wolfgang Puck Cooking School
. We sat the busy chef down between his busy filming schedule to learn more about his digital transition - and why you won't find him checking his emails.
---
Hi Wolfgang, congrats on your cooking school launch! Tell us more about it.
The school has been in the works for three years before it was launched this January. I have been thinking about how to put it together for a long time, but only started to build the set last year as I was busy opening a few more restaurants. I finally found some time to do the filming last October. We filmed for four weeks, and did over 150 recipes and 200 how-to videos, on really basic tips, such as how to peel a tomato, deglaze a sauce or poach an egg.
You'll always learn a little story with each episode. We have recipes from my restaurants, like ones for the pizzas at Spago, to recipes from my childhood, such as wiener schnitzel or the warm chocolate cake and ravioli my grandma used to make. I'm working on adding more videos on outdoor cooking for the coming summer months.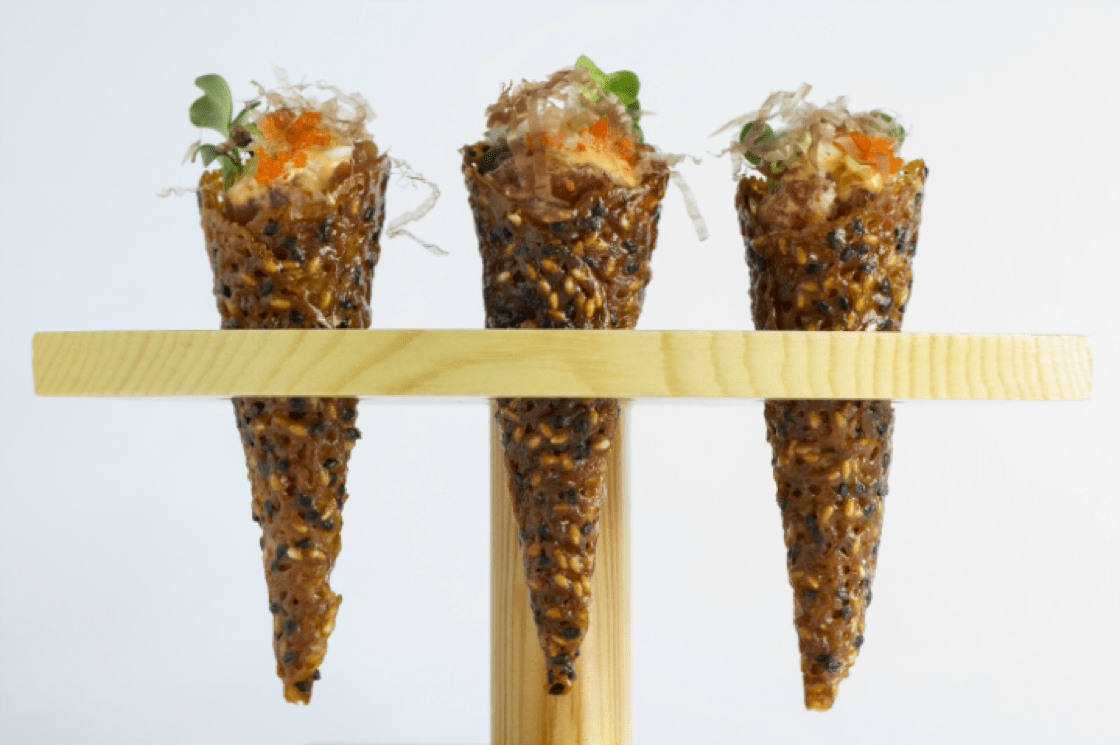 Tuna tartare cones with chilli aioli from Spago Singapore
What made you want to start an online cooking school?
They [my publishers] wanted me to write another cookbook. But then I looked at my son - he's 21 now, and people his age, they do everything online. This was when I got the idea that instead of another cookbook, we should do an online cookbook. With physical cookbooks, once they are published, then that's it. If I wanted to add another recipe, then I have to publish one more book. But with an online platform, it's easy to add new recipes; and people can keep their own online library, where they can save their favourites.
It was a lot of work to put together, but in the end, I believe that's the future: I don't think people are going to buy as many cookbooks as before. They may buy beautiful coffee table books, but most of their learning will be done online. Also, with an online school, I can reach out to more people. I also don't have to translate the audio into so many languages because with video, you can watch and understand in any language.
Why did you want to start with the basics?
Because I want everyone at home to cook better. So many times, working women with families come home and they want to cook something simple fast, but cook it better. Because these are people who have to put a meal on the table everyday.
Just like in a school, I designed the website such that you can start at the entry level, so people can understand and move upwards. I don't want people to start up here and then go down. I did not want to make a website with only fancy recipes for which you can't get the ingredients and people go, "Ah, that's too complicated, I'm not even going to try". I want people to watch and say, "Ah, I think I can do that".


The Terrace Bar at Spago Singapore
How tech-savvy are you? Are you a social media addict?
I'm not a digital person at all, I don't play with a computer, I don't do any of that - I get too impatient, I will just push every button I can. I keep all my recipes in my head. If something is not right with my telephone, I'll give it to my 10-year-old son and he fixes it right away.
But my wife is like that. I still love reading the newspapers, but my wife will always have already read the news online the night before. She always tells me I'm so slow [laughs]. Thanks to social media, she always knows where everybody is. When we go to London, she'll put up a post and all our friends will know we're there, so we can organise a dinner party for 20 in no time. She spends so much time on it that I knew I didn't want to do that. I'd much rather visit the farmers market and buy vegetables, and do what I love to do, which is be involved with food.
I do have social media accounts but I have someone running them for me. I don't want to be online all the time, because it's not about me, it's about the food, the restaurant, the hospitality. I don't want to get more people to know me, enough people know me already.
How important is it for restaurants and chefs to be Internet-savvy in this digital age?
I know that going digital is the most important thing now. Thanks to technology, we are able to connect our restaurants like we have never before.
Now you can make a reservation at any of our restaurants, watch the cooking videos - all on one site. Some of our restaurants have a digital wine list, and I hope to eventually build something where people can have a digital tour of restaurants through the website, to feel as though they were actually there.
But at the same time, we still love talking to the customers and being involved personally. The whole world is so digital, that sometimes it's nice to have personal contact still. You have to measure your time and tell yourself, "now I'm at a dinner with someone, I'm going to talk to them". If you have no reason to talk, then why go out? You see so many people today, they malfunction socially before everything is digital, they only know how to text or email.
I'm not spending all my time replying to 50 emails everyday. If I do, I won't have time to do what I do, which is cooking. But yet I've always liked do new things, so this is exciting for me and for the young people too.
---