Walking amongst the rice fields in rural Thailand, chef Sujira "Aom" Pongmorn caught a peculiar scent in the air which piqued her curiosity. She was on a trip to scour for local ingredients for her one-Michelin-starred contemporary Thai restaurant Saawaan in Bangkok.

She traced the "seafood-like" smell to a group of farmers grilling wild rice paddy crabs from Sing Buri province in Central Thailand. The farmers were making nam prik, a traditional Thai relish that is made with crab fat and fermented fish sauce, which is paired with sticky rice.
This serendipitous encounter spurred the Bangkok native on to explore obscure Thai ingredients that are used in time-honoured recipes. Pongmorn challenges herself to come up with modern interpretations of Thai dishes and ingredients without losing their essence.
Chef Aom was inspired to create the Rice Paddy Crab with Rice dish after tasting fat from wild crabs during a farm visit. (Photo: Saawaan)
At Saawaan, she cooks crab fat in a curry that is served in a crab shell alongside sticky rice.

She says: "Crab fat is salty on its own and can have a weird mouthfeel for those who try it for the first time. However, I enjoy the challenge of thinking how to present traditional Thai ingredients in modern styles while retaining their original flavours."
Doing The Local Motion

Don't let Pongmorn's youthful demeanour fool you. The 31-year-old owner and chef de cuisine of Saawaan (left) has an insatiable appetite for seeking out old-school Thai ingredients.
Sometimes, she persuades organic farmers to grow disappearing ingredients for her.

She says with a chuckle: "Many Thai people do not pay much attention to local produce, so it is like waking up the mummy from the box. I want to show that Thai produce can be more than just galangal, lemongrass and shallots."
Paying homage to local ingredients is one of the cornerstones of Saawaan, which she founded in April last year. The 30-seat restaurant, which is nestled in the leafy enclave of Soi Suan Plu, celebrates and reimagines age-old traditional Thai cooking techniques in a stylish and elevated manner.
The seasonal 10-course menu showcases dishes that are named after their respective preparation or cooking techniques such as fermenting, boiling, steaming, stir-frying and chargrilling.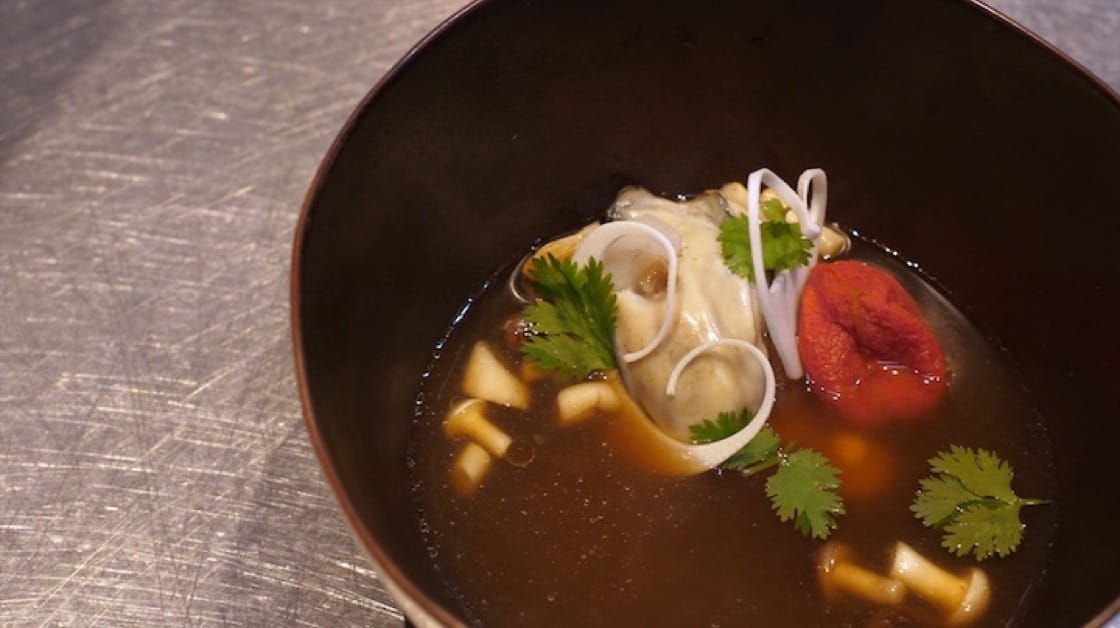 For the Boiled course, chef Aom creates her rendition of Tom Klong Hoy Nangrom that has Jean-Paul Oyster, mushrooms, palm heart and smoked fish.
For the Boiled course, she updates the ancient dish of tom klong hoy nangrom, a sour and spicy soup that is infused with roasted herbs and grilled smoked fish and served with Jean-Paul oysters, mushrooms and young palm hearts, while the Charcoal course features chargrilled Iberico Secreto pork marinated in Thai herbs.

One of the menu's highlights is the Curry course, which is kai kati khao luem pua, a luscious chicken curry from Central Thailand served with black glutinous rice, nicknamed "forget husband rice". The rice is so fragrant that the wife will eat it all and leave nothing for her husband when he returns home.

She explains: "I make each course based on the taste. At the start of the menu, there is sourness from the fermented course to open the palate. In the middle, there is Miang, a palate cleanser of wild tea leaves, followed by the steamed, charcoal and curry courses. The flavour profiles go up and down, like a music performance.

"I want to show that Thai cuisine is more than just carvings, curries and tom yum soup, but we have many types of boiled and fermented dishes."
At the age of six, chef Aom learnt how to cook a Thai egg omelette, which sparked her interest in food.
Celebrating Thai Traditions

Ask Pongmorn about how her interest in cooking started and she breaks into a smile to regale us with a touching childhood anecdote. It started with learning to cook Thai omelette over a charcoal fire pot from her father at the age of six when he was too sick to cook for her.

She recalls: "As a child, I enjoyed playing with my food — I like squeezing the egg yolk as if it is a ball. This fun and tactile experience sparked my decision to become a chef."

With Saawaan, Pongmorn's culinary career seems to have come a full circle. She honed her craft at the Mandarin Oriental Bangkok and Thai fine-dining restaurant Sra Bua By Kiin Kiin, and immersed herself in molecular gastronomy at Issaya Siamese Club.
It was at Issaya Siamese Club where Pongmorn met pastry chef Arisara "Paper" Chongphanitkul (left), whom she roped in to start Saawaan last May.
The theme of celebrating Thai food traditions also runs in the restaurant's innovative and pretty desserts.

Chongphanitkul, who graduated from Gastronomicom culinary school in southern France, honed her craft under top pastry chefs such as Sadaharu Aoki and Hugues Pouget in Paris and Laurent Gerbaud in Brussels.

The soft-spoken chef says: "My style of desserts is 'instant flavour' — when you eat them, it is going to be a 'boom' in your mouth."
Her signature dessert Thong Ampai Pumpkin With Chonburi Coconut is inspired by the classic Thai dessert sangkaya fak thong (Thai pumpkin custard).
Chef Paper's Thong Ampai Pumpkin with Chonburi Coconut is inspired by the classic Thai dessert sangkaya fak thong (Thai pumpkin custard). (Photo: Saawaan)
Recreating flavours and textures, she embellishes the sculpted pumpkin custard pudding with a coconut sugar-spiked creme anglaise, pandan sponge, coconut sauce, sugar crumble, rum gel, pumpkin seed praline and pumpkin peel.

Chongphanitkul, who presented the dessert course at last year's MICHELIN Guide Thailand gala dinner, says: "I love adding Thai touches and weaving them with French techniques in my desserts."
Making Connections
As a chef, Pongom understands the importance of connecting her ideas and experiences through what she crafts on the plate.
"The things that I want to connect with guests at Saawaan is the story behind each dish, its taste, the product of each dish," she says. "I want to connect local produce to get people more interested and preserve our food culture."

Saawaan taps on dining reservation platform Chope to connect with diners — they can make reservations, read about the menu and submit dining requirements via the Chope app.
In Saawaan, she also builds connections between different cultures. For example, she recently sampled Thai kayang leaves from the countryside, which reminded her of shiso leaves that are used in Japanese cuisine. That planted the idea of serving raw fish with kayang leaves, just like how it is paired with shiso leaves. She says: "It is an advantage to taste ingredients from around the world, which opens your mind to new possibilities."
Expounding on the importance of connection, Pongnom points out how platforms such as dining reservation provider
Chope
help restaurants connect to diners. She says: "Even before stepping into Saawaan, diners can find out about the menu and stories behind the restaurant, and they can also share their dining requirements and make reservations online or through the app. All these will help to enhance their dining experience."
Chef Aom hopes to spread more awareness about using lesser-known Thai ingredients. (Photo: Saawaan)
As she makes her mark on the Thai fine-dining scene, Pongmorn is also bringing to fore her Thai heritage with Saawaan.

Asked how she hopes to contribute to the Thai dining scene, she says: "I hope that my peers can also pay more attention to local produce and focus more on taste and not just presentation. I am a Thai and I want to let the world that we have many ingredients and stories behind them."