On the Bangkok food scene, few names capture as much attention as Gaggan. The innovative restaurant retained 2 stars in our latest MICHELIN Guide Thailand 2019 release last week. The Indian chef is loved and adored by foodies from Thailand and all around the globe, with a waiting list of several months to enter his restaurant.

For the 4th Michelin Guide Dining Series on Sunday 18 November — where Chefs are matched for one spectacular dinner — the kitchen of Gaggan played host to a dynamic pairing of Gaggan Anand with Antonio and Fabrizio Mellino of the two-starred Quattro Passi in Nerano, Italy. The Italian father and son duo, who cooked the second main course of the MICHELIN Star Revelation 2019 gala dinner, stayed a couple of days more in the 'land of smiles' to collaborate with the one and only Chef Gaggan.

All smiles before the guests arrive: (L-R) Rydo Anton, Gaggan Anand, Kamolsri Yimfoi, Fabrizio Mellino, Gaelle Van Hieu, Antonio Mellino.
Chef Fabrizio is the son of celebrated Italian Chef Antonio Mellino, who opened the original Quattro Passi in 1984. Fabrizio brings with him a strong foundation in the traditional dishes of Campania as well as fresh inspirations from his many years of travel.

"Working as a family allows me to compare my skills with the past generation," says the young chef, "My style of cooking comes from experiences made abroad, from the territory that is an inexhaustible source of inspiration, then from the products, from childhood memories and everything is part of the concept of neo-Mediterranean cuisine."

Chef Fabrizio Mellino in action.
Gaggan Anand on the other hand, has not only dabbled in shaking up how people see Indian cuisine in Bangkok, but also has stakes in the business of new Michelin-starred spots Sühring (2 Michelin stars) and Gaa (1 Michelin star). With what seems like an impeccable eye for picking investments, Gaggan says there is always a fight to keep balance.

"The businessman needs to make money, but the chef is passion-driven. I always win as a chef and not a businessman." At the same time, Gaggan feels that it may be time to step aside from the spotlight.

After the announcement where he learned his namesake restaurant was retaining its two-star rating, the Chef mentions, "I will not take any more awards after this, 2019 is my last year. For any award I ever take in my life. That's it. I think that I have done what I could. I have been where I am, and I think it's time for the younger generation to take over."
READ MORE: "Chef Gaggan Anand: The Future of Restaurant Gaggan & His Views on Dining in Bangkok"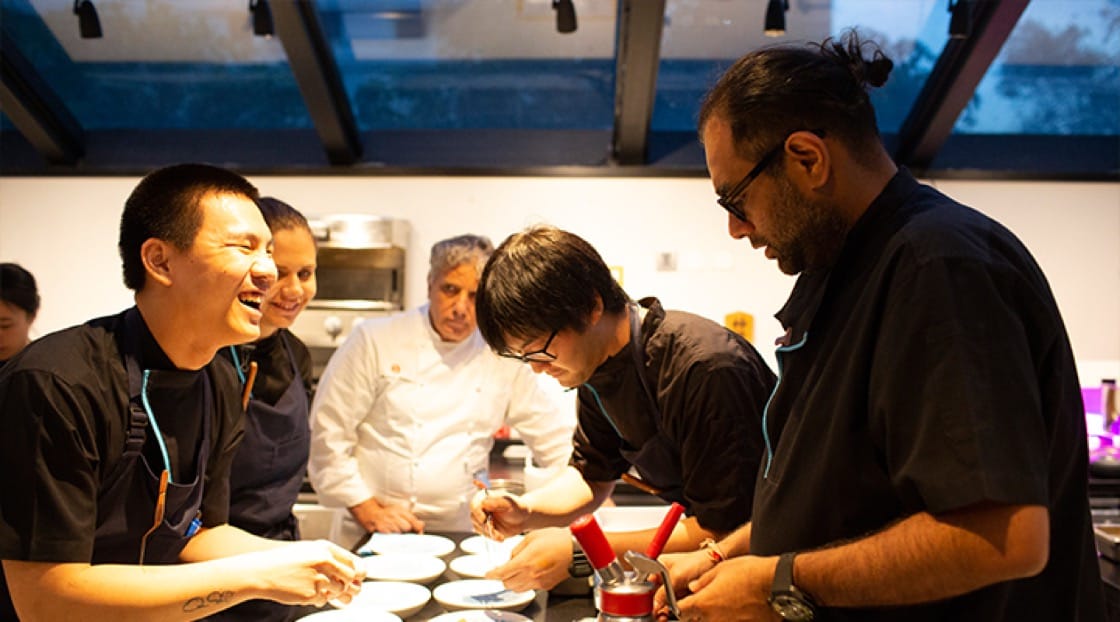 Chef Gaggan runs the kitchen as a family and passes down his know-how to the younger generation.
It is then perhaps perfectly fitting that Gaggan Anand was matched with the young Chef Fabrizio Mellino, who is the very definition of a new guard looking to make his own mark on the culinary scene.

When asked about Gaggan, Fabrizio states, "My impression of Gaggan and Chef Gaggan Anand was completely positive, I could not wait to compare my skills and mix his style with mine. I am always intrigued for a new adventure, I knew there would be difficulties, but the beauty of this work was to set itself ever greater limits."

Chef Gaggan Anand (middle) during a collaboration session with Chef Antonio Mellino (right).
This collaboration was unlike the previous MICHELIN Guide Dining Series, as Gaggan and the Mellino family went together to Talad Noi's market to source local ingredients for the 6-hand feast which remained a 15-course surprise until the long-awaited night.
Gaggan and Antonio Mellino running errands in the local market.
Gaggan adds, "I pushed for the idea to not create a menu where he does five and I do five dishes. Rather, we cooked something out of the box, looking at local produce, from the stars to the skies to the seas. So that's the idea, we created something big!"

Guests had both their sensors and taste buds challenged with this edition of MICHELIN Guide Dining Series.
Here's what our Inspectors said about Gaggan (2 Michelin stars)
Chef-owner Gaggan Anand takes Indian cuisine to a rarely seen level and one that is pure alchemy. His artful dishes are original and creative, with a wonderful blend of textures, flavours, and delicate spicing. To see the dishes unfold before you, ask for the counter. It's a feast for the senses as dishes are delivered at a rapid pace by the passionate staff. With 30 chefs in the kitchen there's plenty of manpower on hand to deliver a memorable experience.