We're right in the midst of the season of whiling away hours indoors. Al fresco terraces – we'll be in touch in a few months. For now it's all about crackling log fires, fleecy blankets and a generally warm and fuzzy feeling – courtesy of restaurants like these.

Sardine, Hoxton
A venture from restaurateur Stevie Parle, Sardine offers rustic, southern French cuisine. Wood-fire cooking methods are embraced here – adding to the cosiness – with meats and fish cooked low and slow. Long-bench tables, linen napkins and vases filled with fresh wild flowers give this Old Street spot a welcoming, country-farmhouse-kitchen vibe.

Sardine, Hoxton
Leicester's, Laleston
Set in a building dating back to the 1550s, Leicester's offers a simple approach to British cooking. Understated dishes are made up of local market-fresh ingredients, which also means menus change on a daily basis. Mixing modern and original features – like stone archways, flagged floors and inglenook fireplaces - the dining room evokes a home-from-home feel.

Leicester's, Laleston
Lickfold Inn, Lickfold
An imposing Tudor setting in the Sussex countryside, Lickfold Inn presents simple, elegant and well-executed British cuisine. Gather at fireside armchairs and dine surrounded by gnarled beams and exposed brickwork, with the soft, unobtrusive colour palette of the dining room made up of stony greys and taupe.

Lickfold Inn, Lickfold
Rules, Covent Garden
A famed spot dating back to 1798, iconic Rules holds the mantle of London's oldest restaurant. A menu headed by classic British dishes and game from the owner's estate is served to a backdrop of stunning Regency-style décor, portrait-covered walls and thick baroque-patterned carpets. Sink into one of the instantly recognisable red velvet booths and soak up the heady, bygone-era ambience.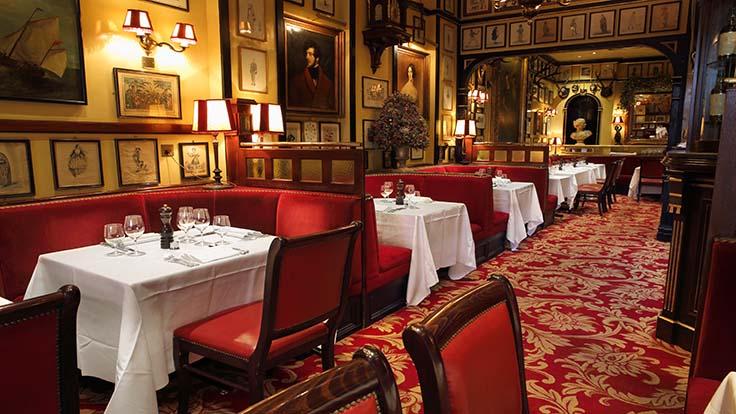 Rules, Covent Garden
Noizé, Bloomsbury
Taking its name from an idyllic French village, Noizé serves bold yet uncomplicated dishes in a space that mixes edginess, homeliness and elegance in equal measure. Lush foliage, treated floorboards and soft globe lights bedeck the space, and cosy extends to the plate in the form of hearty and wholesome menus – think signature pastas, pithiviers and croquettes.

Noizé, Bloomsbury
Fuzzy Duck, Armscote
Perched on the fringes of The Cotswolds, Fuzzy Duck is a charming, boutique pub with rooms, serving a trusty yet contemporary British menu. Chunky wood tables, flagged floors and crackling fireplaces make for a comforting, country-farmhouse feel, while views of the surrounding hamlet make for an all-round idyllic experience.

Fuzzy Duck, Armscote
Lambs, Stratford-upon-Avon
An old-world Tudor hideaway brimming with history, Lambs stays true to classic, timeless cooking with its traditional British menu. Twisted oak beams, low ceilings and cute lattice windows conjure an intimate vibe, while the dining space offsets its myriad of original features with sleek, modern furnishings.

Lambs, Stratford-upon-Avon
Kildrummy Inn, Kildrummy
Reminiscent of a Scottish hunting lodge, Kildrummy Inn is bedecked with tartan, Chesterfield chairs and an ever-aglow open fire. Alongside an impressive whisky collection, menus draw on Scotland's bountiful larder, with a roll call of treasured local suppliers filling the menu. Enjoy views out onto the unspoilt Aberdeenshire countryside or cosy up by the fire with a single malt.

Kildrummy Inn, Kildrummy
Star Inn, Harome
Set in an imposing 14th-Century thatched cottage, Star Inn at Harome reveals an interior restored with a quirky, contemporary eye. Filled with inviting nooks, this dining emporium boasts a bar complete with roaring fire, a Coffee Loft, and 'New' & 'Old' dining rooms. Menus are proudly Yorkshire-produce led while dishes are artful and creatively presented – also look out for the piled-high butchers-block cheese trolley.

Star Inn, Harome
Cora Pearl, Covent Garden
A sister restaurant of equally cosy Kitty Fisher's, Cora Pearl brings a high-end flourish to familiar British comfort food classics. Named after a courtesan of times gone by, the ambience is fittingly 'hidden-away', while an uncomplicated British menu moves with the changing seasons. George Barson recreates the richness and indulgence of dishes that would've been enjoyed by Cora Pearl's contemporaries.

Cora Pearl, Covent Garden
Primeur, Canonbury
From the same team as Westerns Laundry, Primeur is a cosy neighbourhood hangout, with close-quarter tables dotted throughout. In the summer, the frontage is opened up for an outside-in affair, though during winter, the dining room is an intimate, comforting escape from the bustle of its north London postcode. Consult the candle-lit blackboard for a menu of accomplished small plates and carefully selected wines.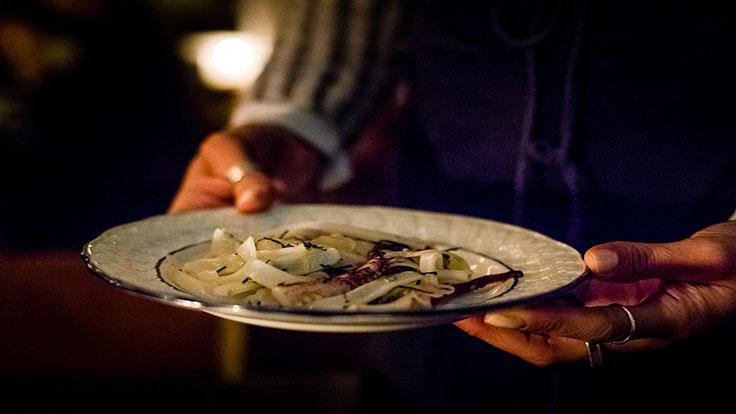 Primeur, Canonbury
Noble Rot, Bloomsbury
Tucked away within a former shop, Noble Rot is a tempting literary quarter hideaway, boasting an evolution from wine magazine to fully fledged restaurant. Unsurprisingly, great attention is paid to the wine list, while dishes are simply compiled and boldly flavoured. Lighting is low and thick drapes and mahogany wood make for a sultry, satisfyingly toasty ambience.

Rose & Crown, Trent
Encircled by rolling hills, Rose & Crown is a characterful local pub offering the ultimate shelter from the elements. Piles of chunky logs fuel the crackling fire, while low-beamed ceilings and reclaimed, mismatched furnishings fill the dining room. Hearty and wholesome yet skilfully compiled dishes make use of treasured ingredients from Dorset and Somerset, and equal attention is paid to ales and local ciders as the accomplished wine list.

Rose & Crown, Trent
For a list of all the New Star Distinctions and Award Winners for 2020 click here
For all UK Star listings click here
For all Republic of Ireland Star listings click here
For all Bib Gourmand listings in the UK & Ireland click here