Love it or hate it, Valentine's Day will soon be upon us. Whether you're searching for a restaurant to romance your lover or in need of a great spot to eat your feelings, here are seven options to consider for February 14.

"Some things in life are worth dressing up for, and a visit to the illustrious River Café is certainly one of them. It enjoys, without question, one of the greatest settings of any restaurant, lying as it does in the shadow of the Brooklyn Bridge," state inspectors. "The entire place also oozes romance." Sounds like the ideal spot for wooing your lover over bites of lobster ravioli with delicata squash purée, wild black trumpet mushrooms, and fresh white truffle butter; or rack of lamb with braised lamb meat, Swiss chard cannelloni, Sicilian pistachio and arugula pesto and whipped ricotta. The three-course prix fixe meal will set you back $195 per person.
Can't decide between surf and turf? Find a meal that does both. To celebrate the holiday, the neighboring restaurants are collaborating on a joint prix-fixe menu for $165 per person. The four-course affair will include dishes such as sweet potato and foie gras terrine, Lobster Newburg and chocolate almond chess cake.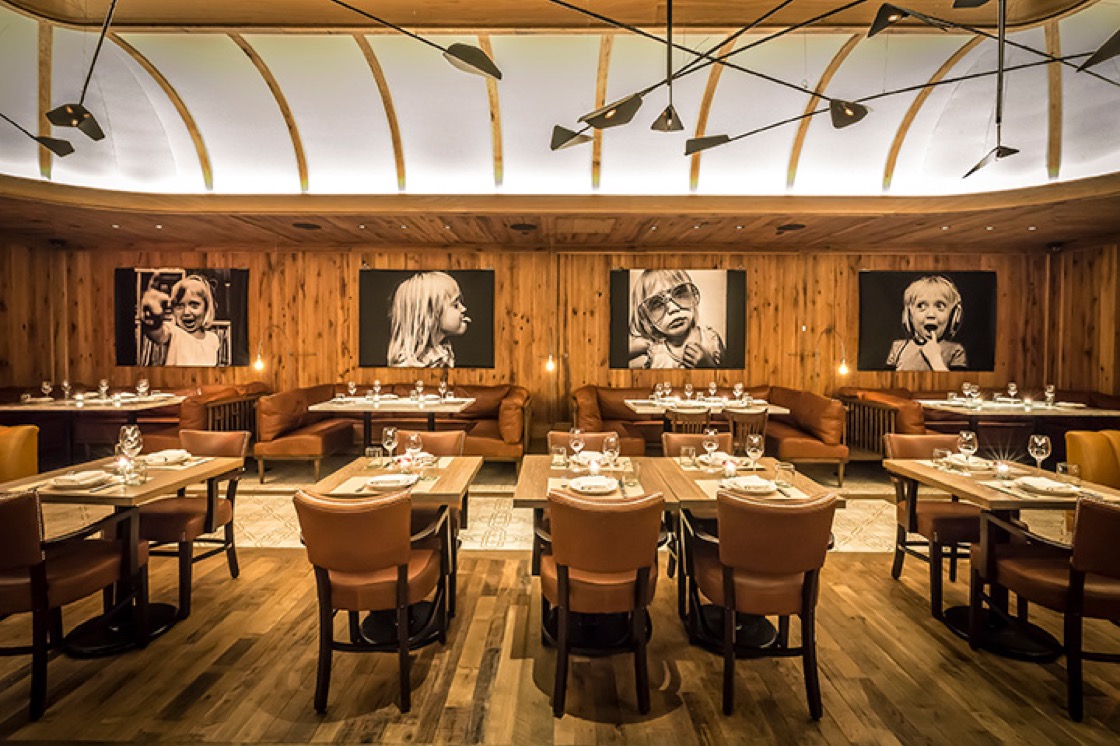 One of the dining rooms at Leuca is an "elegant nook fitted out with wood paneling and oversized black-and-white photographs," according to inspectors. (Photo by Noah Fecks.)
"The space features a bright and lovely dining room with yellow leather chairs and marble-topped tables, as well as a second elegant nook fitted out with wood paneling and oversized black-and-white photographs," state inspectors. Well that sounds like quite the setting for the holiday if you ask me. As far as food goes, there's a four-course prix fixe menu served family style available for $110 per person. You and that special someone can enjoy dishes such as red wine risotto with ceps and Taleggio; short rib braciole with grilled escarole and rosemary gremolata; and roasted bay scallops with black truffle vinaigrette.
Can't make it to Italy? Head to the "uniquely opulent and fashionable Del Posto" instead.
Chef Melissa Rodriguez
and team are offering an eight-course tasting menu for $295 per person. Dishes include king crab, buddha's hand and beet carpaccio; manicotti with black truffle and ricotta; and roasted turbot with caviar and lemon. An optional wine pairing is also available.
Harold's is serving a mixed berry cheesecake for dessert. (Photo courtesy of Harold's.)
"Harold's at Arlo SoHo has created a custom Valentine's Day menu perfect for you to share with your significant other, family or friends," the restaurant says. The $75 three-course menu includes options such as Wellfleet oysters on the half shell with Banyuls mignonette; tagliatelle with wild mushrooms and winter truffles; and mixed berry cheesecake for dessert. There's also a wine pairing available with your meal for an additional $30 per person.
"This Manhattan locale is tucked at the base of the swanky downtown Four Seasons Hotel, and sports a fittingly elegant look with deep magenta chairs, floor-to-ceiling marigold draperies and lovely artwork from the chef's private collection," share inspectors. The menu costs $140 per person for the holiday and includes options such as French black truffle gougères, baby artichoke agnolotti, grilled prime dry-aged New York sirloin with smoked bone marrow flan and sauce Bordelaise and pan-roasted Maine lobster. And if you get too full to make it home, you can get a room at the hotel upstairs to sleep it off (or whatever else you might do to celebrate the occasion).
Above all else, it's perhaps most important to love yourself. In this vein, Amanda Cohen is hosting Solo Diner's Week at her
vegetable restaurant in the Lower East Side
. From February 12 through February 16, lone restaurant goers can enjoy a special seven-course menu, perfect for one, for $80. Per an email announcing the event, "So let's forget about the smug marrieds this year and celebrate the one person who really matters most in our lives: You."