These mountain regions are now a place of innovative experimentation, where different ingredients work together and traditional memories of the past combine successfully with the trends of the future. This process featuring time-honoured ingredients and a new vision has given rise to two new unmissable restaurants (and chefs) in the rocky Kranjska Gora Alps.

Milka: a new culinary vision in the mountains
The cuisine served at Milka is revolutionary: David Žefran has had a major influence here, creating tempting dishes in a delightful "boutique experience hotel" which occupies a restored building transformed into a charming and welcoming space where everything has been carefully designed down to the tiniest detail.
This change took place in 2020, a challenging period at the height of the pandemic, when investor joined forces with chef David Žefran and hotel manager Dino Katalenić, who arrived here after travelling the world for 16 years, gaining experience in different countries. At the same time, Žefran brought with him an innate passion for contemporary cuisine – an interest that developed at a relatively late age, including a particularly formative period spent in Stockholm where he came into direct contact with Scandinavian culinary trends, which in many ways have much in common with contemporary Alpine cuisine. Fermented ingredients are a case in point. According to the restaurant, "these are prepared in line with Nordic principles, but using the best Slovenian ingredients. In any case, fermentation is an age-old tradition which can be found throughout Europe – you only have to think of 'garum', a fermented fish sauce made by the Ancient Romans. However, what is undeniable is that research and experimentation carried out by chefs such as René Redzepi at Noma in Copenhagen have made a huge difference, creating new opportunities and showing the way ahead".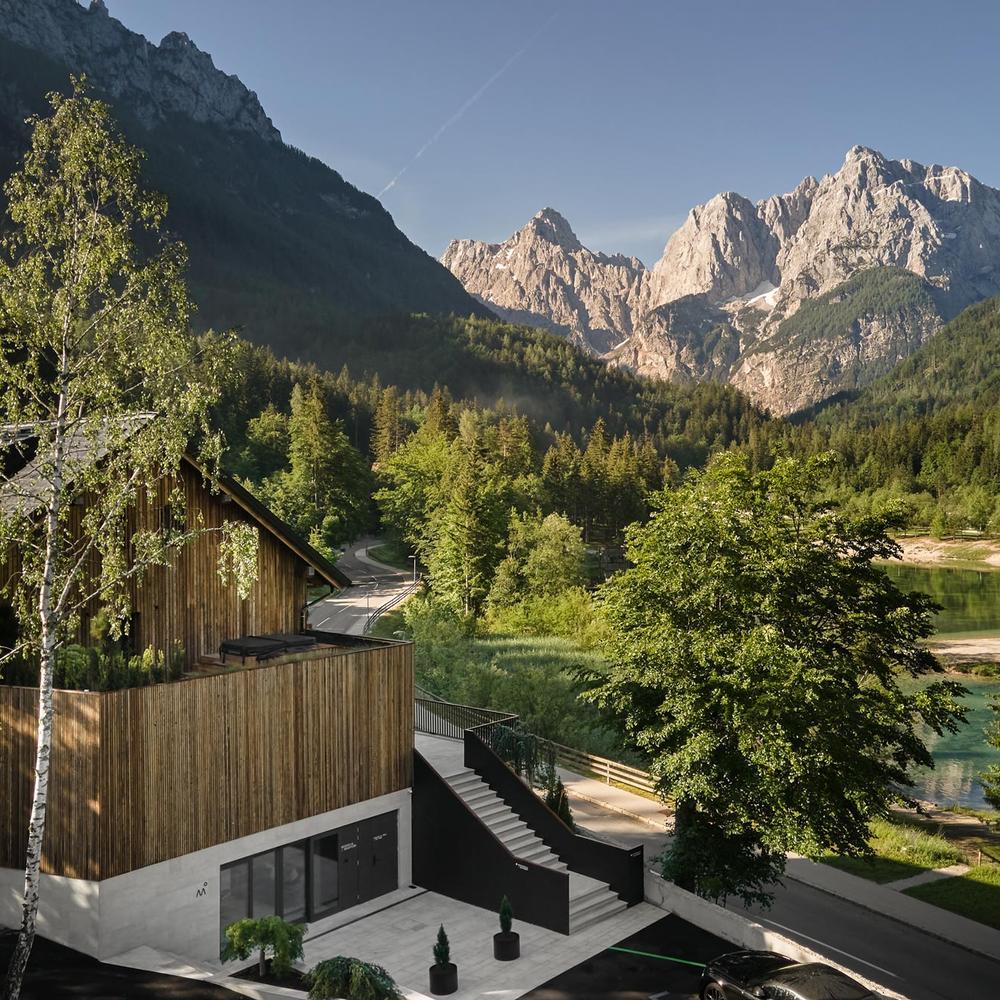 Milka-Restaurant Exterior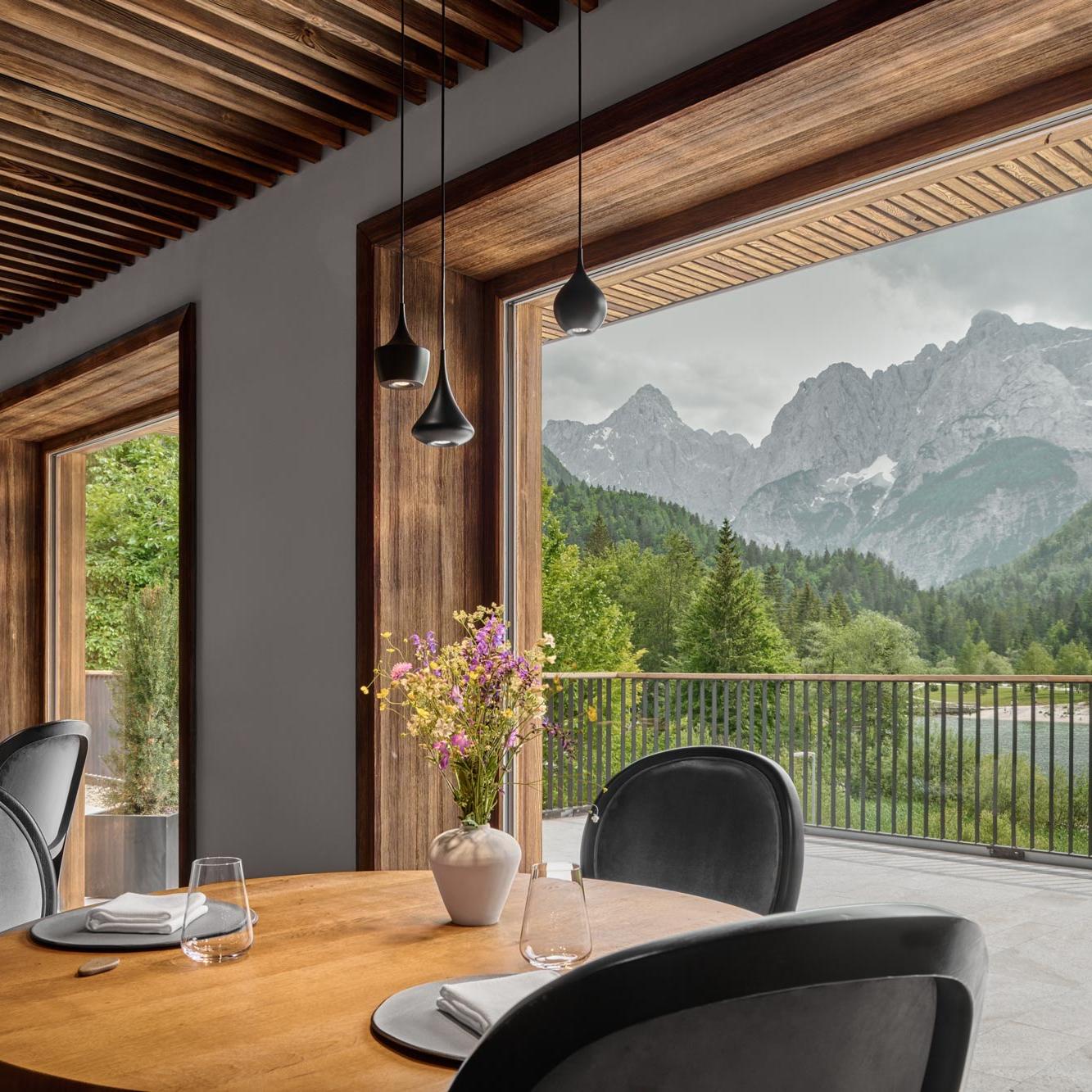 Milka-Restaurant View
A fast-track career leading to a Michelin star
Following a year of hard work before the opening and only three months since it first opened, the restaurant was awarded its first Michelin star in 2022. David Žefran has worked his way up the ranks, from the time he spent cooking burgers in Ljubljana. Following this successful start, he continued to learn and grow, travelled abroad and then, because of the lockdown, came home and started his new venture in Kranjska Gora.
Guests eat well (very well!) at Milka, where seasonal produce is of the utmost importance and where much of the focus is on vegetables and freshwater fish. In spring, lamb makes an appearance on a vibrant menu which carefully demonstrates its support for local producers. One of the restaurant's key philosophies states that "engaging responsibly with society and the environment is much more than simply choosing our suppliers carefully – this philosophy underpins every aspect of our gastronomic experience". This is why the restaurant chose to work with Slovenian artisans to create ceramics made from the minerals found around Lake Jasna as well as the restaurant's wooden dishes and utensils, while the chef has designed the dining room himself, right down to the smallest decorative detail.


Lana Spiler - Chef David Žefran
Dining at Milka
The menu also features excellent bread, which has a brioche-like dough and is glazed with fermented mushrooms. Made to be shared at the table, it is full of contrasting textures with a soft yet dense dough and a crispy crust and is the perfect accompaniment to the Slovenian wines (many of which are natural) served with your meal. Dishes here include a spelt risotto with mushroom carpaccio and Tolminc cheese and unusual combinations such as beetroot, bear and caviar; langoustine with buckwheat and fermented tomato; and trout garum with juniper.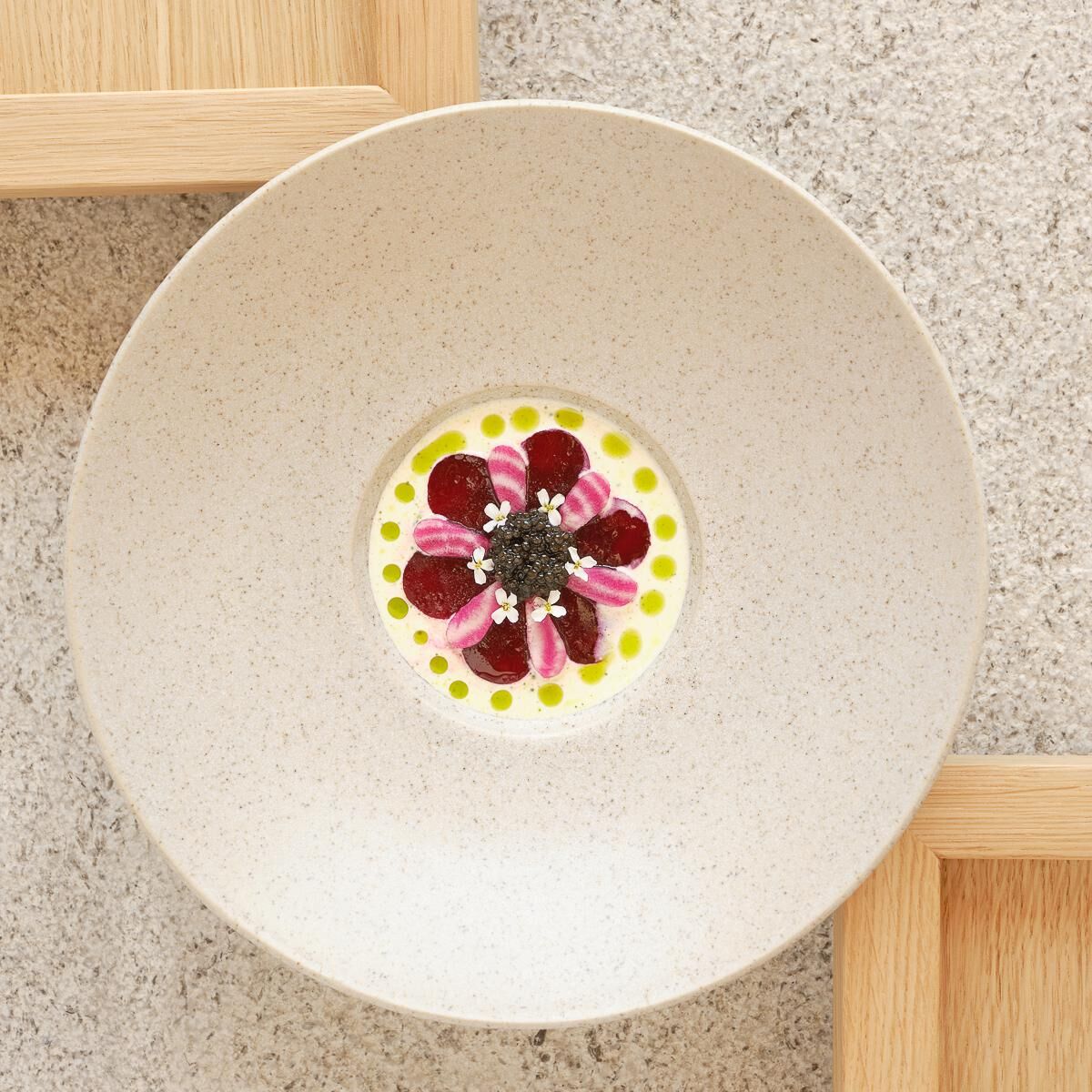 Manca Jevšček_Milka - Starter
Kranjska Gora and Mama Marija
Before the onset of the deepest winter snow, Kranjska Gora, which is situated near the border with Italy and Austria, is a blaze of colour, with its green hills, grey rock, patches of white snow and blue sky. These mountains are the lifeblood of local tourism and act as a natural larder for cuisine which focuses on a short supply chain. Seasonal foraging is important here, with wild herbs gathered during the warm summer months.
According to Mama Marija, part of the stylish Boutique Skipass Hotel, the cuisine served at this restaurant "brings back to life delicious Slovenian dishes inspired by traditional recipes, while also paying attention to the principles of healthy modern eating". Although the dishes served here are rooted in the cuisine of grandma Marija (after whom the restaurant is named), they are contemporary in style and influenced by the passion and skill of chef Miha Dolinar and sommelier Jan Donoša, a duo who have transformed a simple meal at this restaurant into an authentic gourmet experience. Not surprisingly, this new culinary approach has resulted in the restaurant's inclusion in the Michelin Guide 2022.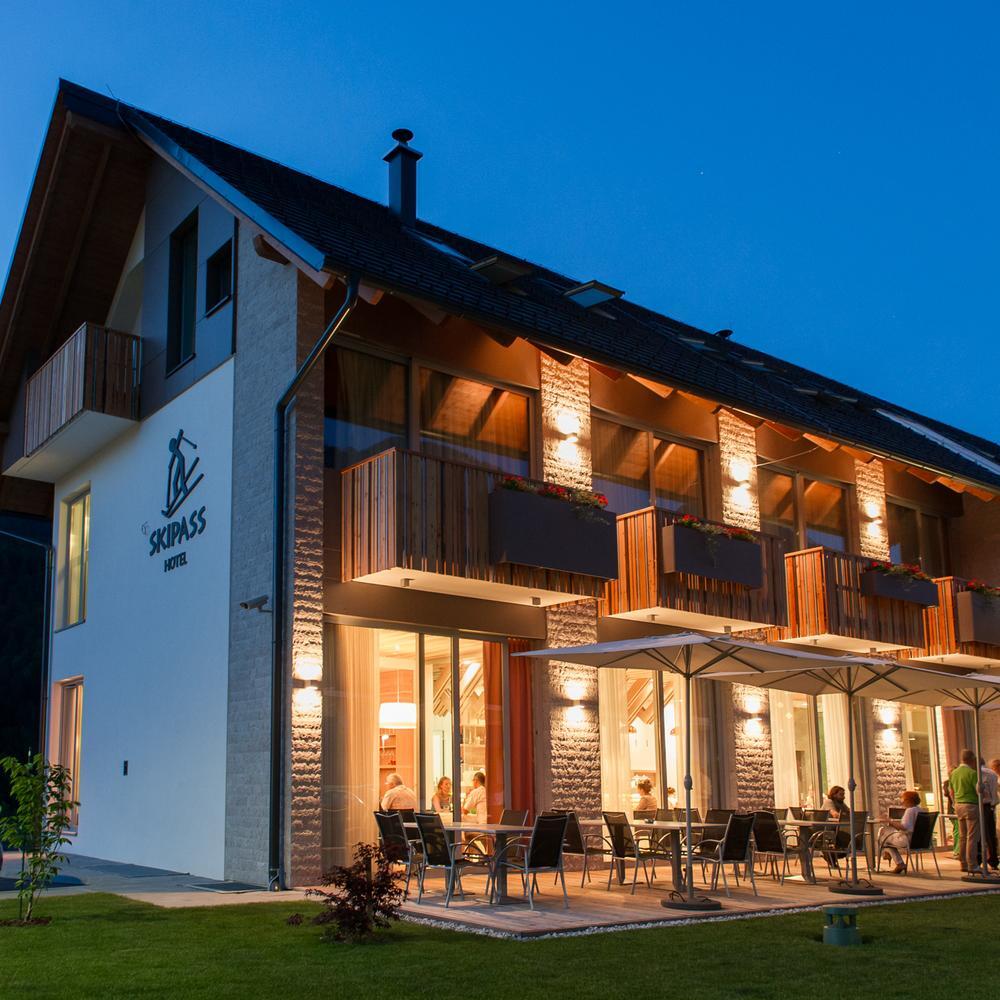 Restavracija Mama Marija
Miha Dolinar's cuisine
Recycling, sustainability, local suppliers and zero waste are just some of the criteria applied to the cuisine served at Mama Marija which is neither run by the chef's grandmother's (despite its name) nor a simple hotel restaurant (although it does serve an excellent breakfast). There's no unnecessary expense either – according to the restaurant "we make savings by the chef wasting nothing and using everything". Strikingly simple recipes are to the fore, such as Mavželj, a type of meatball popular in Upper Carniola that is served on mashed potato – a signature dish that exemplifies the restaurant's zero-waste concept. Dishes are served on a tasting menu (from six to fifteen courses) that has been painstakingly created to include perfectly designed and colorfully presented dishes that range from soups to emulsions made from mushrooms and to fish and meat sourced from local farms. Interesting pairings include wines as well as an astute selection of spirits.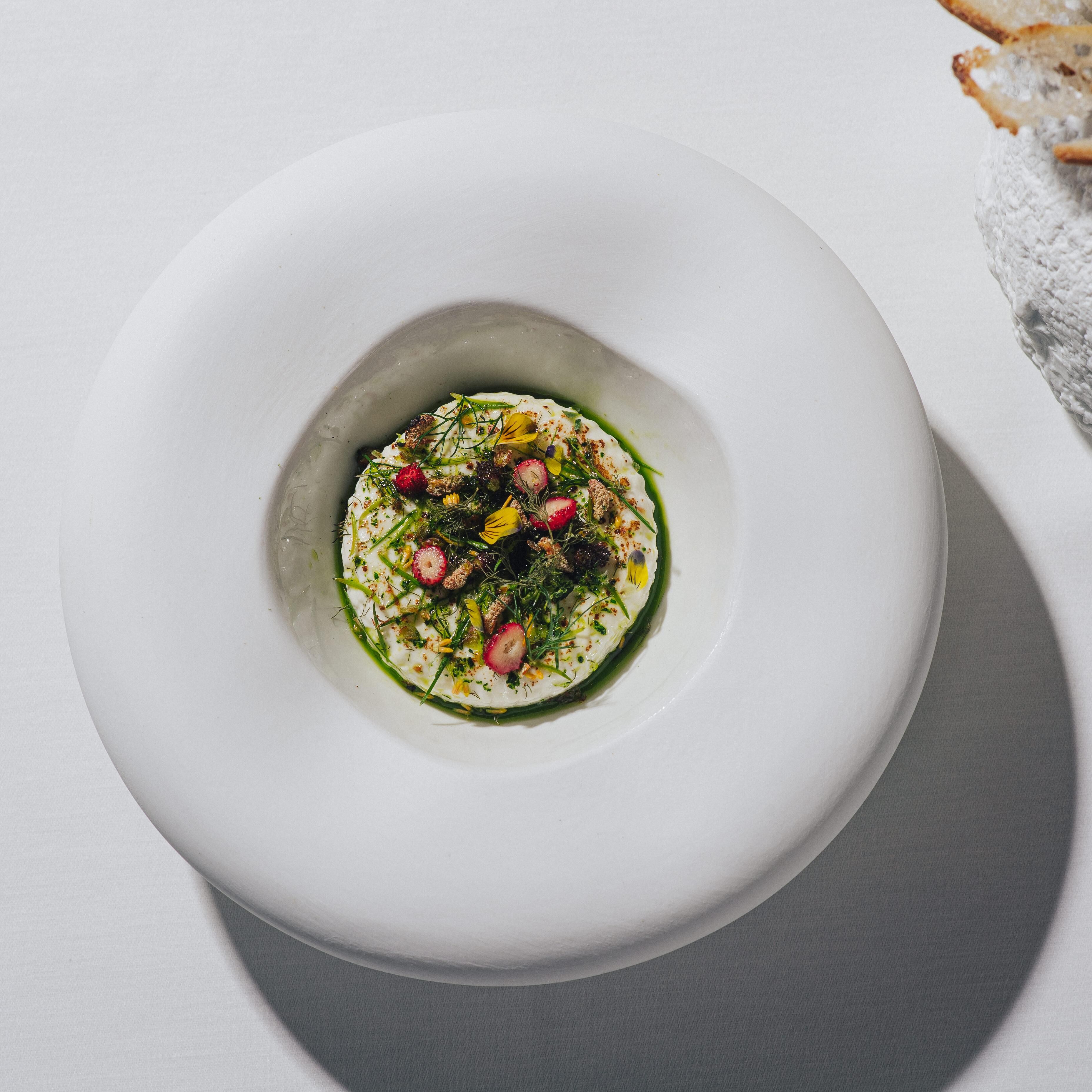 Dean Dubokovič_Restavracija Mama Marija Starter
Dean Dubokovic - Chef Miha Dolinar
Cuisine, snow and nature
Good cuisine is often rooted in a particular place, which in this case is very special indeed – in this part of Slovenia you can travel from the snowy Alps to the Adriatic coast in the same day, while Kranjska Gora is also strongly influenced by its proximity to both Austria and Italy. In addition, the region boasts stunning scenery and is the perfect winter sports destination: as an example, it hosts the Vitranc, one of the annual Alpine Ski World Cup events, including giant slalom and men's slalom races. Tourists flock to Kranjska Gora throughout the year, drawn by the region's natural beauty and the long walks and treks in the nearby mountains or the Krnica valley, while visitors looking for unspoilt natural landscapes can explore Slovenia's only national park, the Triglav, which lies just south of this town surrounded by the Martuljek mountains.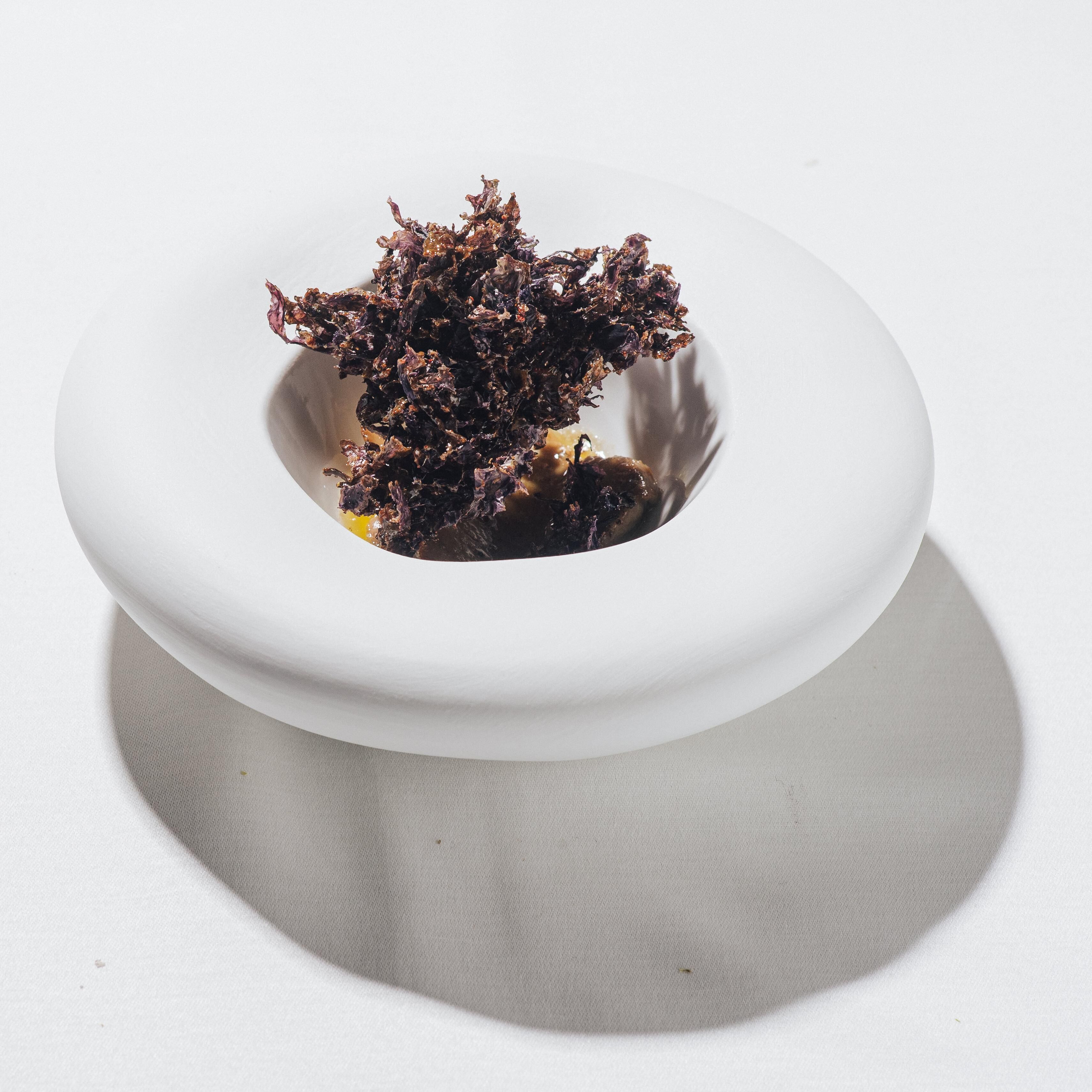 Dean Dubokovič_Restavracija Mama Marija DESSERT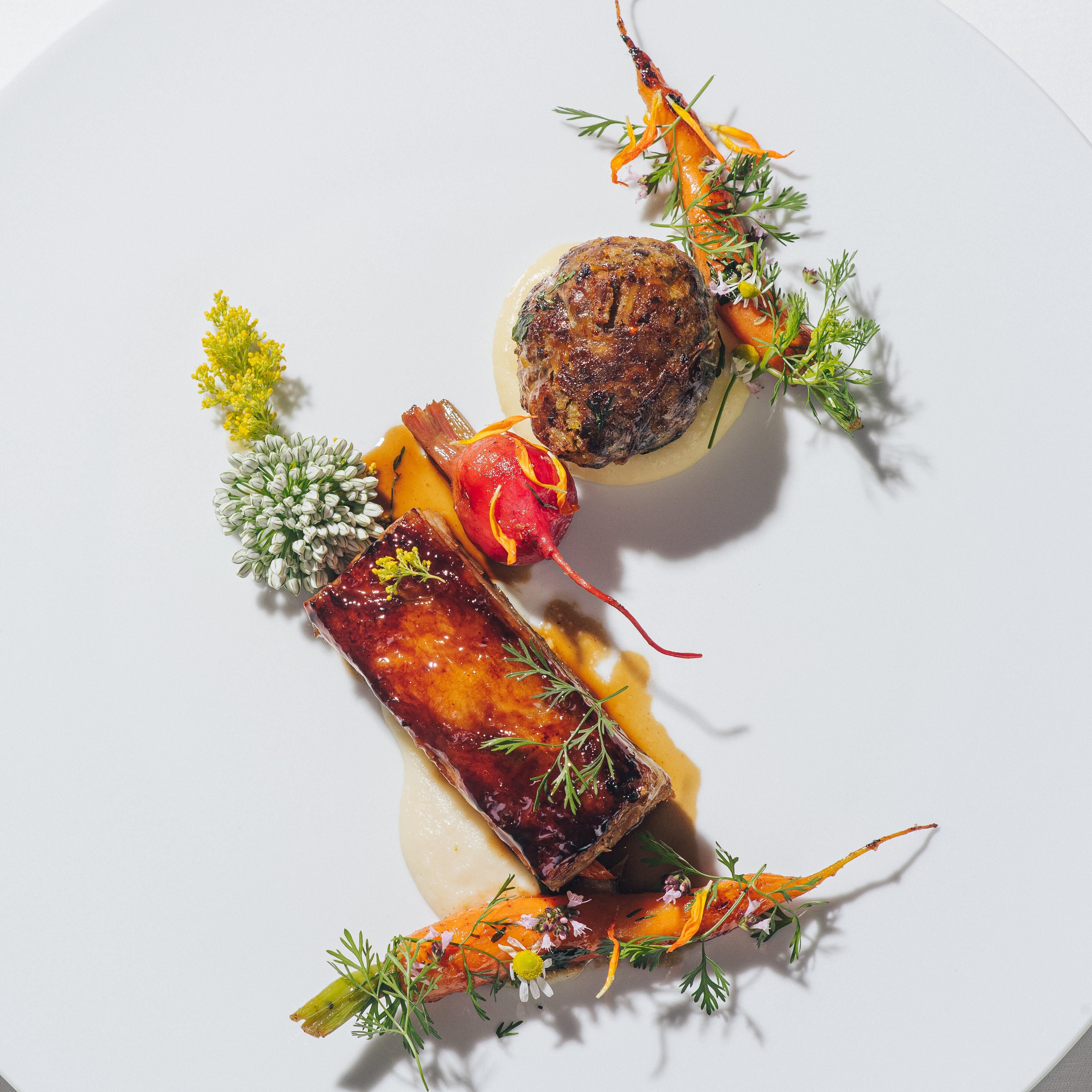 Dean Dubokovič_ Restavracija Mama Marija main dish
Illustration image: Manca Jevšček - Milka