Hawker food is often washed down with a cup of kopi O or teh C. But you can raise your gourmet game by savouring the dishes with fine wines.
With a broad spectrum of flavour profiles, aromas and textures, wines can accentuate and lengthen the flavours of a dish. We speak to Britt Ng (left), head sommelier of the food and beverage establishments at Shangri-La Hotel, Singapore, including Shang Palace, to get tips on pairing local chow with wines.
Ng, who was awarded the prestigious Certified Sommelier qualification by the Court of Master Sommeliers in 2012, was previously a sommelier at db Bistro & Oyster Bar by Daniel Boulud and Bread Street Kitchen, both in Marina Bay Sands.
Soya sauce chicken from Liao Fan Hawker Chan, a Bib Gourmand restaurant.
1. Soya Sauce Chicken Rice

Wine: 2018 Lucy Margaux, Wildman "Pet-Nat" Pinot Noir, Adelaide Hills, Australia
Grape: Pinot Noir
Pairing Notes: A plate of soya sauce chicken rice has strong umami flavours, from the soya sauce itself, as well as the stock in which the rice has been cooked. When pairing wine with umami-rich food, the wine needs to be low in tannins as umami and tannins mix to yield bitter flavours.

A nicely chilled bottle of the slightly fizzy Lucy Margaux Wildman "'Pet-Nat"' Pinot Noir, which is dry, yet very fruit-forward, makes for a lovely accompaniment to the dish. Its freshness, low tannins, and bright acidity balance the umami flavours, the chilli sauce, and the richness of the dish. These complementary qualities create a harmonious balance of sensations on your palate. The light and crisp wine is bursting with flavours from summer red fruit, such as crushed raspberries, pomegranate and strawberry jam.
Claypot laksa from Depot Road Zhen Shan Mei Claypot Laksa, a Bib Gourmand hawker stall.
2. Laksa

Wine: 2015 Domaine Weinbach, "Cuvée Laurence" Gewürztraminer, Alsace, France

Grape: Gewürztraminer

Pairing Notes: Just like this wine, laksa is also a rich, complex, and aromatic dish. The rich coconut-based broth, which has a complex blend of spices and aromatic garnish of laksa leaves, is best paired with a wine that is able to hold itself against such a rich dish. The luscious Cuvée Laurence has the body, opulence and texture to achieve this.

The strong aromatics of the golden-hued wine also complement the fragrant spices in laksa instead of being overpowered, which would be the case for most lighter white wines. At the first whiff of the Cuvée Laurence, you will be hit with notes of lychee, quince, ripe peaches, saffron and acacia honey. After a few sips, you will start to discover elderflower, jasmine, and an undertone of smoky flint. On the palate, the wine is off-dry, with just a slight hint of sweetness. A touch of sweetness in wine always helps to make it more pleasurable on the palate when eating spicy food.
RELATED: 5 MICHELIN-Listed Restaurants To Catch The National Day Fireworks
Chilli crab from Roland, a MICHELIN Plate restaurant
3. Chilli Crab

Wine: 2017 Domaine Huet, Le Haut-Lieu, Vouvray Demi-Sec, Loire Valley, France

Grape: Chenin Blanc

Pairing Notes: Domaine Huet is probably one of the most respected wine producers in the village of Vouvray in the Loire Valley. The wine estate has always been considered the benchmark for Chenin Blanc wines. Production is so small that it is extremely difficult to get your hands on the wines.

Just like the Riesling grape, Chenin Blanc produces wine that is refreshing and has bright acidity. In the Loire Valley in France, this grape can be made into diverse styles of wines, from sparkling to still, from dry to sweet.

This particular wine is very lean, precise, fresh, and fruit-forward — it has bountiful notes of ripe juicy red apple, pear, melon and mango with a refreshing acidity. These qualities help to cut through the richness and the starchy texture of the chili crab sauce. It even brings out the sweetness of good crab meat.

This wine is off-dry, with just the right amount of residual sugar to balance the spiciness of the dish. Imagine drinking a refreshing chilled lime juice while savouring your chilli crab.)
Bak chor mee from one MICHELIN-starred Hill Street Tai Hwa Pork Noodle. (Photo: Kenneth Goh)
4. Bak Chor Mee

Wine: 2013 Freemark Abbey, Viognier, Napa Valley, United States

Grape: Viognier

Pairing Notes: Viognier is an underrated grape that is mostly found in the Rhône Valley of France. When it is cultivated in warmer places such as the Napa Valley, it can be made into a voluptuous fruit-forward wine that can easily match a bowl of bak chor mee.

The rich dish has strong tangy and umami flavours from the vinegar and stewed mushrooms, so it needs to be paired with a wine with a strong body and flavour.

This is a full-bodied dry white wine with a plump, viscous and round texture that is generous on the palate. The wine, which is slightly aged, bears flavours of candied lemon peels, white peach, apricot, passionfruit, floral jasmine and chrysanthemum. There are also undertones of honeysuckle and orange blossoms with nicely integrated minerality.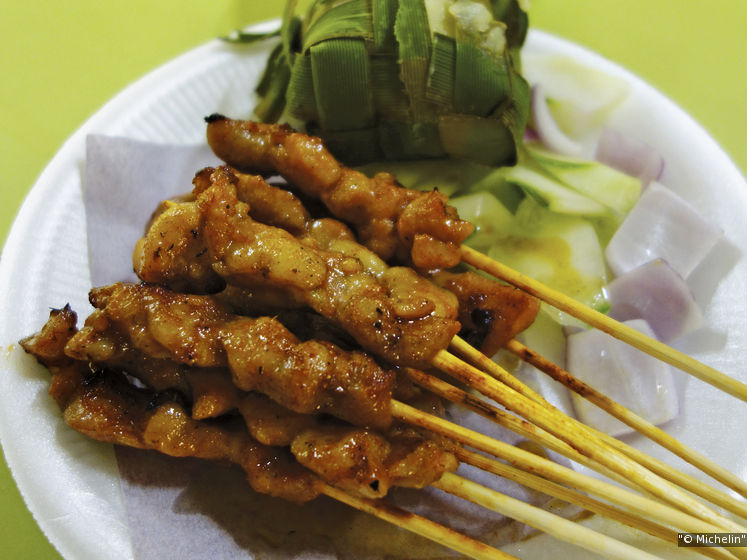 Satay from 168 CMY Satay, a MICHELIN Plate hawker stall.
5. Satay

Wine: MV Nyetimber, Cuvee Chérie Demi-Sec, West Sussex, England

Grape: Chardonnay

Pairing Notes: Satay is an interesting dish in many ways. The char-grilled skewered caramelised meat with spicy peanut sauce has elements of fats, sweetness and smokiness in one bite. A glass of refreshing bubbly is the perfect beverage to wash it all down, with the bubbles cleaning up your palate, getting it ready for your next bite. It's almost like having Champagne with hors d'œuvre. It helps that this demi-sec bubbly is slightly sweet and has bright acidity. This elegant wine also has a clean structure, and has flavours of ripe citrus, mandarin and fresh honey.
RELATED: Ask The Experts: Master Sommelier VS Master Of Wine