Have a foodie mom but want to treat her to something more than a meal this Mother's Day, which falls on 12 May this year. Prepare a dinner to remember with a DIY meal kit or tuck into home-cooked food in a private dining experience; plan a spa day or a theatre or movie show together with a meal package, or get hands-on with a crafty mum after brunch. Here are five experiences that will make Mother's Day this year a celebration to remember.
Acclaimed violinist Lynnette Seah hosts private dining sessions with Peranakan food in her home. (Photo: Lynnette's Kitchen)
1. Make New Friends With Mum In A Private Home Dining Experience

A trendy slew of private dining kitchens has sprouted up across the island in the past year. If Mum is sociable and game to meet new people, here is a good way to bond with like-minded foodies over food, with the possibility of cultivating friendships along the way.
Gathering lots of buzz in the private dining scene is The Mustard Seed Pop-up, which features food inspired by chef Gan Ming Kiat's Singapore roots and kaiseki cuisine. Highlights in the omakase meal include deep-fried turmeric frog legs and pork neck curry egg noodles.
If mum has a penchant for Peranakan food, visit The Ampang Kitchen, which centres on Penang-style Peranakan food or Lynnette's Kitchen, which is run by acclaimed Singapore Symphony Orchestra violinist Lynnette Seah. She is also famed for her buah keluak fried rice and rendang. There is also Tinoq's, which is helmed by fashion stylist Tinoq Russell-Goh, whose sartorial eye is as good as his cooking prowess in whipping up dishes such as prawn noodles and ngoh hiang.

For a taste of Singapore, visit Fatfuku, which is run by veteran food writer Annette Tan, who has thrilled diners with dishes such as crispy mee siam with prawn sambal and quail eggs, curry devil pie, oxtail semur and roasted ayam tempura. For modern Singapore dinners with quirky themes, chef Shen Tan runs Ownself Make Chef that serves meals centred around pork dishes, eggs and barbecued meat.

If mum loves traditional Cantonese food, treat her to Lucky House, which serves home-styled dishes such as steamed rabbit fish with black and garlic, crayfish omelette and roast duck. Early reservation is a must at these popular private dining kitchens.
2. Cook Mum A Meal
Keep mum away from the kitchen by turning the tables around and whipping up a meal for her on this special day. Not a good cook? No problem, get a cheat sheet in the form of a meal kit. Chef Anthony Yeoh of
Summer Hill
has come up with
DIY Eats meals
that are designed for small home gatherings.
The dishes are pre-cooked or require minimal cooking and come with sides and sauces. Meals, which serve two to three people, include the 1.2kg prime rib roast basted in garlic, thyme and rosemary butter with porcini mushroom cream sauce and duck fat roasted potatoes and a 1.2kg roast chicken that has been seasoned with herb & garlic butter.
The roast chicken was Yeoh's signature dish when he helmed popular French restaurant Cocotte. Each meal is vacuum sealed and
packed up so you can add the finishing touches at home, like warming up a roast and adding the finishing touches. And mum doesn't need to know that you did not make the meal from scratch.

Chef Ian Kittichai of Tangerine in Resorts World Sentosa (left) with Thai chef Thitid Tassanakajohn in a recent cooking collaboration. (Photo: RWS)
3. Pamper Mum To A Spa And Meal

Spend a rejuvenating day at the spa and end the relaxing session with spa cuisine, which comprises wholesome and light dishes served after a detoxifying treatment. Located within the sprawling 10,000-square-metre premises of ESPA in Resorts World Sentosa is Tangerine, a farm-to-table restaurant helmed by Thai celebrity chef Ian Kittichai, who uses natural ingredients sourced from the restaurant's gardens and local farmers. Each dish is designed to be well-balanced and easily digestible. Signatures include Garden To Table salad that has avocado, cherry tomato and summer fruit, and Pan Roasted Farm Seabass With King Oyster Mushroom And Citrus Sauce.
For an onsen in the city experience, head to Yunomori Onsen & Spa at Kallang Wave Mall. With a $38 entry ticket, choose from more than 10 hot pools with bubble and jet baths and carbon dioxide-rich water. After a good soak, head to The Yunomori Cafe, which serves Japanese food, from udon, donburi rice bowls to kakigori (a Japanese shaved ice dessert).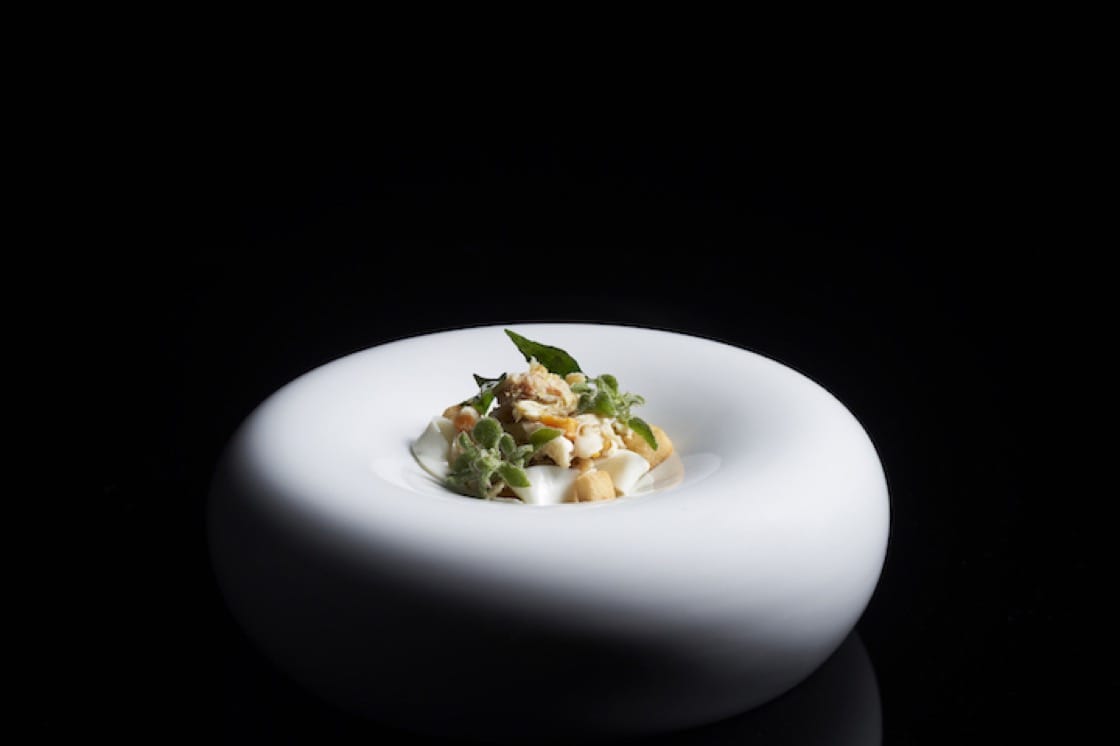 At the Esplanade, one-Michelin-starred Labyrinth offers a five-course pre-theatre menu. (Photo: Labyrinth)
4. Treat Mum To Dinner And Theatre

Take mummy dearest to watch the award-winning classic musical
The Phantom Of The Opera
, which is showing at Marina Bay Sands till June 8 and package your tickets with a meal before or after the show at one of several MBS F&B establishments participating in the
Show & Dine promotion
. Adrift By David Myers, CUT by Wolfgang Puck, db Bistro & Oyster Bar by Daniel Boulud and The Bar at Waku Ghin are just some of the places you can treat mum to a meal before or after the show. At the Esplanade, one-Michelin-starred
Labyrinth
offers a
five-course pre-theatre menu
for $78++ every Thursday to Saturday for seatings at 6pm.
Forget popcorn, pamper mum with a multi-course meal while watching a movie in the cinemas. (Photo: Cathay Cineplex)
5. Take Mom For A Movie And Meal Experience

Treat your mother like the queen she is with a movie experience fit for royalty. Forget the popcorn and nachos, Golden Village's Gold Class cinemas lets you order from a wide menu featuring the likes of Truffle Mushroom Soup, Gold Class Angus Burger, Thai Green Curry Chicken and Pandan Lava Cake. Wash it all down with wines such as Woodlands Wilyabrup Valley Chardonnay, Domaine Chanson Le Bourgogne Pinot Noir and Watershed Senses Shiraz.
Cathay Cineplexes' Platinum Movie Suites also offer food and drink options and a recently launched Movie Dining Experience ($60) that lets you tuck into a three-course meal while watching the three-hour long Marvel Studios' Avengers: Endgame. Alternatively, Shaw Theatres' premiere class tickets also let you order from a dining menu of finger food, light meals and all-day breakfast for dining during or before the movie.
Mum can take home a pretty bouquet after brunching at The Summerhouse Dining Room. (Credit: The Summerhouse)
6. Get Hands-On With A Crafty Mum At A Brunch And Workshop
Whisk mum away to the Seletar countryside for a breath of fresh air and indulge in an exquisite three-course farm-to-table meal at The Summerhouse Dining Room. The Mother's Day Brunch & Bouquets menu on 12 May includes a luscious Eggs Benedict, the Summerhouse "Edible Garden City" Salad with greens harvested from its edible garden, a choice of mains — Sustainable Seafood Tagliatelle or US Prime Short Rib — and dessert to finish. The first 45 diners to make a reservation will get a hands-on experience in a floral arrangement workshop by 1-Pixies and take home a gorgeous bouquet.
In the city, SPRMRKT at Cluny Court and Robertson Quay are celebrating Mother's Day on 12 May with an indulgent family-style brunch that ends with a decorate-it-yourself chiffon cake activity. Good for three to five people, the $300 nett feast includes salt-crusted seabass, roast chicken, salmon and spinach pasta, a side of sriracha mayo Brussels sprouts and a bottle of rosé.
Learn to make this beautiful Peach Elderflower Cake with mum at Baker's Brew (Pic: Baker's Brew)
7. Put On A Matching Apron And Cook Something With Mum
Spend some quality time with mum in the one of the many kitchen studios offering cooking classes specially for Mother's Day celebrations. Bake an exquisite four-layered Peach Elderflower Cake at Baker's Brew Studio at a special one-for-one rate and take home a beautiful cake topped with fresh red roses and pink carnations. At ToTT, the one-for-one Mother's Day classes will equip you both with techniques for local favourites like crispy roast pork, char siew and crispy five-spice chicken or nasi lemak with the works. Spend a meaningful day at Brettschneider's Baking & Cooking School learning to bake a rustic berries and cream cake with mum and take home the show-stopping layered cake to share with the rest of the family.