This week, Carrie and Rupert Blease of one-MICHELIN-starred Lord Stanley have taken over the Chefs Club kitchen in New York City for a month-long series of dinners with various visiting chefs of the San Francisco Bay Area. The duo—who previously worked in New York at the likes of Per Se and Blue Hill, are excited to be here.

Entitled "The 4x4 Dinners," the series shines a spotlight on cuisine hailing from Northern California paired with wines supplied by Gallo. Cooking alongside the Bleases this week are Erik Anderson (Coi) and Jason Fox (Commonwealth), who are dividing and conquering the menu and showing off what they do best. Guests start off the night with amuse bouches including pomme Dauphine with Tsar Nicoulai salmon roe, crème fraîche and dill and smoked mussels with fermented ramp aioli. Other dishes include curry of confit morel mushrooms, English peas and sweet corn paired with J Vineyards & Winery Russian River Chardonnay 2016; sweetbreads poached in beeswax with Casa Brancaia Chianti Classico Riserva 2013; and roasted squab with Madeira jus a glass of Louis M. Martini Monte Rosso Cabernet Sauvignon 2014.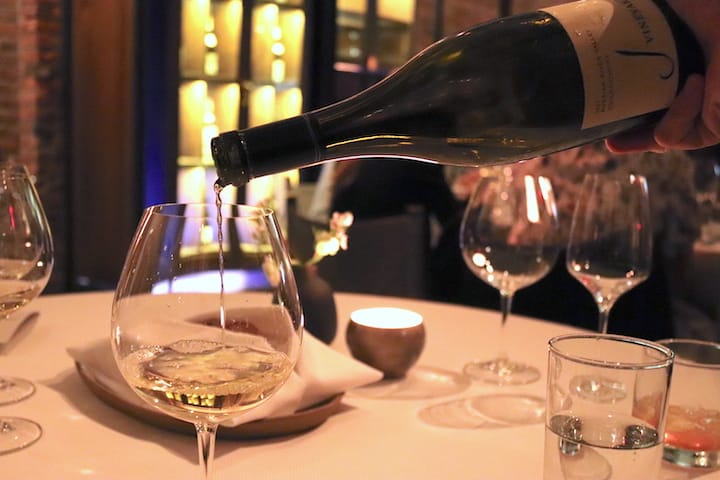 Looking to take part in the action? Tickets are still available. In the meantime, view the full menu below.


First Course by Chef Erik Anderson of Coi
Geoduck Clam with Roasted Chicken Crème and Braised Kombu
Second Course by Chef Jason Fox of Commonwealth
Oyster with Celtuce, Wasabi and Rhubarb Ice
Third Course by Chefs Carrie and Rupert Blease of Lord Stanley
Curry of Confit Morels, English Peas and Sweet Corn
Fourth Course by Chef Jason Fox of Commonwealth
Sweetbreads Poached in Beeswax, Popcorn Cream and Honey
Fifth Course by Chefs Carrie and Rupert Blease of Lord Stanley
Roasted Squab with The "Big Apple" and Madeira Jus
Sixth Course by Erik Anderson of Coi
Burnt Sugar and Rosemary Pudding with Buttermilk and Bourbon
The best of the MICHELIN Experience in your inbox
Stay on the top of the best restaurants, offers, lifestyle, and events recommended in our guide cities.
Subscribe