Most people likely know Joe Flamm as the winner of the most recent season of Top Chef, but before all of the glitz and the glam, he was running the kitchen at one-Michelin-starred Spiaggia in Chicago. Having been open for over three decades, "There are many reasons why Spiaggia remains one of Chicago's most beloved Italian restaurants," state Michelin inspectors.

Zucca pappardelle. (Photo by Matt Haas.)
Flamm graduated from Le Cordon Bleu College of Culinary Arts in Chicago in 2008, and went on to cook in a variety of restaurants around the Windy City, including Girl & the Goat, bellyQ and Urbanbelly. He joined Spiaggia in April 2014 and now serves as executive chef for both the high-end restaurant and its more casual sibling, Café Spiaggia.
Throughout these experiences, Flamm has collected a series of mentors along the way. "[Stephanie Izard of Girl & the Goat] really opened [my] eyes to so many things," Flamm states. "She was cooking so differently from everyone else. It was great seeing how much hard work she puts into creating a dish and menu." Flamm credits Izard with being a catalyst for maturing him into the person and chef he is today, noting that working for her "was the antithesis of fine-dining machismo BS." With Tony Mantuano, chef and partner at Spiaggia, "It's like working for a living legend." Flamm considers him both a mentor and a friend, and looks to Mantuano as a role model for how to sustain a career and family simultaneously.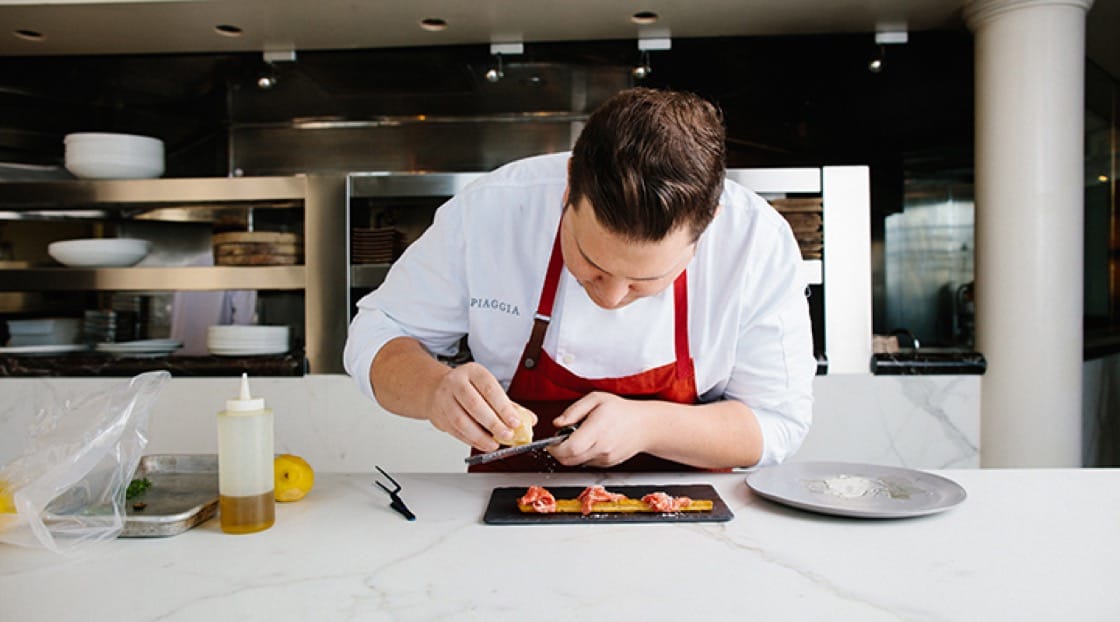 Flamm plating the grissini carpaccio dish. (Photo by Matt Haas.)
Reflecting on his experience on Top Chef, he describes it as "such a weird ride and unlike anything else you could ever do." Particularly with getting eliminated and then fighting his way back to the top, it was quite the rollercoaster for Flamm. "I was really fortunate that the group this year was so good," he shares, and he credits his castmates with keeping him sane throughout the experience. ("The best part of the kitchen is always the people you meet," he shares anecdotally.)
Though it's always been one of his dreams to own a restaurant in Chicago, Flamm has no plans to do so in the near future. "I'm having so much fun at Spiaggia right now with Tony. It's a great restaurant to run."

"The dining room is designed with marble columns and terraces to make the most of its dramatic views—an idyllic spot to appreciate the Magnificent Mile by night," state inspectors. (Photo by Galdones Photography.)
What was your first encounter with the MICHELIN Guide?
I was at Girl & the Goat when it received a Bib Gourmand [for the inaugural Chicago guide]. Urban Belly and bellyQ also had Bib Gourmands when I worked there. The first year I took over the kitchen at Spiaggia, I was sick to my stomach waiting for the phone call the night before they were made. "What if I don't get a call? What if I ruin it all?" All these thoughts were running through my head, but then I heard the news from Tony [Mantuano]. [The day the stars are announced is] still the best day of the year, every year.
What were your thoughts when you knew you received a star?
I was excited—getting the star was like getting the Stanley Cup.
How did you celebrate?
I think it was a Friday when we found out. I took everybody out to this little Polish dive bar called Stella's where we drank High Lifes and ripped shots.

Uovo. (Photo by Matt Haas.)
How much influence does the MICHELIN Guide have on your career?
When I started cooking in Chicago 12 years ago, we never thought we'd have that opportunity. Now to say that I'm the chef of a Michelin-starred restaurant, it carries weight around the world.
How will having a star change the direction of your restaurant? Are you actively working towards two?
We're always working to get better. I love the food that we're doing here. I think that sometimes it's two-Michelin-starred food on our best day, but if it's a strong one star on our worst day, I'm happy with that. I'm not sure what exactly it is to be two stars.
What advice do you have for young chefs aiming for Michelin stars?
I think the best restaurants aren't the ones that aim for stars—they just aim for the best food and they get stars. Tony [Mantuano] just set out to open the best Italian restaurant, and it happens to be the only Michelin-starred Italian restaurant in Chicago.
Hero image by Matt Haas.