The ham is quickly cut, one slice after another, offering a simple yet intense taste of this border region where the sea breezes of the Adriatic meet the fresh air of the mountains. Špacapanova Hiša provides a fine example of how contemporary cuisine is rooted in memories, in the stories we tell and in the simple, authentic ingredients which chefs aim to bring up to date with their own creative touches.
In the case of chef Ago Špacapan (who manages to do this perfectly!), tradition and family are the main influences that have helped to create this unique restaurant, where fine, honest cuisine focuses on a "home-made" approach that is anchored in rural skills and expertise.


HISTORICAL ROOTS IN CONTEMPORARY CUISINE
The Špacapan family took over this old village inn in 1973, maintaining its reputation as a culinary focus for the local community – an influence which now extends throughout Slovenia and beyond. Much has changed with the passing generations and today Ago's cuisine combines local ingredients with a more contemporary approach: capon, for example, one of the region's traditional favourites, is made into a pâté served French-style with a macaroon. Meanwhile, orange and radish add a Mediterranean flavour to sea bass, with an avant-garde twist in the form of the accompanying "transparent bread", while a beef and egg yolk broth adds an appealing traditional touch to the menu. There's also a hint of colour and a fresh modern feel to the beef tongue served with spring shoots, fermented tomato water and basil-infused olive oil. Among the main courses, the wild boar with lardo, buckwheat gnocchi, popcorn and charred carrots offers a delicious link between past and present.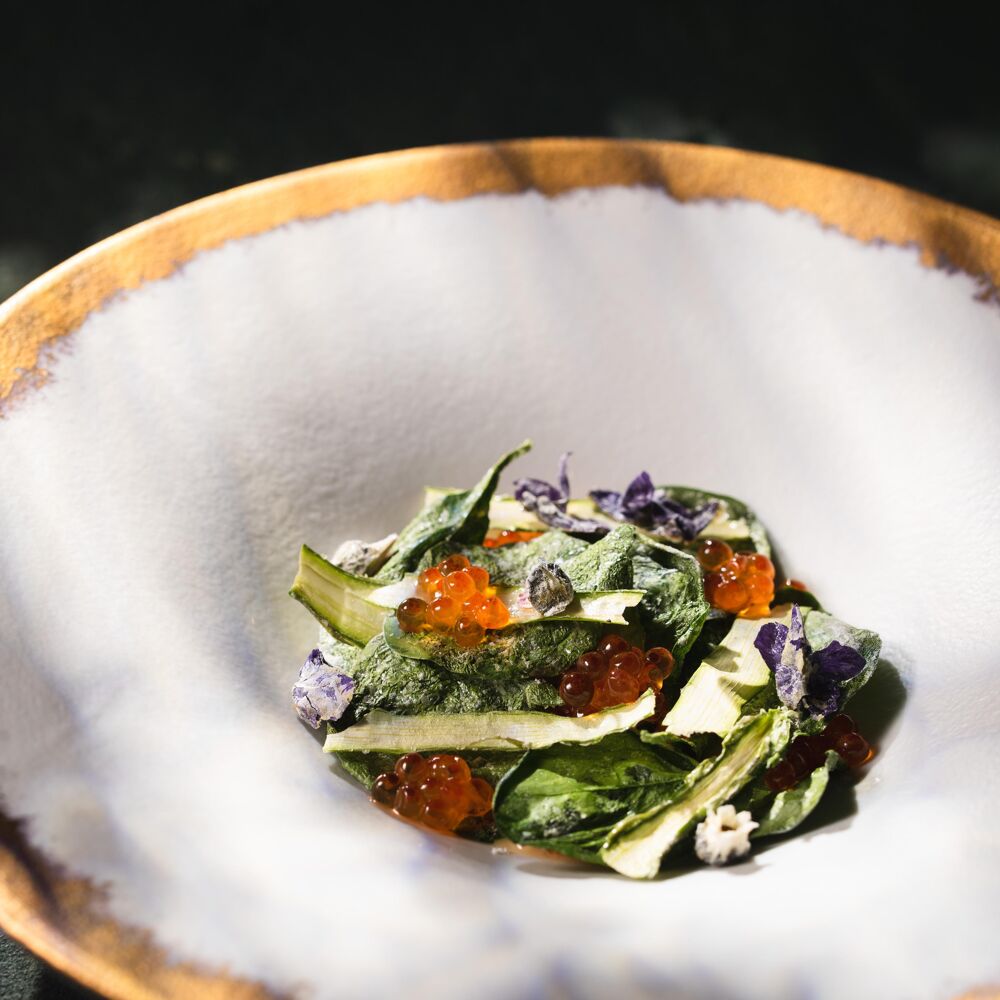 Špacapanova Hiša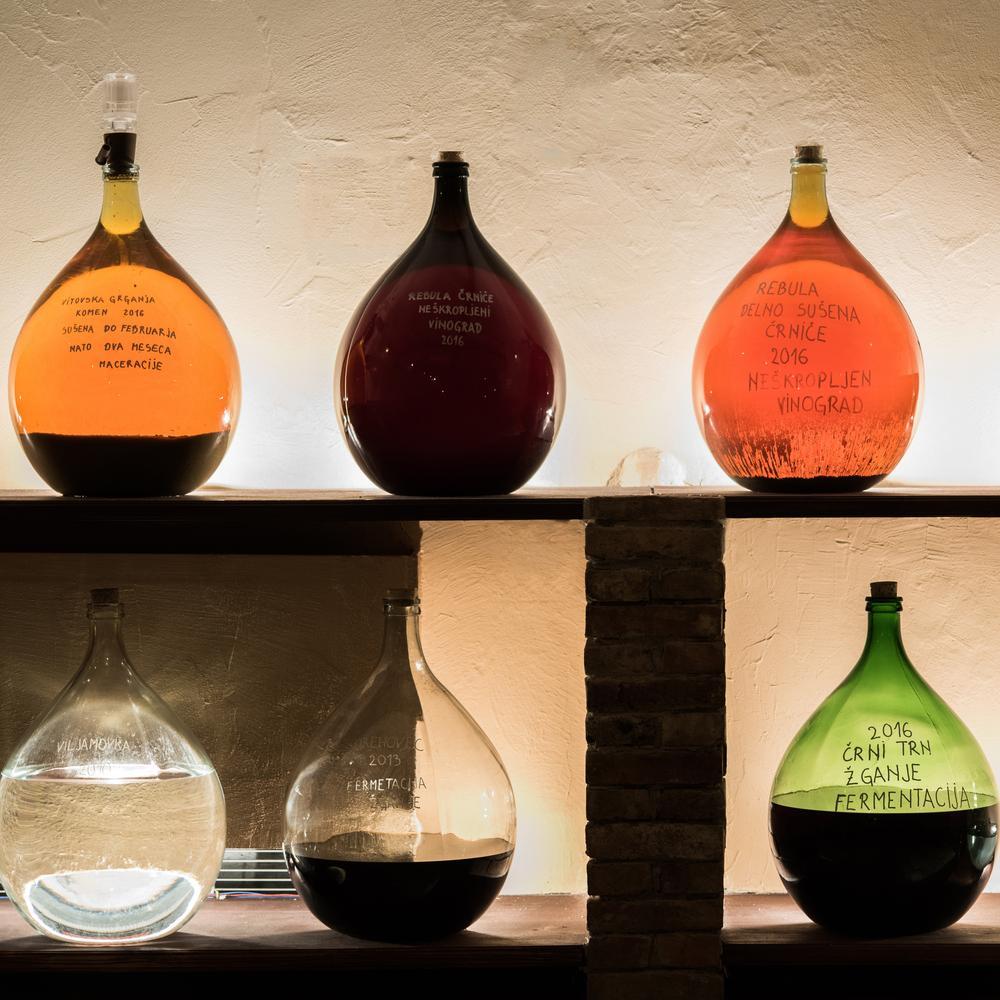 Špacapanova Hiša
KOMEN, THE KARST PLATEAU AND THE PASSING OF TIME
This restaurant is situated in the village of Komen, in the heart of the Karst plateau – a fascinating region of caves and terra rossa soil, where the harsh bora wind blows in from the east. This region nestled between Central Europe and the sea has long been a meeting-point for different traditions, people and ideas. Ago Špacapan emphasises that "our traditional Karst ingredients are produced according to traditional methods which have been tried, tested and improved over the centuries. We embrace a very simple philosophy, namely that a high-quality product can only be made from the very best ingredients. A product which is distinguished not only by its particular flavour and texture but also by its long history and the power of the Karst plateau's natural surroundings".
The restaurant has evolved into a modern version of a typical local inn which creates dishes from home-made ingredients. "And so," the chef continues "this principle applies to all our ingredients – our pasta, our wine and our meat in all its guises. Home-made produce which includes carefully chosen ingredients made with passion, such as the matured meat chosen for our T-bone steaks. Or the free-range goats which graze on the Karst hills. And why do we make wine? It's not that we want to compete with other producers – we simply want to serve our guests the type of wine that we ourselves enjoy".
HAM, WINE, SPIRITS AND CHEESE
Cured ham is another tradition found throughout Slovenia's inland region, which extends from the Italian region of Friuli-Venezia Giulia all the way to Istria. In this rural area, families make their own ham during the winter, from St Andrew's day in late November right through to the coldest days – the ham will have matured by the time warm weather returns in the spring. Cured ham is made from domestic pigs and wild boar (widely hunted in the region), but other types of salumi are also produced. Wine (along with spirits) is also produced here, leaving its typical musty aroma throughout the inland villages during the grape harvest. The restaurant also boasts its own kitchen garden and herb garden, which can be seen just outside the building. And then there are the many types of mature cheeses, all of which are stored in the restaurant's traditional karst well along with the wine (many of which are produced naturally).
The cheeses and wines here are of the highest quality, following the chef's philosophy that carefully selected ingredients result in top-quality cuisine. The delicious array of cheeses includes Antonič sheep's cheese, Zidarič cow's cheese and Vera Lipičar goat's cheese. Meanwhile, in the vinegar cellar different kinds of vinegar are produced using a combination of traditional and experimental methods. Ago tells us that the vinegar is made "from late-harvested grapes which are then placed in wooden vats until alcoholic fermentation occurs, at the end of which we add some of the 'mother' vinegar to trigger the process of turning wine into vinegar".


Chef Ago Špacapan
Chef Ago Špacapan
FOOD TASTINGS AND FAMILY VALUES
Ago Špacapan's aim is to maintain the strong culinary traditions of his region by continuing the work already started by his family – his father, who was responsible for the home-made wine, spirits and cured ham, and his mother who was at the helm in the kitchen. One of the memorable experiences at this restaurant is to visit the cellar beneath the restaurant where hams and cheeses are seasoned and matured. Here, guests can taste cured ham (left to age for at least thirty months), sausages, loin and coppa, as well as different matured cheeses, all accompanied by home-made bread made from stone-ground flour and, of course, wine and spirits.
The tasting cellar offers a flavour of the Karst region, combining past and present in an authentic experience available to guests who spend the night here and who can then enjoy a day exploring the culinary traditions of this fascinating region.

The restaurant's final aim is to make guests feel at home and as though they are part of the family – an aim which they have certainly achieved!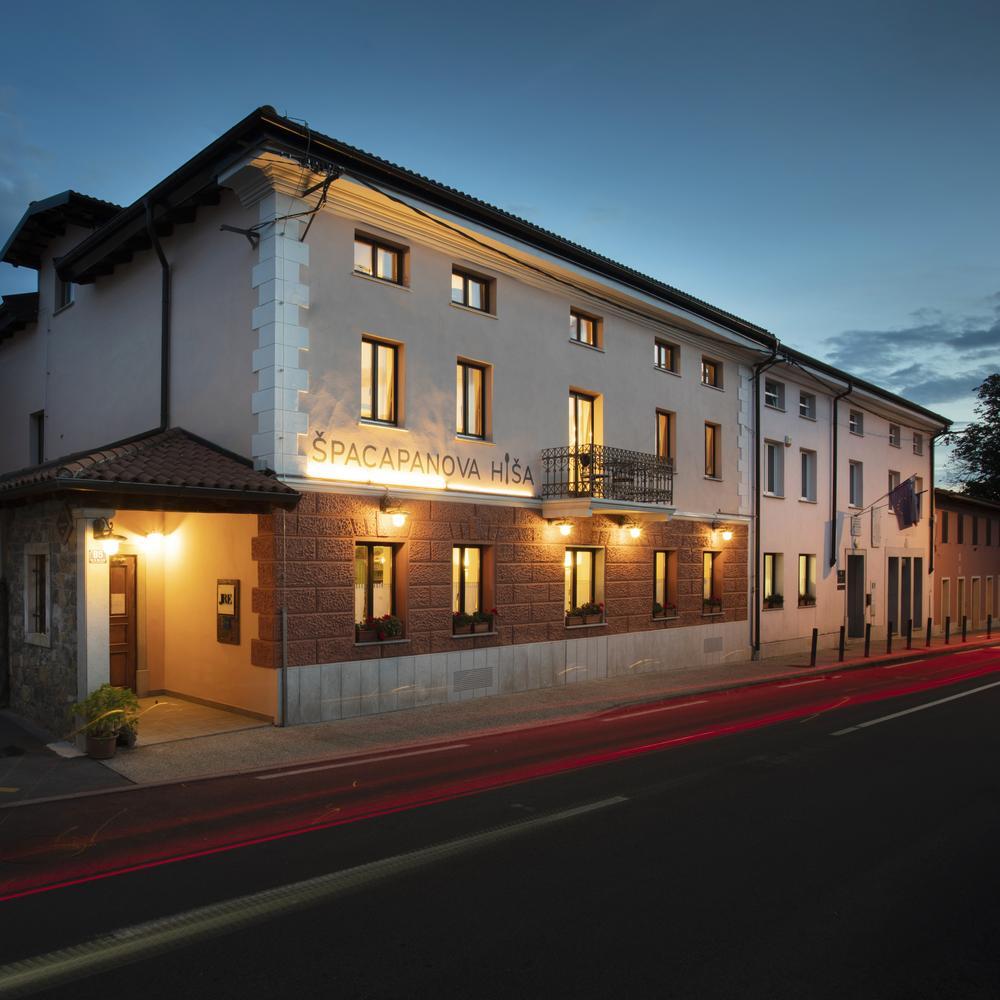 Špacapanova Hiša - Exterior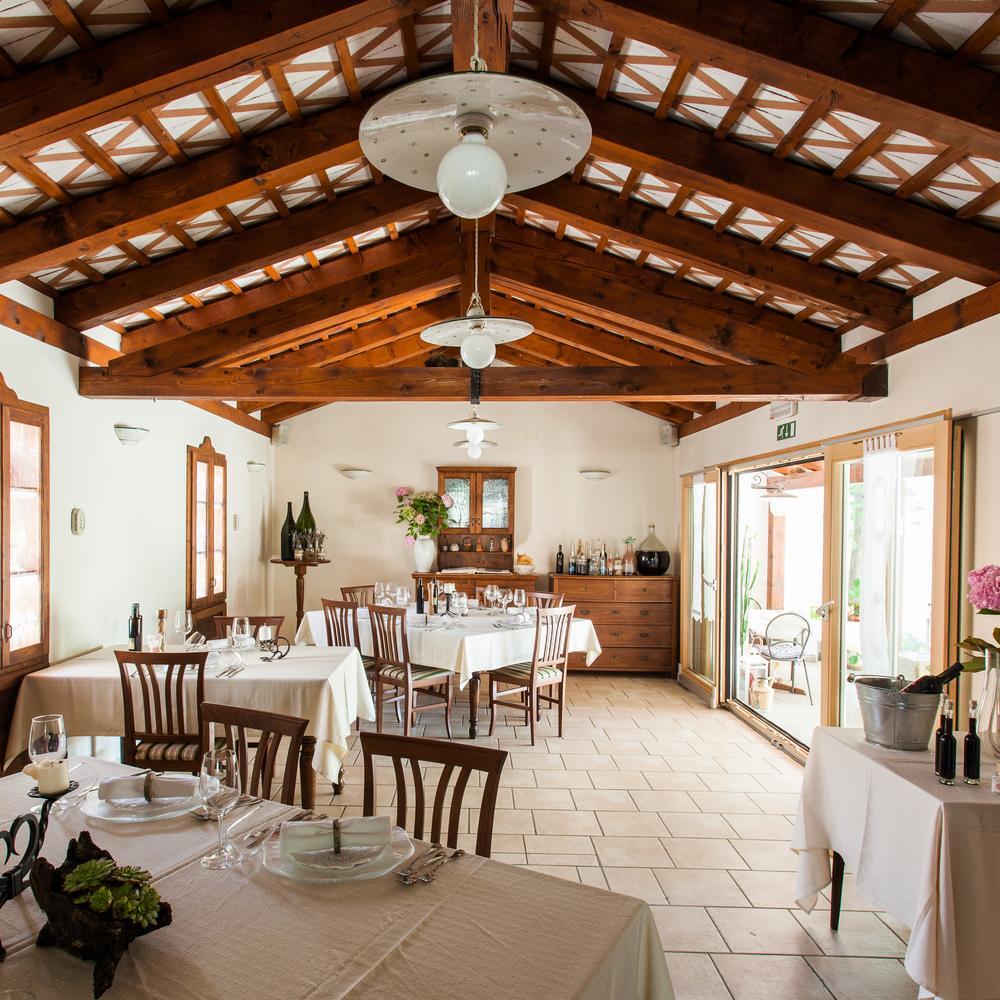 Špacapanova Hiša - Interior
Illustration image - Špacapanova Hiša - Dish