When Kings County Imperial first opened its doors in the ever-trendy Brooklyn neighborhood of Williamsburg, chef/owner Josh Grinker and his business partner Tracy Jane Young made a name for themselves by serving up a menu that didn't pull its punches. Sichuan peppercorns practically pulsing with palate-shattering energy were used without hesitation. Tofu was homemade (it now comes from a purveyor). Chinese heirloom herbs and vegetables from the restaurant's garden made frequent appearances on the menu (and are described in detail on the restaurant's website).

Now, Grinker and Young have expanded their reach across the Williamsburg Bridge, mere feet from the off-ramp, in a part of the Lower East Side (LES) that has more characters than a Dostoyevsky novel. "I'm a New Yorker, I grew up in New York. It felt right," says Grinker. "It's one of the few neighborhoods that reminds me of the grit that New York used to have."

"Chop Your Head Off" soup with napa cabbage, flour dumplings and pork. (Photo by Levi Miller.)
The space, which opened at the tail end of June, has a menu similar to its Brooklyn sister spot with corresponding headings and many shared dishes, including Sichuan standards such as mapo dofu and dry fried long beans. However, the new location has its own specialties, while the cocktail program—developed by Justin Lane Briggs (who holds the title of "Booze Guru")—has expanded the drinks menu to focus on the rum-soaked traditions of Tiki.

Kings County Imperial serves dishes from multiple regions of China, including both Canton and Sichuan. Soup dumplings, currently an off-menu special, are filled with an aromatic and well-seasoned broth. The classic mapo dofu is a hearty stew of fresh silken tofu with ground pork and a savory-sweet sauce swimming with Sichuan peppercorns.

What's remarkable is Grinker and his team have managed to capture an aspect of Chinese cuisine that is often absent from other kitchens: an emphasis on not just flavor, but texture. "When you go to China it's almost like a negotiation when you have a large party at a dining experience," he explains. When a group of diners are picking their dishes it's not just about personal favorites, but about choosing items of varying textures and temperatures that are complementary to one another.

Mock eel made from shiitake mushrooms. (Photo by Levi Miller.)
Take for example the LES location's "lion's head meatball." Three components drive the texture of this particular dish—large, pillowy meatballs, a ginger broth and bean thread noodles, which provide a gelatinous-yet-firm mouthfeel. The salt steamed veal riblets, marinated overnight and then coated in a pancake-like batter before being steamed, results in chunks of tender meat with a soft crust that falls apart in the mouth. At the other end of the spectrum, cold, sliced lotus root—crisp and snappy and doused with pungent black Chinkiang vinegar, sesame oil and chopped chile pepper and tossed with fragrant celery leaves—offers a delectable crunch.

The cocktail menu at Kings County Imperial LES is also noteworthy for presenting flavors and ingredients that go beyond the scope of what diners might normally expect. The Tiki-driven menu is a throwback to the days when the bars in Chinese restaurants served drinks like Zombies and Mai Tais. "Oftentimes, even when you're pulling back on the sugar, Tiki is a really delicious but quite often muddied experience," he describes. "It's so often about how the sum of the parts is greater than the [individual components]." To counter this, Briggs and his team craft cocktails that are more deliberate, and where the individual ingredients are layered and complementary, but still discernible. He also says deliberate efforts have been made to source base liquors from companies that treat their employees with respect and pay them living wages. This includes Ming River, the Sichuan company that produces the baijiu present in several of the restaurant's cocktails.

The bar at Kings County Imperial LES. (Photo by Alison Engstrom.)
The use of baijiu alone helps to set apart the Kings County Imperial LES menu. "It is a difficult spirit," says Briggs with a hint of laughter in his voice. "Years ago I was helping to prep for a baijiu seminar at Tales of the Cocktail and all of the prep team, everyone but me, could not stop talking about how gross it was and were all wearing masks while they were pouring it. And I found myself thinking—I know all of us Westerners have this instinctual feeling about this, but the millions of Chinese people who are drinking this can't be wrong."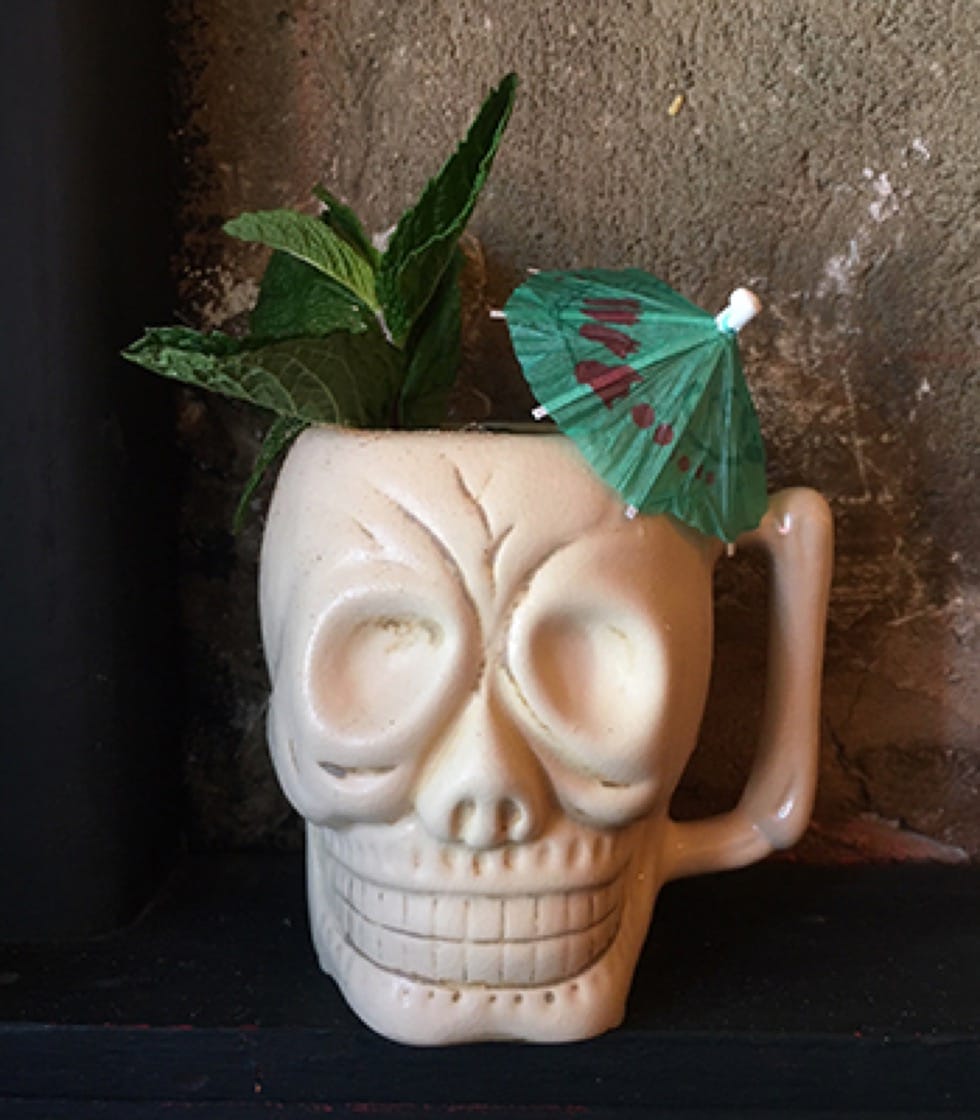 For the uninitiated, Briggs says one of the keys to understanding baijiu is to find an appropriate and familiar frame of reference. He describes Jamaican pot still rums and more heavily distilled Mexican mezcals as having similar characteristics. While Kings County Imperial carries four kinds of baijiu, only one, Ming River, is used in a mixed drink named for the same company. (The "Ming River Mantis" is pictured to the right.) Another cocktail, the "Donnie Yen's Kick" (named after the Chinese martial arts star) features peanut-infused bourbon, lime, orgeat and cilantro, along with half a teaspoon of Giffard Menthe-Pastille, a mint liqueur.

Kings County Imperial LES might be similar to the first location, but its drink menu and specials help set it apart, as does the neighborhood it's situated in. Even considering the fact that the Lower East Side is increasingly becoming known as a haven of Chinese restaurants, Kings County Imperial LES stands out.

Hero image by Levi Miller.
Ming River Mantis image courtesy of Kings County Imperial.