Regardless of what some in SoCal may say, New York City is filled with tons of great Mexican restaurants.

Whether you're craving classic tacos or looking for something more refined, here's where to get the best Mexican fare in the Bronx.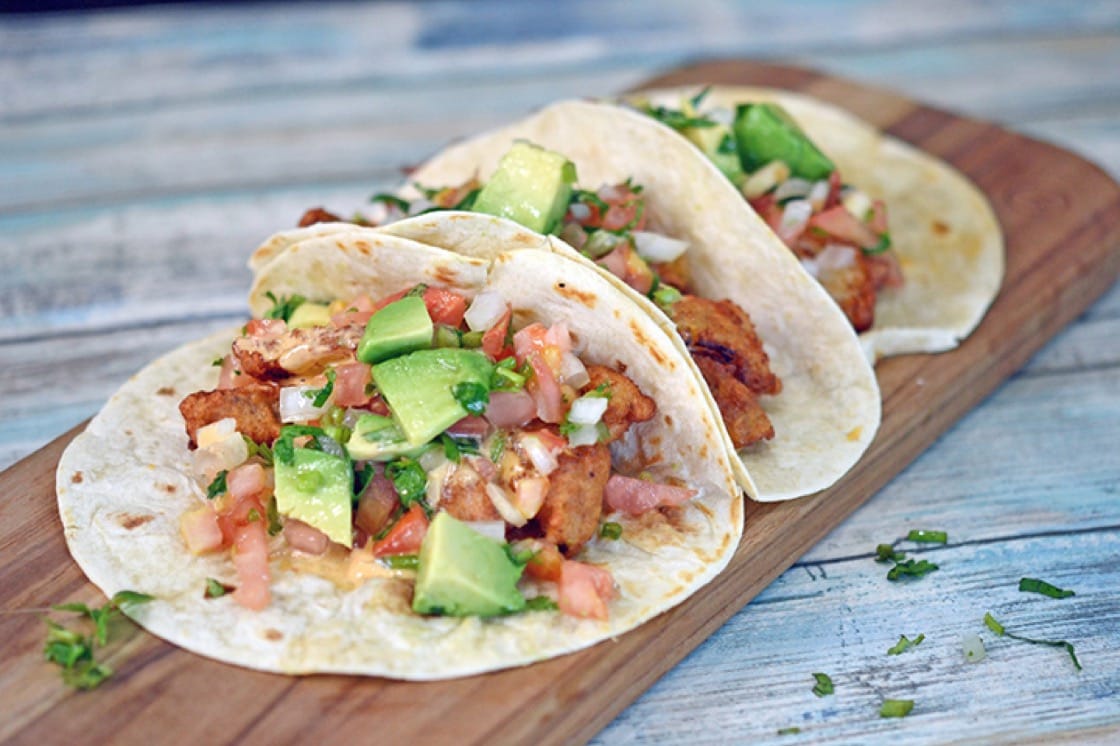 Tacos at Estrellita Poblana III. (Photo by @NYCFoodPhoto/Instagram.)
Designation:
The Plate

What Our Inspectors Say:
"Belmont may more often be linked to Italian-American cooking, but that doesn't mean this Mexican spot is out of place. In fact, this fun and traditional restaurant—the second iteration; the original opened in Castle Hill in 1999— shines bright. Exposed brick, a ceiling capped with three stars, and a semi-open kitchen complete the comfortable scene. Conversation is common between the pleasant servers and diners, including many Fordham University students. Pancita, a spicy tripe stew, is a real eye-opener with its abundance of toasted chiles. The bistec Estrellita is served with a fiery habanero sauce, topped with pico de gallo, and flanked by rice and beans. Flan is a lovely finish—though that generous steak may fulfill even the heartiest appetite."
Designation:
Bib Gourmand
What Our Inspectors Say:
"This bright, cheerful Mexican gem can be found in the Soundview section of the Bronx, which was once upon a time lined with Italian flags, bakeries, and butchers. Today, you'll find a global collection of restaurants, including Mexican hot spots, pan-African grocery stores, Puerto Rican
lechoneras
and Dominican diners. Breakfast at El Molcajete kicks off with delicious egg sandwiches, with a south-of-the-border twist. Lunch brings mouthwatering tacos,
tortas
and
cemitas
—served with smoky red and spicy green sauces on the side. Don't miss the sumptuous
gordita
, a thick masa cake filled with luscious pork and then floated with cilantro, smooth crema and serrano peppers; or the tender
cabeza de res
(cow head) and gamey
barbacoa
(barbecue goat) tacos."
(Photo: Mexicosina/Facebook.)
Designation:
Bib Gourmand
What Our Inspectors Say:
"The light-filled interior of this Mexican powerhouse sitting on a quiet corner is a busy amalgam of rustic artifacts, wolf taxidermy and the Virgin Mother in all her glory with flowers and votives at her feet. And those huge jars of jamaica, horchata, and the
agua fresca del dia
are just as tasty and refreshing as they are decorative. If they have the
tlayuda
, order it. Its crunchy paper-thin base is smothered in a veritable fiesta of refried black beans, chicharrón, lettuce, queso Oaxaca, crema and much, much more. Other equally terrific specials have included
chivo
, a rich goat stew in an intense habanero-spiked consommé, or tender and fatty lamb
barbacoa
tacos. Cold accompanying salsas are so divine one could skip the chips and just eat them—with a spoon."
Designation:
Bib Gourmand
What Our Inspectors Say:
"This sweet spot stands out for its authentic Oaxacan food, a rare delight even in this neighborhood. It's a homey, no frills sort of place that welcomes everyone, and the owner loves to chat about the traditions behind this region's cooking—or history or art as evidenced by the impromptu lending library that has emerged in the comfy back seating area. This part of Mexico is known for its incredible moles, so sample a wonderfully complex red pumpkin seed version (
pipián rojo de pepitas
) with pork spare ribs. Another, the glossy
mole Oaxaqueño
, arrives fragrant with cloves, tomatillos, plantains, peanuts and chocolate, served over chicken. Don't miss the wildly fresh tamales either, filled with silky chicken, spices and covered with a rich tomatillo sauce."
Designation:
The Plate
What Our Inspectors Say:
"When your food-crazed buddy tells you the only thing that matters is what's on the plate, you take them to La Cueva Fonda Mexicana. This tiny hole-in-the-wall Bronx hot spot is proof you don't need much to produce honest and authentic food. The décor is beyond simple—there are maybe a handful of tables—but these cooks take their responsibility quite seriously. The bustling open kitchen and intimate dining experience will make you feel like you're part of the family. Guests feast on soft, homemade tortillas filled with heartwarming lengua, bright cilantro, jalapeños and a lick of spicy chipotle sauce; or brick-red
caldo de res
soup, simmering with tender beef. Don't miss the daily specials, or the excellent barbacoa, served only on weekends."
Hero image from La Morada by Kathryn Sheldon.