One Star Elcielo D.C. from Chef Juan Manuel Barrientos can be found adjacent to Union Market's La Cosecha. Presentation is the cornerstone here, with an admirable level of showmanship and dishes embody a love letter to the chef's native Colombia. This honey toffee mille-feuille with vanilla pastry cream and peach sauce pairs beautifully with Blue Bottle's Exceedingly Rare Colombia Mauricio Shattah Wush Wush, the newest Exceedingly Rare coffee in Blue Bottle's portfolio. And for two days only, August 18th and 19th, this duo is being served at Elcielo D.C.


Blue Bottle's Exceedingly Rare Colombia Mauricio Shattah Wush Wush coffee is grown and processed at Mauricio Shattah's coffee estate, Finca la Negrita, in Tolima, Colombia, between Bogota and Cali. Blue Bottle's Exceedingly Rare line is a taste of the future of specialty coffee and highlights experimental processes, up-and-coming regions and rare varieties. Among these is Mauricio Shattah Wush Wush. Where you would typically expect the caramel flavors and warmth of Colombian coffees, this multi-stage processing method gives the coffee layers upon layers of bright citrus and juicy stone fruit flavor with aromatics of fresh jasmine and budding rose.

Mille-feuille
Ingredients
1 pack of store-bought puff pastry
200 gr of cane sugar
120 ml of water
120 gr of heavy cream
20 gr of butter
1 whole egg


Method

Roll the puff pastry and flatten it. Pinch the dough throughout the surface with a fork.
Whisk an egg and apply it to the surface prior to placing in the oven.
Preheat the oven at 400°F/200°C and bake the dough at the same temperature for 15 minutes

On the side make a caramel with the sugar and the water until golden brown, then add heavy cream and whisk to make a sauce. Add butter to emulsify the mixture.
After the puff pastry is cooked and settled, apply the toffee on top.



Pastry Cream
Ingredients
250 gr of milk
1egg
1 egg yolk
100 gr of cane sugar
20 gr of corn starch
15 gr of butter
1-2 tsp of vanilla extract
Method

Whisk the egg yolks and the sugar until ribbon state, then add the corn starch and mix again until the mix is even.
On the side, heat the milk with the vanilla extract on a pot until boiling point.
Add half of the milk to the previous mixture, then place everything back into the pot

Heat and mix continuously until cream starts to thicken.
Once bubbles appear, remove from heat.
Add butter, mix again and strain through a sift.
Place plastic wrap to cover the mixture, refrigerate until cold, then mix again.
Peach Sauce
Ingredients

Peel and dice the peaches.
Place in pot with sugar and honey to cook.
Remove from heat and infuse with the elderflower. Allow to cool.
To Assemble The Dish
Cut puff pastry into sections, then layer sections on top of each other with pastry cream and peach sauce in between each layer. Enjoy with a cup of Blue Bottle Coffee's newest Exceedingly Rare: Exceedingly Rare Colombia Mauricio Shattah Wush Wush.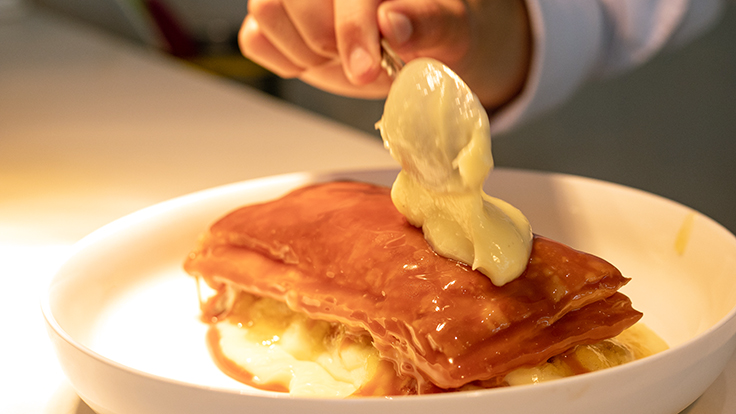 Presented in partnership with Blue Bottle
All photos by Natalia Aguilera