Jim Ophorst was only 22 and fresh out of a six-month internship at now-closed two-MICHELIN-starred Gaggan when he was tapped by Thai-based Montara Hospitality Group. The mission: to transform the flagship restaurant of their five-star Phuket resort, Trisara, beyond the stereotype of a hotel restaurant and into a fine-dining stalwart worth its own weight.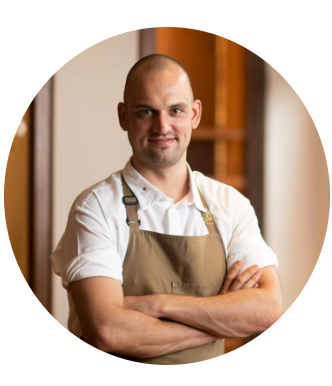 Under the Dutch-born chef's direction, which included nine months of pre-opening planning and multiple visits to farmers and fishermen across Thailand, the restaurant was relaunched as PRU in 2016, boasting of a terroir-focussed dining experience that uses 100 per cent local ingredients.
Short for "Plant, Raise, Understand", PRU underscores Ophorst's culinary philosophy of using innovative cooking techniques to bring out the best of thoughtfully sourced local produce. His kitchen team experiments daily with growing and cooking with new ingredients from the restaurant's own farm, Pru Jampa.


The farm is just 20-minute drive away from the resort, and set amid lush foliage and lakes whose banks are home to a wide array of indigenous plants and herbs. On any given day, Ophorst can be found among the organic vegetable gardens, or tending to its free-range chickens and ducks.

Chef Jimmy Ophorst from PRU restaurant at Trisara Hotel, Phuket, Thailand picking herbs at "Pru Jampa" farm.
The restaurant received its first Michelin star in the 2019 edition of the Michelin Guide Thailand, after just 18 months in operation. PRU is the only restaurant in the two Southern provinces of Phuket and Phang Nga — new to the 2019 edition of the guide — to have been awarded a star. Now 29, Ophorst is often credited as an "inspiring voice of change" for elevating the farm-to-table movement in Thailand.
Ophorst shares more about the emotions and thoughts he experienced when PRU received its Michelin star for the very first time.

What was your first encounter with the MICHELIN Guide?
I was around 16 or 17 years old and I saw something on the news about a restaurant in the Netherlands called Oud Sluis that had 3 MICHELIN stars, and I immediately booked a table at the restaurant. The meal made me very interested in this kind of perfectionism and from there I had my mind set on becoming a chef at a MICHELIN-starred restaurant.
What was it like when your restaurant received a MICHELIN star for the first time?
As I had never worked in a MICHELIN-starred restaurant before, I really didn't know what was coming. We had the feeling that we might get a star, so the morning before the announcement was one of the worst in my entire life. I couldn't eat, the only thing I could take was double espressos. I was so excited and also nervous at the same time.

I was with my wife when the announcement was made, as she is the one who always supported me in every way and made sure I am able to do this. During the announcement, everything happened so fast that I didn't even really know what was going on. A few minutes later, all the emotions came when I thought about the hard work and how we left everything behind in the Netherlands for a certain goal - and this was one of them. It was very emotional but I am very, very happy that we have achieved it.

How did you celebrate?
After all the media interviews were done, I went back to my room with my wife, just to have a moment for myself and to call my family in the Netherlands. After that we opened a bottle of wine with my team, but we couldn't enjoy too much as we also needed to cook for the gala dinner later the same evening.

Once the evening was over, we organised a celebration with the whole team. But the day after, the real deal started and we all went back to work!

As a chef, what does having a MICHELIN star mean to you?
For me it means everything. I left the Netherlands 7 years ago as a young guy and nobody knew me during that time. On the same day that we received the star, the phone calls came from everywhere. When I was a young chef, I always looked up to MICHELIN-recognised chefs with so much respect and now I am one of them. Until today that is something that has not sunk in, but I realise what an impact this will have on my life, and it's all worth it.

Do you have any advice for young chefs aiming for MICHELIN stars?
The most important thing is to get your basics together and don't only focus on your image. These days you don't see many young chefs who are willing to start from the bottom, they want to immediately start plating beautiful dishes, but this is not how you will achieve your goals. You should learn as much as you can and master the basics, then travel as much as you can to see different cultures, before you start working in a restaurant that you admire and stay there for a long time. Don't change your job every one or two years. Find a kitchen that lets you grow.

Being a chef isn't a comfortable 7-5 job, It is one of the toughest jobs in the world and you will only survive if it isn't just your job, but your passion. You must come to the kitchen feeling that you're going to do the thing you like the most and not just come to fill your pocket. If you have that, along with an unlimited will to keep going, a belief in your goals and a commitment to do everything to achieve your dreams then one day you will achieve what you have been aiming for.
Related: Q&A with Chef Jimmy Ophorst of PRU, Phuket