Assam Laksa is a dish that serves as an ideal vessel for a well-balanced primary taste sensation. A sip of its rich and tangy fish broth opens the palate to sweet, sour, spicy, and savoury flavours. Other components of Assam Laksa comprise thick, translucent laifun (rice noodles), and garnished with a kaleidoscope of ingredients such as shredded boiled fish, chillies, bunga kantan (torch ginger flower), sliced cucumber, pineapples, raw onion, lettuce, mint leaves, and a wedge of lime.

This Penang favourite is consumed any time of the day and is usually served in no-frills settings of coffee shops or by street-side hawkers. Here, Leow Woo Taid of Bib Gourmand Penang Road Famous Laksa and Lim Ee Quen of Bib Gourmand Wan Dao Tou Assam Laksa share the history of Assam Laksa and their family secrets when it comes to creating the well-loved noodle dish.

Assam Laksa comprises thick, translucent laifun (rice noodles), and garnished with a kaleidoscope of ingredients such as chillies, bunga kantan (torch ginger flower), sliced cucumber, pineapples, onions, and more.
Laksa

Translated to "sour", the "assam" flavour of tamarind is prevalent in Penang, as is the use of fresh herbs in Nyonya (Straits Chinese) cuisine. Laksa, in general, refers to soup-based noodle dishes that are commonly found in Southeast Asia.

Singaporean Laksa, for example, is made with a rich, creamy coconut curry broth; whereas almost every region in Peninsular Malaysia has its own version of laksa, ranging from Johor Laksa to Sarawak Laksa. The broth, primarily coconut milk based, can be light, or rich and creamy, depending on the community. However, Penang Assam Laksa is one of the few laksas that does not use coconut milk; hence, setting it apart from the rest of its cousins.

"Assam Laksa is a Penang specialty. When we talk of Penang Laksa, the only dish that comes to mind is the Assam Laksa. In other states, laksa can mean curry-based soup noodles, which we call Curry Mee here in Penang," Leow explains.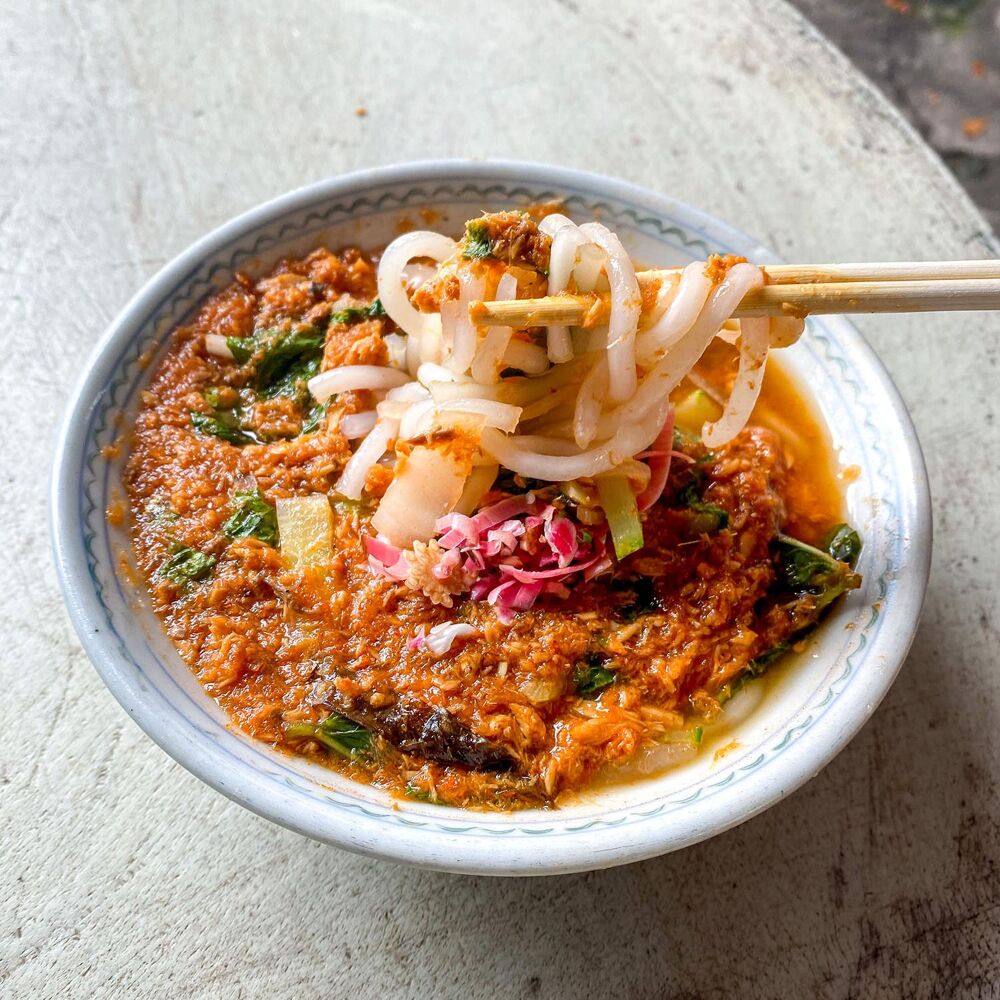 No two bowls of Assam Laksa are the same

The Assam Laksa that most hawkers or restaurants serve in Penang originated from family recipes passed down through generations using the agak-agak ("guess-timation") method. The broth tells of a rich family history, and they form the fingerprint of a family's heritage, distinguishing one Assam Laksa from another. Hence, no two bowls of Assam Laksa are the same.

(Left Photo: MICHELIN Guide)

"Over the years, we refined our grandmother's recipe. Of course, every ingredient in our Assam Laksa now is measured accordingly," says Lim. Wan Dao Tou Assam Laksa is a third-generation family-run business that has served Assam Laksa for the past fifty years. Lee and her family would wake up at 4 a.m. to begin the morning's preparation work. Their six-day-a-week daily routine involves hand-dicing and chopping lemongrass, onion, galangal, belachan (shrimp paste), asam keping (tamarind slices), laksa leaf, chilli, and other ingredients. According to Lim, the most difficult and time-consuming aspect of the job is not cooking the soup, but rather, the preparation work.

Leow of Penang Road Famous Laksa expressed similar sentiments. "The simplest step, actually, is to make the broth. Preparing the endless ingredients for the laksa paste, not to mention, deboning the fish meat for the soup, is the most difficult part! We chop, peel, and dice every ingredient by hand," he shares.

For Wan Dao Tou Assam Laksa, another time-consuming task is preparing the fish for the soup stock. There are no shortcuts here. Every fish is deboned, cleaned of its innards and bones, and shredded by hand before being boiled in the stock, resulting in a lighter-coloured broth compared to most Assam Laksa.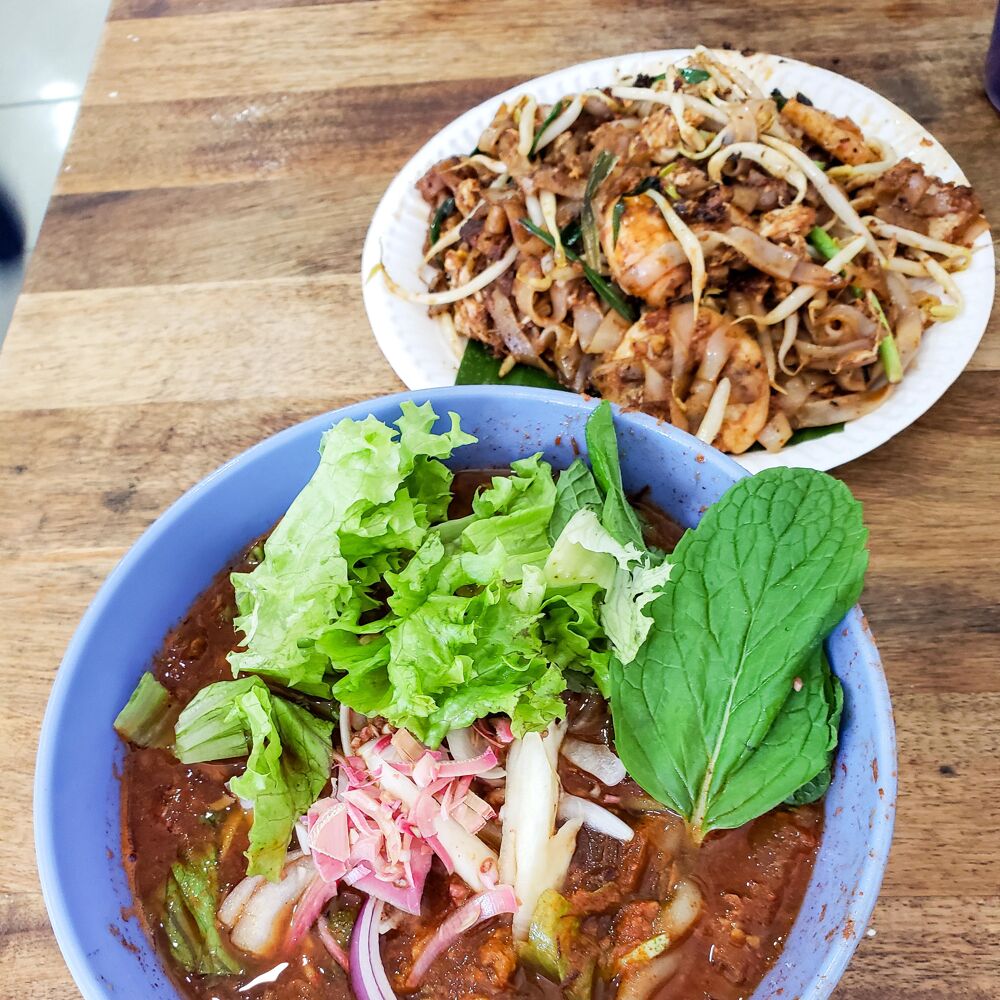 On the other hand, Penang Road Famous Laksa's soup stock consists of fish meat — also deboned by hand — that is boiled with fish heads and bones before sieving them out. "After that, the soup stock is combined with tamarind paste, which we boiled separately. The broth's flavour can be influenced by the type of fish used. We only use fresh, high-quality sardines. Our soup has a hint of red from the chilli paste," Leow explains.

(Right Image: MICHELIN Guide)
Leow uses approximately four kilograms of fresh sardines, which serves about seventy bowls, to obtain the stall's famed deep-flavoured broth. Such is the commitment of these hawker vendors who have dedicated their whole lives to serving their family's heritage dish, through which their story is proudly shared with every slurp.

The Perfect Bowl of Penang Assam Laksa

"A satisfying bowl of Assam Laksa has well-balanced flavours of sweet, spicy, and sour. Customers enjoy our soup because it has a smooth mouthfeel. The flavours are perfectly balanced right down to the last drop. We use fresh ingredients, the appropriate amount of assam keping, and spices to remove any hint of briny, fishy flavour in the soup," Lim elaborates.

A bowl of Assam Laksa is traditionally served with hae ko, a type of dark and pungent fermented shrimp paste. Because not everyone likes hae ko, both places serve hae ko on the side. How to enjoy it? "Begin by tasting the soup; then, gradually, add the hae ko. This method of stirring in the hae ko enhances the flavour of the Assam Laksa as one likes it," advices Lim. In addition, both Penang Road Famous Laksa and Wan Dao Tou Assam Laksa also serve their Assam Laksa with homemade spring rolls. "We want our customers to dip the spring rolls in the broth and soak up the rich remnants of spices and flavours," Lim adds.

Leow's approach to serving Assam Laksa is distinctive. "One thing we do differently is that we do not drown all of the garnishes in the soup. We typically add the raw onions, pineapples, mint leaves, and torch ginger flowers before serving. It keeps the dish flavourful, fresh, and balanced." Leow says.

"And the best way to enjoy Penang Assam Laksa? Eat it while it is bubbling hot with additional servings of shredded fish!" Leow adds.

(Left Photo: MICHELIN Guide)