Located at Block 1 Beach Road and having opened in January 2022, Sing Lung HK Cheong Fun has been recognised with a Bib Gourmand this year. Its chef-owner, Kong Yiu Man, has years of experience in Cantonese cooking, and his Hong Kong-style cheong fun (rice noodle rolls) are praised by our MICHELIN Guide inspectors for their velvety texture. The inspectors also recommend coming early to Sing Lung HK Cheong Fun for the century egg and pork congee, as well as the glutinous rice, as the stall tends to run out of them early.

Sing Lung HK Cheong Fun's main dishes: Hong Kong-style rice noodle rolls, glutinous rice, and century egg & pork congee. (Photo: MICHELIN Guide Singapore)
Run by husband-and-wife team Kong Yiu Man, 62, and Chan Pik Yung, 52, Sing Lung HK Cheong Fun was a business born out of the pandemic.

"We used to work for other people, and we were seldom at home," says Kong. "We had never tried doing something for ourselves, so we wanted to give it a try and see what happened."

Kong's experience in Cantonese cuisine runs deep, having worked in the kitchens of MICHELIN-recommended Cuisine Cuisine at The Mira in Hong Kong, Yauatcha City in London, and Crystal Jade in Singapore. Kong started working in Hong Kong at the age of 13. "In 1992, I went to China for five years, then came back to Hong Kong for three years, and then came to Singapore." In that time, Kong also went to the UK for a year. "I originally planned to join the Hakkasan Group in the United States, but incidentally, I also received my Singapore residency, so instead of going to the US after London, I stayed in Singapore. Someone also bought my boss's restaurant in London, so I took this as a sign to leave London and start fresh in Singapore." He reminisces: "Actually, life was good in London; I learned a lot about how good produce and ingredients can really make a huge impact to the final product."

Kong shares that the shrimp rice rolls are the bestseller at Sing Lung HK Cheong Fun. "I prepare the shrimp every morning; I start work at 6 a.m. and only open the stall at 8 a.m.," he says. (Photo: MICHELIN Guide Singapore)
Why cheong fun?

Kong recounts that when he and his wife were planning their stall's opening in the midst of the pandemic, some people approached him to work for them, but Kong had other plans. "I decided to try becoming my own boss," he says.

In the process of starting the business, Kong and Chan decided on their current location in Block 1 Beach Road, right next to the famous Golden Mile Food Centre, because the rental fees were relatively cheaper, and it was hard to find another place. "During the pandemic, many people lost their jobs and they all came out to open their own businesses, so it was difficult to find a stall space like this," Kong adds.

When asked why he wanted to focus on cheong fun as Sing Lung's main offering, Kong explains, "it is very difficult to hire people, so we were thinking, 'What can two people do?' A Cheong fun can be run by two. I make the cheong fun and my wife manages the payment and the customers."

The Perfect Cheong Fun
"Hong Kongers like their rice rolls soft and smooth, while local Singaporeans prefer the QQ (bouncy and chewy) ones," shares Kong. "Few people here make these; so after thinking about it, we decided to make the soft and smooth type of
cheong fun
that one can find in Hong Kong."
According to Kong, the recipe for his
cheong fun
is always changing because times change and the ingredients also change with time. "For example, the glutinous rice flour is different if it is made using new rice or old rice," says Kong.
"I used to work at
Crystal Jade
where the barbecued pork is freshly roasted everyday and never kept overnight. The ingredients are fresh, so the dishes always tasted very good. The ingredients are different, so the prices are different too," he adds.
"You need to rely on your own experience to decide what ingredients to choose. You can't stick to the same recipe forever. You have to rely on feeling and experience. Some chefs and bosses have asked me: 'Do you have any favourite recipes?' Actually, I really don't, I just go by feeling."
Kong recalls that when he was in the UK [at Yauatcha], the cheong fun cost about £14 because the ingredient costs were different. "We used produce like king crab. The ingredients are completely different over there, and so you can't really compare. But if I really had to choose, the best cheong fun I have ever eaten were in the UK," Kong says with a smile.

He emphasises his point: "For example, for the beef cheong fun, we used Kobe beef fillet. We would stretch the cheong fun, cook the beef, and then put it into the fresh rolls immediately. But the price was £22. It is different here. I'm not saying one is good and the other is not. It depends on how the dish is made and where."


The Two Types of Cheong Fun: QQ and Smooth
When it comes to making traditional
cheong fun
, Kong says that the combination of taste, appearance, texture, and leaving a good impression are the most difficult things to achieve. "There are two types of
cheong fun
. If the rice roll has a QQ (bouncy and chewy) texture, its quality will be stable for take-aways. But you can only choose one of the two textures to make," he says.
Chan, his wife, chimes in. "The QQ one tastes better if you eat it at the stall, of course. However, we make the soft and smooth ones just like in Hong Kong. Some people think it's too soft. But we like it, and we think it's okay." Kong explains that this type of Hong Kong
cheong fun
that they make at the stall evokes his childhood. "This was also what I ate most of the time when I was in Hong Kong. In Singapore, you'll find a similar taste and texture at Mott 32 in Marina Bay Sands," he tips.
On Thriving in Singapore
Kong shares that after getting the Bib Gourmand recommendation,
Sing Lung HK Cheong Fun
has seen a more diverse group of customers, including many tourists. "Someone has also approached me about expanding the business, but we're still in talks. Maybe not in Singapore, but we'll see what opportunities there are. We're just getting started. [Before getting the Bib Gourmand recommendation], no one had approached us before," he adds.
"Right now, I just want to stabilise the business. We want to retire early, but we still have plans, so we have to work hard. My children are either getting married or studying next year; one is studying for two more years and will proceed to get a master's degree at the National University of Singapore," Kong proudly shares.
"In the past, we used to have staff and the people we hired were good and listened. But now, things are different. I may ask someone to do things a certain way, but he may not listen to me. You can't really control the people you hire, and I want to do things better myself first. It is challenging. We are not just rolling cheong fun, there is real technique involved."

"Why do I not hire help? Because I want to do things properly first. If the products I put out myself are not good and inconsistent, then hiring should be the last thing on my mind."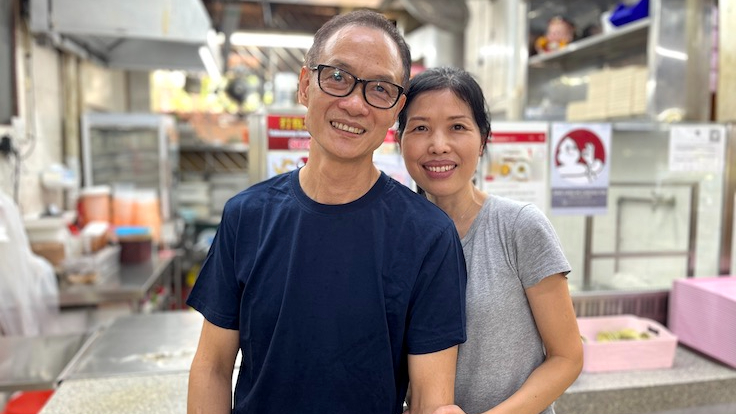 Kong Yiu Man and Chan Pik Yung of Sing Lung HK Cheong Fun (Photo: MICHELIN Guide Singapore)
The Learning Never Ends
While Kong has plans of expanding
Sing Lung HK Cheong Fun
's dim sum selection in the future, Kong shares his frustrations about how dim sum is made nowadays compared to before. "The standard of dim sum now has changed. It's very simple, many
siew mai
I've had these days are not juicy — most are dry. Another example is
char siew bao
. I've had a lot of
bao
where the filling was mostly sauce, but that is actually not the right way to do it. I learned this from a chef who taught me — there should be a lot of
char siew
wrapped up in just enough bun; the filling should be so generous it would flow out with a squeeze. I remember trying this type of proper
char siew bao
myself, and it was really good. It took me many years to realise that, and I hope I can recreate it one day."
When asked about what he has learned in his many, many years in the industry, Kong does not hold back. "This is what I got used to at
Crystal Jade
— reject anything that is not up to par. My previous boss was this way. If the scallops and shrimp were not good, they were all thrown away. But in reality, many people are not used to that. In fact, the most important thing is to not be afraid of losing money. You can earn it back. Only those who know how to eat well will understand this," he shares.
"You also have to persevere. It is not possible to make money immediately after you open a business," adds Chan.
If there are two things Kong will advise the younger generation of chefs, it will first to not be afraid of hard work , and the second is to not be lazy.
"Don't be afraid of hard work. Put a little bit more effort into everything, if you can. Let's take the example of chilli oil. You can easily buy it outside, but you can also make it yourself, why not? We could wake up later in the day, but a small amount of effort set aside time to make chilli oil the right way makes all the difference," he advises.
"Also, don't be lazy. For example, I keep the rice roll batter when there are no customers — it's a small thing but it makes a huge difference. Other cooks might leave it out till the batter is used up, but I always return it inside when no one is ordering and take it out little by little [so as to keep it fresh]. That's the experience I can share," he says. "The hardest part is just not being lazy about anything — that is a key differentiator. Remember, a little effort really and truly goes a long way."
Sing Lung HK Cheong Fun is located at 1 Beach Rd, Singapore 190001.