The days when airport restaurants provided average meals to rushing passengers have long gone. As people flying more frequently, quality dining options before and after flights have become in demand. This prompted many chefs to step into this less explored territory. Many airports have evolved into diversified culinary microcosms with acclaimed high-end establishments and eateries serving good food on the go.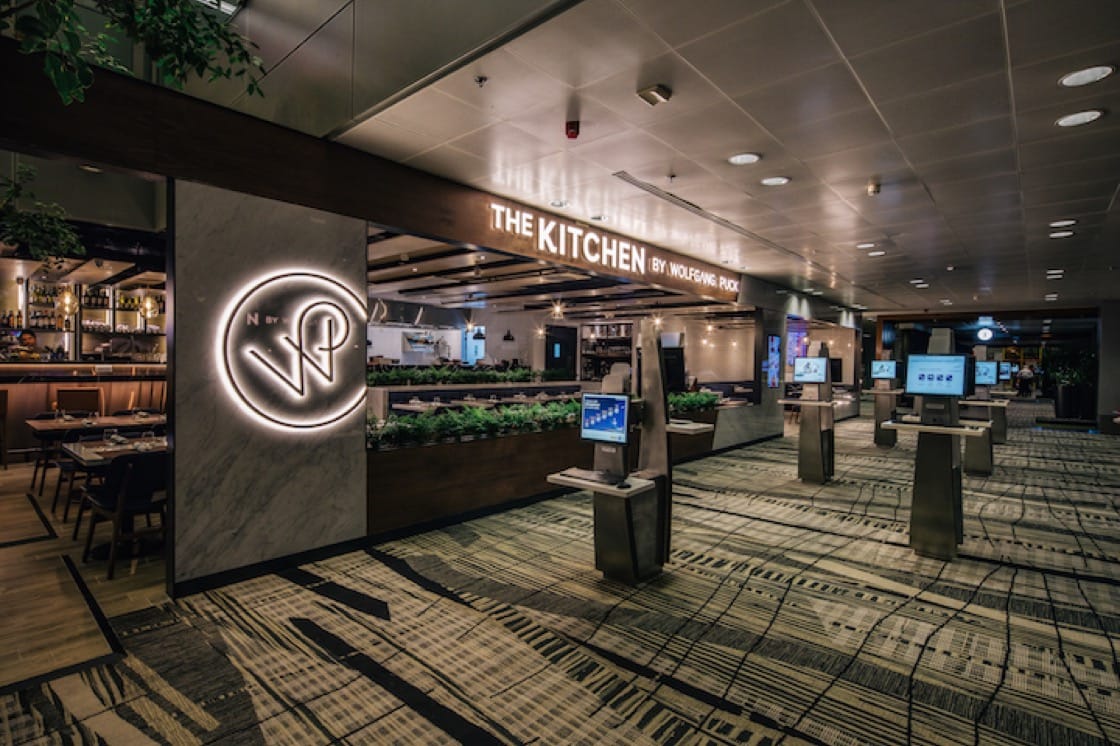 The Kitchen by Wolfgang Puck
The Kitchen by Wolfgang Puck
(Terminal 3, Singapore Changi Airport)

The Kitchen is celebrity American chef Wolfgang Puck's third venture in Singapore, after one Michelin-starred Cut and Spago in Bayfront. The special location of The Kitchen inspires Puck to incorporate dishes from various cuisines in his menu, including sour and spicy soup with chicken and shiitake mushroom, as well as Korean kimchi short ribs. The restaurant features casual dining at a lower price point. It opens from 6am to 1am to accommodate travellers on different schedules, with breakfast options prepared to early flyers.
(Photo: Hung's Delicacies)
Hung's Delicacies
(Terminal 2, Hong Kong International Airport)
Chiu Chow braised meat, or
lo mei
, is the speciality of Hung's Delicacies. Its signature dishes such as Marinated Goose Slices, Duck Tongue in Chinese Liquor, and Chicken's Leg Tendon with Sesame are best to go with the joint's homemade XO sauce and chilli sauce. Its approachable price level and authenticity attract diners from Hong Kong and all over the world. The branch of Hung's Delicacies in North Point was award One Michelin Star status in the Michelin Guide Hong Kong and Macau for five consecutive years between 2010 and 2014, before closing for rental reasons. You can also find this local favourite in the branches in Kwun Tong and Macau.
Ming Court. (Photo: Cordis Hotels)
Ming Court
(Terminal 3, Beijing Capital International Airport)

Ming Court bases its foundation on the eponymous sister restaurant in Cordis Hotel, Hong Kong, which boasts one Michelin Star status. It serves exceptional and native Cantonese cuisine, prepared by head chef Chan Yuen Lung from Hong Kong. Special promotions, like the past collaboration with chef Mango Tsang Chiu Lit from Ming Court Hong Kong, give patrons something new to look for each time they visit.
(Photo: Café Vue)
Café Vue
(Terminal 2, Melbourne Airport)
The brainchild of beloved Australian chef Shannon Bennett, Café Vue offers affordable, premium food for takeaway. The food items served in the box meals change frequently. Those include hummus, kebab with pita bread, Tabbouleh salad, as well as different types of cakes and macarons. The fact that they can be enjoyed on the flight makes the boxes even more tempting.
(Photo: OTG Management)
Cotto
(Terminal C, New York LaGuardia Airport)

Opened in 2014, Cotto is led by culinary luminary Michael White. The mint green dining tables and chairs makes for a jovial environment along with ceiling-to-floor windows. There you can find everything Italian. In addition to freshly baked pizza and pasta, the restaurant menu encompasses all kinds of antipasti and panini and gelato. Make sure you order Garganelli with Radicchio, Speck and Truffle Butter before heading out.
Saison. (Photo: OTG Management)
Saison
(Terminal C, Newark Liberty International Airport)

Alain Ducasse is one of the household names when it comes to French cuisine. He cooks up classic French fare at Saison. Dishes such as Coq au vin, foie gras, escargot and os à moelle pamper guests with delicate flavours. The venture's wine collection is also not to be missed, something to note in your travel diary.
---
This story was originally written by Tang Jie and translated by Vincent Leung. Click here to read the original version of this story.