A wooden board propping up pale twigs interlaced with choy sum 'nori' arrives, accompanied by a flavoursome aioli made of fermented fish sauce – just one of the three amuse bouche dishes served to diners before the start of an elaborate 10 course meal.
This is not at the latest opening down town, but in fact, at
Dewakan
in Kuala Lumpur, the capital of Malaysia – a country that's otherwise known more for its street food and agricultural exports than groundbreaking ideas in food and drink.
That seems set to change, and Dewakan's amuse bouche is easily an ethos in a nutshell where modernist savoir faire meets traditional ingredients. The choy sum has been pureed and dehydrated, and the dip is made from budu sauce – a Northern Malaysian fermented fish sauce declared as a heritage food by the Malaysian Department of National Heritage.
Long overshadowed by the bustling street food Mecca that is Bangkok in the north and glitzy financial centre Singapore down south, KL seems to have come to its own with a new energy unleashed by innovative chefs, trendy cocktail bars and hip cafes.
Aubergine braised in a mushroom stock, jackfruit seeds, black bean sauce and garlic emulsion from Dewakan
That the country has such a sturdy agricultural spine and vibrant local food scene also means that its tastemakers have developed their own approach, bolstered by access to fresh local produce grown on terrain that spans the South China Sea to the soaring heights of Mount Kinabalu.

These have been interpreted into a myriad of ways. Think along the lines of cocktails made from fresh Southeast Asian herbs to bean to cup coffee hot spots – even humble locally grown vegetables elevated into the realms of modernist fine dining.

Where to Eat
Modern Malaysian restaurant Dewakan has been at the vanguard of KL's fine dining since it exploded into the scene two years ago. This is where Malaysia's great culinary traditions go to shed their skins and take on a deconstructed persona in the hands of chef Darren Teoh.

Take for instance one of the restaurant's dishes when it debuted: pisang goreng ice cream – made by blending traditional deep fried banana fritters into the dessert served with smoked chocolate Chantilly cream and nutmeg syrup.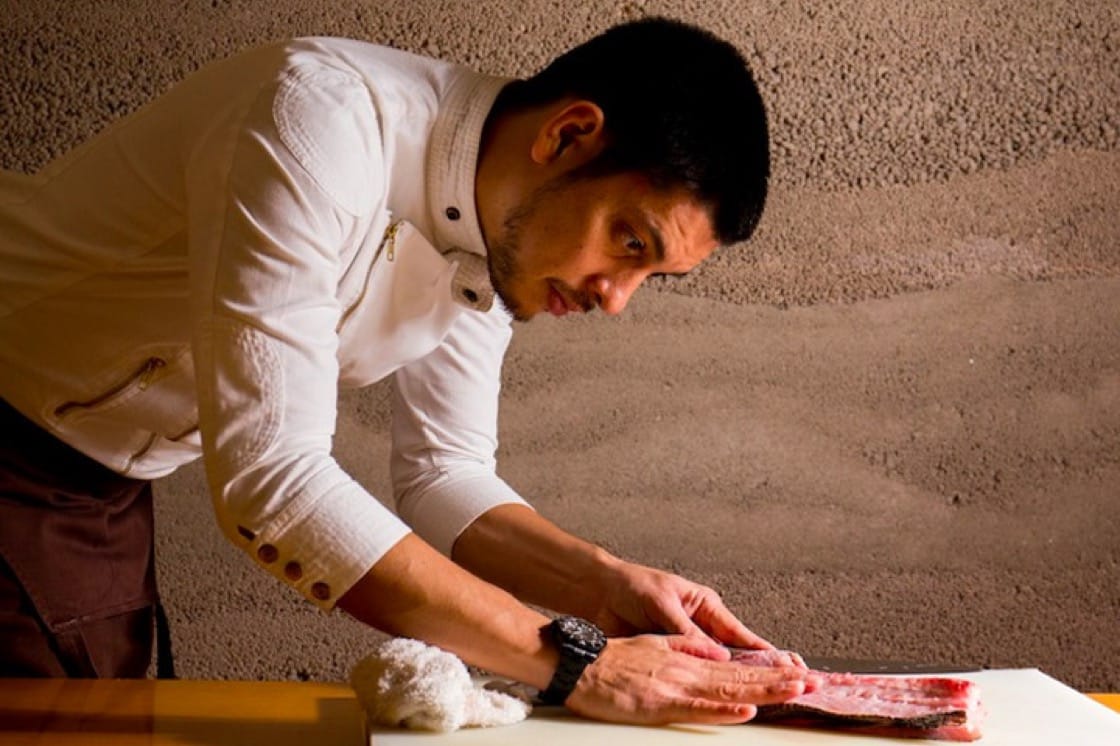 Chef Jeff Ramsey from Babe
For those looking for a MICHELIN guide connection, one option is
Taka by Sushi Saito
, the KL offshoot of three-Michelin-starred
Saito
in Tokyo. There are only 16 seats here hugging a counter made of 300-year-old Hinoki wood and produce is flown thrice a week straight from Tokyo's Tsukiji Market.
While these two restaurants are certainly stellar, don't miss more casual offerings like
Babe
presided by executive chef Jeff Ramsey in a concept he dubs 'fun dining'. The Japanese American chef was previously based in Tokyo where he led
Tapas Molecular Bar
to its first Michelin star which it retains even after he's left. Today, his KL restaurant boasts Japanese influenced tapas given a contemporary twist. Think along the lines of curry buns, where pulled chicken in a Japanese curry is sandwiched between two meringues and a dash of theatre by way of grilling your own wagyu and Alaskan king crab over a hide stove.
If you're only in KL later this year, keep your eyes peeled for the opening of
Les Amis
Kuala Lumpur, the offshoot of one of Singapore's first standalone fine dining restaurants awarded two Michelin stars in the debut of the Singapore's red guide.
Bartenders at work at PS150
Where to Drink
Cutting edge restaurants are but one half of the dining scene – the other half being spaces where drinks, spirits and wines are taken to the next level. Here, KL does not disappoint. There's a thriving cocktail bar scene complete with cult mixologists at the helm and locally made spirits that would set your taste buds alight.
Start with
PS150
, a sexy cocktail bar in a former brothel with an emphasis on Southeast Asian flavours. Fuel up with the Lychee No. 3 where London dry gin is a base for lychee, lime and ginger flowers to shine.
The boozy offerings do not end there. Malaysia is also home to a cottage industry that produces tuak – a Bornean sweet rice wine made by fermenting rice with yeast and sugars. While its roots are in the tribal communities of East Malaysia, several firms like Copial Tuak have been producing and marketing them at the corporate level. If you wish for just a taste though, head to newly opened
Abacus Bar
where it is concocted in their signature tipple so named Abacus Cocktail along with pandan and Cointreau or pop over to
Manja
where the Spirit of Borneo is served. Here, the hard liquor is tamed with egg white, lime and elderflower.
Where to Refuel
Like in many cities, the third wave coffee movement of independent cafes which take great care in the origins of their beans has taken a strong hold in KL. This urban jungle is teeming with these meditative spaces, including offshoots of Singapore brands like Pulp by Papa Palheta.
But if you're new to Southeast Asia's coffee traditions, know that it's split in half. On one end, there's 'kopi' – the traditional form of coffee brewed with robusta beans often roasted with margarine. On the other, there are the Western-style imports like lattes and flat whites which utilise Arabica beans and espresso machines pulled by expert baristas.
At café
Roast & Grind
, the two worlds embrace as young owners Faizal Rashid and Shahrizal Zoal don't believe in such segregation. Instead, both types of coffee are served side by side in an unmistakable statement of equality.
Roast & Grind roasts their own arabica beans.
Shahrizal is in fact, a third generation coffee roaster behind household brand name Hang Tuah Coffee, known for its robust ground coffee powders. "We use Robusta beans only for our blue label kopi O to get a [more] bitter taste whereas for our green label kopi O, we use a mix of Liberica and Robusta to produce a balanced flavour. For espresso, we only use Arabica," says Shahrizal in an interview with The Malay Mail.

And therein lies one last gem that Malaysia has in store: the country is one of the few that grows Liberica coffee beans – the third and mostly forgotten coffee bean as the rest of the world guzzles on robusta and Arabica. In fact, only one per cent of the entire world's coffee trade consists of this varietal.

It may not be as popular as its two bigger siblings, but it's one way to down a country's terroir and coffee culture in one sitting.