They say two is better than one, but what is it really like to run a restaurant with your better half? This Valentine's Day, we get up close and personal with the power couples behind some of Asia's favourite MICHELIN Guide restaurants. Learn where they met, what they've learnt from working together, and most importantly, their secret recipe to keeping the love alive.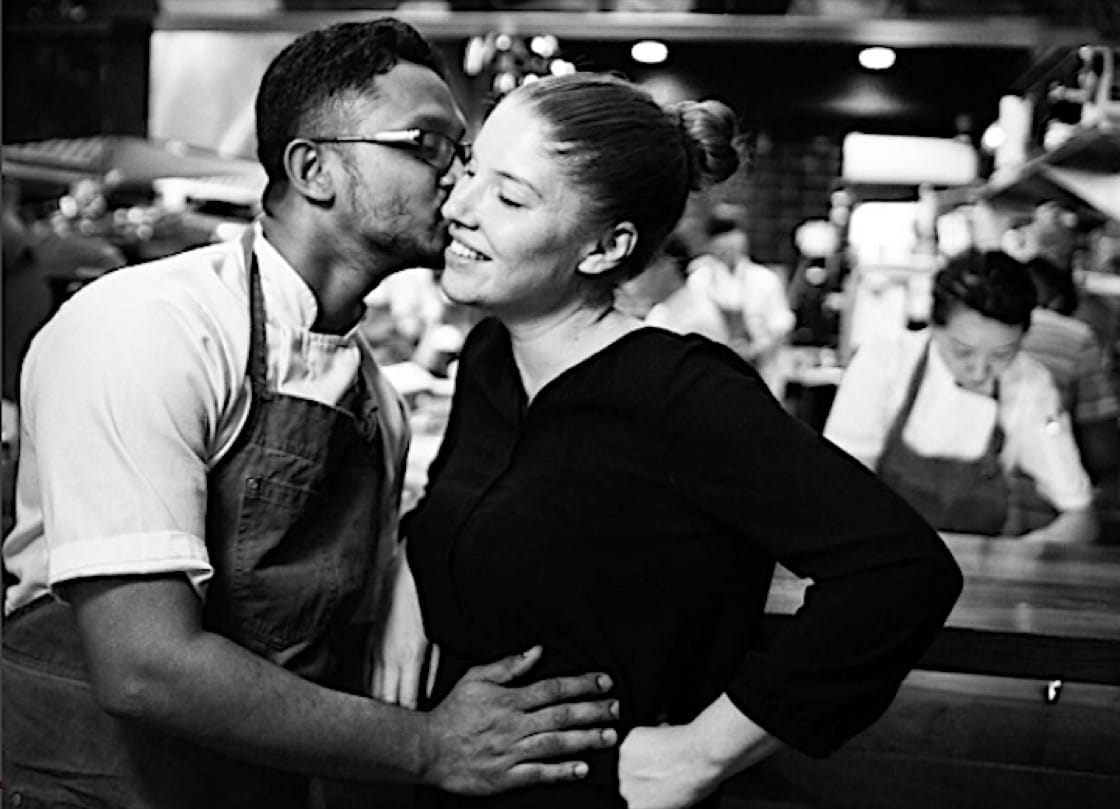 Capturing a moment between Cloudstreet's Rishi Naleendra and Manuela Toniolo. (Photo: Simon Pynt)
Singapore
Cloudstreet
One MICHELIN Star, MICHELIN Guide Singapore 2021

Rishi Naleendra and Manuela Toniolo met as co-workers in a Melbourne restaurant in 2005 and have been married for 12 years. Together, they set up now-defunct 1-Star modern Australian restaurant Cheek By Jowl — referring to their dream of working side by side, in their own restaurant.

The young couple now helm a small empire of restaurants including fine dining establishment Cloudstreet, which received its first MICHELIN Star in 2021 and Sri Lankan joint Kotuwa, which also received a Bib Gourmand recognition in the same year. While Naleendra works his magic in the kitchen, Toniolo keeps the front of house and business operations running smoothly. "A lot of people think it's really hard to work with your wife. I just find it really easy. She might find it really hard," he says with a laugh. "There's nothing, if not for her. She is everything."


READ MORE: 10 Romantic Restaurants In Singapore
Daniel Negreira and Terri Chu of MICHELIN selected restaurant Hidden by DN
Taiwan
Hidden by DN
MICHELIN Guide Taipei & Taichung 2021 Selected Restaurant

MICHELIN selected restaurant Hidden by DN in Taipei marvels the diner with its contemporary takes on Spanish flavours using modern techniques and the best Taiwanese ingredients. The inspiring dining experience could not happen without the chemistry between Chef Daniel Negreira and restaurant manager Terri Chu.

Negreira and Chu first met in 2009, where Chu joined El Toro, Negreira's first restaurant in Taiwan. "We remember that now with a smile but it wasn't so pleasant at that moment because I made her work her first day on her birthday. She almost decided to not show up but I guess destiny and her gentle personality gave us a hand.," recalls Negreira. They have been together for almost 9 years now.
After working together for about 11 years, Negreira says: "The best part of working together is that no matter what you always have someone by your side who can fully understand not just your professional goals and ambitions but also put together into the equation your emotional view, this helps making the job a lot easier." He adds candidly that he used to think that a husband and wife should never work together just like the others do, but now he realised that if the relation is based on respect and true love, this is a great advantage. "We probably won't be able to achieve what we did without each other."
"When you have your spouse next to you at all times you can always feel confident that no matter how, and by acting as a team with a clear goal in mind, you will get there by supporting each other."
Of course there will be challenges, Negreira admits, but for him and Chu, they are not so much fights and stress over running a restaurant, but about how to find the balance between the demands of a business and the needs of a family. They, of course, frequently disagree with each other on a lot of aspects too. "At the beginning I used to impose my opinion, but I learned that by putting the way-too-common 'chef's ego' aside and listening to Terri's advice, we get an outcome that maybe wasn't what I originally wanted but the final result is was better for both of us and for the restaurant."
"She has definitely made me a better person and a better chef," he says.

Hong Kong
Roganic
One MICHELIN Star and Green Star, MICHELIN Guide Hong Kong Macau 2022
When Teigen Jai Morrison (TJ) applied for a job at Roganic, head chef Ashley Salmon had to do some background research on her. "Knowing she had worked at Marcus Wareing like I did, I knew it's no easy task and she would've had some fantastic training. Our shared experience with MICHELIN-level restaurants is positive on our view on food and the industry." recalls Salmon. TJ, now the senior chef de partie, agrees, adding that "our dedication and passion for our craft and industry has been very much shared from the start."

While both work at the same restaurant, their separate duties and responsibilities are quite different from each other. Salmon manages the kitchen, checking the mise en place and working on new dishes. TJ's role changes on a daily basis, depending on which section of the kitchen she's needed. Besides the obvious challenges of working in a kitchen given their high standards and long working hours, the couple sees the bright side of working in the same environment. "We keep an unspoken line of professionalism in terms of separating our relationship from work," says TJ. "I would say we benefit more from this separation as it encourages us to progress and discuss new ideas both inside and outside work." Salmon adds that when the restaurant receives accolades, it is "amazing to share that experience together."

Complimenting TJ for her "good palate and understanding of balance of flavour", Salmon says he's particularly proud of the earl grey and sweet cheese dessert they created together, which is inspired by tea with a cheese foam topping they encountered in Hong Kong.
Matteo Morello and Jojo Hui of MICHELIN Plate restaurant Castellana
Castellana
MICHELIN Guide Hong Kong Macau 2022 Selected Restaurant
Fueled by their common interest in great food and fine wine, Matteo Morello and Jojo Hui decided to open Castellana in Hong Kong together. As co-owners, Morello handles the daily operations, from menu development with Castellana's head chef Fabio Palombini, to customer service experience and wine list with the restaurant's head of F&B Roberto Ame; while Hui takes care of the finance and admin of the business. The couple also recently opened Hotel San Giovanni in Saluzzo, which houses a Castellana San Giovanni restaurant inside the hotel. A historical town at the bottom of the Alps near the famous culinary town Alba, Saluzzo is known for its white truffle and Barbaresco—a wine that has a special symbolism as it featured in their first meal together.
When it comes to running a restaurant together, 2020 has proven to be one of the most challenging years. "We try our best to not let the differences in views with work affect our personal life," admits Morello. "But nothing is more rewarding than seeing the satisfaction on our customers' faces at the restaurant we've built together." At home, food is the expression of their two very different cultural backgrounds meeting on the table. "We find ourselves enjoying an Italian or Chinese meal with a great variety on a weekly basis, sometimes even two different cuisines in one meal," says Hui.
READ MORE: Valentine's Day 2021 Takeaways To Win A Foodie's Heart
Thailand
Mia
MICHELIN Guide Thailand 2022 Selected Restaurant
Though they spearhead the kitchen at Mia in Bangkok, British-Thai chef Pongcharn 'Top' Russell and Malaysian-born pastry chef Michelle Goh actually fell in love in the kitchen at Pollen in Singapore. The couple just celebrated their 6th anniversary on February 7.
Although both are equally competitive as chefs, they find a good balance working side by side at Mia. Goh keeps Top grounded when he is "up in the clouds". On the contrary, Top's light-heartedness cheers her up whenever she feels stressed. As two ambitious and driven chefs, the pair finds understanding, acceptance and compromise essential in a partner.
Yun Dae-hyun and Kim Hee-eun of MICHELIN Plate restaurant Soul
Seoul
Soul
MICHELIN Guide Seoul 2022 Selected Restaurant
Yun Dae-hyun and Kim Hee-eun are the chefs and co-owners of Seoul's Michelin Plate restaurant Soul, where diners can explore bold experiments in stylish fine dining. Together, the couple present the diverse culinary traditions and ingredients one may encounter in modern-day Korea and converge them with the familiar tastes found in everyday life to form unique fusion creations.
It has been their dream to work together ever since they started dating — a dream they fulfilled shortly after getting married. "The life of a chef is a lonely one. When people are celebrating, you have to work; and even though you feed people, it's not easy to eat a nice meal for yourself. So marriage looked almost impossible for me before I met Hee-eun", says Yun.
Kim, meanwhile, studied ceramic design, but soon found her ambitions triggered by the ingredients on the plate – not the crockery itself. She started her career at a hotel restaurant and developed her career as a culinary researcher and chef. It was during the latter stint that she met Yun, and they started to dream of a future together, one in which they could understand and support each other.
At Soul, the blissfully married couple show their creativity by merging Yun's western cooking techniques with Kim's aesthetic take on Korean heritage. "Our restaurant is a place where people can enjoy not only food, but also the atmosphere, hospitality, and everything else. I go to the flower market to decorate our restaurant every week, and we design our own plates to match the food we serve too. This is literally our home, and we really hope our guests to find happiness while they are with us," adds Kim.
READ MORE: These Aphrodisiacs Will Spice Up Your Valentine's Day Dinner
Written by Pruepat "Maprang" Songtieng in Bangkok, Julia Lee in Seoul, Rachel Tan in Singapore, Pearl Yan in Hong Kong, and Hsieh Ming-ling in Taiwan; introduction and edits by Pearl Yan.