Captivating Andong
There is no better time to see, listen and taste with your senses than on a trip to Andong. Spectacular natural views abound: Baekdudaegan Mountains resemble a folding screen and the Nakdong River flows from Taebaek Mountain to form a wide and fertile plain with a large river flow. This city is one of the most historic places in Korea. Here you can visit Hahoe Village with its many cultural treasures and important cultural materials, earning the village a UNESCO World Heritage Site designation.

Andong is full of many cultural relics, traditional villages, beautiful mountain temples, and old houses. During the Joseon Dynasty, great scholars were produced in this city, and Korean culture was formed by a high-quality Confucian culture and scholar culture. Among them, Toegye Yi Hwang is one of the most famous figures – he was a philosopher, writer, and Confucian scholar of the Joseon Dynasty.

The food of the people who have filled this cultural city is also remarkable. Andong's glutinous rice yam (called 'ma' in Korean), which is grown on fertile land, is also famous under the name of sanyak, which can be literally translated as 'mountain medicine'. Not forgetting there's a traditional liquor with a long history – Andong Soju is also a product of this place. Andong's traditional cuisine presents a deep and elegant flavor that can be remembered for a long time.

Chef Kwon Woo-joong of Seoul's Two-MICHELIN star restaurant Kwonsooksoo shares that one's creativity is sparked when paying attention to your instincts: seeing, listening and tasting. That is why chef Kwon embarked on a journey to Andong, a city where the past, present and future exist together.


"Surrounded by delicious food and colorful cultural heritage, the city always inspires me."

Chef Kwon explains in more detail, "The traditional food of Andong is not dazzling at first sight, but there are many noble dishes that have a lingering taste. It's in the same context as the Korean food I'm pursuing. I want to show a genuine and deep traditional taste to those who think that colorful appearances and stimulating flavors are the main characteristics of Korean food. I like the word Ongojisin, which means 'the practice of gaining knowledge of new things by taking lessons from the past'. This has been my culinary motto, so traditional cuisine is a root and and source of inspiration for my food."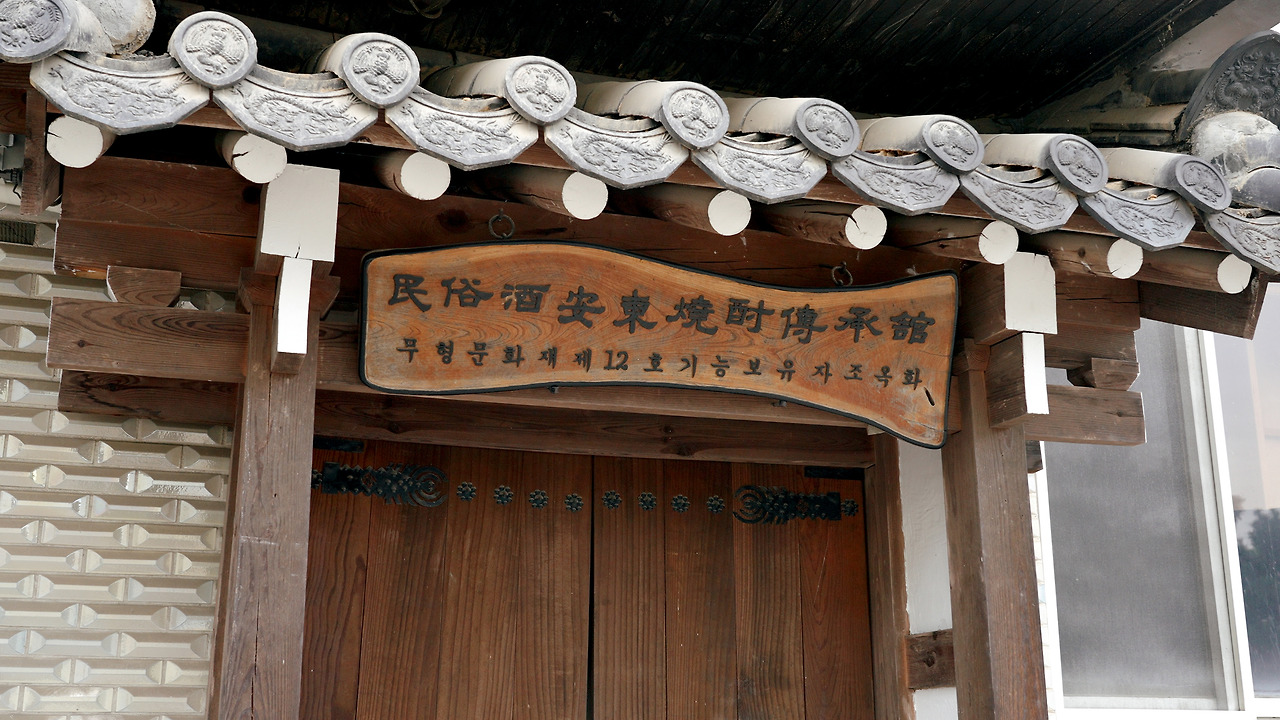 Andong Soju is a traditional home-brewed liquor whose recipe has been passed down through generations
Andong's traditional home-brewed liquor
In Andong, cheongju – a type of clear wine – has been handed down to each family with unique ingredients and methods. It is based on a house-made liquor used by noble families in Andong to serve ancestral rites or guests. The widely known Andong Soju is made by distilling this cheongju.

Andong makes this unique traditional liquor according to its long tradition. First, non-glutinous or sticky rice is mixed with fermentation starter (nuruk), and fermented in a jar for two to three days in a warm place to make the bubbling alcohol. The fermented liquor becomes rice wine that is takju (non-filtered) or cheongju (filtered). A well-aged rice wine has a unique clear, rich taste of fruit and leaves a deep aftertaste.

On the other hand, when you distill this rice wine, it becomes Andong Soju, an extremely clear spirit with high alcohol content. It features a clean, subtle aroma of flowers and fruits, and a savory taste after drinking. Since it is a distilled soju, it can be stored for a long time and the flavor increases over time.


Making Ellyeop Pyunjoo at Nongam Jongtaek
Kwonsooksoo's food pairing with Andong's traditional liquor
Nongam Jongtaek is the house where Joseon era scholar Yi Hyeon-bo, whose pen name was Nongam, was born and raised in the late 15th and early 16th century. From the Joseon Dynasty to the present, the immediate descendants of the house who have lived here for more than 650 years have made ellyeop pyunjoo.

"Andong soju is a traditional alcoholic beverage that best represents the ancient Korean kingdom of Silla. Ellyeoppyunjoo is a home-brewed rice wine produced by Nongam House, an iconic cultural center in Andong. I will prepare some dishes that reflect Kwonsooksoo's philosophy that pairs well. In this dish, I use chuck tender beef from Andong to present traditional Korean beef tartare in three flavors," says chef Kwon.


Kwonsooksoo's beef tartare with Ellyeoppyunjoo
Andong's Korean cattle is raised in a great natural location; the growing condition with appropriate daily temperature and clean nature determines the excellent taste of beef. Andong's local beef has soft texture while maintaining a unique deep taste, the most sought-after being cattle grown to an average 30 months and weighing 800kgs. Chef Kwon prepares modern and elegant dishes by adding Kwonsooksoo's sensibility in making beef tartare with Andong beef.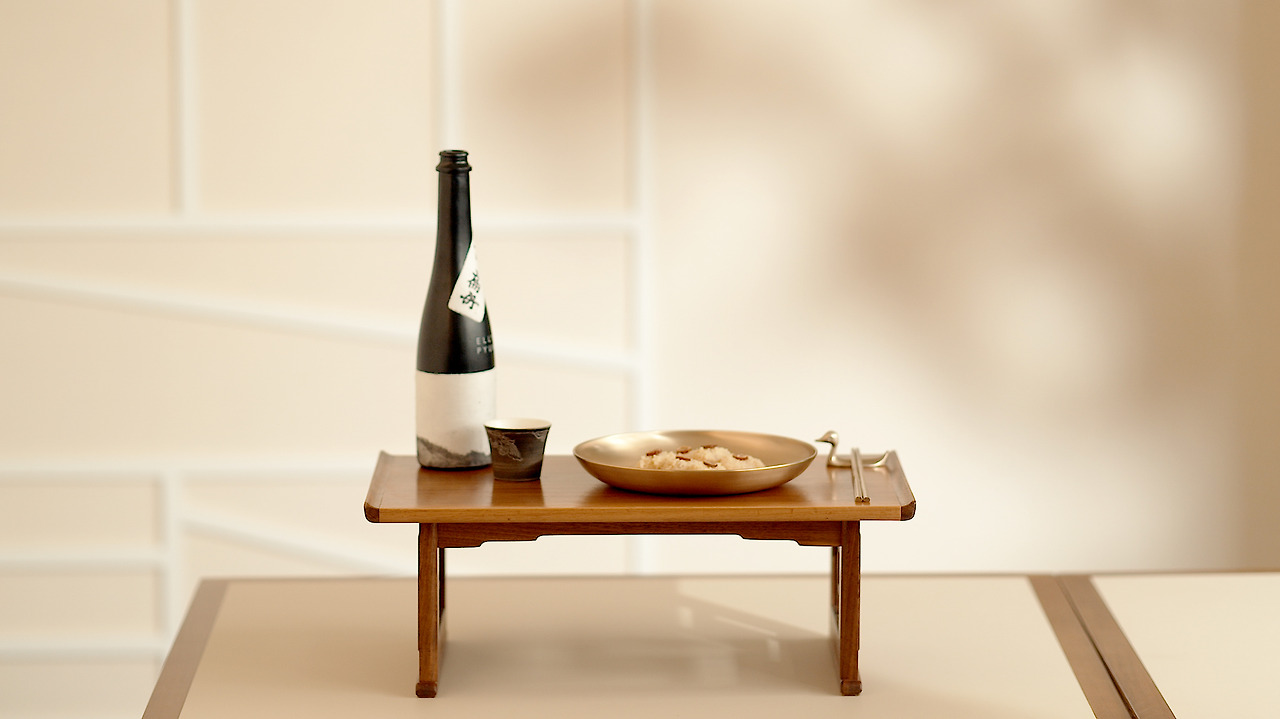 Glutinous rice yam pancake
Chef Kwon then suggests a glutinous rice yam pancake, a traditional dish that has been handed down since the late Joseon Dynasty. Known as the king's dish, it comprises fried yam slices covered with glutinous rice paste. It is said to be a good traditional dish to eat when you are feeling weak and exhausted. In particular, Andong's yam is also called sanyak, which literally means mountain's medicine. It has high medicinal nutrients such as saponin, mucin, arginin and vitamins, and is loved by gourmets who are interested in health and immunity. It is also said to be effective in improving memory and loss of appetite, by protecting the organs and stabilizing the mind and body.

"This glutinous rice yam pancake accentuates the pure and natural flavors of the liquor", adds chef Kwon.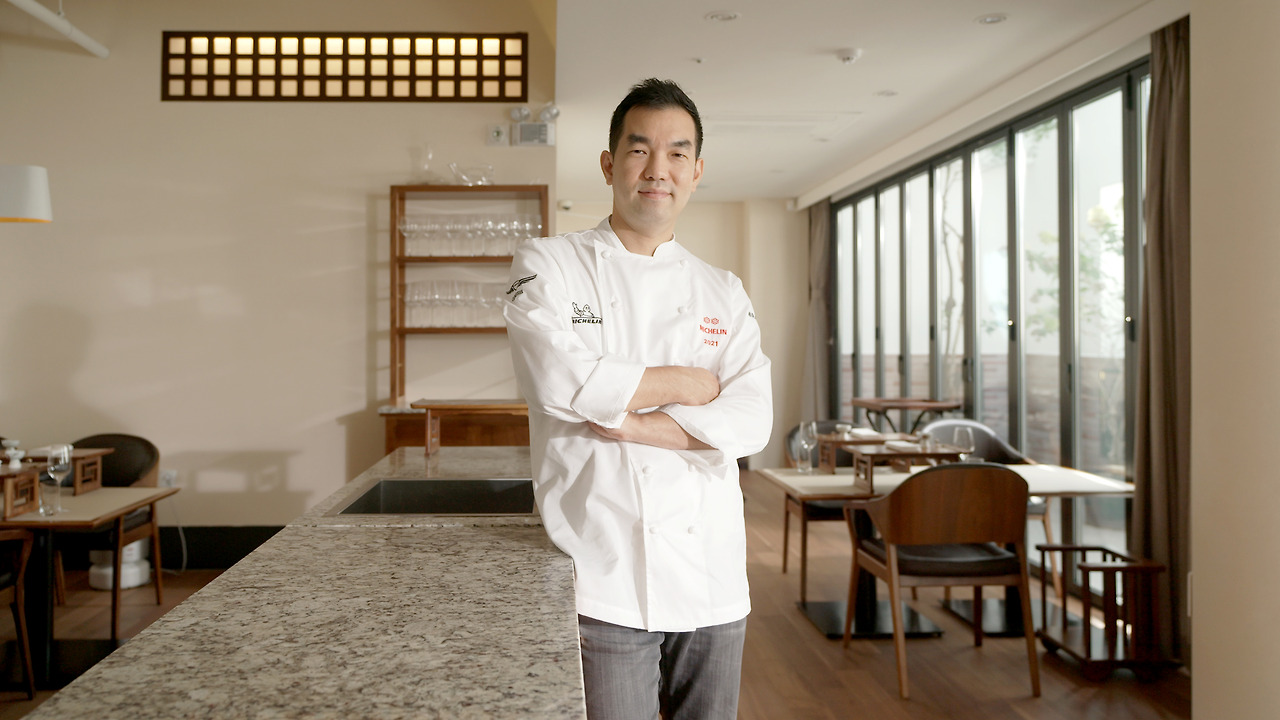 Exploring the sources of inspiration
Chef Kwon Woo-joong of Kwonsooksoo is practicing his passion to find new ideas from tradition. Andong, a city where tradition, present, and future coexist, is the coolest destination to inspire him. "I will keep exploring new territories, and travel wherever my feet may take me, because the best inspiration can only come to you if you do the legwork. It is my wish that you can also find sources of inspiration and fuel your imagination in this beautiful city Andong."
This Article is written in Korean and English by Julia Lee and sub-edited by June Lee in English.
This post is brought to you in partnership with Andong