Frédéric Eyrier, chef de cuisine at Pierre Gagnaire à Seoul, joined the French contemporary restaurant in June, 2012, four years after it opened on the scenic 35th floor of Lotte Hotel in the heart of Seoul's central business district near Myeongdong. In the following interview, the veteran French chef, hailing from Rognonas, a small town just a stone's throw from Avignon, tells us what it is like to work with the world-renowned chef Pierre Gagnaire, what his favorite local ingredients are, and the things he has learned from his career mentors including the late French culinary legend Bernard Loiseau.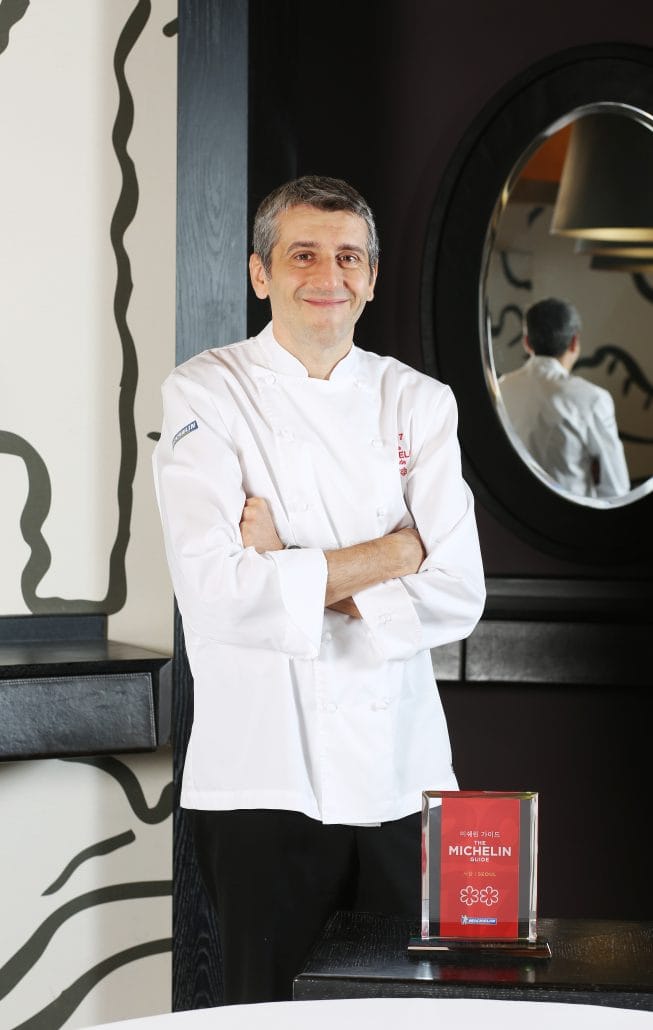 How does it feel to receive two Michelin stars?
I am enjoying it. It isn't the final destination but it is a great reward for the eight years of hard work we've been doing to introduce the French style of fine dining to Korea.
Here at Pierre Gagnaire à Seoul, we apply the same exact standards we uphold at Pierre Gagnaire in Paris – from the uniforms and the linens to the furniture and the tableware. My predecessors before me did an amazing job at setting up the restaurant.
Lotte Hotel deserves recognition, too. Eight years ago, they came to France with the goal of importing Pierre Gagnaire's fine dining style to Korea. People have to remember: eight years ago, authentic French fine dining didn't exist here in Seoul. So, I am happy we got the recognition.
When did you start working with Pierre Gagnaire?
I started working with him after he closed his restaurant in Saint-Étienne and opened his new location at 6 Rue Balzac in Paris. It was in 1996.
How has it been, working with the world-renowned chef all these years?
Mr. Gagnaire is a different breed altogether. He truly is an artist. When you are working with him, the first thing you have to remember is that "nothing is impossible."
Before I met him, I worked with classically-trained chefs. There were rules that were expected to be followed. Pierre Gagnaire breaks the rules. When you work with him, you need to understand that. Let me give you an example. In the kitchen, we always prepare pastry doughs: pâte feuilletée, pâte brisée, and pâte sablée, to name a few. The basic shortcrust pastry dough needs flour, butter, eggs, salt and sugar. One day, while drinking his coffee, Mr. Gagnaire asked, "When you prepare the pâte sablée, you use eggs, right?" Somebody answered, "Yes, of course. Fresh egg yolks." To which he replied, "Try using hard-boiled egg yolks next time." We tested it and it was the best shortcrust pastry I'd ever tasted in my life. The cooked egg yolks reduces moisture in the dough, making it impossibly light.
Pierre Gagnaire is known for being completely original. What makes him tick?
He follows his instincts. He always has last-minute ideas. Let me give you another example. It's Monday and we are having a simple lunch of salad and pizza. Four days pass. I'm drinking coffee with him and I ask him what he plans to do for the Christmas menu. He looks up and says, "Do you remember the salad and the pizza we ate the other day?" "Yes." "Serve the pizza on a different plate and the salad in another bowl. Perhaps the salad would be better on the pizza. Oh, and we'll do langoustines for Christmas." I'm speaking metaphorically, but you get the idea. He has instincts, but he takes his time thinking about an idea before he shares it with you. For me, the pizza and salad lunch is already a long-forgotten memory, but he's still thinking about it. This is the mind of Pierre Gagnaire. Add to that the best quality, honesty and integrity. And elegance! Elegance is very important.
As chef de cuisine at Pierre Gagnaire Seoul, how do you work with the man himself?
Mr. Gagnaire comes to Korea twice or three times a year. For the most part, when he's not here, I Skype with him every week, sometimes as often as three times a week.
We change the "Esprit" menu every two to three months depending on the availability of the ingredients. Next month, for example, we are getting fresh truffles from France so we are adding that to the menu. Every time we change the menu, I first check all the products I can get in that season and I reference all the products we have. Then I organize the menu–two starters, two fish dishes, two meats, one foie gras, etc.—and I share it with him. He makes the corrections, I re-do the menu and he gives me the greenlight.
What is it like working with local ingredients to cook French cuisine?
It took some time getting used to the lack of variety of certain produce. In France, for example, there are 300 different varieties of potatoes. In Korea, there is far less. Same for strawberries. I don't complain, though. We have to work with what we can find and create something wonderful with it. Of course, if I could have more variety or could access the luxury products more easily, it would be better. But, we do the job with what we have.
What are some of your favorite Korean ingredients?
I have a few. The first ingredient isn't really Korean but I can get fresh live versions here: the Alaskan king crab. We can't get fresh ones in France. I also love the sea pineapples and the pen shells. Many locals tell me they prefer the flesh of the pen shells barbecued, but I like to serve it fresh as carpaccio, as they tend to be a little tough when cooked. An absolute favorite local seafood of mine is the Osole oysters. They are incredible, even better than French oysters. But, they are difficult to source and quite pricey. I also enjoy using the red tilefish(okdom) from Jeju as their flavor is very similar to red mullet. Korean beef, I must say, is excellent. As for agricultural ingredients, I love the Hallabong oranges and the tangerines from Jeju Island. I also have to mention the local rice. To be honest, I didn't like it when I tried it for the first time. It was too sticky and too fatty. Now, I love it. In fact, it's my favorite variety of rice anywhere in the world.
Why the change of heart?
After five years, it grew on me. (Laughs) I like the consistency. It's a good rice to make a nice risotto. It's not a risotto rice but you can make a nice risotto with it. If I make you risotto with the Icheon rice in my kitchen, it just might be the best risotto you have eaten in your life – almost better than the classic Italian risotto Arborio or Carnaroli! (Laughs)
Any new (ingredient) discoveries upon arriving in Korea?
Gochujang. I'd never seen it before. I can't use it because it's too aggressive and I've never had good results experimenting with it in French cuisine. Ginseng. I was familiar with ginseng but I'd never seen the thick jam-like ginseng extract before I came here. I use it in the kitchen to make our ginseng soufflé.
The same goes for omija berries. I wasn't familiar with it, but I now use it for so many different things: I use it for cocktails in place of Campari to emulate the bitter flavor; I make a beautiful summer granite using king crab with strawberries and omija; I also make a foie gras dish with jelly infused with grape juice, hibiscus and omija. Omija is really versatile. Mr. Gagnaire also loves omija. I send him 5kgs of dried omija berries every year.
Last but not least, black garlic. They have it in France, too, but only a handful of French restaurants use black garlic in their cuisine. They're difficult to find in France and they're expensive. I use black garlic in the amuse bouche – black garlic, chocolate and foie gras ganache which I serve with lentils and Korean beef. It's really interesting.
Who would you count as your biggest career mentors and what have you learned from them?
The first chef I worked with was Joseph Gaffet at Auberge Rognonaise in my small village of Rognonas near Avignon. From him, I learned what it means to have the mind of a chef – which is to work with diligence, discipline, honesty, passion and professionalism. He showed me that cooking isn't just about preparing food and serving it to the guests. It's a global view and a global life. A chef should have this mindset outside of the kitchen as well, even in his or her private life. If you don't have it, you can't be a chef.
The late Bernard Loiseau taught me about communication—with the team, the guests and the media–and organization. When I started working with him, I'd had 12 years of experience in the kitchen. I'd learned and seen so many different things in the restaurant business up to that point. I'd had a nice level of cookery as well. But, I was still lacking in the areas of communication and organization. And, he taught me that. I saw what he did to manage the team. The kitchen team is not just a working team. It's family. I've been working here for 5 years. The staff, 85% of whom are starting members, are like my own family. I protect them and they sacrifice for me.
Last but not least, Pierre Gagnaire. He taught me the artistry of cooking. The first two years of working with him was difficult. I was intimated by him. Now, I know what he wants, I understand him, and I work together with him. It's a good collaboration.
What would you tell the people coming to dine at the restaurant for the first time?
I have just one advice: don't come to the restaurant with prejudice as it will ruin the experience. Just come, choose what you want to eat, choose what you want to drink, and have a good time. Don't think or analyze too much. I sometimes see guests who get stressed out when they come to fine dining establishments – not just in Korea but all over the world. They try so hard to act "proper." Don't stress too much. When I go to a restaurant, I sit, I order, I eat, I go. That's the best way.