In the past, people in each village would gather in the public square to participate in traditional games including tug-of-war, Korean wrestling and playing with fire. By participating in these games, people cultivated a sense of cooperation. A highlight is always the delicious array of traditional foods which symbolize health and good harvest. Nowadays, lifestyles have changed tremendously from a villager's life to cosmopolitan life. Traditional games are rarely found now, but the traditional food is still widely enjoyed. This nutritious fare is mostly vegetable-based, wisely utilizing protein from beans and whole grains which makes this heritage more precious in contemporary industrialized and urbanized cities.

This year, Daeboreum or the first full moon of the Lunar New Year falls on 26 February 2021, a celebration that is observed across East Asia. In Korea, people share food hoping that their families and local community would be healthy, at peace, and have a good harvest in the upcoming year. This day marks the first full moon of the year, and it gives a sense of the year ahead.

A glimpse of Asia's food heritage
Meanwhile in Japan on the first full moon of the year, the holiday is called Koshogatsu (小正月). In the past, it was held based on the lunar calendar, but all holidays in Japan from the Meiji Restoration to the solar calendar are now held on January 15th of the solar calendar. In particular, the red color of adzuki beans portends a 'congratulatory speech' and is believed to have the power to convey good health. Japanese people eat azukikayu (小豆粥), red bean porridge, and there is also a food called mochibana (餅花), a round rice cake that is baked in a fire.

East Asian cultures, which was based on the agrarian society, regarded the full moon as a symbol of abundance. Thus, the first full moon of the Lunar New Year is celebrated as an important holiday. China calls this day Wien Xiaoze (元宵節) or Wien Xi (元夕). On this day, Chinese people eat yuán xiāo (元宵), a round sticky rice cake with sweet fillings. It is similar in pronunciation to tuán yuán(团圆), which means harmony and peace between home and village.

Korean food heritage on the first full moon of the Lunar New Year

In Korea, the food traditions are even more colorful. Of 189 examples of seasonal customs found in Korea, 40 are closely related to Daeboreum, the first full moon of the lunar year. There is also a fixed schedule to eat specific foods from morning to evening.

Folks wake up early in the morning for bureom ggaegi (nut biting). Biting on various nuts such as chestnuts, peanuts, walnuts, pine nuts and so on, they pray to avoid dreaded skin diseases such as allergies and swelling. At the same time, there is an alcoholic drink called gui-bargi-sool, which literally means ear (gui) brightening (bargi) liquor (sool). This rice wine is believed to block any ear diseases and brighten your hearing, so you would hear only good news. Gui-bargi-sool is also known as ee-myung-joo, myung-i-joo, chung-i-joo and ee-chong-joo depending on the region.

The highlight of this holiday food is five-grain rice and namul. All the precious grains including glutinous rice, red bean, black bean, glutinous millet and sorghum are prepared to make rice. Also, people usually prepare nine or ten kinds of namul (seasoned herbal dishes made of edible grass or leaves). At this time, they eat preserved – often dried – vegetables, not raw vegetables, including dried red pepper leaves and sweet potato stems, which are left over from the previous year (for example: pumpkin leaves, radish greens, eggplant, mushrooms, ferns). It is believed that when eating preserved vegetables on the fifteenth day of the lunar year, people would have the strength to cope with the heat in the upcoming summer. Eating bok-ssam, which is rice wrapped in leafy vegetables, is supposed to bring luck (bok). Many would also eat red bean porridge and yakbap, made by steaming glutinous rice and mixing jujube, chestnut, pine nuts, oil, honey and soy sauce.

Taboo foods on the first full moon of the Lunar New Year
While some foods bring good fortune, others are avoided. One may eat namul and five-grain rice but may not mix them. This is because it symbolizes the harmful weeds in rice fields and farms. Also, don't drink cold water. It is believed that cold water brings a strong shower during the important summer when people must work. And beware of using a knife on this day as it implies slicing and cutting away all the good luck of the year. And most of all, don't eat kimchi, typically the most beloved food of Koreans. As the belief goes, eating kimchi on this day would cause skin disease and if someone eats white kimchi, it will turn their hair white.

A taste of festive menus by MICHELIN-listed restaurants in Seoul
With a heritage that draws on whole grains, nuts, and vegetarianism, Korea's full moon festive food falls under the context of sustainable gastronomy in today's view. If you taste these nutritious and healthy dishes while appreciating the full moon, you will be preparing for a healthy and happy year ahead.

Chef Roh Young-hee of Poom showcases sophisticated Korean food by serving noble cuisine from the Joseon Dynasty with a modern twist. For this important menu, chef notes that she keeps the traditional recipes while adding enhancements to the taste and flavors.
Ogokbap (five-grain rice)
This bowl of rice has a meaning of luck and a rich harvest. It is prepared by mixing glutinous rice, red beans, sorghum and various other grains (often more than five varieties of grain) and steaming it in a steamer.
오곡밥 ⓒ Poom
Nine kinds of namul
Dried vegetables are boiled then stir-fried. Adding some beef stock makes the namul's texture softer and its flavor more intense.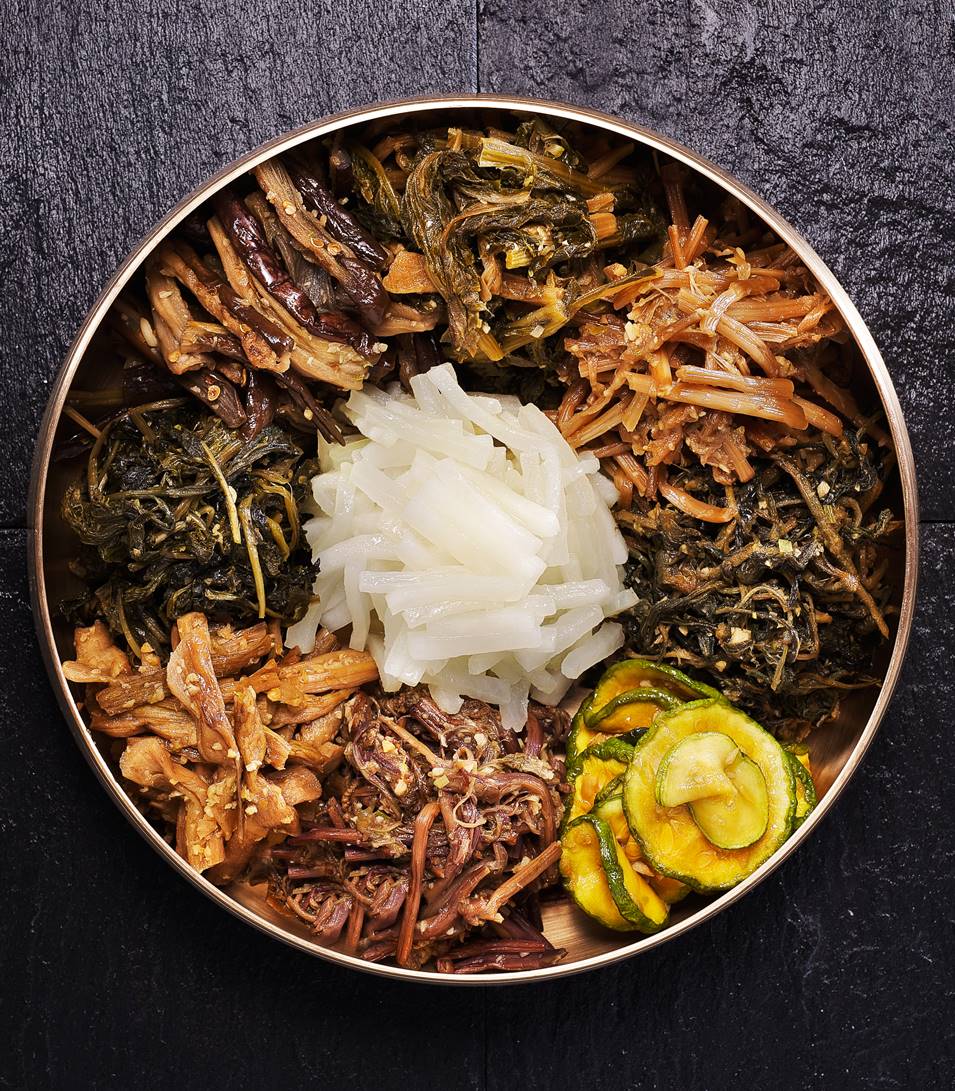 나물 ⓒ Poom
Chef Seo Ho-young of Olh Eum has a dream to serve the 'right' food consistently (Olh Eum means 'right' in Korean), and it is no different for this festival. Chef draws out the happy memory of his grandmother's food and adds modern creativity with the techniques he polished abroad.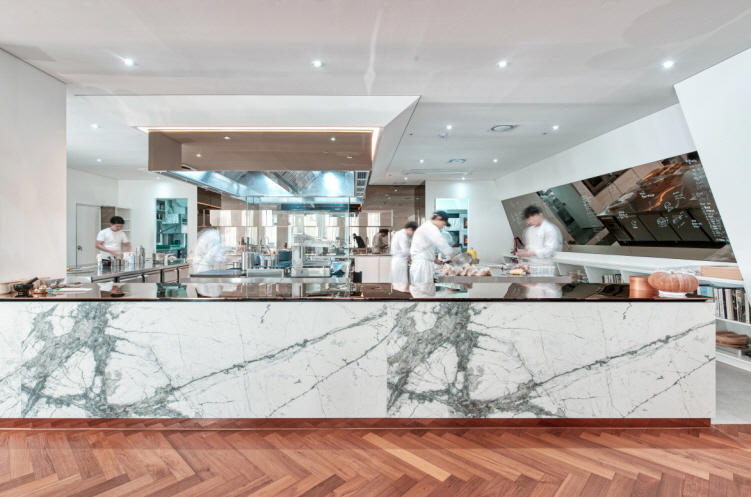 옳음 레스토랑 ⓒ Olh Eum
Okgwang Chestnut Tart

Finely mashed okgwang chestnut and espresso are used to make chestnut puree; filled in a buckwheat tart shell. Chef finely grinds steamed chestnuts, macadamia, and pine nuts and places macadamia slices on top. It is served before the main dish with gui-bargi-sool.

옥광밤 타르트 ⓒ Olh Eum
Five kinds of namul pot rice
Iron pot rice is made with Hitomebore rice variety, with salted shrimp and dashi added to season the rice. After the rice is boiled, five kinds of namul are added on the top before serving; dried taro, eggplant, pumpkin, chwinamul and sweet potato sprouts are seasoned and marinated in the dashi for a day to remove any bad tastes and enhance good flavors.
다섯가지 나물솥밥 ⓒ Olh Eum
Chef-owner Jang Jin-a serves vegetable-centered dishes at Base is Nice. For this holiday, her sustainable philosophy is clearly demonstrated in her vegetarian-friendly food. If you visit during the upcoming holiday, expect a modern and creative spread based on solid tradition.
베이스이즈나이스 레스토랑 ⓒ Base is nice
Vegetable rice
The rice dish is elevated at Base is NIce, where you experience what a powerful flavor it has when you put nuts, ogokbap and namul in one bite. The rice is made by mixing organic glutinous rice with medicinal tangerine peel, black lentils and fermented oats. Over it, place the walnut, pecan and dried laver flavored vegetable pate and sweet pumpkin chips. The pate adds a unique savory and soft flavor to the multi-grain rice with a tangerine scent, while the seaweed is full of natural umami. On top of that, lightly torched sweet pumpkin adds sweetness.
채소밥 ⓒ Base is nice
Chefs Yoon Dae-hyun and Kim Hee-eun of Soul Dining curate Korean food ingredients with flair, bringing out the beauty and joy of eating. Here, they present a special course menu with the inspiration of the health and abundance of this holiday. Diners also receive a special festive gift.


[Pairing] Aperitif: Cheonbihyang Oyangju (gui-bargi-sool)
This clear golden color liquor is named Oyangju because the rice was fermented five times. It is served with ice based on the tradition


[Amuse bouche] Jerusalem artichoke Choux
As an homage to ogokbap, glutinous rice, red beans, chaojo and other grains are mixed and cooked. On top of it is a cookie choux filled with Jerusalem artichoke pickle and puree and a generous amount of Parmigiano-Reggiano cheese.

뚱딴지있슈 ⓒ Soul Dining
[Main] Korean beef bossam and ssambap
Only chopsticks are set as according to the taboo of this holiday one is not to use a fork or knife. Five seasonal vegetables for ssam (vegetable wrap) are prepared in a round moon shape. Diners can put ogokbap and season with foie gras ssamjang (soybean paste). Charcoal-grilled beef, which is seasoned with yeast salt and galbi sauce several times, adds nutrients and richness.

한우보쌈과 쌈밥 ⓒ Soul Dining
[Dessert] Mugwort dalgona
Enjoy a special dessert in the form of mugwort mousse with peanut praline, rice cake crumbles in brown butter and dalgona cream. The honeycomb-shaped biscuits are crispy and break lightly.



쑥스러운 달고나 ⓒ Soul Dining
[Gift] Gamtae-Ogok Bar and walnut candies
As a way to practice the traditional bureom, roasted peanuts as well as roasted brown rice and sorghum are made into a nutrition bar. You'll also enjoy sweet and crispy walnut candies in your take-home gift.



감태오곡바와 솔티드 호두강정 ⓒ Soul Dining
This article was originally written in Korean by Lim Sunyoung, and edited in English by Julia Lee and June Lee.