All over the world, May is a special month to celebrate the ties of kinship. In 1989, the United Nations designated 15th of May as World Family Day, and many countries celebrate both Mother's Day and Father's Day in May. In South Korea, May is also known as Family Month, with several occasions including Children's Day (5 May), Parents' Day (8 May), Teachers' Day (15 May), and Married Couple's Day (21 May) falling in the same month.

The best way to share love and gratitude is to spend time together over a good meal and heart-to-heart conversation. In celebration of Family Month, here are seven Michelin-recommended restaurants for a cozy meal with the people closest to you in line with quarantine rules. From very special MICHELIN star and Plate restaurants to wallet-friendly Bib Gourmand establishments where you can enjoy a hearty meal, there is something for every family occasion.


Bicena
One MICHELIN star, MICHELIN Guide Seoul 2021
At Bicena, the beautiful view of downtown Seoul is only upstaged by chef Jeon Kwang-sik's fine Korean fare. The elegant degustation menu here flows neatly and gracefully, appealing to all ages. The polite and formal service is also excellent. If you are planning a special occasion with your family or teacher, this is a good place to visit.



What our Inspectors say...
Towering above Seoul on the 81st floor of the Signiel Seoul Hotel, the relocated Bicena is back with a revamped menu that stays true to the spirit of traditional Korean fine dining. Bicena continues to respect the most fundamental details of slow Korean cuisine such as Jang (fermented sauces) and kimchi, the outcome of time and nature doing their work. The views from the restaurant - officially the tallest traditional restaurant in the world - are unrivaled.


Exquisine
One MICHELIN star, MICHELIN Guide Seoul 2021
On the menu at this fine dining restaurant are exquisite dishes with multinational inflections, offering an unforgettable experience to treat your loves ones. The creative chef weaves rare and seldom-seen Korean ingredients into contemporary dishes that fill the dining room with interesting food stories that make for great conversation. Like visiting the owner chef's home, the atmosphere is warm and cozy and perfect for a family occasion.


What our Inspectors say...
Chef Jang Kyung-won at Exquisine has a knack for reinventing Korean flavors. His creativity is driven by his knowledge of local ingredients and understanding of the balance between each component, which leads to dishes that are ultimately his own invention. The restaurant offers a single course menu for lunch and dinner that changes frequently depending on the availability of ingredients. The fresh herbs are from the restaurant's garden. The space is small so make sure you call ahead to reserve a table.


Manjok Ohyang Jokbal
Bib Gourmand, MICHELIN Guide Seoul 2021
A familiar sight and smell, the memory of sitting around the family table, sharing a traditional dish of jokbal (pig's trotters cooked with soy sauce and spices) brings smiles to the faces of many Koreans. Famous for serving jokbal with shredded cabbage soaked in garlic sauce, Manjok Ohyang Jokbal is a popular Bib Gourmand eatery for families who enjoy the taste and texture of tender jokbal with sweet, sour and refreshing vegetables. The dumpling soup is free; this adds more satisfaction to the already hearty meal.

What our Inspectors say...

At Manjok Oyhang Jokbal, the beloved Korean braised pig's feet dish is impeccably crafted with the utmost dedication and care to hygiene and quality. The restaurant, armed with a systematic central distribution system, offers consistent quality at all of its franchised locations. Here, the popular pork dish can be enjoyed warm until the very last piece, thanks to the specially designed hotplates installed into the tables.


Jin Jin
Bib Gourmand, MICHELIN Guide Seoul 2021
One of the best ways to bond with family is over good old communal-style Chinese cuisine. You'll need the whole family present to try a wider variety of delicious dishes by the famous chef Wang Yuk-sung, widely known as Master Wang. Diners can enjoy high-quality Chinese dishes in a comfortable atmosphere. Must-orders are the shrimp toast with crispy and moist shrimp flesh in a crispy and soft bread and mapo tofu with its fresh spicy taste.


What our Inspectors say...
For over 40 years, Chef Wang Yuk-sung has been committed to popularizing Chinese cuisine in Korea. Unlike most generic Korean-style Chinese restaurants ubiquitous to Seoul, Chef Wang offers a limited menu of just ten dishes to ensure that the quality of the food he serves is consistently high. Some of the most requested dishes include shrimp toast, stir-fried crab meat with egg white, mapo tofu and stir-fried beef with gai lan. There are other locations of Jin Jin in Seoul. The original in Seogyo-dong is only open for dinner.


Hwa Hae Dang
MICHELIN Plate, MICHELIN Guide Seoul 2021
Also called a 'rice thief' in Korea, the soy sauce-marinated cold crab dish of ganjang gejang will make you eat several bowls of rice in one sitting. For Koreans, this is a favorite dish that comes to mind for special occasions. Hwa Hae Dang, loved by young and old for its soy sauce marinated crabs, is a good place to eat out for a special occasion in this Family Month. Appetizing side dishes such as dried seaweed and fermented oysters complete the moreish meal.


What our Inspectors say...
This is the first Seoul branch of the acclaimed Taean County restaurant, located on the west coast of Korea. The name of the restaurant, which translates into "Flower crab house" specializes in soy sauce marinated blue crab, prized for its sweet flesh. Each spring, when local crabs are in season, they are caught and flash frozen to be used throughout the year. The crabs are prepared in Taean and sent to Seoul. The seafood side dishes are also good.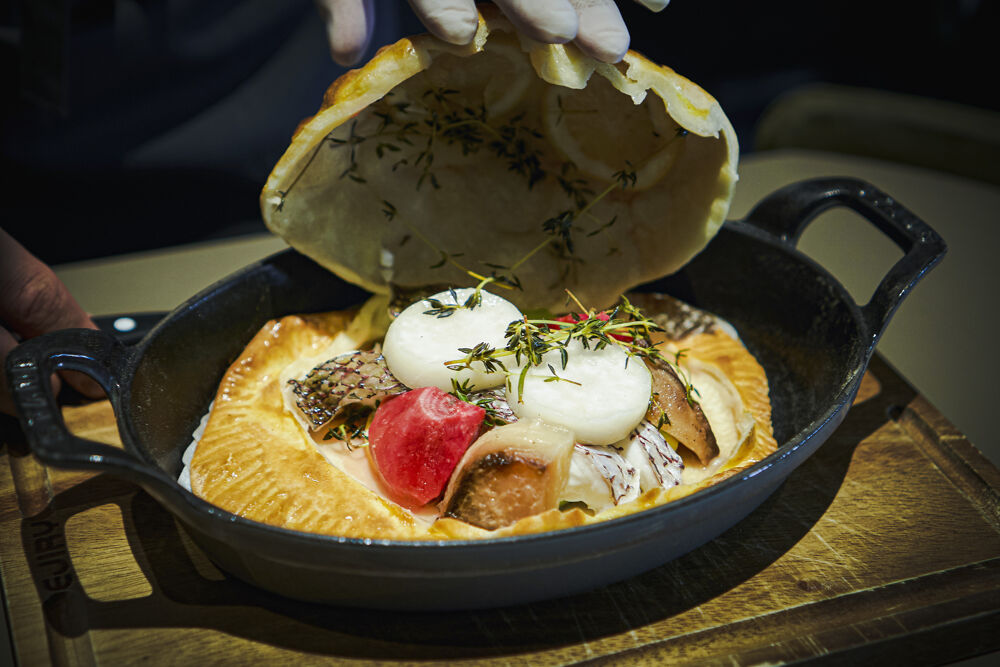 Dear Wild
MICHELIN Plate, MICEHLIN Guide Seoul 2021
Dear Wild serves up a classic Western cuisine menu created by chef Lee Jun, who leads one-MICHELIN-starred restaurant Soigne. A perfect setting for Parents' or Teacher's Day, you can enjoy classic dishes like Beef Wellington in a polite and serene atmosphere. The gueridon service where food is cooked, finished or presented to the guest tableside from a fancy trolley also adds to the pampering atmosphere.

What our Inspectors say...
Owned by Michelin star chef, Lee Jun, Dear Wild is nestled within The PLAZA Seoul Hotel. Going beyond the chef's usual culinary boundaries, this kitchen presents classic European cuisine. The signature beef short rib Wellington along with other favorites are offered via gueridon service, thereby showcasing their dedication to classic cooking. Overlooking Seoul City Hall, this downtown restaurant, however, provides unexpected comfort through its refined, nature-inspired décor. After a meal here, diners are bound to discover the chef's passion for bringing a sense of reprieve and pure gastronomic joy to the hustle and bustle of everyday life.


Sooksoodoga
MICHELIN Plate, MICHELIN Guide Seoul 2021
Koreans' love for beef cannot be over-exaggerated. For many Koreans, celebrations and special occasions are often marked by eating good beef. At Sooksoodoga, premium Korean beef is cooked over the grill in a cozy restaurant space that throws all the attention on the prized meats.

What our Inspectors say...
Chef's years-long study and mission to "create the best aged beef using the finest Korean meat" according to its own manual, the restaurant dry-ages the meat for 720 hours under varying conditions of temperature, humidity and oxygen for optimal fermentation in order to maximize its umami taste. This aged meat is then grilled on the table using the chef's trademark method, which is known to best bring out the beef's distinct flavor. Depending on the cuts, there are three different course meals available. The restaurant's prices, set affordably to help popularize the appeal of aged beef, add greatly to its attraction.

This article is written in Korean and English by Julia Lee and sub-edited in English by Rachel Tan.