Jaha Son Mandu, a dumpling restaurant that has passed down from the owner's mother and her grandmother has been led by Park Hye-Kyung since 1993. Park's house has been constantly remodeled to use as a restaurant, so the guests can feel like they're invited to a cozy home of their acquaintance. Diners can enjoy the outstanding scenery of Inwangsan Mountain through the window, which makes this space more attractive.

At Jaha Son Mandu, no artificial flavor enhancer is used. The secret of their dumplings is simple; the cooks use homemade ganjang to season the food, a traditional soy sauce from generations, and for the chewy dumpling skin, locally-grown flour is used. There are eight kinds of dumplings in this restaurant, and each variety has different charms with one thing in common – all are part of the owner's belief that she'll be serving a hearty, flavorful, and savory meal of healthy food to enjoy in one's sweats at the end of a long day.


Three parasols in the front yard became the MICHELIN Bib Gourmand Restaurant
CEO Park Hye-Kyung was born in Buam-dong and spend her whole life in this place. In 1993, she started selling dumplings with her sister-in-law, who was just married. Since she was financially troubled, she decided to open up just three parasols in her backyard to treat her guests. Fortunately back then, the Inwangsan Mountain had opened for the hikers, so many people visited Buam-dong. She was confident that she could treat nice dumplings to her guests. Those three parasols in the yard with a simple sign "Son Mandu (handmade dumplings)" was the beginning of Jaha Son Mandu.

The whole family joined forces to start the dumpling business and people started visiting this restaurant on word of mouth. Park's family gradually cleaned out the rooms one by one and changed them to use as their guests' dining space. Now the whole family has moved out of the house and the whole building is used as a restaurant. Jaha Son Mandu has never done any advertising, but it's crowded with visitors from afar. Since the MICHELIN Guide Seoul's launch in 2016, Jaha Son Mandu has been selected as the Bib Gourmand Restaurant every year and well received by the gourmets.



Interior of Jaha Son Mandu (Pic: Jaha Son Mandu)
The Secret of Jaha Son Mandu, homemade soy sauce and sincerity
More than 5,000 dumplings are made at Jaha Son Mandu every day, which are all Korean traditional dumplings of eight kinds. Although humble by nature, dumpling dishes are always elegantly presented with simple yet well-selected ingredients. Each variety has different recipes depending on whether it is boiled or steamed, in clear water or a special broth. Also, there are some dumplings made of vegetables, some with pork and beef, and others with kimchi. Among those, their signature dishes are Mandutguk - plump pork, bean curd and vegetable dumplings nestled in a delicate beef broth, seasoned with homemade soy sauce - and Pyeonsu which has a clean taste with shiitake mushrooms, beef, and cucumbers.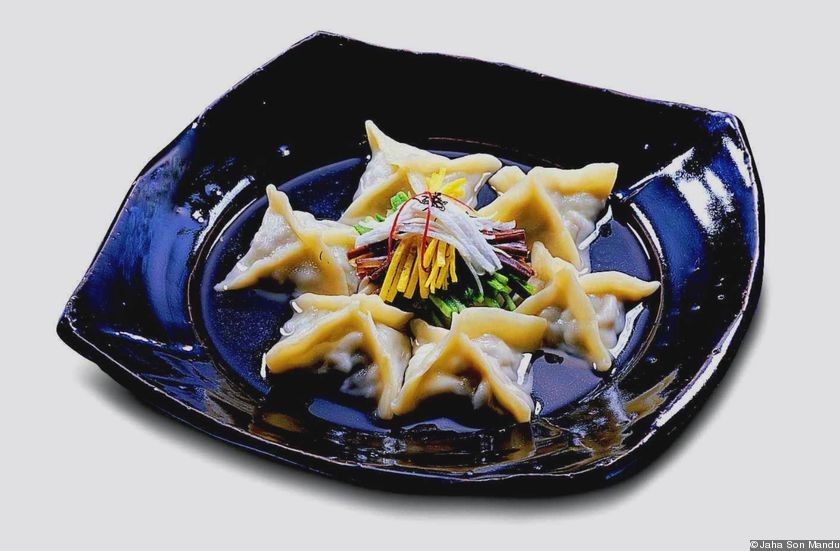 Pyeonsu of Jaha Son Mandu (Pic: Jaha Son Mandu)
Park considers the secret of her dumplings as the homemade soy sauce. The most important factor for the flavor is the deep taste of ganjang, which has been inherited as a family treasure. She explains that she has never bought any soy sauce on the market since she started a restaurant. "Even though the methods of making dumplings seem to be similar, the core ingredient - soy sauce - can make a huge difference, so I have a belief that I have to keep the family's the soy sauce myself," said Park. She keeps her ganjang from at least 6 months to several decades to be fermented and aged properly, and use it for the dumplings. This is the biggest principle that Jaha Son Mandu has kept for more than 30 years.

"I don't use any chemical condiments at all, because our ganjang has every flavor we need. Regardless of the dispute whether the artificial seasoning is good or bad, I think it goes beyond the taste of the natural ingredients and ruins the balance; it just doesn't fit with our dumplings. I think that people will naturally miss this hearty food next time only when it's comfortable with an unaffected taste. Our homemade ganjang gives as elegant umami made by time, so it goes well with subtle flavor of vegetables."

"Our kimchi is no different from soy sauce," explains Park. You can often think of kimchi as a simple side dish with dumplings, but at Jaha Son Mandu, kimchi is also a heartfelt dish. Since there are so many customers, the cooks of this restaurant make kimchi almost every day. (Most of the Koreans make kimchi once a year, and keep it year-round to eat.) Park says, "we put sincerity and love to our kimchi as much as we do to the dumplings, and strongly believe that this attitude makes a big difference in taste. Guests will feel our hearts when they eat this simple-looking side dish."

Park says dumpling is not a fancy food in either shape or taste. "It may not be like other extravagant dishes, but it's comfort food that can be easily found in people's daily lives and creates memories. It might look simple, but you have to make dumplings well; to do so, you have to prepare the right broth and delicious soy sauce which surely takes time and a lot of effort. I think the reason we've been able to come all this way is that there have been people who recognized our sincerity which makes me always grateful."



Creating Memories with Guests
Park explains that the fact they have been operating in one place for a long time also means a lot to her. This restaurant has kept its site for almost 30 years, so she has seen her young customers growing up, marrying someone and bringing their kids to this place. "This is our pride to always be consistent with our food and that we grow and age with our guests, and create memories that we can share together," says Park.

"I'm happy to be introduced in the Michelin Guide, but to get recognition has never been my dream; I would have given up if I had done this to get good reviews from someone. I was 39 years old when I first started the food business, and I'm almost seventy now. I wonder if I could have come this far if it were just a business to make money. I've always done it with happiness in my mind because I liked to share my food with people. As a child, I learned how to cook from my grandmother, and it was normal to call-in guests and share our meal at home. All these memories made my belief that food is something to share with others, and it is my happiness if my dumplings can bring joy to many people."