When in Venice, cicchetti.
Lying over a hundred islands in an impossibly picturesque lagoon in the northern part of the Adriatic Sea, Venice is, undoubtedly, one of the most beautiful cities in the world. It is a cultural and tourist destination that attracts millions of tourists every year with its museums, architecture, cityscape, art and festivals. And, let's not forget the food!
If you want to experience local food in Venice that is good, authentic and doesn't break the bank, cicchetti may be the answer. Pronounced "chee-KET-teeh," cicchetti are Venice's answer to Spain's tapas. They are small plates of food–ranging from about €1 to €3–nibbled over glasses of wine as a pre-lunch or pre-dinner snack. You can even make a whole meal out of them by ordering several plates of cicchetti.
Where should you eat cicchetti?
Cicchetti are served at small bars called bàcari (BAH-ca-reeh) where locals gather to socialize and relax – nothing fancy, completely casual and 100% authentic.
What can you expect to eat at a bàcaro? A mind-boggling variety of small snacks made from local ingredients! Some bàcari lean toward fried offerings, while others specialize in an assortment of mini panini – because who doesn't love sandwiches? Fresh fish, seafood, meats, cheeses and salumi are staples at cicchetti bars.

Bàcari etiquette
First thing's first: choose your cicchetti. Let the bartender know what you want and he/she will assemble your choice(s) on a plate and hand it over to you with your drink of choice. Grab your plate and go pick a spot. A word of caution for the uninitiated: many of these bars don't offer proper seating. It is customary to see locals standing on their feet, eating and drinking. Also, don't expect bartenders to jot down your order (nor question their ability to memorize). It's a mutual trust thing. When in Venice.

Italy Jae
Many Koreans will nod their heads in recognition at the word 'tapas.' But cicchetti? Not so much.
Enter Italy Jae, a cozy Italian restaurant that specializes in Venetian cuisine. Jeon Il-chan is the owner and chef of this new(ish) dining establishment, tucked away in a small alley in Sogyeok-dong, a stone's throw from Gyeongbokgung Palace in the heritage district of Seoul.
The hanok (traditional Korean house)–with its tiled roof and green-trimmed door which slides open to reveal a sun-lit counter table and an open kitchen beyond—charms at first sight. The interior is a tasteful blend of traditional Korean architecture and European décor, oddly reminiscent of an authentic Venetian bàcaro; original wooden rafters, pillars and crossbeams seamlessly mesh with the mosaic tiled floor, brass-trimmed tables, vintage chairs and linen lamp shades.
I met with Chef Jeon Il-chan in late July to talk about his wildly popular establishment, which was selected as a Bib Gourmand restaurant in the 2017 Michelin Guide Seoul.

Of all the different styles of food from all the different regions in Italy, how did you end up cooking Venetian cuisine?
Venice is one of my favorite cities in Italy, and I love the cuisine from the Veneto region, particularly the cicchetti from Venice. I wanted to share my passion for this wonderful culture with my fellow Seoulites.


Could you give us some examples of Venetian cuisine?

There is a dish (which I love) called 'polenta al nero di seppia.' It is a dish typical to the region of Veneto that consists of boiled cornmeal called polenta. In Venice, polenta is served with squid in a sauce made of its own ink. It is Venetian soul food at its best, humble and comforting.
The famous Italian dish carpaccio also has Venetian origins. Carpaccio is a dish of thinly sliced raw meat or fish (beef, veal, venison, salmon, tuna, etc.), seasoned with salt and pepper, and often dressed with lemon and/or olive oil. Fish carpaccio is commonly eaten in Venice as the city has a strong seafood game.

Pasta is synonymous with Italian cuisine in Korea. Is there a pasta dish that represents Venice?
Bigoli is a Venetian staple. Traditionally, bigoli noodles were made with buckwheat flour, but whole wheat flour seems to be a common substitute nowadays. The fresh pasta noodles are extruded in the form of a long and thick tube which are then boiled and tossed with a thick sauce made with onions and anchovies. The local name for the dish is 'bigoli in salsa.'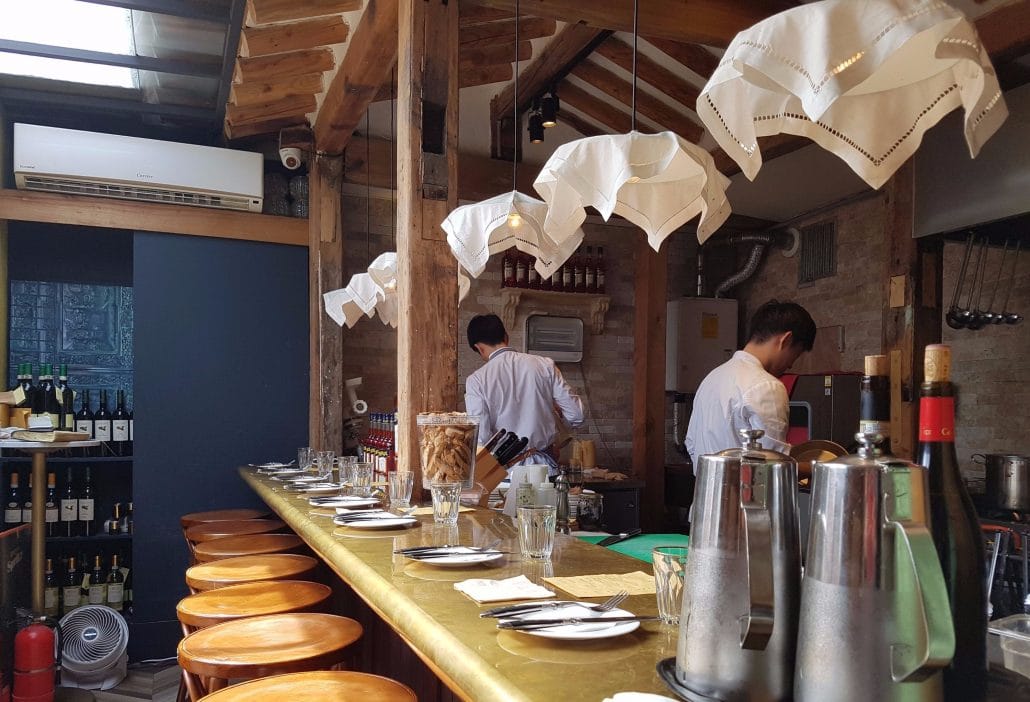 Koreans love Italian food and that's a fact. Why do you think that is?
Italian cuisine isn't as refined or as delicate as French cuisine, but it has a big personality. I think Koreans are drawn to Italian food for its bold seasoning as well as the many elements they find familiar and comforting: the use of noodles and rice, garlic and spicy peppers.

From 'Grano' and 'Mongone' to your series of pop-ups at 'Buoque' and now 'Italy Jae', you've been cooking Italian food for a while now. Why did you choose Italian over other Western cooking?
I trained under Chef Santino Sortino in Seoul in my mid-20s. That was the start of my career. Then in 2012, I was given an exciting opportunity to travel to Italy to learn how to cook in a real Italian kitchen. I worked at a hotel restaurant in a local winery in Verona for three months. My time in Italy broadened my vision as a chef and I really came to love Italian food. I was inspired to continue my journey in Italian cuisine.


A trio of seafood cicchetti at Italy Jae: tuna carpaccio, halibut carpaccio, octopus salad
Any top memorable Italian moments you want to share with us?
It was so exciting to work with local ingredients I'd only seen in books up to that point. We get lots of fresh seafood in Korea as well, but there were things–common Italian ingredients–at the fish market I'd never cooked with before – swordfish, for instance. But the best part about the experience was living and eating like a local in Italy during the short time I was there.

Besides cicchetti, what else do you offer on the menu?
I wanted to offer my customers a good mix of authentic Venetian cuisine and some of my own signature dishes I've developed over the years. The cicchetti we serve are some of Venice's most iconic – many of them based on seafood, such as the octopus salad, halibut carpaccio, tuna carpaccio and steamed mussels. We also offer three different seafood pastas: with clams, with sea urchin and cured mullet roe, and with octopus ragù.
Spaghetti with sea urchin and eoran (cured mullet roe)
What is your signature dish?
My signature dish is the spaghetti with sea urchin and cured mullet roe. Three years ago, when I was working at 'Mongone', my quest to find the best cured mullet roe—a Korean delicacy, similar to Italian bottarga—took me south to Jeollado Province. I was introduced to Choi Tae-geun, who is a master of his craft. I returned home with his prized cured mullet roe and decided to make a pasta dish with it and threw in some fresh sea urchin for good measure. The customers loved it. In fact, I didn't include the dish on the original Italy Jae menu, but it eventually made itself in there by popular demand. Currently, it is our bestselling dish.

Tell us about the space you have created here. It's definitely Korea, but it also feels strangely like Italy as well.
It wasn't my intention to move into a hanok building. I was more into the vibe of this tiny alley than the house itself. When I walked into this alley for the first time, it transported me right back to Venice. I would get lost in the labyrinth-like alleyways of Venice and find some amazing eateries hidden away from the tourist hustle and bustle. The house itself, with its wooden structure, reminded me of the old wood-framed architecture that are common in Italy. A food stylist I'd worked with on my pop-up events at Buoque designed this space for me. We'd spent many hours exchanging ideas and inspirations for Italy Jae and it was totally worth it.
Italy Jae was selected as a Bib Gourmand restaurant in the 2017 Michelin Guide Seoul. What kind of changes have you seen since the announcement?
I think people's expectations have gotten higher. It's a positive change, because I find myself pushing myself harder as well. Earlier this year, I traveled to Venice again. I needed new inspiration and fresh ideas. The space is good as it is, but I want to make the vibe more authentic. I want to diversify my cicchetti.

Tell us about your wine list.
Most of our wines are from the Veneto region. We currently offer one house red and one house white, but I am working to expand our wine list to include more affordable and tasty Italian wines that go well with our food.
Sogyeok-dong, Seoul
You mentioned it briefly earlier, but tell us about your future plans for the restaurant.
I'm not sure exactly when it will be, but my goal is to transform this space to an authentic Ventian-style cicchetti bar. I'm planning to get rid of the bar stools by the entrance so that people can eat standing up, just like they do in Venetian bàcari. I would love to utilize the outdoor space that we have – turn it into a patio where people can eat and drink. Italy Jae is casual dining space and I want to expand our list of house wines as well. Ultimately, I want to share the love I have for the wonderful Venetian cuisine with as many people as I can.